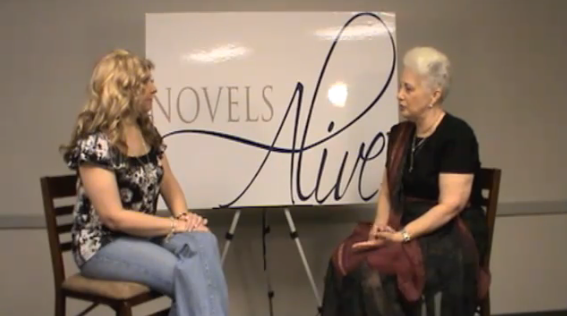 What do Africa, China, India, and Peru all have in common? New York Times Bestselling Author Rebecca York and adventure! These are just some of the amazing places Rebecca has visited for fun and for book research over the past few years. From the wilds of a safari to the dangers of the Amazon, she ventures into the exotic and experiences first hand many things that most people only dream of doing. And while I am on the subject might I just add Hawaii, Ireland, Alaska, Russia, Australia, New Zealand, Norway, London, New Orleans, and Guatemala. She has an exceptional thirst to learn and know about other cultures and other places, but there is so much more to this lady.
What you ask?
Should I mention that she holds two degrees from two prestigious Universities?
Or that she's raised a family? Or that she is a consummate chef who writes cookbooks? Or that she oversees an important and successful workshop for writers? Would you say that a woman who has accomplished and does so much be called exceptional?
Yes. But wait. There is more.
Award winning, bestselling Rebecca York is an exceptional author. She has written and also co-authored over one hundred and twenty-five books. Yes, I wrote that correctly. Over 125. Currently, she writes romantic suspense for Harlequin Intrigue and paranormal suspense for Berkley Sensations.
Rebecca's newest release, DAY OF THE DRAGON, is about Ramsay Gallagher, a shape shifting dragon.
[quote]"The search for clues to an ancient civilization sends Ramsay to an archaeology conference in Las Vegas where he meets Dr. Madison Dartmoor. Her current dig in Italy has put her in mortal danger, and when Ramsay saves her from thugs bent on stealing a copy of a startling artifact, the two of them team up to unearth the secrets of an ancient civilization. As their relationship heats up, Ramsay guards his own secrets that may tear him and Madison apart or save their lives."[/quote]
Ramsay Gallagher is a character first introduced to readers in DRAGON MOON, the ninth book in her highly successful Moon Series about the Shape shifting Marshall family and how they use their werewolf strengths to save others and fall in love with courageous heroines. Within the Marshall's world, earth has a fascinating parallel universe and Rebecca masterfully weaves the two worlds as well as action and suspense into her fast paced stories.
In DRAGON MOON, [quote]"Kenna, slave to a fearsome master, has come to our universe to prepare for an invasion. When she meets werewolf Talon Marshall, she longs to tell him her terrible secret and enlist his help. But every time she tries to reveal her mission, a lightning bolt of pain stops her words. Can she find a way to communicate with Talon before it's too late for our world?"

As a werewolf, Talon is no stranger to secrets, and he can sense that the psychic Kenna is keeping something from him. But Talon is powerfully drawn to the mysterious stranger, and the urge to claim her is just as strong as the instinct to keep himself guarded. With impossible secrets keeping them apart and the threat from the other world drawing near, their fate hangs in the balance- unless they can learn to trust each other."[/quote]

Rebecca is always sure to include some interesting tidbit from her travels that adds a special touch to her emotional and action packed romances. So if romance, adventure, suspense, and masterful story-telling is on your reading list then exceptional writer and woman Rebecca York is a must read.
Please Support the Author by Purchasing Their Books: