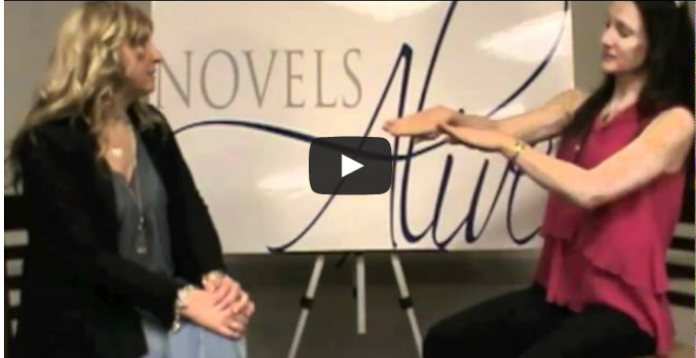 If you're looking for a fast pace, hot action, and steamy romance then Offspring is a series you'll want to plunge headfirst into. Jaime Rush, an author featured in the New York Times bestselling anthology BITTEN BY CUPID, takes readers deep into a world in where no one is who they seem to be and trust will get you killed.
It is a documented fact that until the mid nineteen-nineties, the US government conducted top secret experiments into psychic phenomena and the use of paranormal gifts in international espionage. Jaime, being an author who really enjoys scary, couldn't stop herself from wondering what if…
They live ordinary lives, but they are extraordinary. They are the Offspring, children of a mysterious experiment gone awry—and they are in terrible danger.
Hot on the shelf this week from Avon is book four in the Offspring Series titled, BURNING DARKNESS.
[quote]
"A government-trained assassin, Fonda Raine has her sights locked on her latest target: Eric Aruda, one of the rogue Offspring—a pyrokenetic who can create fires with just a thought. But Fonda has awesome powers of her own—and her ability to astral project and be in two places at one time enables her to put herself exactly where she wants to be…in Eric's bed.
Eric is stunned and pleased by the inexplicable appearance of the mysterious enchantress, unaware that Fonda plans to seduce him, throw him off his guard, and then eliminate him. But the game changes radically with the arrival of an assassin from hell with orders to destroy them both. And suddenly Fonda and Eric have only two choices: to join forces or go down in flames."
[/quote]
In book three, TOUCHING DARKNESS, [quote]"Nicholas Braden has an uncanny psychic talent for finding things—which is why he's been recruited for a covert government program designed to hunt down terrorists. While his work for a shady controller named Darkwell is leading him down some very questionable alleyways, it's also bringing him closer to Olivia, Darkwell's stunning young assistant. A "good girl" with a wild, secret side, Olivia tempts Nicholas in ways he ever believed possible—and in his business, a loss of control could prove fatal. But there is something not right about the operation. And as Nicholas and Olivia's passion reaches a white-hot intensity, chilling reversals of good and evil, of right and wrong, suddenly threaten their very survival."[/quote]
Book Two of the Offspring series, OUT OF DARKNESS, packs a powerful punch. [quote]"Rand Brandenburg can see the future, yet thus far all he has done with his unique ability is become a skillful gambler. But according to the Offspring, his power has made him a target and could get him killed. So the loner used to living on the edge is now hiding out with others just like him, including Zoe Stoker, a mysterious redhead who has his heart soaring. But that's not the only thing Zoe's got flying. All her life, whenever she felt anything too intensely, objects would start moving. She's never been able to control her power, so instead she's shut down her emotions. Now, as a powerful enemy approaches, she's losing control of her heart. But letting love lead her out of the darkness might save her life…"[/quote]
The book that started it all, book one in the series is A PERFECT DARKNESS.
[quote]
"A sexy stranger awakens Amy Shane in the dead of night. Lucas Vanderwyck barely has time to whisper a few words before three men burst into her bedroom and drag him away. But what Lucas reveals shatters Amy's safe little world forever.
Lucas and Amy share a psychic gift—a gift that could put them in mortal danger. And as they share night after night of savage passion, as a shadowy government conspiracy tracks their every move, they will fight to save each other. But only with their powers of second sight can they escape the terror of a perfect darkness."
[/quote]
Be prepared to have the lines between good and evil and right and wrong blur because Jaime shows no mercy with this
[quote]
"group of people who must come together out of necessity, who bond, grow, encounter terrifying danger, and fall in love."[/quote]Each book in the series features a different couple, but we get to see all of the Offspring, because they're working with (and sometimes against) each other.
Jaime who has always lived in sunny, suburban Florida, also writes romantic suspense under the name Tina Wainscott. You can find out more about the Offspring Series at jaimerush.com and read the articles that reveal what the government is willing to tell you about their experiments in to the paranormal. Hmm, what I want to know is what is in the top secret files they won't release?
P.S. I hear Jaime is the "daughter of an exiled king. She's living a life of both luxury and danger. While ensconced in her palace in her adopted land of Romania, she must be ever-vigilant of the dark forces that expunged her from the beautiful and sacred land that was once called Eden.
NovelsAlive.TV's Dayna Linton interviewed "Offspring" author, Jaime Rush at the RT Convention about her hot series, Harley's and psychic abilities.
Please Support the Author by Purchasing Their Books: