ARRGH! Me Writing Process Blog Tour Ondits!
Arrrgh! I've been tagged by the delightful Coco Rousseau who surely knows how to live writing romance novels in her penthouse apartment on Avenue des Champs-Élysées. Isn't that the writer's life, me hearties?
(If you want to see how far back this tour goes, check out Jennifer St. Giles' and Andrea Buginsky's posts.)
A writer's process begins with words. "Words are, of course, the most powerful drug used by mankind." Rudyard Kipling
Writers are an interesting bunch, aren't they? Nomads of the mind, writers cherish the written word and dedicate time to making every word sing a magnificent symphony. Is there any one process that makes a writer more successful than another? Unfortunately, the answer is "no". Writing process is as individual to an author as a fingerprint. What worked for Kathleen Woodiwiss when she created epic historical romance, in the 80's, doesn't work for Stephen King, the grand master of horror today.
Here's a quick look at the writing process of brilliant writers depicted in from It Takes a Certain Type to be a Writer by Erin Barrett and Jack Mingo.
Voltaire did it drinking 70 cups of coffee a day.
Jacqueline Susann typed each draft on different colors of paper, yellow for 1st, then blue, pink, and finally white.
Charles Dickens slept facing north and wrote facing north to channel the magnetic currents affecting energy levels.
Raymond Carver wrote in his car.
Virginia Woolf wrote standing up.
Marcel Proust wrote from bed, swaddled in blankets, gloves, and scarves, in a room lined with cork.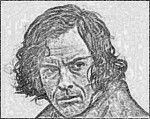 So how does my writing process work? Usually, I'm visited by a vaguely formed character stepping out of the shadows like Toby Stephens does here. Typically, heroes on a mission come to me first. It's through my hero's major sense of duty that I learn who my heroine will be and what travails will steer her on a course straight toward mayhem. (Pirate!)
Because I write historicals, there is research to do on period fashion, location, historical background, plus flipping through various name source books for the perfect era match. Names are like character fingerprints. When the right one is found, characters jump right off the page. (Behold that character sketch of Toby Stephens is now the inspiration for Lord Simon Danbury.) It's at this point in my writing process that I create a storyboard and a story journal (my Captain's log). While my stories come to me in film reels, storyboarding brings my characters to life in ways I've never been able to define. Once my storyboard is done, and character sketches are written in my captain's log, the sails fill and the journey to adventures begins.
"Words create sentences; sentences create paragraphs; sometimes paragraphs quicken and begin to breathe." On Writing by Stephen King

Why do writers write what they do? I love the above quote by Stephen King. A writer's goal is to create stories that come to life and keep readers reading. As a historical author, I understand it's my job to take readers back into the past, to make them feel, hear, sense, see, and almost touch what was then, as if it is now. There are so many writers who do that well: Katharine Ashe, Danelle Harmon, Shana Galen, combining mores and language of the times with what a 2014 reader can understand and envision. (You probably have a list of historical writers you love and read often for that very reason.)
What am I working on? With the relaunch of the 1st book in my Nelson's Tea Series, DUKE BY DAY, ROGUE BY NIGHT, on March 4th, I'm finishing up the prequel novella to the series, MY LORD ROGUE. In MY LORD ROGUE, Lord Simon Danbury joins forces with Admiral Horatio Nelson to put together a clandestine force of 1st sons to protect England's shores from French invasion. But an assassination attempt threatens to end Nelson's Tea before it even begins, forcing Simon to team with Baroness Chauncey, the woman he previously cast aside.
"Remember that art is process. The process is supposed to be fun. For our purposes, "the journey is always the only arrival" may be interpreted to mean that our creative work is actually our creativity itself at play in the field of time." The Artist's Way by Julia Cameron.
Finding your own voice takes time, energy, and error. How you achieve writing success depends upon how much time and energy you're willing to put into the process, especially when rejections pour in. I always say, "believe to receive, not vice versa. You can achieve when you believe."
In honor of writing processes that yield magnificent books for readers across the globe, I'm tagging three authors I admire from varying genres for next week's continuing blog tour.
Collette Cameron: When she's not teaching or writing historical romance, Collette enjoys amateur photography, bird watching, gardening, interior decorating, rock-hunting, or salmon fishing on the Columbia River.
Debra Glass is the author of over thirty-five books of historical and paranormal romance, non-fiction, young adult romance, and folklore.
Carla Swafford is a lithe twenty-nine year old with long auburn hair and sparkling dark eyes who loves dancing with her gypsy friends. Geez! Can you tell I love writing fiction? Now for the real stuff. I'm married to my high school sweetheart and live in Alabama. My stories are more exciting.
Live life to the fullest no matter what process fills your sails. And never, never, never give up!
If you're a reader, is there a writing process you're curious about? If you're a writer, what process do you use to get you to that coveted horizon?
Blessings,
Katherine
You can find Katherine Bone at: www.katherinebone.com
Katherine's Writing Process Blog Tour can be found here: http://katherinebone.wordpress.com/2014/02/24/arrgh-me-writing-process-blog-tour-ondits/