First, I hope you had a fabulous Valentine's Week filled with chocolate, love, and plenty of champagne. Next, let me say thank you to Jenni, who you may know as Jennifer St. Giles, J.L. Saint, and yes, one more, Jennifer Saints.  She's the incredible, multitalented writer of Contemporary Paranormal, Historical Paranormal, and Sexy Southern Suspense who invited me to be a guest blogger on The Writing Process Blog Tour, which posts every Monday and features different authors every week. This invitation comes at a fabulous time because on February 10th, 2014, just in time for Valentine's Day and my birthday, Volume 1 of my adaptation of Edith Wharton's Pulitzer Prize-winning novel, THE AGE OF INNOCENCE: Wild & Wanton Edition, was released. And TODAY, Volume 2 releases! So I'm lucky to be celebrating many joys on this beautiful Monday.
The Writing Process
Many have asked how Coco Rousseau started her writing career. It began just about a year ago. The market was hot with erotic fiction. Fifty Shades curtained the windows of practically every home in the country, proving that Americans are passionate people. So I asked myself, what's my passion in life? The answer came quickly—writing, creating, expressing myself. And so I let my imagination roam.
What is it that we crave, seek, and so desperately need in life (beyond air, water, and chocolate, that is). We all know the answer: love! We're all looking for that special someone with whom we can share the many joys life brings, for that person who'll stand by our side when we're struck with life's inevitable setbacks. Life's not perfect, but it sure comes close to perfection when we're in love. I knew that if I ever became an author, I'd have to write about love—the ultimate human emotion—because to me, every story at its core is a love story.
So how did I decide to adapt works of classic literature? From the first moment I walked into a public library as a young child, I was struck by the vast number of books on the shelves. This library must have all the books that were ever written, I thought. With the innocence of a child who believes she can use her toy pail and shovel to dig to the other side of the world, I decided to read every book in that library. You see, I come from a family of voracious readers. Soon, I discovered that I loved reading classic literature and could spend my days whiling away the hours reading Shakespeare, Charles Dickens, Mark Twain, Jane Austen—literary giants. But I never dreamed I would be a writer, much less that I'd be adapting classics. In fact, standing in that library, I felt like a wee grain of wheat at the bottom of the silo. But when a fire burns inside the soul, and it's so much a part of who you are, it's not easy to snuff out the desire … sort of like love. Years later, beyond the doors of that library, having experienced love, heartbreak, and true romance, two elements guiding my life collided in a supernova—love and classic literature.
When I learned that Crimson Romance was launching a new line—the Wild & Wanton Series, which kept the original author's work untouched yet allowed the modern author to enrich it with new and exciting scenes—I knew that I'd found my niche in writing. I quickly selected a few classic pieces that I loved, re-read them, and then let my heart and imagination begin to merge with the original author's work. Somehow, I was able to see where passionate love scenes belonged, and so I began writing them.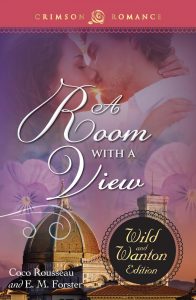 My first release was an adaptation of E.M. Forster's A ROOM WITH A VIEW, which launched September 30, 2013. Here's a snippet from the heart of Chapter I:
[quote]Lucy quickly slipped away from her chaperon and . . . hurried to stairs . . . The clock in the hallway struck . . . She stopped and braced herself against the wall. Closing her eyes, she took a moment to catch her breath as she listened to the clock wend its way through its chords . . . "What's come over me?" she thought. "That must be it, only fatigue from travel . . . " The clock reached its final stanza and the only sound that remained was the faint echoes of the bells. Breathing more steadily, she opened her eyes and leaned over to straighten her skirts . . . But as she turned to go, the very gentleman who had stolen her breath was standing right there, in front of her, unnaturally close, in this lone hallway. It was just the two of them. Man and woman. He was so close.
Could it be a dream? Did her eyes deceive her . . . She felt the heat radiating from his body and pouring into her soul. The air in the hallway instantly drained . . . Lucy gasped . . . She tried to scream, but the presence of this man had shaken her to down to her innermost core . . . Surely, his intentions were not …[/quote]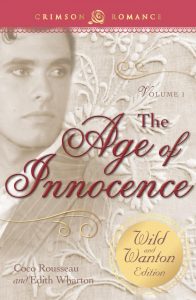 The second adaptation I tackled was Edith Wharton's THE AGE OF INNOCENCE, which launched in a two volumes series, February 10th and February 17th, respectively. Here's a clip from the heart of Chapter 3 in Volume 2:
[quote]"The worst of it is that I want to kiss you and I can't . . ." Newland took the lily from the bouquet, brought it to his lips, and breathed in its subtle, but elegant fragrance. He considered the broken stem of the flower and how delicate the plant seemed. Beads of liquid seeped from it. He touched the wetness and then looked into his beloved's eyes. Any restraint that he might have felt moments ago was lost. May sat silently, and the world lay like a sunlit valley at their feet. He could wait no longer . . . He took her face in his hands and looked longingly into her eyes . . .
"We mustn't," she whispered nervously . . .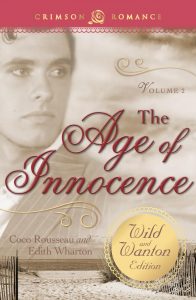 She tasted sweet, like morning dew, and smelled of lilies. He thought of the flower with the broken stem and the moisture oozing from the breakage. How could something so pure ever be broken?[/quote]
Now that you've had a glimpse, I hope that you will enjoy reading the books. I enjoyed writing them and would love to have your reviews. As to where the future will take me, only time will tell. I haven't decided what I'll do next, but that's the beauty of writing … all good things in one's own time.
Next week
Next Monday, February 24th , 2014, three more fabulous authors will let you in on their writing process.
Meet Katherine Bone who has been passionate about all things historical since she was an Army brat traveling all over the world. Initially, she dreamed of being an artist, but when she met and fell in love with Prince Charming, her own dashing Lieutenant vowing duty, honor, and country, she found herself saying, "I do." Not long afterward, she was whisked away to Army bases, castles, battlegrounds and cathedrals, where tales of swashbuckling characters and unforgettable adventure filled the lonely gaps when the Army called Charming away. No longer nomadic, she's set down roots in the south where she and LTC raised four children and now live with their fluffy Maine Coon.
Meet Kristina Knight who once upon a time spent her days running from car crashes to fires to meetings with local police – no, she wasn't a trouble-maker she was a journalist. When the opportunity to focus her energies on the stories in her head arose, she jumped at it. And she's never looked back. By day, she writes articles for magazines. By night, she writes romance novels with spice. She lives on Lake Erie with her husband, daughter and 2 rambunctious furkids. Happily ever after.
Meet Nancy C. Weeks who lives in suburban Maryland with her husband of more than thirty years. She has two children in college and spends her days out on her deck writing suspense novels as the local bird population keeps her company. She loves to hear from her readers.
BUY LINKS
A ROOM WITH A VIEW: WILD AND WANTON EDITION
THE AGE OF INNOCENCE: WILD AND WANTON EDITION – Volume 1
THE AGE OF INNOCENCE: WILD AND WANTON EDITION – Volume 2