A question I get asked a lot is how much of my 'real' life do I include in my books. Well, I'd tell you, but then I'd have to kill you—I joke!
The real answer to that is that I'm really not sure. There are elements of myself, people I know, interactions I've had that creep into every book I write. I can honestly say that I've never lifted a real life person and put them in a book, but there are certainly traits from people I know that find their way into characters. For safety reasons (namely mine), I'm going to end that right there and move on to less combustible elements.
NOBODY'S ANGEL, #1 Willow Park Romance was originally written while I was living in Montreal, so all references to snow, ice, cold, the way the door jambs—these were all part of my everyday life in Montreal. My description of the high street, is based on an actual street, with all names changed of course.
NOBODY'S PRINCESS was written over the course of our move from Quebec to Utah. We, very sensibly I think, flew instead of taking a road trip like Tiffany does. The place in the book, Canyons, Utah is strongly based on where we lived in Utah. We were right at the foot of the Wasatch Mountains, and yes, it really is as hot as I describe it being in the book.
I used a family trip we took to Moab for reference on the road trip Tiffany, Thomas and Dakota take. The most arid, desolate stretches of road I've ever seen. A bit like a lunar landscape.
Dakota listens to an alternative subset of music called Grindcore metal, and I consulted a family friend for band names and tracks. As the mother of two teen girls, I had more than enough research material for the moody teen parts of Dakota.
My brother-in-law has a love of cars, so he was the first place I went to look for just the right sort of car for Tiffany to trash. It had to be vintage, to make the repairing of it doubly difficult, and it had to be unusual enough that you would probably only see one of them in a lifetime. (Unless you're a major enthusiast like my brother in law.)
For Tiffany, I gave my love of shoe porn free rein to roam all over the internet in search of beautiful shoes. I even have a Pinterest board devoted to the subject.
For the most part, it's a mix of real and imagined. I have a dreadful habit of staring at strangers (drives my girls crazy). But people are fascinating, and an endless source of inspiration. I don't mean that in a creepy or judgmental way, because most of the time, I'm not forming a judgment. I'm too busy inventing a fabulous backstory. So, next time you catch a stranger staring at you, just think, you may be finding your way into a novel.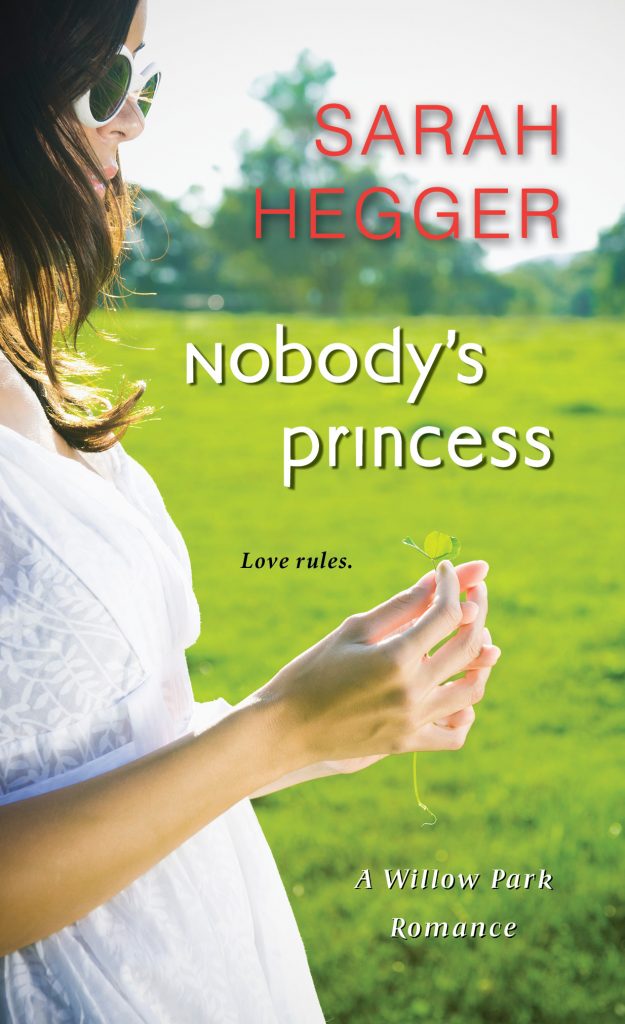 Sarah Hegger is back with another delightful Willow Park Romance, but this time the road to love might be a little bumpy…
Tiffany Desjardins has a plan. Well, she had a plan, until her past and all its complications came back to haunt her. Her not-quite-ex-husband, Luke, is missing, and suddenly everyone needs to find him—including Tiffany, if she wants to marry the true man of her dreams. Then there's Thomas Hunter, Luke's brawny friend, who won't take "no road trip" for an answer–and who won't stop showing up in her daydreams…
Thomas couldn't care less about Luke's personal life, but he needs to find him if he's going to make his fledgling minerals and metals company a reality. And if that means following Tiffany, who's taken off in Luke's rare Lamborghini Miura, he's more than willing—especially if there might be a chance to negotiate some of Tiffany's lovely curves. As Tiffany and Thomas speed along without a map, the only destination that seems certain is being together…
"Sarah Hegger's voice is rich and witty and in a word, addictive."—Terri Osburn, author of the bestselling Anchor Island series


NOBODY'S PRINCESS RELEASE TOUR MEGA-GIVEAWAY
Prizes:
5 x paperback copies of Nobody's Princess
5 x ebook copies of Nobody's Princess
1 x $50 Amazon Gift Cards
2 x $20 Amazon Gift Cards
3 x $10 Amazon Gift cards

Born British and raised in South Africa, Sarah Hegger suffers from an incurable case of wanderlust. Her match? A hot Canadian engineer, whose marriage proposal she accepted six short weeks after they first met. Together they've made homes in seven different cities across three different continents (and back again once or twice). If only it made her multilingual, but the best she can manage is idiosyncratic English, fluent Afrikaans, conversant Russian, pigeon Portuguese, even worse Zulu and enough French to get herself into trouble.
Mimicking her globe trotting adventures, Sarah's career path began as a gainfully employed actress, drifted into public relations, settled a moment in advertising, and eventually took root in the fertile soil of her first love, writing. She also moonlights as a wife and mother.
She currently lives in Littleton, Colorado, with her teenage daughters, two Golden Retrievers and aforementioned husband. Part footloose buccaneer, part quixotic observer of life, Sarah's restless heart is most content when reading or writing books.