As I write this, the wind is howling outside my window. We've had a few moderate days recently in eastern Tennessee, but now a front is pushing through bringing a spritz of snow.
In September of 2014 my husband and I were lucky enough to visit the Scottish Highlands. I was surprised to find that the autumn climate reminded me very much of wintry days here at home. Rainy…gray…and very windy.
I happen to love that kind of blustery, ever-changing weather. It made for some beautiful photographs. We did have a few days of blue skies and sunshine, but I almost think I enjoyed the stormy ones the best. Something about the majesty and wildness of rural Scotland seemed perfectly at home wrapped in fog and mist.
My maiden name is Scott. Although I don't have a fully fleshed-out genealogy in hand, I do know that my grandfather's father emigrated to the U.S. from Scotland. My grandfather was born two decades before my grandmother. I only remember him as a laughing old man. But I find myself fascinated by the notion that my lineage is—at least in part—Scottish.
Maybe that's why I love the Outlander books so much. They tell the tale of men and women who strode across the same moors that my "people" called home. My pale, easily-sunburned skin and red hair are far more suited to a northern climate. Perhaps I should have been born there. I think I would have fit right in. If I weren't already married to my high school sweetheart, I might even entertain the notion of heading across the Atlantic in search of my own tartan-clad kinsman. J
History is a love shared by both my husband and me. Supposedly, some of the early settlers where we now live were drawn to the area near the Great Smoky Mountains because it reminded them of their home back in Scotland.
What about you? Do you know your family's roots? Does the way you talk and the way you look point to a certain part of the world?
It's a treat to be here with you today. Even if we all hail from different backgrounds, I know we each love books and reading and romance. What better way to be related?!?
Happy spring!
Janice Maynard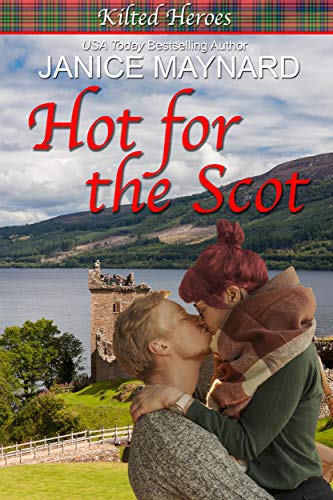 In Janice Maynard's sweet and sexy new series, three childhood friends with a shared passion for the Outlander novels and TV show decide to travel to Scotland looking for adventure—and their very own Highland heroes… 
It's a dream come true for schoolteacher Hayley Smith. No homework to grade, no students to corral, no social media, Internet or cell phone…just a month amid the heather and rolling hills around Inverness. A brawny alpha male in a kilt is probably too much to ask for. But Hayley is in heaven ambling around Loch Ness, gazing and then…falling into the icy water, before being rescued by a strong, chivalrous local hero…
Retired soccer star Angus Munro, aka Angus the Angler, is a little insulted and a whole lot intrigued when Hayley doesn't recognize him. How long has it been since anyone saw beyond his wealth and fame? And how long before the macho athlete and his modern-day American damsel in distress act on an attraction that could make even the misty Scottish moors sizzle with heat? Long enough, maybe, for both to figure out if this is an affair to remember…or the start of something everlasting…




USA Today bestselling author Janice Maynard knew she loved books and writing by the time she was eight years old. But it took multiple rejections and many years of trying before she sold her first three novels. After teaching kindergarten and second grade for a number of years, Janice took a leap of faith and quit her day job. Since then she has written and sold over thirty-five books and novellas.
During a recent trip to Scotland, Janice enjoyed getting to know the "motherland". Her grandfather's parents emigrated from the home of bagpipes, heather, and kilts. Janice lives in east Tennessee with her husband, Charles. They love hiking, traveling, and spending time with family.
Hearing from readers is one of the best perks of the job!