Myla Lewis has her life back. Wife. Mother. Queen. Great Scala. Queen of the Thrax. Yay! Then one day, Myla runs across a supernatural waterfall that makes her igni screech like crazy. Our heroine speaks the fateful words, "Some days, I wish I weren't the Great Scala."
The waterfall grants her wish.
A moment later, Myla is back at Purgatory High. No husband. No child. No powers beyond her old quasi days. And without Myla around as the Great Scala, all quasis now live under Armageddon's rule. That sucks. Hard. So Myla sneaks into Antrum—she simply must find Lincoln and figure this out. Once she arrives, two problems arise.
First, her husband doesn't know her. At all.
Second, Lincoln is married to someone else.
Fuuuuuuu…
ANGELBOUND ORIGINS
In which Myla Lewis kicks ass and takes names. Nuff said.
1. Angelbound
2. Scala
3. Acca
4. Thrax
5. The Dark Lands
6. The Brutal Time
7. Armageddon
8. Quasi Redux
READ AN EXCERPT

BUY LINKS
GIVEAWAY
Christina Bauer will be awarding a Angel Wing Necklace (US) to a randomly drawn winner via rafflecopter during the tour.
ABOUT THE AUTHOR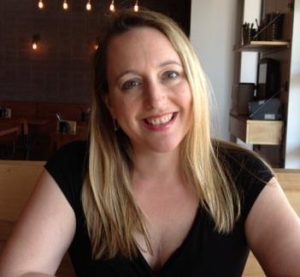 Christina Bauer thinks that fantasy books are like bacon: they just make life better. All of which is why she writes romance novels that feature demons, dragons, wizards, witches, elves, elementals, and a bunch of random stuff that she brainstorms while riding the Boston T. Oh, and she includes lots of humor and kick-ass chicks, too.
Christina graduated from Syracuse University's Newhouse School with BA's in English along with Television, Radio, and Film Production. She lives in Newton, MA with her husband, son, and semi-insane golden retriever, Ruby.

Be the first to know about new releases from Christina by signing up for her newsletter: http://tinyurl.com/CBupdates
Stalk Christina On Social Media – She Loves It!