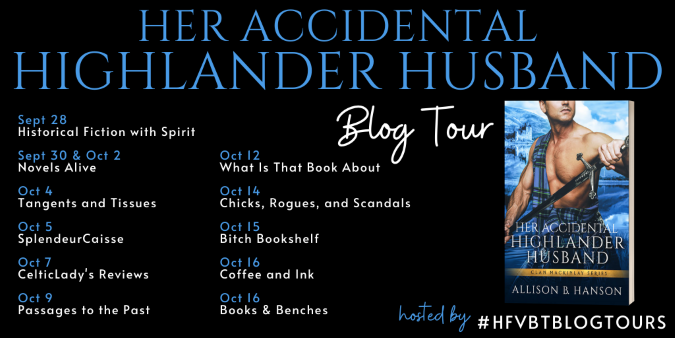 When writing a book, we fiction authors try our best to weave in as many facts as possible to make our story more believable for our readers. We spend a lot of time researching subject matter. For historical novels, we look at the time period and try to write characters that fit. However, occasionally we have to turn away from the facts to tell our story.
A good example of this, especially in the romance genre, is the romance itself. Relationships and marriages in Scotland during the 1600s were often arranged for alliances and the merging of families or clans. Often times, the couple had never even met until their wedding day. And once they were married, the woman became the property of the man. That hardly left room for romance, respect, and love.
Women were commonly mistreated, as was allowed. Girls were raised with the expectation that they would bear children, take care of a home, and above all, obey their husbands. Unfortunately, the saucy and courageous heroines we write in our stories wouldn't always be welcome by a man of this time period.
Of course, there was love, but it wasn't as typical as it seems. Commoners had more of a chance to marry whomever they chose, but it was a life of hard work. Is it any wonder we authors tend to stray away from those discouraging facts to tell a story of brave women and the men strong enough to love them?
The fictional men of Clan MacKinlay love and respect their women and know how important they are to the clan.
"The women may not stand beside us in battle, but they are fierce, and not one warrior would be here without them."

Marian Fletcher Blackley, Duchess of Endsmere, has been on the run from the English Crown for weeks since killing her abusive husband…no matter that it was self-defense. She has only one safe place to go—the MacKinlay clan in Scotland, where her sister is the laird's wife.
War Chief Cameron MacKinlay has vowed never to marry after witnessing his widowed mother's grief. He has his lands and his clan, and that's enough for a good life. When one day a sprite of a lass comes running out of the forest with hounds nipping at her heels and an English bounty hunter not far behind, he feels compelled to save her by claiming the disheveled duchess is his wife. But he certainly didn't intend to marry her for real!
And now he'll do anything to protect her…



During the Blog Tour, we are giving away a $10 Amazon Gift Card! To enter, please use the Gleam form below.
The giveaway is open to US residents only and ends on October 16th. You must be 18 or older to enter.

One very early morning, Allison B. Hanson woke up with a conversation going on in her head.  It wasn't so much a dream as being forced awake by her imagination. Unable to go back to sleep, she gave in, went to the computer, and began writing.  Years later it still hasn't stopped.
Allison lives near Hershey, Pennsylvania. Her contemporary romances include paranormal, sci-fi, fantasy, and mystery suspense.  She enjoys candy immensely, as well as long motorcycle rides, running, and reading.