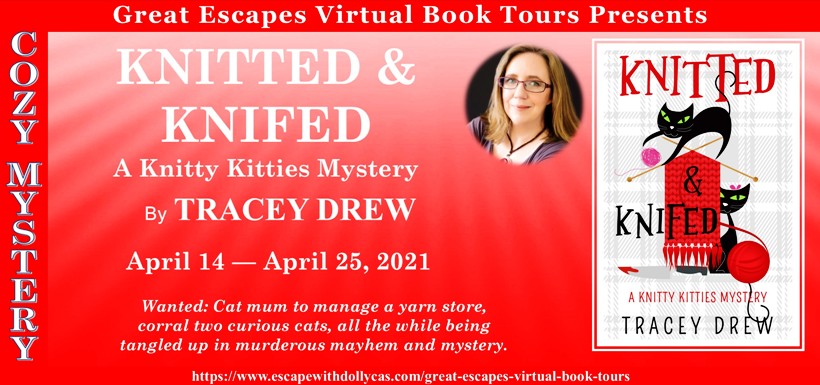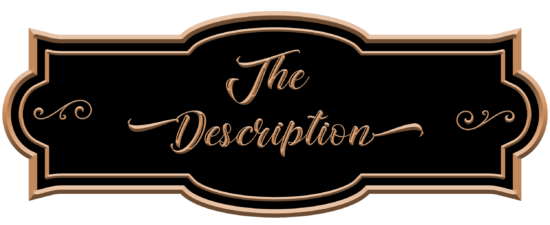 Wanted: Cat mum to manage a yarn store, corral two curious cats, all the while being tangled up in murderous mayhem and mystery.
A smart woman would dump her cheating ex, move from the city, and give herself a chance for a well-deserved do-over. A smarter woman—smarter than me, anyway—wouldn't jump out of that same frying pan and return to Cape Discovery, a seaside village where her family is the nuttiest of all the nut-ball residents.
I'm a former high school counselor, middle-child peacemaker, and current curator of lots of squishy/fuzzy goodness at my granddad's little yarn store. Temporary assistant. Until I decide what to do with the rest of my life. There's only one knotty problem to untangle first. The knife sticking out of the most unpopular man in town, and the police detective trying to pin the murder on the donkey—otherwise known as my younger brother. With a pair of mischievous cats determined to be underfoot and a craft group of Serial Knitters and Happy Hookers wanting the inside scoop, a girl could lose her mind. And if the killer has their way, maybe even my life…
Tessa Wakefield has her hands full juggling a cozy craft store, her crazy family, and two men who'd rather poke out their eyes than describe themselves as cute. Which they totally are. Cute, charismatic, and occasionally on her mind when she's not stumbling over dead bodies and using her newfound sleuthing skills to track down murderers. Lucky she's an excellent multi-tasker because digging beneath Cape Discovery's surface can unearth secrets that kill.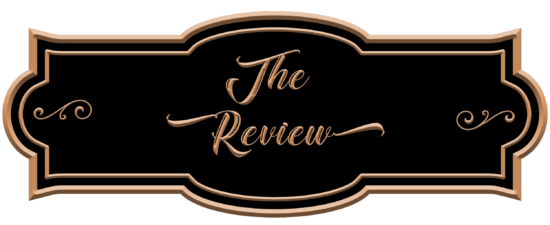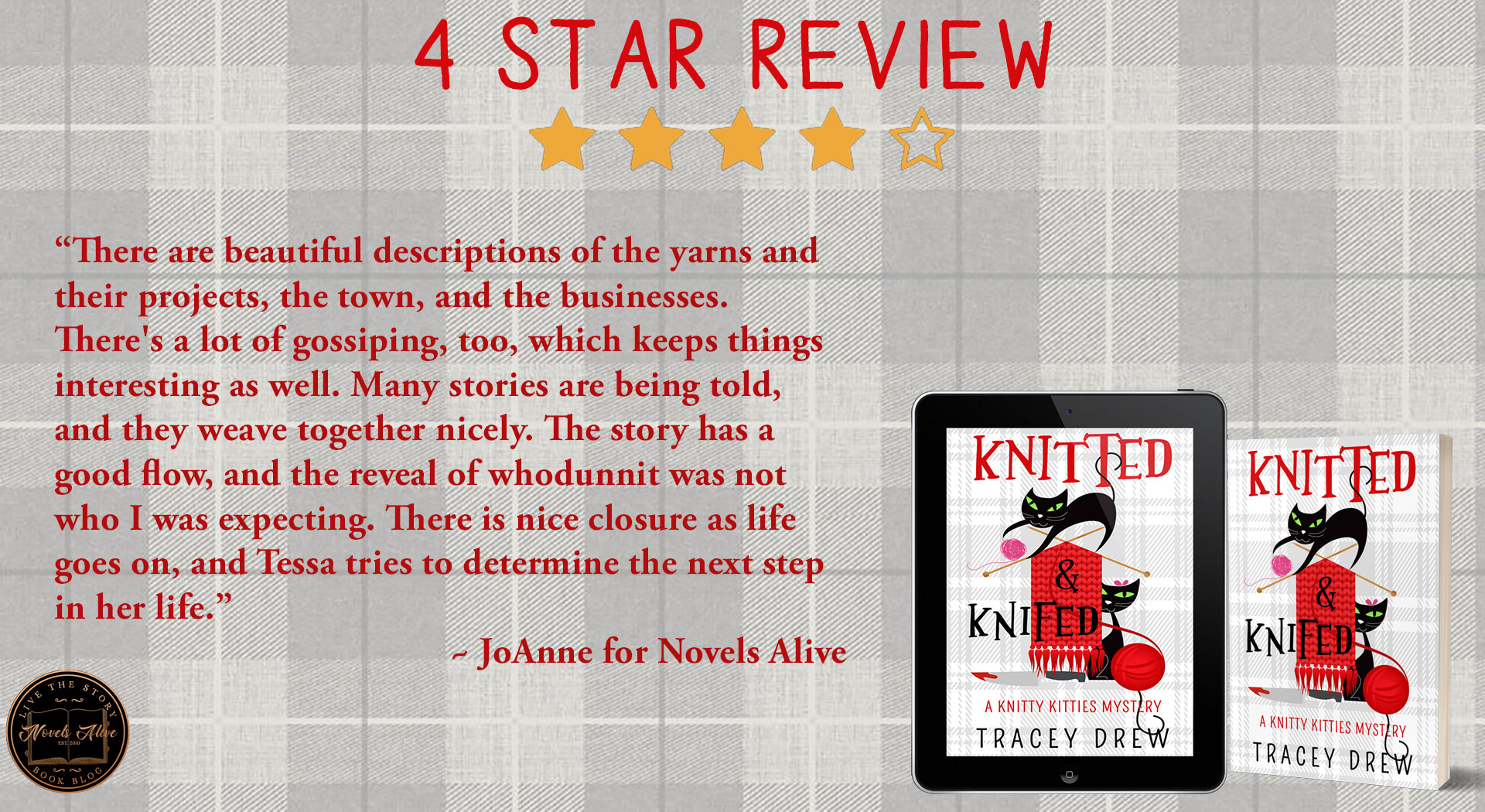 Knitted & Knifed is the first book in the Knitty Kitty Mystery series by Tracey Drew, and I can't wait to read more. Set in New Zealand, it's a cozy mystery that held my interest from the first page to the last. Tessa is an amateur sleuth who tries to piece together who murdered a local business owner who wasn't on the up and up. The detective in charge isn't too happy with her, and she always seems to be where he doesn't want her. As she rules suspects out and tries to take the heat off her younger brother, the story twists and turns with clues galore. 
There's knitting and crocheting going on, and even though I don't do either craft, I love when they are part of the story. Tessa lost her grandmother a few months before. Since she wanted to get away from her loser boyfriend and was burned out from her job as a high school counselor, the family thought it would work out nicely to have Tessa move in with her grandfather, keep him company and help him run his yarn shop. So, by day, Tessa is helping her grandfather keep his yarn store afloat and quite enjoys spending time with him. It's fun to watch their interactions. There are family and friends, some not-so likable people, laughter, hope, playful and scary moments, anxiety, cats, and even a pet goose. 
There are beautiful descriptions of the yarns and their projects, the town, and the businesses. There's a lot of gossiping, too, which keeps things interesting as well. Many stories are being told, and they weave together nicely. The story has a good flow, and the reveal of whodunnit was not who I was expecting. There is nice closure as life goes on, and Tessa tries to determine the next step in her life. 
I love the colorful cover, especially with the two cats, Kit, and Pearl, who are an integral part of the story. At the back of the book, there's a preview of the next book in the series, Purled & Poisoned, which whet my appetite for more.
Ms. Drew is a new to me author. It's a pen name for author Tracey Alvarez who is also new to me. I look forward to reading more of their books.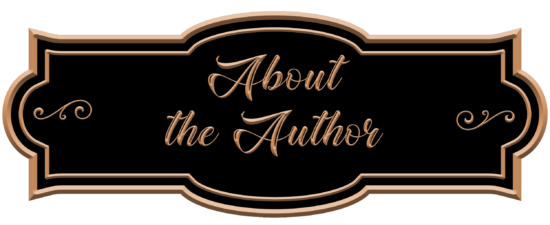 Tracey Drew lives Down Under with her husband—who's given up complaining about her yarn addiction–and two madcap tabby cats called Kevin and Alfie. The feline brothers constantly battle with her while she's trying to write her books by demanding lap-time, but they also provide constant inspiration for her fun & quirky cozy mysteries.

April 14 – Novels Alive – AUTHOR INTERVIEW
April 14 –Brooke Blogs – SPOTLIGHT
April 15 – I'm All About Books – SPOTLIGHT
April 15 – Escape With Dollycas Into A Good Book – REVIEW
April 16 – Christy's Cozy Corners – REVIEW
April 16 – Sapphyria's Book Reviews – SPOTLIGHT
April 17 – Reading Is My SuperPower – REVIEW
April 18 – Diane Reviews Books – REVIEW
April 19 – Literary Gold – REVIEW
April 19 – Maureen's Musings – SPOTLIGHT
April 20 – FUONLYKNEW – SPOTLIGHT
April 20 – Laura's Interests – REVIEW
April 21 – Socrates Book Reviews – SPOTLIGHT
April 21 – I Read What You Write – REVIEW, AUTHOR INTERVIEW
April 22 – Celticlady's Reviews – SPOTLIGHT
April 22 – Novels Alive – REVIEW
April 23 – Mochas, Mysteries and Meows – SPOTLIGHT
April 23 – Baroness' Book Trove – SPOTLIGHT
April 24 – Ruff Drafts – AUTHOR INTERVIEW
April 24 – StoreyBook Reviews – SPOTLIGHT
April 25 – #BRVL Book Review Virginia Lee Blog – SPOTLIGHT