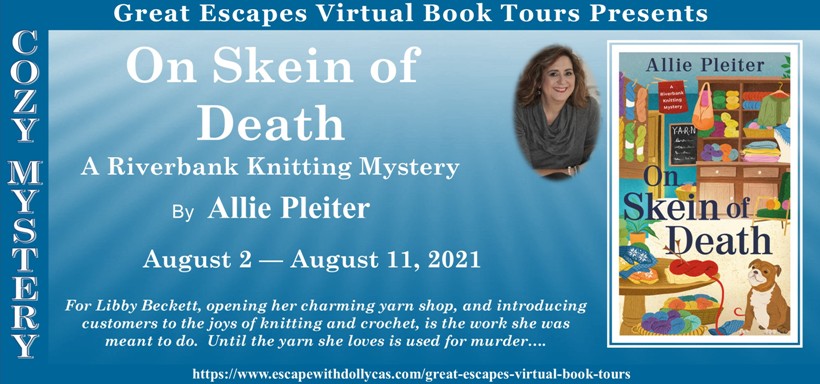 My Instagram profile lists me as a "dangerously obsessive knitter." That's not much of an exaggeration. I'm one of those people who packs not only my current knitting project when I travel, but a "spare" just in case I finish the first one.
Most readers are the same way. Well-stocked e-readers aside, who of us hasn't packed at least one more book than is reasonable…just in case. After all, who wants to be left without something to read? What if…gasp!…you end up somewhere without a bookstore??
All that passion is a great thing—it's wonderful to have things and activities you love deeply. But it can't come flooding out on the page without dangerous results. As a writer—and a "dangerously obsessive knitter"—I've got to temper my passion when putting it into a book.
There's no hiding how much I love knitting. My heroine, Libby Beckett, loves knitting and has just fulfilled a life-long dream of opening a yarn shop. That's awesome.
But I'd be smart to remember that it might not inspire the flame of passion in you that it does in me. I need to write a story that enthralls everybody. Well, almost everybody. Okay, everybody enough to give it an Amazon ranking in the single digits.
As such, my favorite praises of ON SKEIN OF DEATH come not from knitters who "get it" (although those please me to no end, I assure you), but also from the non-knitters who say "you let me feel her passion and her connection to the craft." I want you to say "I love Libby" more than I want you to say "I love knitting." My job as a writer is to pull you deeply into Libby's world.  A world that just happens to contain a lot of yarn.
And Maryland's most adorable English bulldog.
Sure, I could go on and on about the luxuries of angora, the frustrations of dropping a stitch, or how to execute the perfect long-tail cast-on. But I'm smart enough (hopefully) to realize that might not mesmerize you the way it does me. Too many details are…well…too many details.
So I write to make you feel that fascination. I write to pull you into a world that feels good to visit, inhabited by characters you care about—and a few it's fun to hate. I don't write about the stitches themselves, but how they feel between Libby's fingers and how her brain solves problems while being occupied with the soothing repetition of knitting.
What you get, is what all readers read for: the chance to slip into someone else's life for a while. To have an adventure play out in vibrant detail in your imagination, fed by the textures and colors and conversations I've served up to you on the page. Libby becomes real, her dangers in solving the mystery raise your own pulse, and you wrack your brain for clues right alongside her.  When she saves the day—and the yarn shop's first big event—by solving the murder, you feel her victory because it is in some small way yours as well.
If that means I've "spun a good yarn," then that's the poetry of it all, isn't it?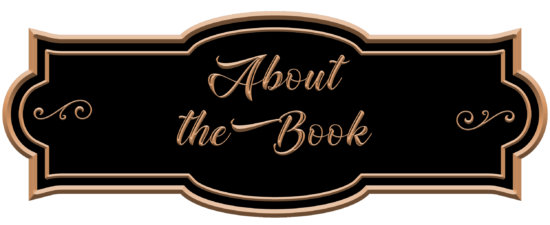 A Riverbank Knitting Mystery: Book 1
Publication Date: June 1, 2021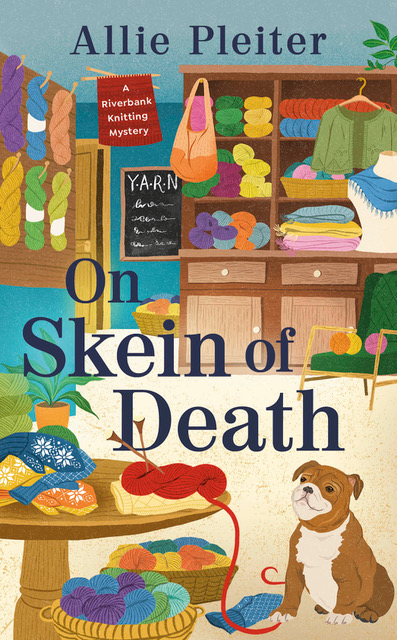 For Libby Beckett, opening her charming yarn shop, and introducing customers to the joys of knitting and crochet, is the work she was meant to do. Until the yarn she loves is used for murder….
Libby has come home to Collinstown, Maryland to live her dream and open her own yarn shop, aptly named Y.A.R.N., along the Chester River. To Libby, Y.A.R.N. stands for "You're Absolutely Ready Now." But the acronym changes whenever inspiration strikes, and customers add to the list of suggestions that fill the blackboard wall in a shop stuffed with color, fiber, and comfort.
Libby is thrilled when she lands famous Norwegian knitting celebrity Perle Langager for a series of events at Y.A.R.N. Libby's English bulldog, Hank, has been modeling one of Perle's doggie sweaters, and customers just can't wait to see Perle in action. The mayor of Collinstown even decrees a Collinstown Yarn Day to celebrate. But once Perle arrives in town, she seems distracted and on edge. And when she's found strangled with a skein of red yarn, Libby knows she has to solve a knotty mystery before her new life unravels.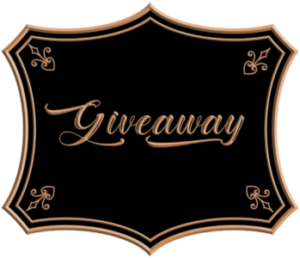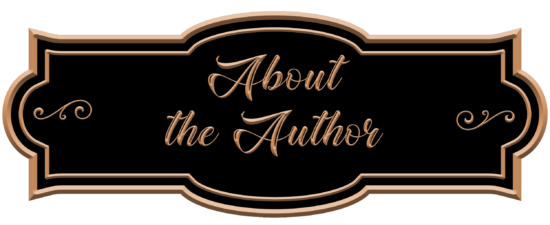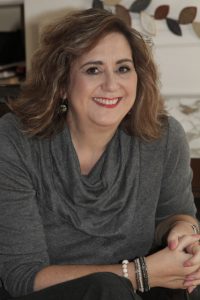 An avid knitter, coffee junkie and firm believer that "pie makes everything better," Allie Pleiter writes both fiction and non-fiction working on as many as four novels at a time.  The bestselling author of over fifty books, Allie has enjoyed a twenty-year career with over 1.5 million books sold.  In addition to writing, Allie maintains an active writing productivity coaching practice and speaks regularly on the creative process, publishing, and her very favorite topic—The Chunky Method of time management for writers. Visit her website at www.alliepleiter.com to learn more.

August 2 – Literary Gold – AUTHOR INTERVIEW
August 2 – Sapphyria's Book Reviews – REVIEW
August 3 – Novels Alive – GUEST POST
August 3 – #BRVL Book Review Virginia Lee Blog – SPOTLIGHT
August 4 – Novels Alive – SPOTLIGHT 
August 4 – Brianne's Book Reviews – REVIEW
August 5 – Escape With Dollycas Into A Good Book – REVIEW
August 5 – Celticlady's Reviews – SPOTLIGHT
August 6 – Brooke Blogs – SPOTLIGHT
August 6 – My Reading Journeys – REVIEW  
August 7 – FUONLYKNEW – SPOTLIGHT
August 7 – The Book's the Thing – REVIEW
August 8 – Cozy Up With Kathy – REVIEW, AUTHOR INTERVIEW
August 8 – I Read What You Write – SPOTLIGHT
August 9 – Dear Reader – REVIEW
August 9 – Tea Book Blanket – SPOTLIGHT
August 10 – Ascroft, eh? – CHARACTER GUEST POST
August 10 – Maureen's Musings – SPOTLIGHT
August 11 – BookishKelly2020 – SPOTLIGHT  
August 11 – Christy's Cozy Corners – GUEST POST
August 11 – Reading Is My SuperPower – SPOTLIGHT