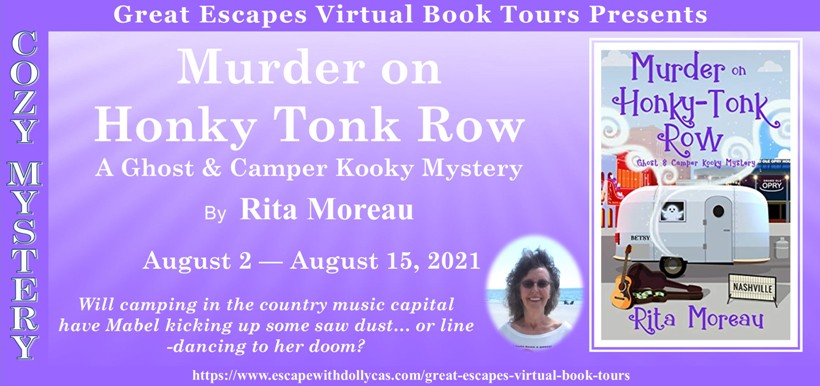 Today, we welcome cozy mystery author. Rita Moreau! We put Rita on the hot seat with our author interview questions.
What drives your story forward in your books the most, the characters or the plot, or do you feel they are intertwined?
The characters. They start talking and away we go. It's all I can do to hold on.
If you were a character in one of your books, which would you be? The protagonist, mentor, villain, love interest, etc.?
The protagonist. I like to be in charge. Little bit of a control freak.
If you had the power to make any of your books into a film, which would it be and why?
The House on Xenia.  It was written to honor my mother and strong women everywhere. She was a single mother in the 1950s—under one roof she raised three children, took care of her mother and great uncle plus worked. She was a rock. She also never gave up her dream of show business. Later became a celebrated TV producer on public access. I miss her every day.
Is there a particular genre of fiction that you have always wanted to write, but haven't yet tackled?
Probably what Michael Connelly writes—detective.
If you could meet a literary character or author, who would you most like to meet?
Dorothy in the Wizard of Oz and her pals.
As with the rest of us, you have a real-life to live.  So, in your most recent book, what was happening in your life and how did it influence your writing?
The lockdown virtually locked my you know what in place. No excuses.
Was there something in your first edit that didn't make it in the final copy that you sometimes wish you would have kept?
I did enter a contest for the chance to turn my book into a film. Had to cut out 30,000 words.
What do you do to prepare your mind to write? To get into the mind of your characters.
I just get up early. That seems to do the trick.
What book as a child/adolescent most influenced you as a writer?
Daphne Du Maurier and all her books.
How much research went into your last book?
A lot. I spend a lot of time researching the area for my third book—Murder in the Badlands. Especially the history of Native Americans.
What's one of the most important things you'd like your readers to know about you? What defines you most as an author?
I'm tenacious. I don't give up. Just keep on going. It does help to have a supporting spouse who loves to tell people he is the author's husband. He has always motivated me to be the best and has believed in my writing from the start.
What is one thing about you that may surprise your readers?
I teach group fitness and I have done so for 30 years.
Can you tell us what prompted you to write your latest release?
My husband and I traveled in a motorhome and that's when I started writing. I had retired. It seems to go with the new series—Ghost & the Camper. Luckily our motorhome was not haunted.
What's next for you? What are you working on now?
Murder in the Badlands. Hope to release it later this year. My dream is that my books make it to film and I honor my mother. She'd like that.
Thank you, Rita, for joining us today! Read on to find out more about Rita's latest release, Murder on Honky Tonk Row!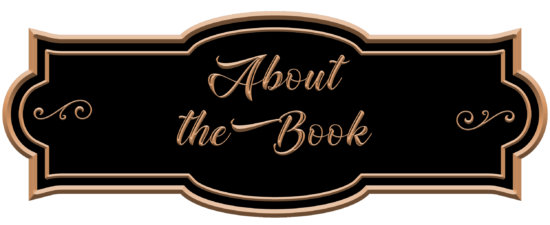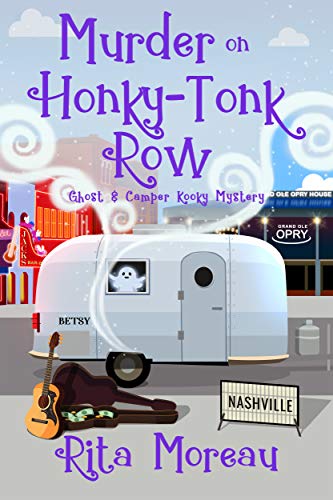 Will camping in the country music capital have Mabel kicking up some saw dust… or line-dancing to her doom?
Despite their good deed in Savannah, Mabel Gold's ghostly friend Irma remains stuck in Purgatory. So when the plucky sixty-something divorcée pulls her haunted vintage camper into a Nashville campground, she's expecting Irma to accompany her on the tour of the Grand Ole Opry. But as they two-step into a honky-tonk for some live tunes, they're shocked to encounter two lost spirits stranded there for the past twenty years after their double homicide.
Though St. Peter hints that solving the long-closed case could get Irma through the Pearly Gates, Mabel has little time to uncover the culprit before she's due to boot-scoot off to the Badlands. But when shady financials surface and threaten to ruin the honky-tonk owner's run for governor, trying to help the poor souls pass on could land the fearless sleuth in a whole heap o' trouble.
Can Mabel collar the killer before she's singing country-western with choirs of angels?
Murder on Honky-Tonk Row is the second book in the lighthearted Ghost & the Camper kooky mystery series. If you like wacky characters, quick-witted banter, and crooners with a twang, then you'll love Rita Moreau's clever caper.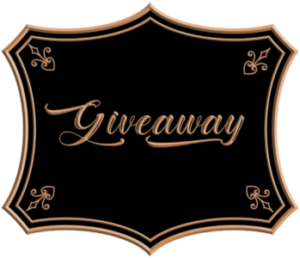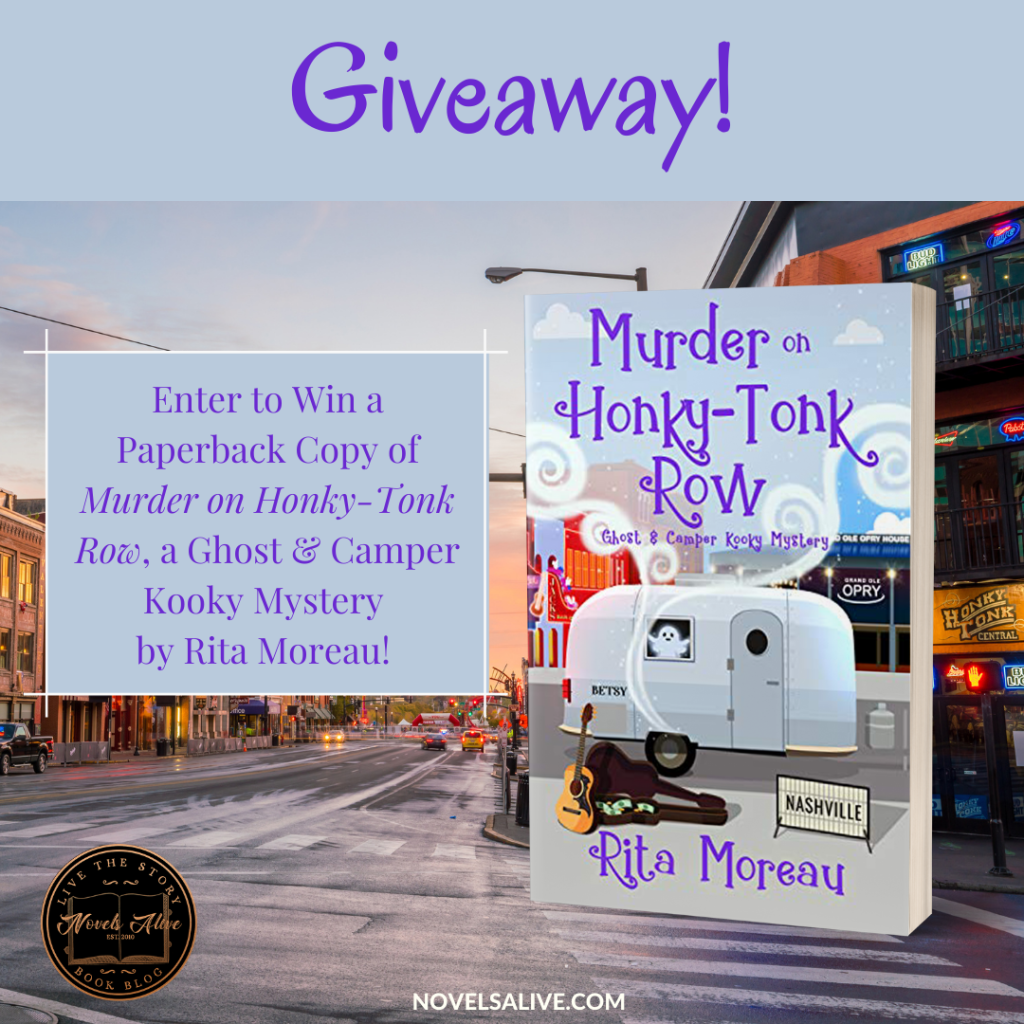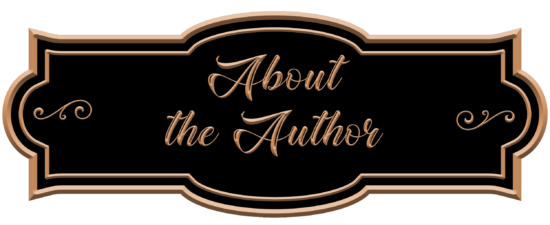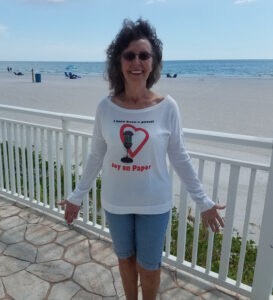 Rita Moreau is the author of the Mary Catherine Mahoney Mystery series and the Ghost & Camper Kooky Mystery series.
A workaholic by nature, upon retirement, Rita Moreau began work on her bucket list, writing a book. Traveling the national parks with her husband George in a vintage Bluebird motor home, (on George's list), Rita completed her first novel Bribing Saint Anthony. Back home she completed Nuns! Psychics! & Gypsies! OH! NO, Feisty Nuns and The Russian & Aunt Sophia and The House on Xenia. Last year when we entered the Twilight Zone Rita wrote the first two new novels in the Ghost & the Camper series. Rita and her husband live in a postcard called Florida where he has fun telling everyone he is the author's husband. When not writing she joins PatZi Gil on the Joy on Paper radio program with Book Buzz Mysteries, or you can find her teaching SilverSneakers fitness classes and doing her best to keep busy. She loves connecting with readers. Visit her at www.RitaMoreau.com or find her on Facebook at facebook.com/RitaMoreauAuthor. She would love to hear from you.

August 2 – Literary Gold – CHARACTER GUEST POST
August 3 – StoreyBook Reviews – GUEST POST
August 3 – Cassidy's Bookshelves – SPOTLIGHT
August 4 – Christy's Cozy Corners – CHARACTER GUEST POST
August 4 – Thoughts in Progress – SPOTLIGHT
August 5 – Mysteries with Character – GUEST POST
August 5 – Angel's Guilty Pleasures – SPOTLIGHT
August 5 – Novels Alive – AUTHOR INTERVIEW
August 6 – Books to the Ceiling – REVIEW
August 6 – Books a Plenty Book Reviews – REVIEW
August 7 – Elizabeth McKenna – Author – SPOTLIGHT
August 7 – Escape With Dollycas Into A Good Book – SPOTLIGHT
August 8 – Maureen's Musings – SPOTLIGHT
August 8 – Sapphyria's Book Reviews – SPOTLIGHT
August 9 – Christa Reads and Writes – REVIEW
August 10 – Laura's Interests – REVIEW
August 11 – Celticlady's Reviews – SPOTLIGHT
August 12 – I Read What You Write – REVIEW
August 13 – Brooke Blogs – SPOTLIGHT
August 14 – FUONLYKNEW – SPOTLIGHT
August 15 – Rosepoint Publishing – REVIEW
August 15 – BookishKelly2020 – SPOTLIGHT