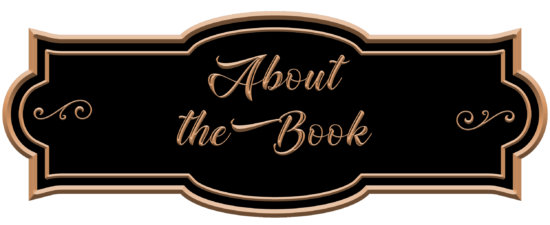 Whitney Dagner is your tour guide to a Pacific paradise that's to die for—only to find it's a place people are also willing to kill for—in Gabby Allan's Much Ado About Nautically, first in the Whit and Whiskers Mystery series.
 
After far too many years in the Los Angeles corporate world, Whitney Dagner has come home to Santa Catalina Island off the California coast to help her brother Nick run Nautically Yours, the family tourism business. Between gift shop shifts selling all manner of T-shirts and tchotchkes and keeping her feline Whiskers in fine fettle, she pilots the Sea Bounder, a glass bottom boat showing tourists the underwater sights of aquatic plants, marine life—and a murder victim?
The self-proclaimed "Master of the Island," Jules Tisdale was a wealthy man with business interests throughout Catalina who was about to be honored as Person of the Year before someone strangled him with his own tie and tossed his body into the water. That someone appears to be Nick, who had a raw deal from Jules and no alibi the night of his murder. To clear her brother's name, Whit will have to investigate Jules' shady associates and not exactly grief-stricken family members—with the unwelcome help of Felix Ramirez, police diver and Whit's ex-boyfriend who's looking to rekindle their relationship.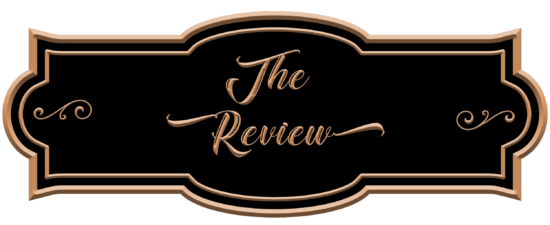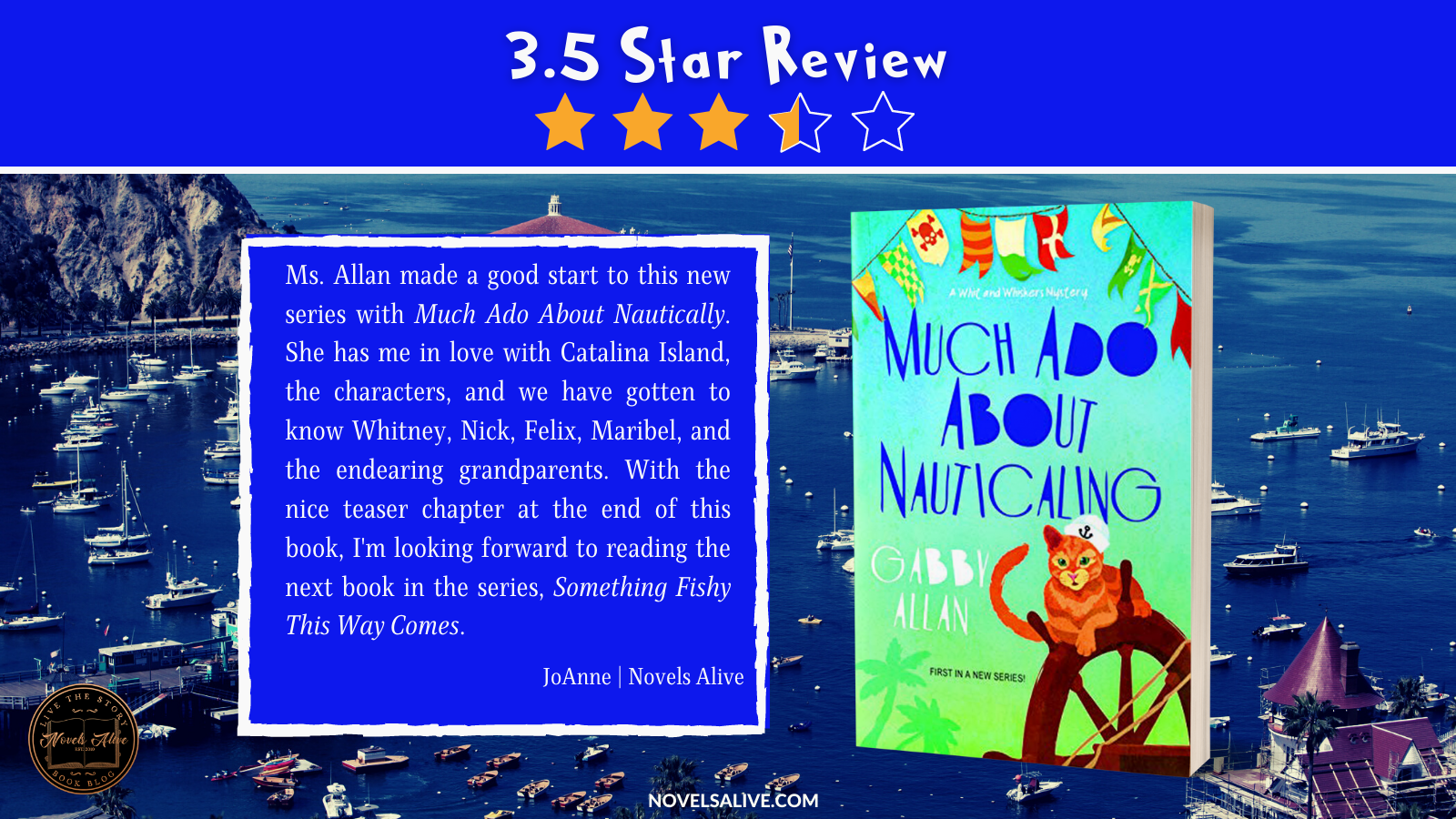 Much Ado About Nautically is the first book in the Whit and Whiskers Mystery series by Gabby Allan, and I look forward to reading more and returning to Catalina Island. We meet quite a cast of characters throughout the book, but Whitney and her cat, Whiskers, were center stage, along with her brother Nick. 
Jules, a prominent and wealthy member of the community, is murdered. Since those in the police department have Nick as their only suspect, Whitney tries to solve the mystery before locking Nick up for a crime he didn't commit.
Whitney and Nick run the family's glass-bottom boat tourism business, and she also owns a gift shop on the island. Her roommate, Maribel, works for the police as a dispatcher, and Whitney's former boyfriend, Felix, is a part-time diver for the police. Whitney had no idea that Felix followed her to the island several months later, hoping to get back together with her, but that seems to be a story for another day since it only gets slightly touched upon here. 
Whit's focus is all about clearing her brother's name along with their family name since their grandparents, Goldy and Pops, still live on the island. 
I liked Whit's relationship with her grandparents, and Goldy is a hoot. We get to know the characters, the small businesses, and the town a little at a time. But everyone seems to have secrets when Whit tries to ferret out information and clues the best to her amateur abilities. 
Jules, the victim, seems to have bankrolled many of the local businesses. Enter his young widow, Tracy, who is trying to get the money returned but doesn't go about it in the best of ways. 
Whit starts to put the clues together while running or driving her golf cart all over the island, but all fingers seem to point to the wrong suspect until she figures out whodunnit and saves the day at the last minute.
Though the story was choppy in places, Ms. Allan penned beautiful descriptions that transported me to those locals. 
As with many mysteries, there are injuries, lies, deception, and lots of cryptic comments. Ms. Allan wrapped up the story nicely with the mystery solved, though the ending was very abrupt to me. 
The title is clever, and I loved the colorfulness and whimsical feel of the cover, which was spot on.
Ms. Allan made a good start to this new series with Much Ado About Nautically.  She has me in love with Catalina Island, the characters, and we have gotten to know Whitney, Nick, Felix, Maribel, and the endearing grandparents. With the nice teaser chapter at the end of this book, I'm looking forward to reading the next book in the series, Something Fishy This Way Comes.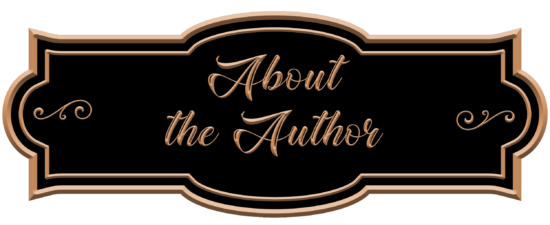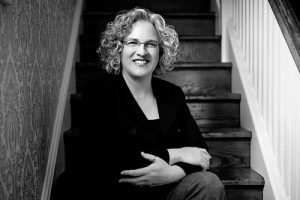 After writing plays for her friends to act out as a kid, bad poetry in high school, and her high school Alma Mater song, GABBY ALLAN finally found her true passion—cozy mysteries. Being able to share her world with readers, one laugh at a time, and touch people's hearts with her down-to-earth characters makes for the best job ever. This California girl now lives with her husband, daughter, and two insane dogs in Central Pennsylvania where she is hard at work on her next novel.

July 30 – Socrates Book Reviews – REVIEW
July 30 – Here's How It Happened – SPOTLIGHT
July 31 – The Avid Reader – REVIEW
July 31 – Literary Gold – SPOTLIGHT
August 1 – Cozy Up With Kathy – REVIEW
August 1 – eBook Addicts – SPOTLIGHT
August 2 – Novels Alive – GUEST POST
August 2 – I Read What You Write – REVIEW, AUTHOR INTERVIEW
August 3 – Book Club Librarian – REVIEW  
August 3 – Mysteries with Character – AUTHOR INTERVIEW
August 4 – Escape With Dollycas Into A Good Book – REVIEW, AUTHOR INTERVIEW
August 4 – Maureen's Musings – SPOTLIGHT
August 5 – Celticlady's Reviews – SPOTLIGHT
August 5 – Laura's Interests – REVIEW
August 6 – Mochas, Mysteries and Meows – CHARACTER INTERVIEW
August 6 – Sapphyria's Book Reviews – SPOTLIGHT
August 7 – Reading Is My SuperPower – REVIEW
August 8 – Brooke Blogs – GUEST POST
August 9 – StoreyBook Reviews – SPOTLIGHT
August 9 – Christy's Cozy Corners – REVIEW, GUEST POST
August 10 – Reading, Writing & Stitch-Metic – GUEST POST
August 11 – Novels Alive – REVIEW
August 12 – BookishKelly2020 – SPOTLIGHT