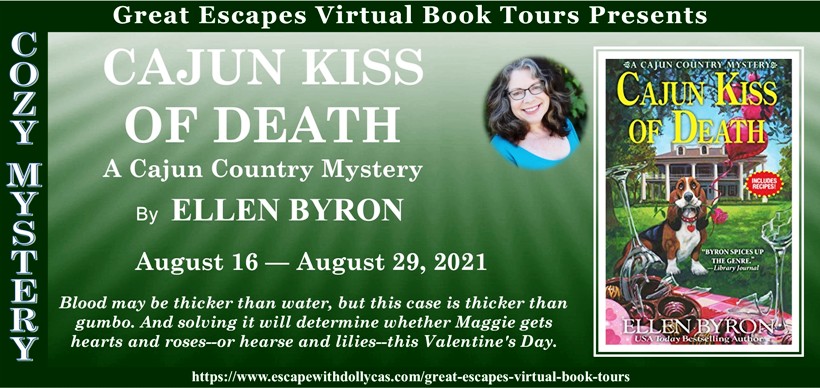 These days, promoting a book release is a second job for an author. When I realized that a lot of the book marketing heavy lifting would fall on me, I felt like I had two choices: apologize for incessant promotion… or own it. I took a deep breath and went with owning it, but in a way, that's also got a hint of apology to it. You know like, "Hey, I'm hitting you up to buy my book in a funny way, hope you don't mind and even enjoy the ride!" And thus my tongue-in-cheek Shameless Shilling Campaign was born.
I tiptoed around promo paths with my first two releases, then fully committed to this approach with my third book, A Cajun Christmas Killing. I think the most successful campaigns have been where I've been able to utilize personal photos, thanks to a graphics wizard I hire to do what I can't, like Photoshop. I generally start my campaign a month before any book's official debut and complete it on or right after launch day. For Cajun Kiss of Death, my 7th Cajun Country Mystery, I miscounted the weeks and had to make a filler graphic. I shared it with much self-deprecation, and readers seemed to appreciate the oopsie that comes with counting on your fingers, lol.
Now that I've gotten the hang of these campaigns, creating them is actually fun. So, as long as publishing will have me, and readers aren't shaking me by the shoulders while yelling "I cannot take one more graphic about your flipping release!!!" my Shameless Shilling will continue. In the spirit of some good-natured promotion, I hope you enjoy a few of the graphics from my most recent campaign for Cajun Kiss of Death.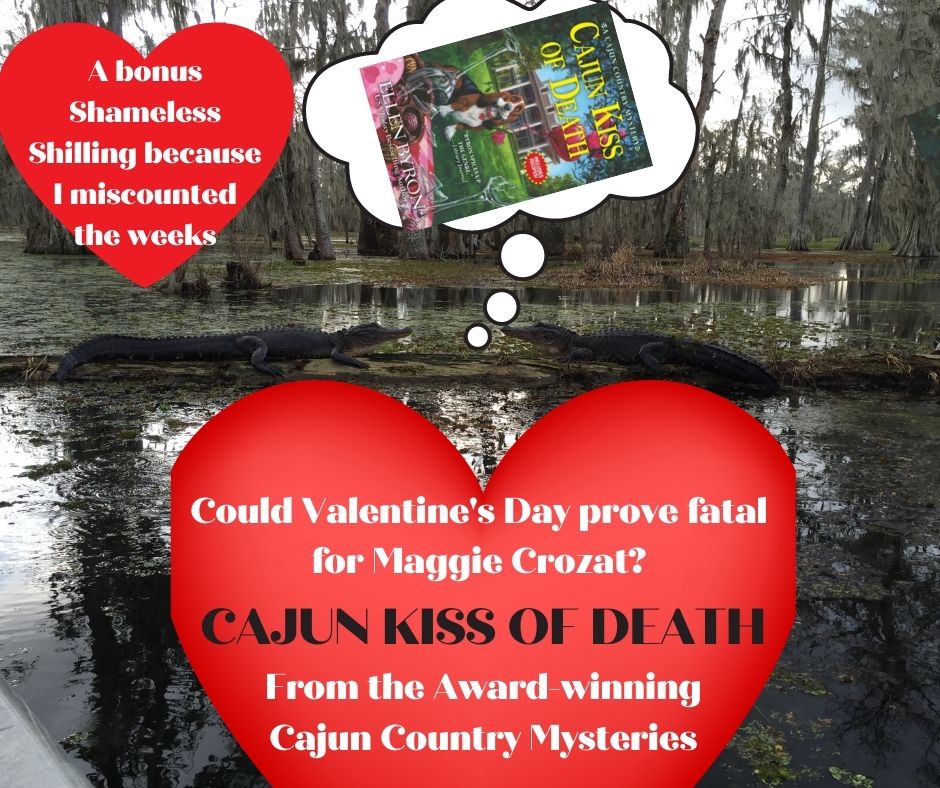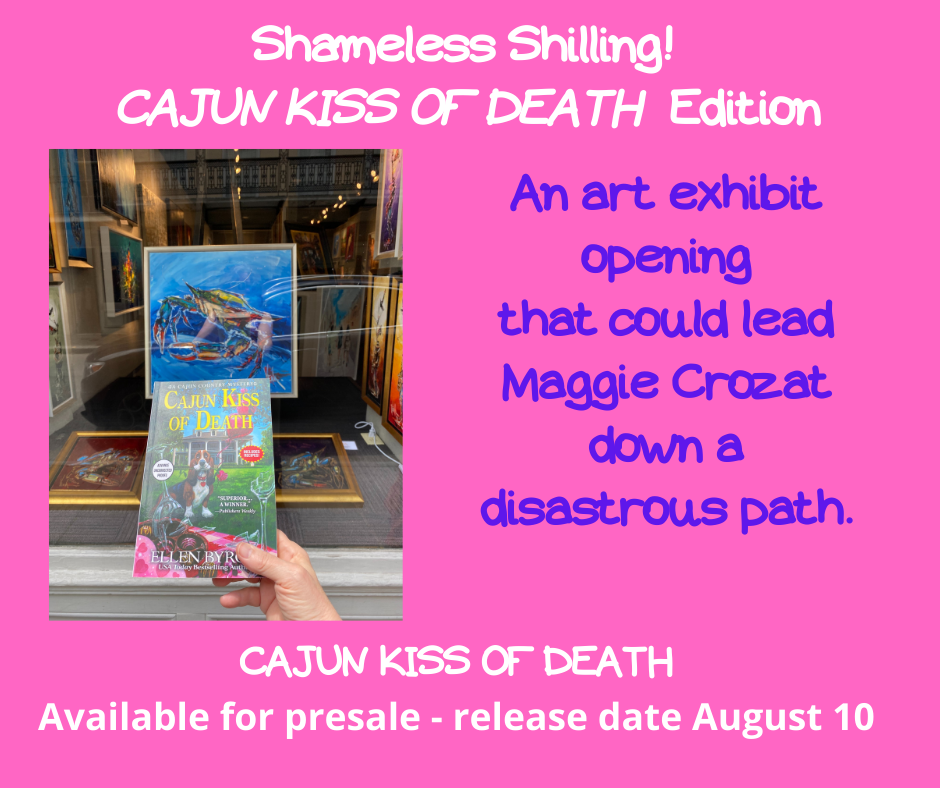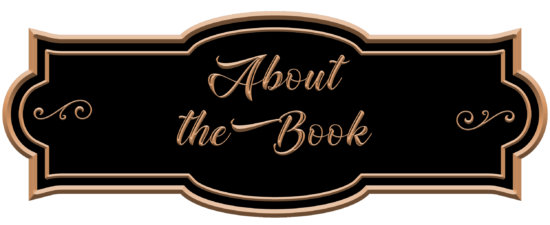 The next shot from Cupid's bow may be fatal in USA Today bestselling, Agatha Award-winning author Ellen Byron's hearty and delightful seventh Cajun Country mystery.
In Pelican, Louisiana, Valentine's Day has a way of warming the heart, despite the February chill. But the air at Crozat Plantation B&B turns decidedly frigid when celebrity chef Phillippe Chanson checks in. And when the arrogant Phillippe–in town to open his newest Cajun-themed restaurant–perishes in a fiery boat crash, Maggie Crozat's dear friend JJ lands in very cold water.
Did JJ, proprietor of Junie's Oyster Bar and Dance Hall, murder Phillippe because he feared the competition? Might Maggie's mother, Ninette, have bumped off the chef for stealing one of her cherished recipes? Or was the culprit a local seafood vendor, miffed because Phillippe was somehow able to sell oysters for a remarkably reasonable price, despite an oyster shortage?
Maggie had planned to devote her February to art lessons in New Orleans, a present from her sweetheart, Bo. But now she has to focus on helping her friend and her mother cross a murder charge off the menu. Meanwhile, Maggie receives a series of anonymous gifts that begin as charming but grow increasingly disturbing. Does Maggie have an admirer–or a stalker? And are these mysterious gifts somehow related to Phillippe's murder?
Blood may be thicker than water, but this case is thicker than gumbo. And solving it will determine whether Maggie gets hearts and roses–or hearse and lilies–this Valentine's Day.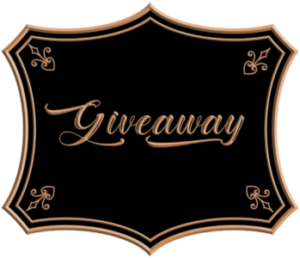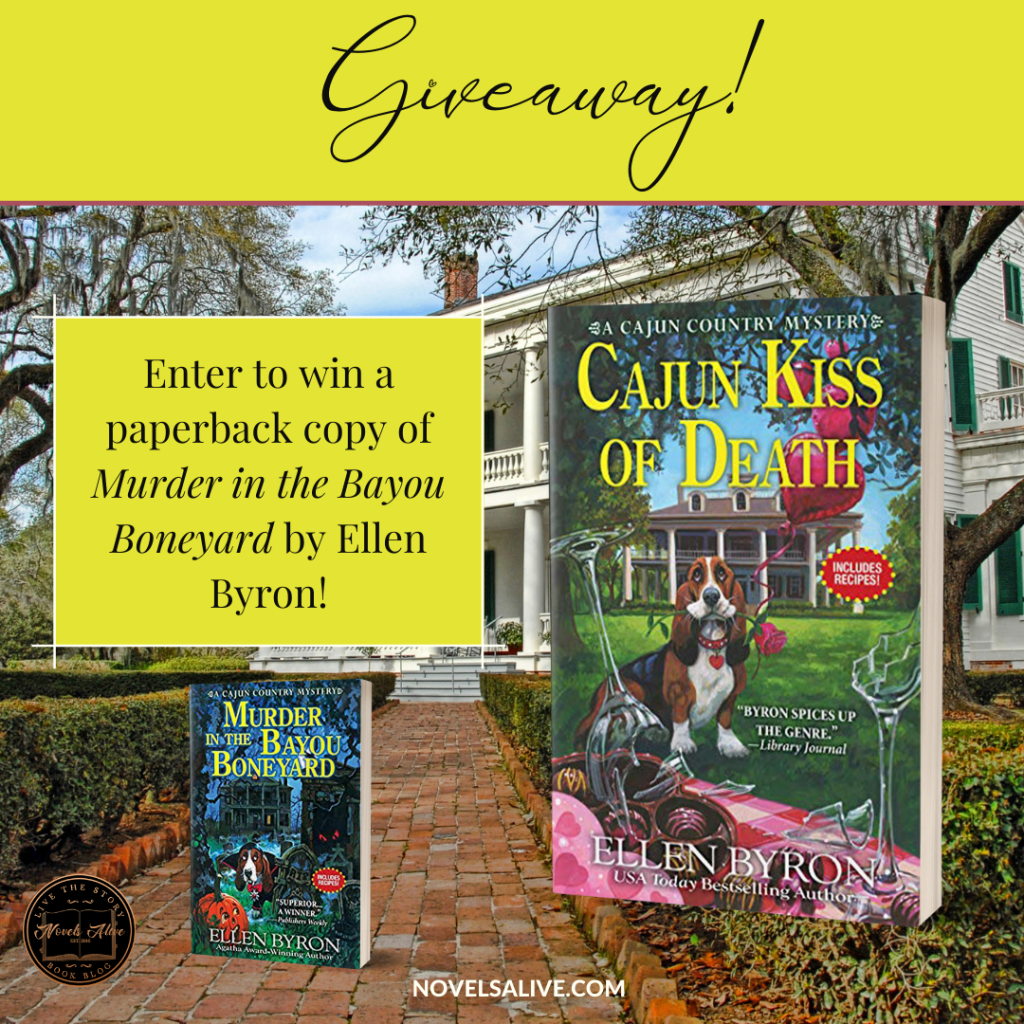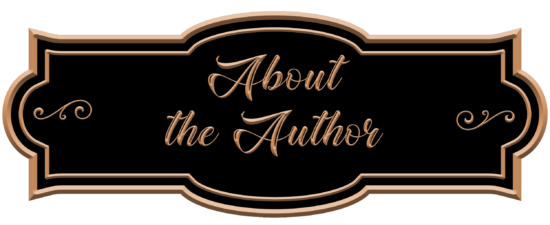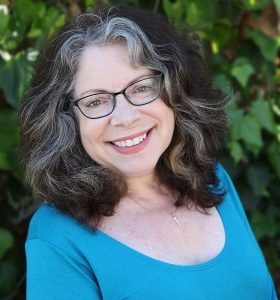 Ellen Byron's Cajun Country Mysteries have won the Agatha award for Best Contemporary Novel and multiple Lefty awards for Best Humorous Mystery. She writes the Catering Hall Mystery series, which are inspired by her real-life, under the name Maria DiRico. Ellen is an award-winning playwright, and non-award-winning TV writer of comedies like WINGS, JUST SHOOT ME, and FAIRLY ODD PARENTS. She has written over two hundred articles for national magazines but considers her most impressive credit working as a cater-waiter for Martha Stewart.

August 16 – Novels Alive – GUEST POST
August 16 – The Avid Reader – REVIEW
August 16 – Sapphyria's Book Reviews – SPOTLIGHT
August 17 –  The Book's the Thing – SPOTLIGHT
August 17 – Socrates Book Reviews – SPOTLIGHT
August 18 – Christy's Cozy Corners – REVIEW
August 18 – My Reading Journeys – REVIEW
August 19 – Mysteries with Character – REVIEW
August 19 – Literary Gold – AUTHOR INTERVIEW
August 20 – The Book Diva's Reads – SPOTLIGHT
August 20 – Laura's Interests – REVIEW
August 21 – Celticlady's Reviews – SPOTLIGHT
August 21 – FUONLYKNEW – SPOTLIGHT
August 22 – Books a Plenty Book Reviews – REVIEW
August 22 – Author Elena Taylor's Blog – AUTHOR INTERVIEW
August 23 – StoreyBook Reviews – REVIEW
August 23 – Hearts & Scribbles – SPOTLIGHT
August 24 – Ascroft, eh? – CHARACTER INTERVIEW
August 24 – Christa Reads and Writes – REVIEW
August 25 – Brooke Blogs – SPOTLIGHT
August 25 – Baroness' Book Trove – REVIEW
August 26 – Escape With Dollycas Into A Good Book – REVIEW
August 26 – Reading, Writing & Stitch-Metic – CHARACTER GUEST POST
August 27 – Maureen's Musings – SPOTLIGHT
August 27 – Reading Is My SuperPower – RECIPE
August 28 – ThisIsMyTruthNow – REVIEW
August 28 – I Read What You Write – SPOTLIGHT
August 29 – BookishKelly2020 – SPOTLIGHT  
August 29 – Dear Reader – REVIEW