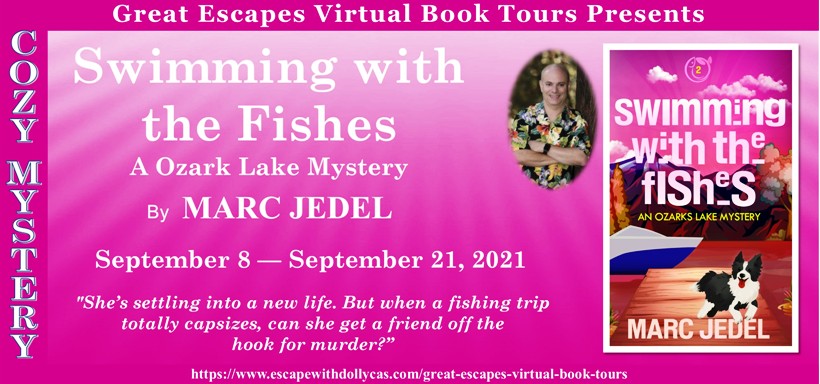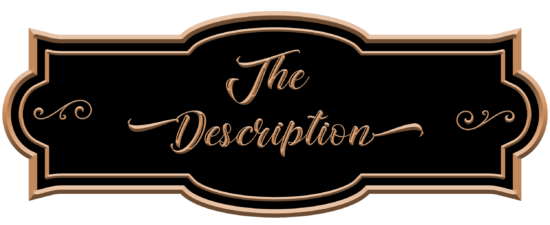 She's settling into a new life. But when a fishing trip totally capsizes, can she get a friend off the hook for murder?
Elizabeth Trout still feels awkward being back home. Discovering a BFF from her raucous high-school days has become the perfect mom is as weird as staying with her mother while awaiting construction of her new home. But she's shaken to her core when her newlywed husband and beloved dog are nearly blown out of the water in a dockside explosion which leaves another woman dead … and her bestie is arrested for the crime.
To clear her friend, Elizabeth and her spouse set out to reel in a killer by sifting through the murky depths of small town drama. But between missing money, ominous strangers, and a shady ex-husband, these amateur sleuths net more motives than they can handle.
Can this dynamic detective duo dig up an answer before the big one gets away?
Swimming with the Fishes is the sensational second book in the Ozarks Lake Mystery series. If you like clever couples, delightful lakeside settings, and a rollicking good time, then you'll love Marc Jedel's hilarious whodunit.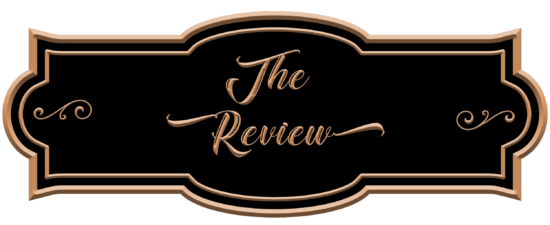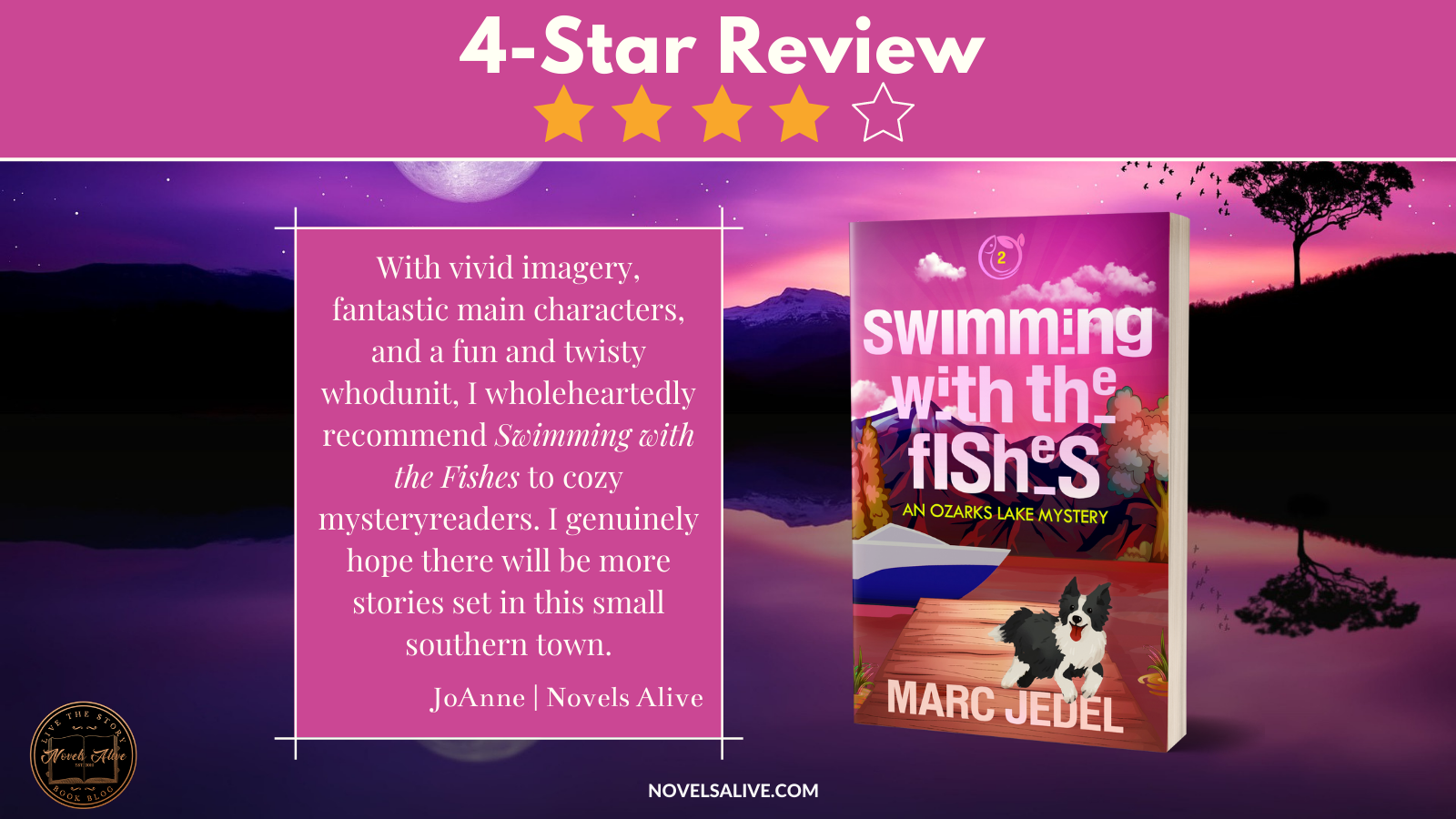 Swimming with the Fishes, the second book in the Ozarks Lake Mystery series by Marc Jedel, and it's like we never left. 
While Swimming with the Fishes can easily be read as a stand-alone, it was nice to have the history of Elizabeth and Jonas and their time spent in her small town. 
We pick up where we left off, and surprise, surprise, there's another murder in town, and another innocent person is accused of murder. This time it's Vanessa, a newly divorced accountant who's also a single mom and like a big sister to Elizabeth. There are twists and turns as Elizabeth and Jonas once again are trying to help the police solve the crime, much to their chagrin!
The story is told from either Elizabeth's or Jonas' perspective, and it was sometimes confusing to remember who was speaking, which made the story feel choppy at times. There are some laugh-out-loud moments as the story is woven together with multiple stories. There are beautiful descriptions throughout and another vibrant cover. We are given clues to whodunnit, but the murderer wasn't what or who I expected once again. 
When the murderer confessed, it was like an Abbott and Costello routine. There is nice closure with solving the murder. I like how Jonas and Elizabeth act in their marriage and are always there for each other even when they are opposites in temperament, outlook on life, and their career paths—she's artistic, and he's scientific. 
With vivid imagery, fantastic main characters, and a fun and twisty whodunit, I wholeheartedly recommend Swimming with the Fishes to cozy mystery readers. I genuinely hope there will be more stories set in this small southern town.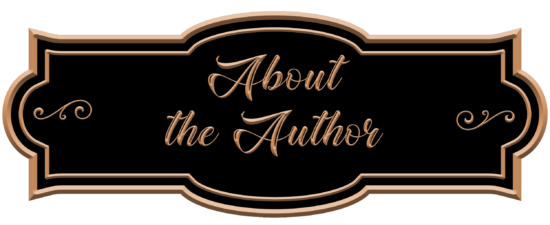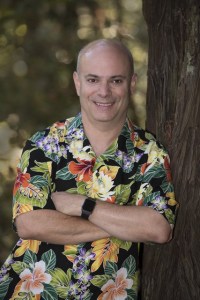 Marc Jedel writes humorous murder mysteries. He credits his years of marketing leadership positions in Silicon Valley for honing his writing skills and sense of humor. While his high-tech marketing roles involved crafting plenty of fiction, these were just called emails, ads, and marketing collateral.
For most of Marc's life, he's been inventing stories. As he's gotten older, he's encountered more funny and odd people and situations. This has made it even easier for him to write what he knows and make up the rest. It's a skill that's served him well, both as an author and marketer.
The publication of Marc's first novel, UNCLE AND ANTS, gave him permission to claim "author" as his job. This leads to much more interesting conversations with people than answering, "marketing." Becoming an Amazon best-selling author has only made him more insufferable.
Like his characters Jonas and Elizabeth from the Ozarks Lake Mystery series, Marc grew up in the South and spent plenty of time in and around Arkansas. Like his character, Marty from the Silicon Valley Mystery series, Marc now lives in Silicon Valley, works in high-tech, and enjoys bad puns. Along with all his protagonists, Marc too has a dog, although his is neurotic, sweet, and small, with little appreciation for Marc's humor.

September 8 – I'm All About Books – SPOTLIGHT
September 8 – Novels Alive – GUEST POST
September 9 – Mysteries with Character – GUEST POST
September 9 – Hearts & Scribbles – SPOTLIGHT
September 10 – Christy's Cozy Corners – REVIEW, CHARACTER GUEST POST
September 11 – FUONLYKNEW – SPOTLIGHT
September 11 – Brooke Blogs – SPOTLIGHT
September 12 – Maureen's Musings – SPOTLIGHT
September 12 – Carla Loves To Read – REVIEW, CHARACTER GUEST POST
September 13 – I Read What You Write – GUEST POST
September 13 – Sapphyria's Book Reviews – SPOTLIGHT
September 14 – My Reading Journeys – REVIEW
September 15 – Escape With Dollycas Into A Good Book – REVIEW
September 15 – StoreyBook Reviews – CHARACTER GUEST POST
September 16 – Novels Alive – REVIEW
September 16 – Literary Gold – AUTHOR INTERVIEW
September 17 – #BRVL Book Review Virginia Lee Blog – SPOTLIGHT
September 18 – My Journey Back the Journey Back – CHARACTER GUEST POST
September 19 – Celticlady's Reviews – SPOTLIGHT
September 19 – Books a Plenty Book Reviews – REVIEW, GUEST POST
September 20 – Reading Is My SuperPower – SPOTLIGHT
September 21 – fundinmental – SPOTLIGHT