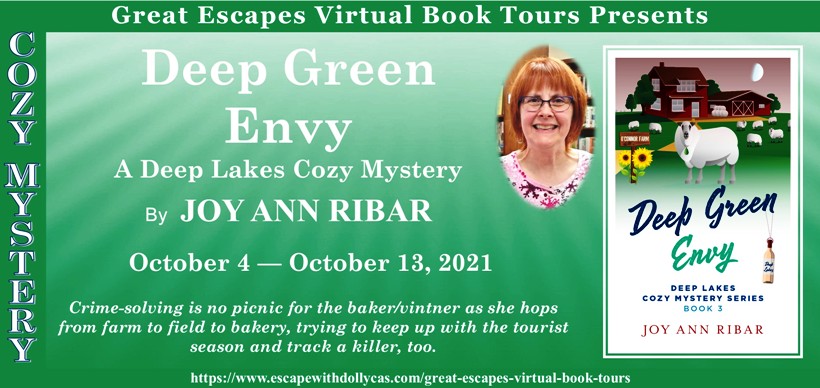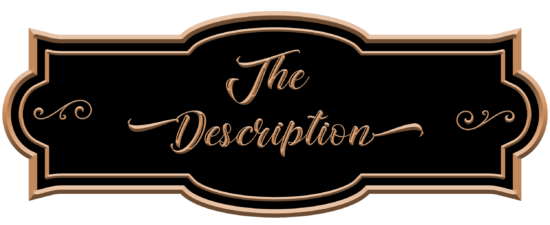 Deep Lakes Cozy Mystery Series: Book 3
Publication Date: September 21, 2021
Summer in Deep Lakes sprouts a homegrown murder on the O'Connor farm. Frankie Champagne's hunt for clues lands her deep in sheep doo-doo, especially after rare stones surface in unexpected places. Crime-solving is no picnic for the baker/vintner as she hops from farm to field to bakery, trying to keep up with the tourist season and track a killer, too.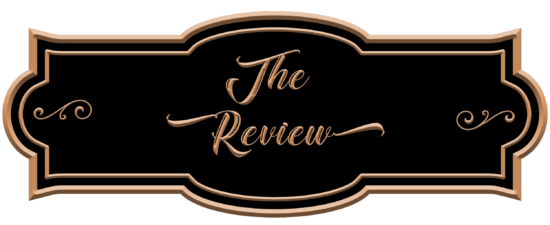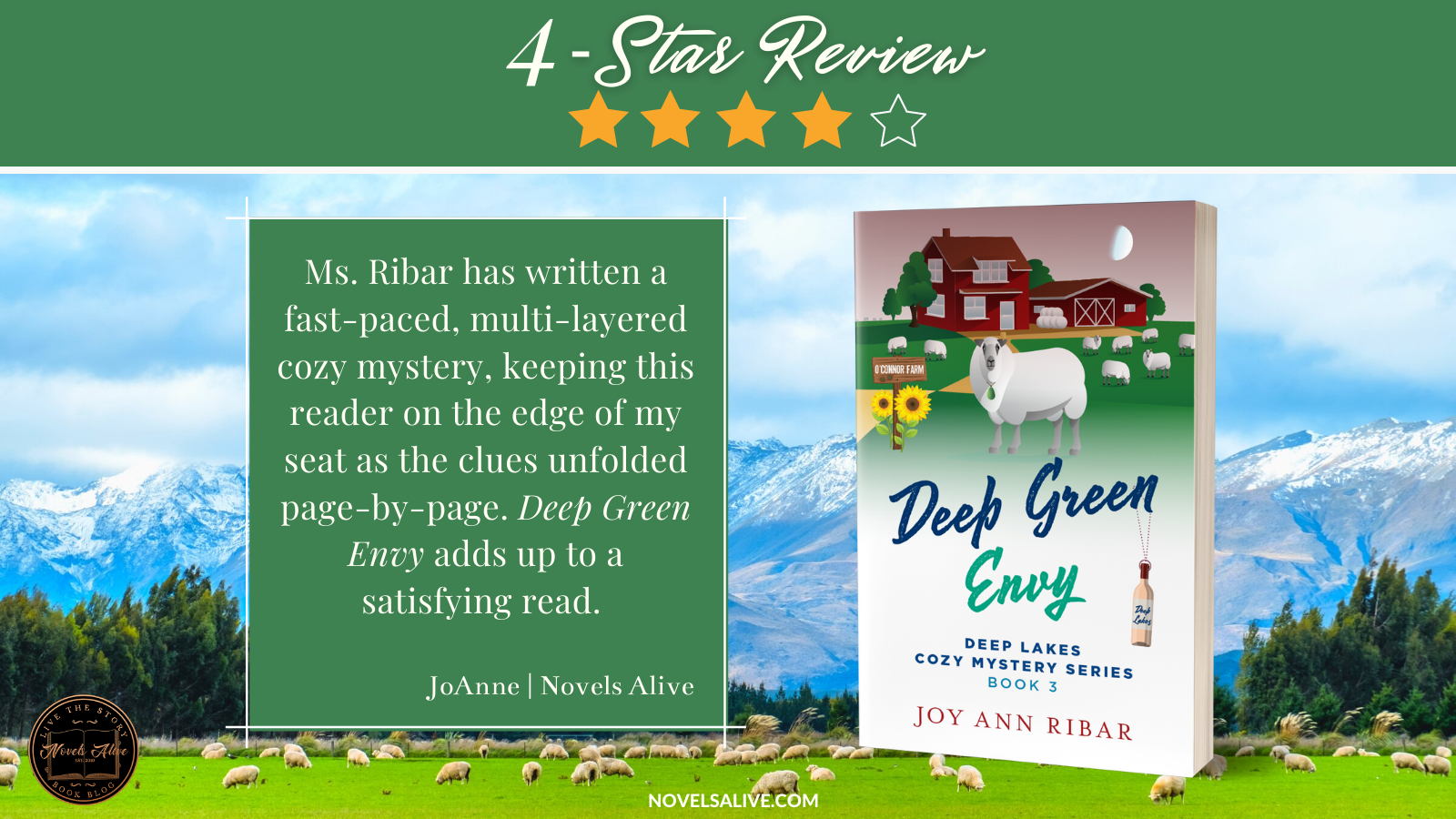 Deep Green Envy is the first book I've read by Joy Ann Ribar, and I hope to read the first two books in the series as well. 
Amateur sleuth and freelance investigative reporter Frankie seems to be one step ahead of the cops, figuring it all out. I highly doubt, however, the police would share information with Frankie. 
The small town of Deep Lakes, Wisconsin, has several sheep farms and other small businesses. Frankie owns Bountiful Fruits Winery, Frankie and her partner, Carmen, own Bubble and Bake—a wine and bakery shop—which is an interesting concept. Carmen and her husband own one of the farms. All are some of the backdrops to the story. The relationships between many of the characters were heartfelt and heartwarming. They weren't perfect, which makes them more real.
Ms. Riber weaves multiple stories together, and the emotions and intrigues along with them, and, for the most part, she does a good job. There are vivid descriptions of the lake town and the many businesses. The quote at the beginning of each chapter was food for thought of what was to come. The epilogue gave closure to the story—the more lighthearted writing by Frankie at the end of the book tied into the story nicely. 
Ms. Ribar has written a fast-paced, multi-layered cozy mystery, keeping this reader on the edge of my seat as the clues unfolded page-by-page. Deep Green Envy adds up to a satisfying read.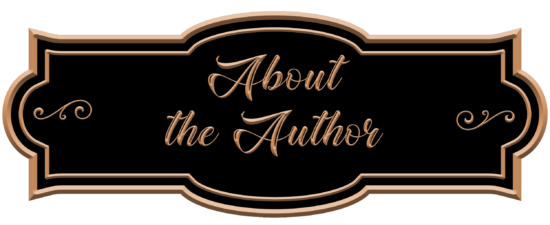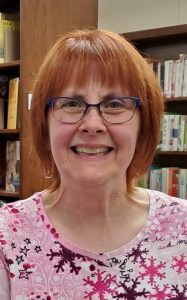 Joy Ann Ribar lives in central Wisconsin with her business partner-husband, John. She writes the Deep Lakes Mystery Series, starring baker/vinter and all-around spitfire, Frankie Champagne. Joy's writing is inspired by Wisconsin's four distinct seasons and local flavors, which she hopes to promote for all to enjoy.
Joy is a member of Sisters in Crime, Midwest Independent Booksellers, and Wisconsin Writers Association. She enjoys researching viticulture at area wineries, birding, hiking, and chatting with readers. Joy and her husband, John, someday plan to sell their house, buy an RV and travel around the U.S. spreading good cheer and hygge! Joy is a little proud to have two bestsellers with Orange Hat Publishing: Deep Dark Secrets.
 (2019) and Deep Bitter Roots
 (2020), under the Ten16 Press imprint of Orange Hat.

October 4 – I'm All About Books – SPOTLIGHT
October 4 – Brooke Blogs – SPOTLIGHT
October 5 – Novels Alive – GUEST POST
October 5 – Baroness' Book Trove – SPOTLIGHT
October 6 – Reading Authors Network – RECIPE
October 6 – My Reading Journeys – REVIEW
October 6 – FUONLYKNEW – SPOTLIGHT
October 7 – StoreyBook Reviews – GUEST POST
October 7 – Maureen's Musings – SPOTLIGHT
October 8 – Ascroft, eh? – CHARACTER INTERVIEW
October 8 – I Read What You Write – GUEST POST
October 9 – Literary Gold – CHARACTER GUEST POST
October 9 – Here's How It Happened – SPOTLIGHT
October 10 – Celticlady's Reviews – SPOTLIGHT
October 10 – Cozy Up With Kathy – AUTHOR INTERVIEW
October 11 – Elizabeth McKenna – Author – SPOTLIGHT
October 11 – Novels Alive – REVIEW
October 12 – My Journey Back – CHARACTER GUEST POST
October 12 – Mysteries with Character – AUTHOR INTERVIEW
October 12 – Books a Plenty Book Reviews – REVIEW
October 13 – BookishKelly2020 – SPOTLIGHT  
October 13 – Escape With Dollycas Into A Good Book – REVIEW