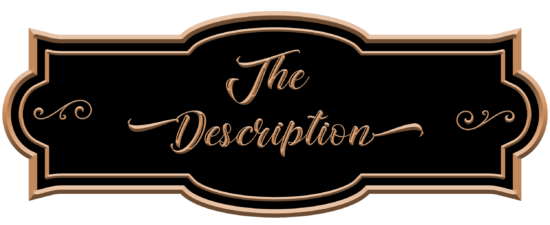 Romantique Treasury: Book 1
Publication Date: October 19, 2021
Family Ever After
Longing hearts, loving homes, and lively holidays combine in this Romantique Treasury. This warm-hearted anthology combines friends, families, and faith as hope blossoms in the lives of orphaned children.
ADOPTED IN ARKANSAS
Socialite Emily Simpson feels out of place. So, when Emily consults her aunt, Lachele suggests she use Matchrimony to find a husband. For farmer Derrick Bobo, he hopes an arranged marriage will give him a better chance of gaining custody of his autistic nephew, Zach. Can Emily adjust to a farm wife's lifestyle? And more importantly, how will she deal with a boy on the spectrum?
A HOME FOR CHRISTMAS
Madeline Collier finds solace in charity work and fundraising for a local children's home. Peter Townsend moves west from Philadelphia to escape his past and begin a new life. When an idea is planted for an orphan's possible future, Madeline realizes she needs help. Can Maddie persuade Peter to commit to a marriage of convenience and, in so doing, help her give a child a forever home?
A NEW FAMILY
Eliot Graveney fought his entire life to be seen as the equal of those around him, but a flash of fire enters his world in the shape of heiress Marianne Daltrey. And Eliot's life will never be the same. Can Eliot outsmart a wealthy man to help Marianne get her inheritance? Will he lose his heart in the process?
FOREVER FAMILY
Susan Vuichard is committed to making sure no child is forgotten in the foster system, which means opening her family farm to three sisters that have nowhere else to go. Richard Petra still suffers from a tragic loss, but sparks fly when he finds his high school sweetheart. Can this group somehow become a forever family?
JUST LIKE CHRISTMAS MORNING
Anna Beckett has a soulless job at Gallagher Industries. When she becomes a volunteer cuddler, holding the sickest babies in the neonatal unit, Anna begins to realize there's more to life than work. Thrust into a Santa Claus suit at the children's hospital, Jack Gallagher is surprised to recognize the accountant from work. Can they overcome their misguided perceptions to form a lasting bond?
KANDIE KISSES
Frazzled by a hectic lifestyle, Rachel Boulton has no choice but to rearrange her priorities when a surprise gift is left for her at work. With the help of her secret crush, Mick Polenz, can Rachel meet the overwhelming needs of this special delivery, or will she lose the greatest joy she's ever known to the demands of unfulfilled ambitions?
LONG TO BELONG
Mark Diamond has never had a family of his own, but being on the spectrum makes relationships extra complicated – until Katie Reed, owner of the Bountiful Blueberry Coffee Shop, stole his heart faster than an underpriced IPO offering. For Katie, her shy beau has been as yummy as a dandelion-cocoa latte, but can they handle each other's situation, or will their dreams be thrown out like yesterday's brew?
MACY'S GIFT
Macy Williams loves her career as a photojournalist, but when her brother and sister-in-law die, Macy is drawn back to her small hometown to handle their estate. Cord Adams is surprised by his deceased friend's choice of guardian. He only met Macy once, and the meeting was anything but cordial. Can two strong-willed individuals set aside their differences for the good of two young girls?
NOT PART OF OUR EVENING PLANS
As one of the couples who found love at River's End Ranch, Jace and Dinky Cunningham struggle with the loss of their dreams for a family; but, circumstances can shift in a split second. Dare they hope this change of plans will bring them everything their hearts desire?
Proceeds from this collection of inspiring stories will benefit special-needs adoption grants through Reece's Rainbow.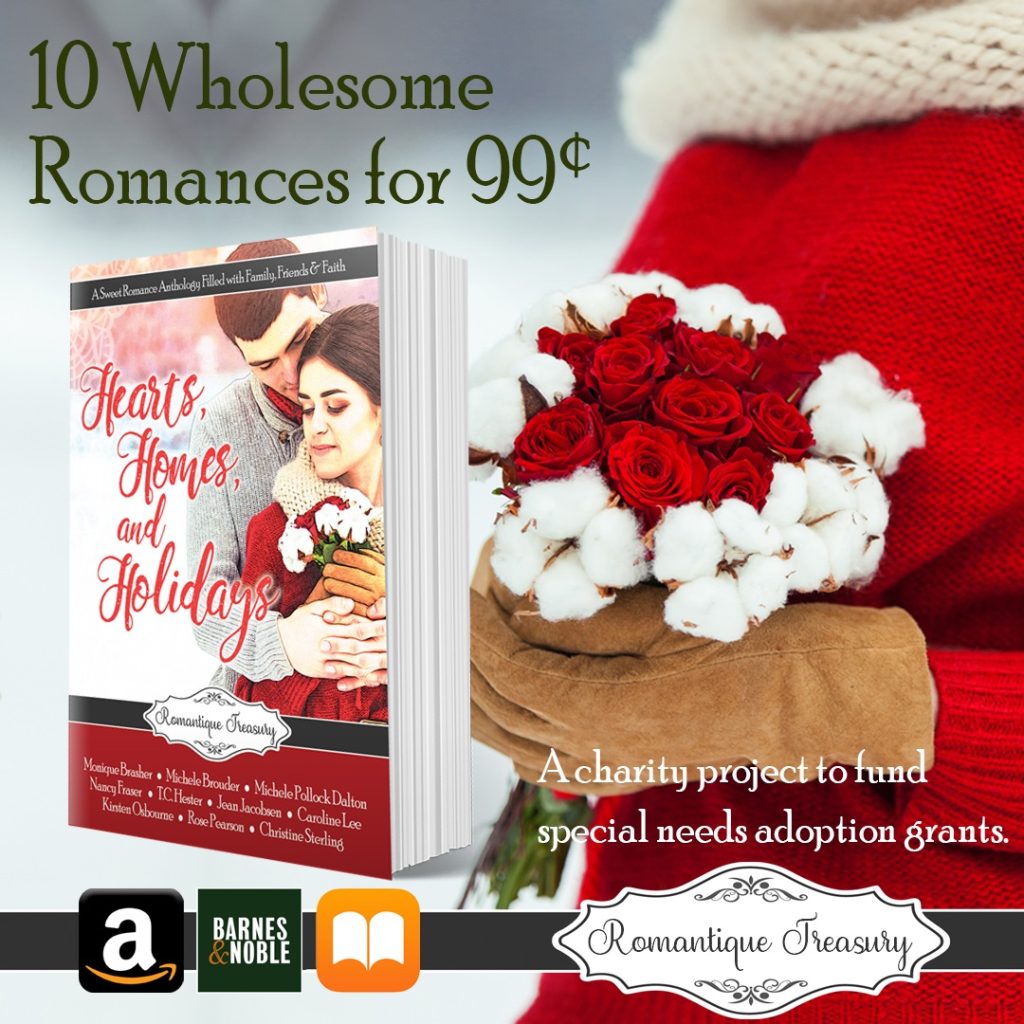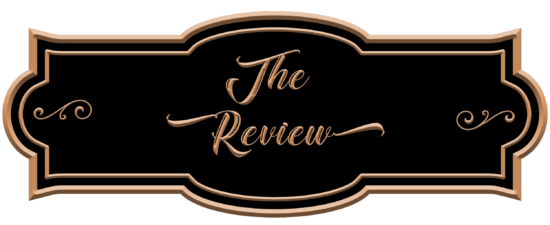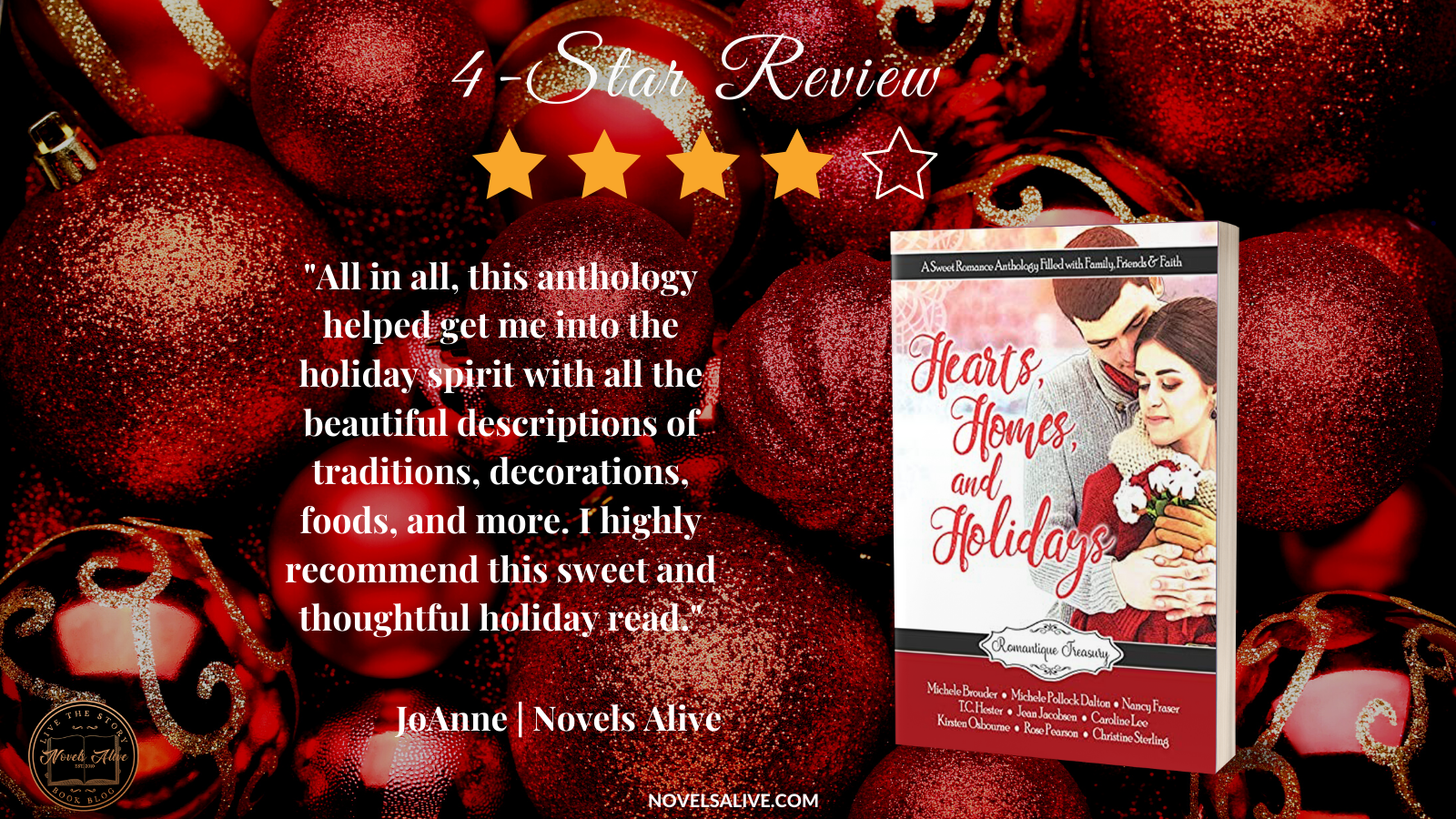 Hearts, Homes, and Holidays is an anthology set at the holidays and is filled with orphans, adoptions, and love. Many of those orphaned had disabilities, but there was always someone out there to love them and want them to be a part of their family. Nine different authors pen nine stories, and the books are set in different locales. Some of the stories are contemporary, and some are historical romance. All left me wanting more, even with some having epilogues and with a feel-good sentiment.
All of the authors are new-to-me authors, and I look forward to reading more works from each of them. The stories all had a nice flow with wonderful characters who each had a depth to them. Many had moral compasses and knew right from wrong and how to treat others. Some characters had strong faith or were brought back into the fold. Sometimes the youngest among them had the most pearls of wisdom. All suffered hardships in one way or another and not just because there were disabilities involved. 
There is a lot of love and warmth flowing through the pages. We learn that families are not just made up of blood relations and the importance that pets play in some of their lives. There are many happily ever afters, and I hope some of the stories penned will continue in other books written by the authors. 
I loved the simplicity of the cover. 
All in all, this anthology helped get me into the holiday spirit with all the beautiful descriptions of traditions, decorations, foods, and more. I highly recommend this sweet and thoughtful holiday read.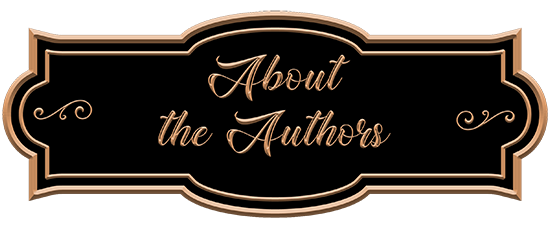 Michele Pollock Dalton https://www.michelepollockdalton.com/
Michele Brouder – https://michelebrouder.com/
Nancy Fraser – http://nancyfraser.ca/
T.C. Hester – https://teddyhester.com/
Jean Jacobsen – https://jeanjacobsenauthor.com
Caroline Lee – http://www.carolineleeromance.com/
Kirsten Osbourne – http://www.kirstenandmorganna.com
Rose Pearson – https://www.rosepearsonauthor.com/
Christine Sterling – https://www.facebook.com/ChatSipandRead

October 26 – RABT Book Tours – Kick Off
October 26 – Readers alley – Excerpt
October 27 – Book junkiez – Excerpt
October 28 – Tea Time and Books – Spotlight
October 29 – Chapters through life – Spotlight
October 30 – B for book review – Excerpt
November 1 – Texas Book Nook – Review
November 2 – Jazzy book reviews – Excerpt
November 3 – Momma Says to Read or Not to Read – Spotlight
November 4 – Jav bond blog tours – Review*
November 5 – Novels alive – Review
November 6 – RABT Reviews – Wrap Up