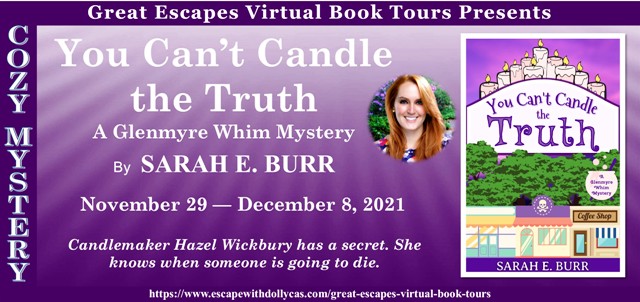 I grew up surrounded by animals. My mom worked as a veterinary technician, so her love of animals permeated our small family. My dad was not a cat person when the two of them met, but by the time I was born, you'd find him sitting in an armchair, a cat on his lap, a cat on the armrest, and a cat on the back of the chair. Our animals have always been members of our family.
As a kid, I thought I'd get dogs as soon as I got my first apartment. However, once I had my own place, with brand new furniture and new clothes bought with my paycheck from my first post-college job, I realized how nice it was not to have pet hair on everything. Likewise, I experienced how nice it was not to have to leave a party because "I've got to get home to let the dog out." And very quickly, those plans to get myself two golden retriever puppies named Bert and Ernie faded into memory as I began working my way up the corporate ladder.
Fast-forward to the summer of 2020. My partner George and I had been stuck in our 900-square foot, one-bedroom New York apartment for the past six months. My writing had taken a severe hit because it was hard for me to be creative when it felt like the world was ending. I had a feeling of being professionally stuck in this post-COVID world, thinking to myself, is this it? Is this what life is going to be like?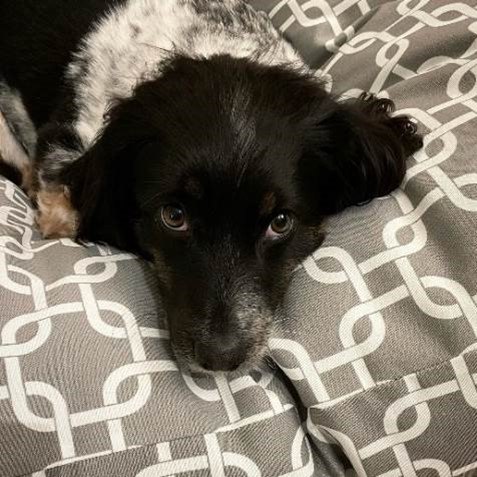 Enter Eevee. Eevee came to my parents (yes, they are still huge animal people, having added a mini donkey and a Shetland pony to their crew) from animal rescue shuttling dogs from kill shelters in Texas up to New England. When George and I met Eevee for the first time, there was just something about her. Growing up, all our dogs loved me in their own way, but they didn't necessarily make me feel like I was "their person." Dog owners, you know what I mean. But when I met Eevee, something happened. She followed me everywhere during our visit to my parents. She slept on our bed. She sat under my chair while I worked on my computer. My mom, who has seen a lot of strange pet stuff in her day, commented, "I've never seen a dog take to someone new like this before. You should take her back home with you."
Her offer rolled around in my mind for weeks after our visit. I couldn't stop thinking about Eevee and what it would mean for our life if George and I adopted her. But it was an offer we couldn't refuse. A month later, we picked Eevee up from my parents' sprawling farm and brought her home to our tiny New York apartment.
The adjustment was "ruff" for everyone at first. The urban environment for Eevee was totally new, and it was both my and George's first time owning a pet of our own. We were getting up two hours earlier than we were used to. We had to leave our work and our computers more often to rush her outside, so there wasn't an accident in our carpet-covered apartment. We were distracted because Eevee wanted to play, and she was just so darn cute that we couldn't say no to her.
But this new Eevee-driven routine quickly revived my writing. Those extra two hours in the morning gave me time back in my day to get all my administrative work done (social media, website updates, promotions, blogs, newsletters, etc.), which led to more of those golden hours where I could write with a focused mindset.
Eevee's frequent need to go outside or to play also helped my physical health and mental clarity. Before she came to live with us, it wasn't unheard of that I'd sit down at my computer at 10 AM and not move until 4 PM. Nowadays, I'm up moving every hour, checking in with Eevee, tugging her toys, or giving her kisses. But those simple actions have eradicated the pain in my shoulder I so frequently get from being hunched over my computer, working out a tricky scene. Without that pain, my focus is clearer, and my writing sessions are enjoyable because they are not causing that dreadful pinch.
The change of scene we get during our walks gives me time away from the screen to ponder what I've written and determine where I'm going, all while getting fresh air and stretching my legs. I come back from our walks bursting with ideas so that once Eevee has her treat to chew on, I'm inspired to return to my keyboard and write.
Eevee also has influenced my stories. I write cozy mysteries, a genre that welcomes the presence of pets. However, because the motto is "write what you know," since I never really knew the ins and outs of pet ownership, I didn't write about it. Yes, I wrote cozies that didn't have any pet companions in them. Eevee changed all that, and readers can actually see that change happening. In You Can't Candle the Truth, my main character Hazel begins to toy with the idea of getting a cat and how she needs to change her candle-making lifestyle to accommodate a cat in her home. Eevee was the catalyst for that development. As I was reading through my first draft (well, at this point, it was probably an eighth), I realized Hazel was missing something big in her life. It was the same thing I'd been missing: the love and companionship of an animal friend. Thank goodness Hazel knows someone who can set her on the path to pet ownership.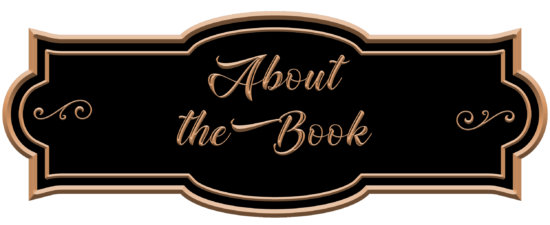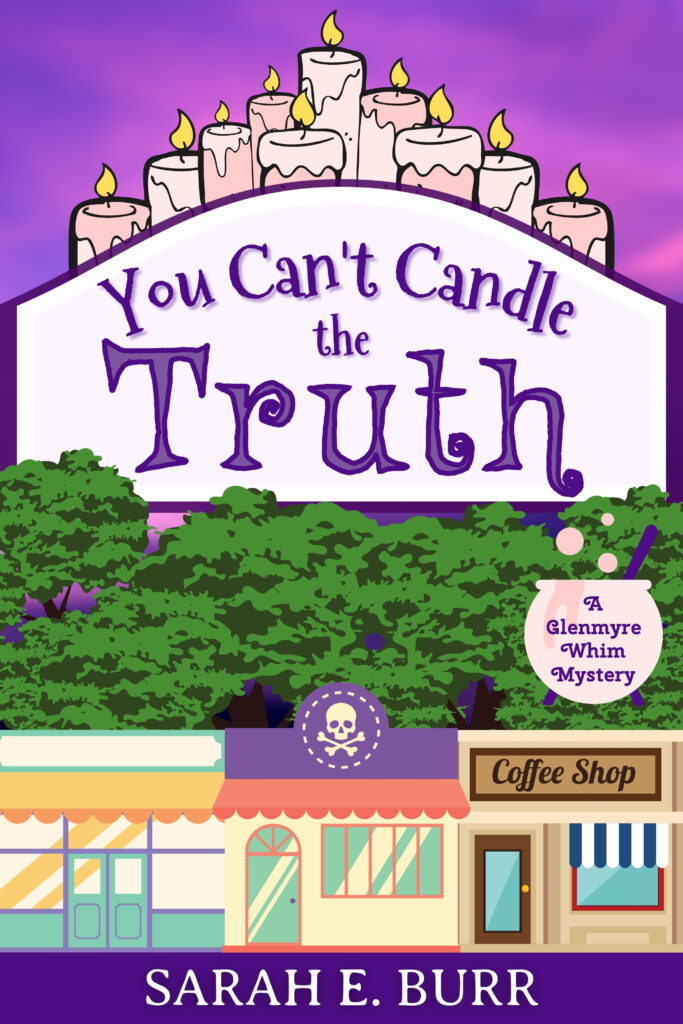 Candlemaker Hazel Wickbury has a secret. She knows when someone is going to die.
Welcome to Crucible, a small town with a storied history. Founded by five prestigious families, Crucible has been tucked away in upstate New York for centuries under the protection of a shield enchantment cast by Jedidiah Glenmyre, Hazel's revered ancestor. The enchanted barrier is meant to protect Crucible from anything bad ever happening to the town. No crime, no awful weather, no natural disasters…a haven from the greater world.
Until the heir to a billion-dollar company is found dead in his home. With the help of her uncanny power, known as a "whim," Hazel realizes foul play is involved. But more than being concerned about a murderer running loose and Jedidiah Glenmyre's protection shield deteriorating, Hazel and her aunt Poppy are worried the town's kindhearted art teacher will be charged with the sinister crime.
Hazel and Poppy team up with an internationally acclaimed mystery author visiting Crucible to figure out who had it in for the victim. Their fledgling investigation has them questioning if long-time friends have turned into foes and whether blood is really thicker than water.
Determined to prove her friend innocent, Hazel is ready to shine a light on the real killer…if they don't snuff her out first.
Candlemaker Hazel Wickbury is about to shine a light on things in "You Can't Candle the Truth," first in the new Glenmyre Whim Mysteries by Sarah E. Burr.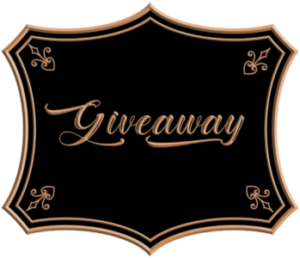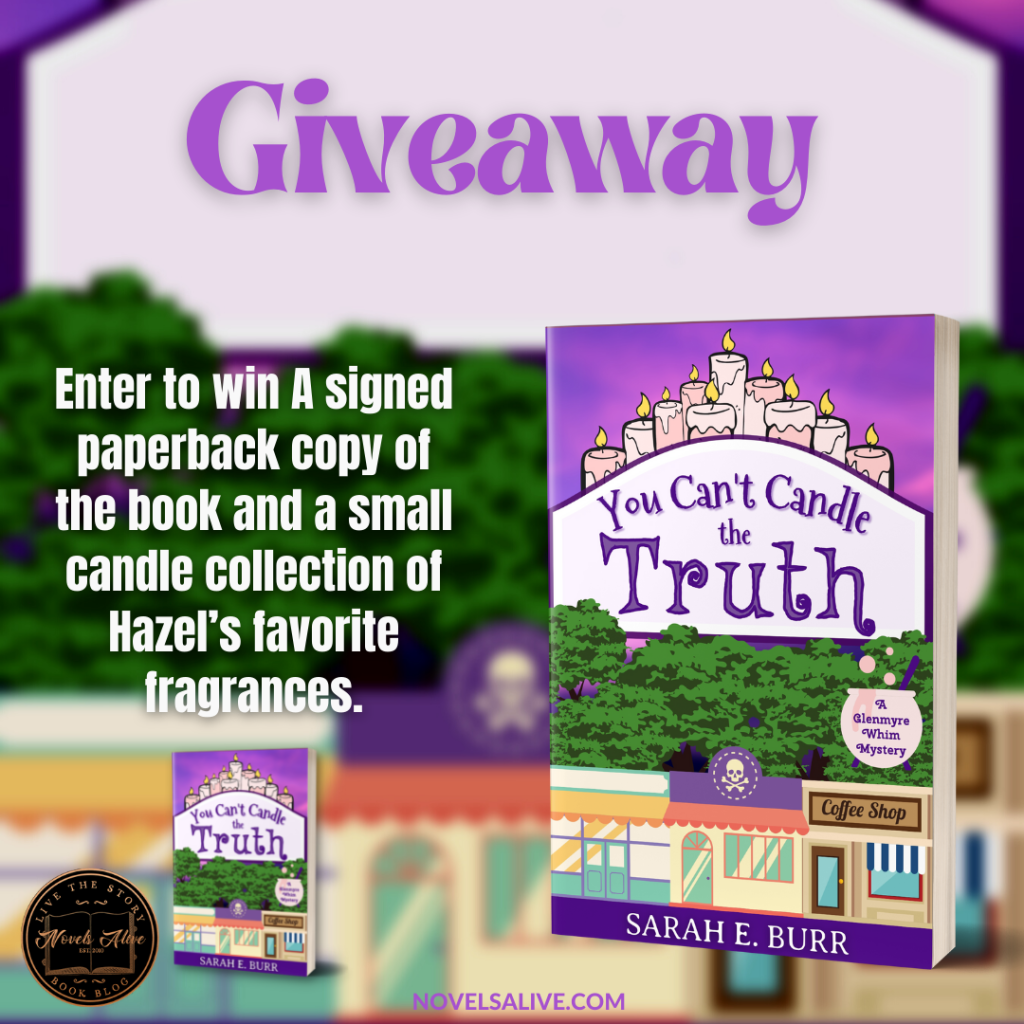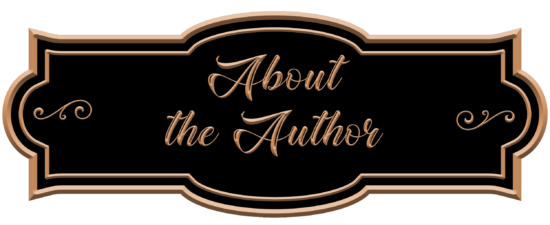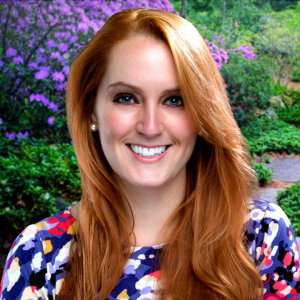 Sarah E. Burr lives near New York City. Hailing from the small town of Appleton, Maine, she has been dreaming of being Nancy Drew since she was a little girl.
Sarah is the author of the new paranormal cozy mystery You Can't Candle the Truth, first in the Glenmyre Whim Mysteries. Readers are introduced to candle shop owner Hazel Wickbury. Hazel has a secret. She knows when someone is going to die. This power, known as a "whim," helps Hazel uncover a murder in her small, storied town. Together with her aunt, Hazel aims to shine a light on the killer before they snuff her out.
There's more murder and mystery in the works for Sarah. #FOLLOWME FOR MURDER, first in the TRENDING TOPIC MYSTERIES, shines the spotlight on a social media PR expert after she discovers a dead body in her clients' store, forcing her to untangle a web of secrets in her small, beachside town. This title is expected in February 2022.
INNOCENCE IMPRISONED is the latest adventure in the Court of Mystery series, featuring her fearless heroine, Duchess Jacqueline Xavier, first introduced in "The Ducal Detective Mysteries."
When she's not spinning up new stories, Sarah is off seeing Broadway musicals, reading up a storm, video gaming, and enjoying walks with her dog, Eevee. She is represented by Blue Ridge Literary Agency.
Visit her website at www.saraheburr.com. Stay connected with Sarah and receive free stories, be the first to learn about book news, book deals, and more by signing up for her newsletter: https://bit.ly/saraheburrsignup