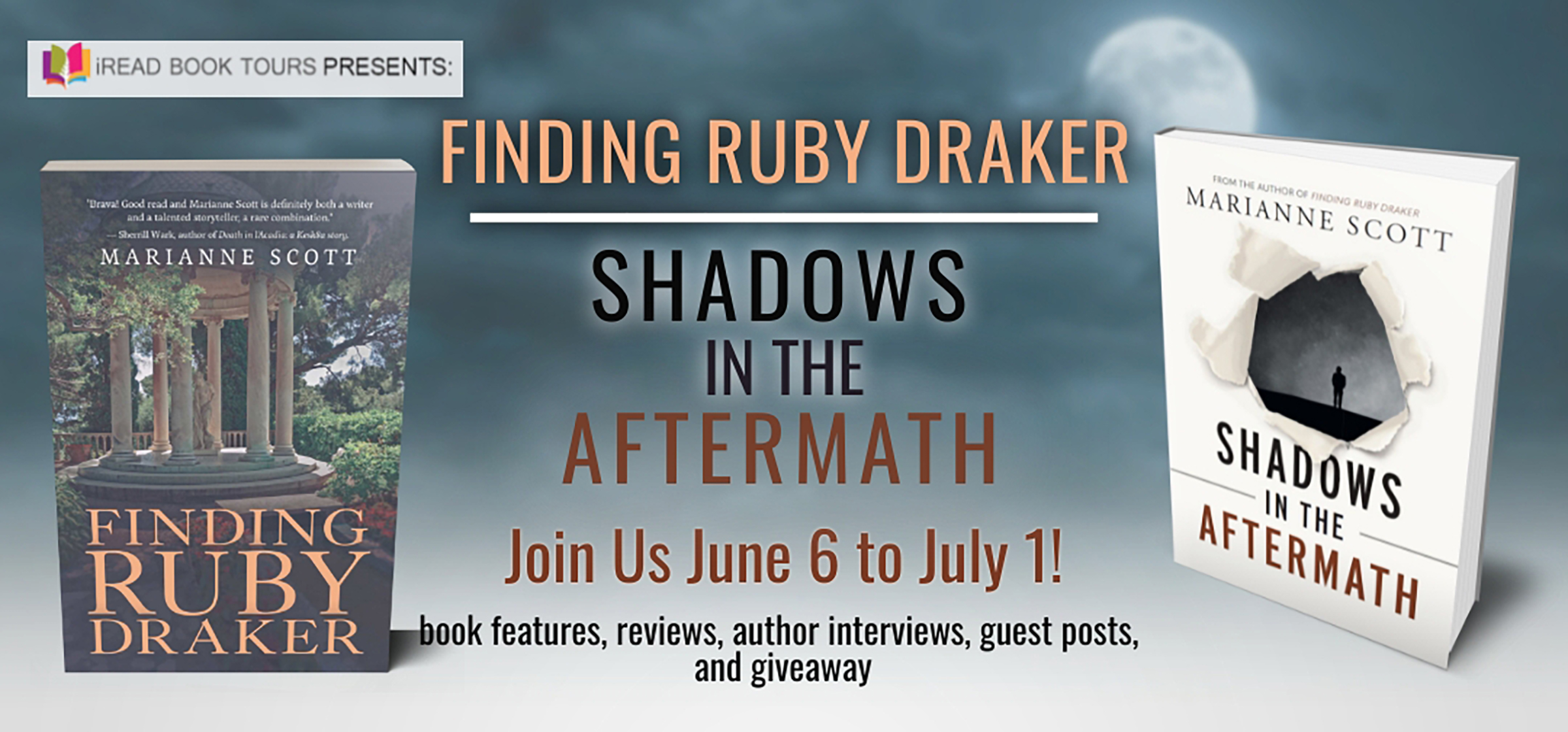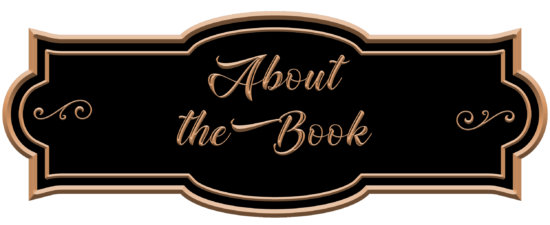 Publication Date: January 22, 2016
Kathleen Jones has lived a protected and typical suburban life, nothing unexpected in her carefully controlled and planned existence. She's about to complete her college degree and is ready to start a successful career but after completing her last exam she comes home to find her world has been turned upside down. Her home has been torched and her parents and little brother killed.
If that's not bad enough, she is kidnapped and drugged unconscious by strangers posing as a police officers. When she awakes she discovers that everything has changed – her face, her name, and everything she believed to be true.
But things get worse. Hardly recovered from surgery, she is whisked away under the cover of darkness as more men storm the clinic with guns. It seems that the men who abducted her are not her greatest threat. Now on a private charter on its way to Nice, France, her abductors are calling her Ruby – Ruby Draker!
Finding Ruby Draker is a novel about knowing yourself, accepting change, embracing danger, and taking risks. You never know what life is going to throw at you.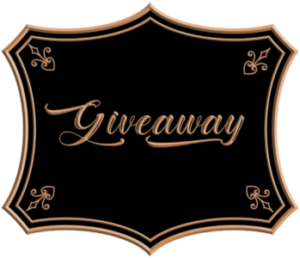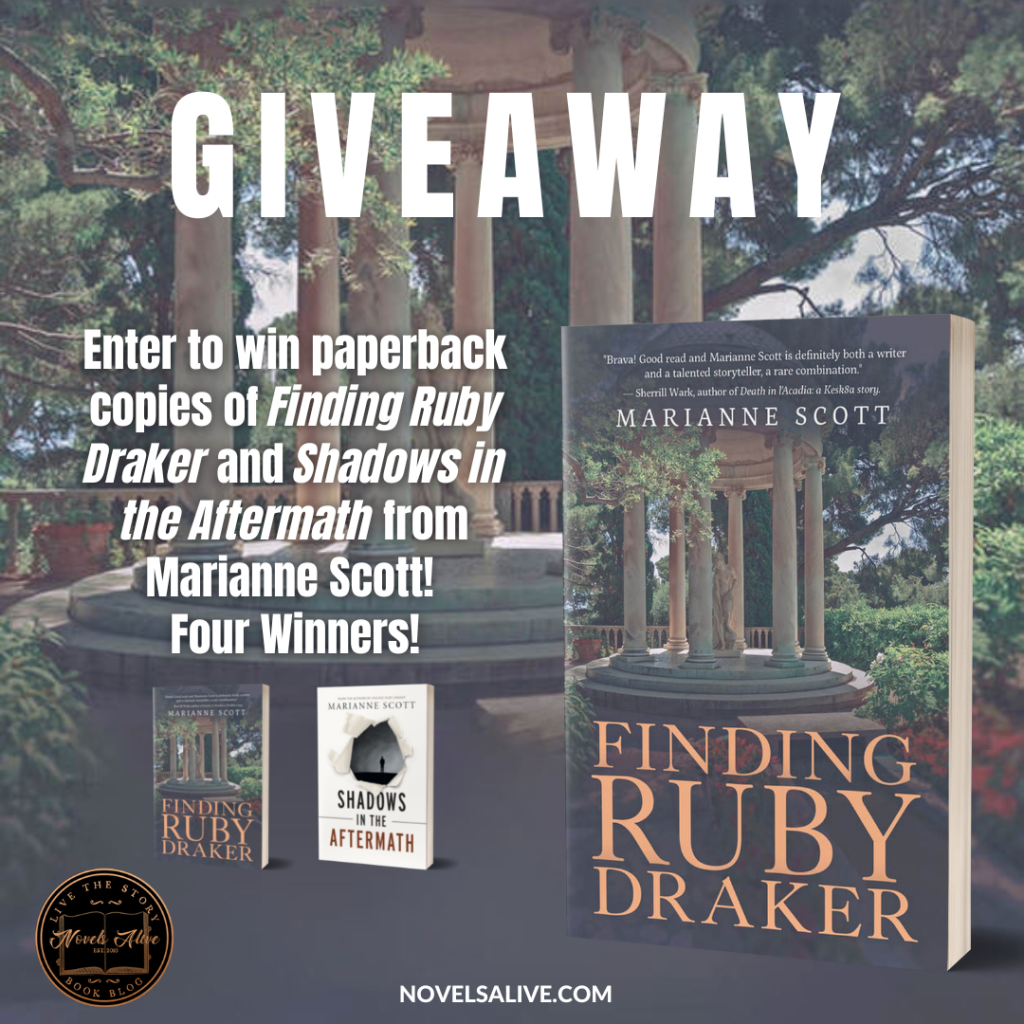 Win paperback copies of both FINDING RUBY DRAKER and SHADOWS IN THE AFTERMATH (4 winners) (USA only) (ends July 8)
FINDING RUBY DRAKER/SHADOWS IN THE AFTERMATH Book Tour Giveaway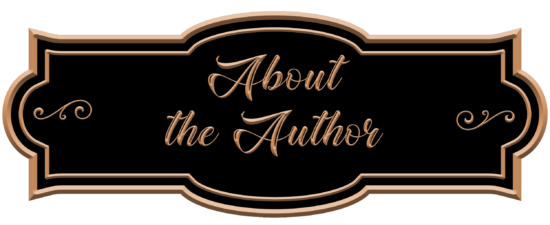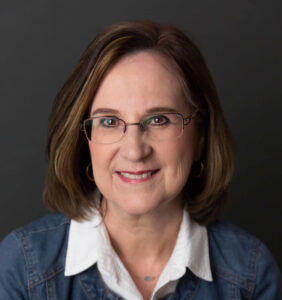 Marianne Scott is the Canadian author of four mystery thrillers and is currently finishing an edit on her fourth novel, a murder mystery. She has a BA and a Diploma in Business Administration from Wilfrid Laurier University in Waterloo, Ontario, CA. She studied creative writing through Conestoga College and Humber College. She enjoys writing workshops such as those offered by Brian Henry, publisher of the blog, Quick Brown Fox, and One Lit Place, a writers' hub by creator/editor Jenna Kalinsky. She has an author's website and blog is the president of The Cambridge Writers' Collective and is a member of the Guelph Genre Writers. In September of 2018, she completed a fourth-year course in Writing Fiction at the University of Guelph under the expert teaching of Lawrence Hill. Her novels, Finding Ruby Draker and Shadows in the Aftermath are self-published. She is actively seeking representation to break into the traditional publishing world with her third and fourth novels.

June 6 –Mystery Review Crew – book spotlight of FINDING RUBY DRAKER / author interview / giveaway
June 6 –Rockin' Book Reviews – book review of FINDING RUBY DRAKER / guest post / giveaway
June 7 – Jazzy Book Reviews – book series spotlight / giveaway
June 7 –She Just Loves Books – book review of FINDING RUBY DRAKER / giveaway
June 8 –Gina Rae Mitchell – book review of FINDING RUBY DRAKER / guest post / giveaway
June 9 –Celticlady's Reviews – book series spotlight / giveaway
June 9 –Kam's Place – book review of FINDING RUBY DRAKER
June 10 –Cover Lover Book Review – book review of FINDING RUBY DRAKER / giveaway
June 10 – @booking.with.janelle – book review of FINDING RUBY DRAKER
June 13 – My Fictional Oasis – book review of FINDING RUBY DRAKER / giveaway
June 14 –Literary Flits – book review of FINDING RUBY DRAKER / giveaway
June 14 – Amy's Booket List – book review of FINDING RUBY DRAKER / giveaway
June 15 – Novels Alive – book review of FINDING RUBY DRAKER
June 15 – Novels Alive – book series spotlight / giveaway
June 16 – Bigreadersite – book review of FINDING RUBY DRAKER / giveaway
June 16 – The Momma Spot – book review of FINDING RUBY DRAKER / giveaway
June 17 – Novels Alive – book review of SHADOWS IN THE AFTERMATH
June 20 – Kam's Place – book spotlight of SHADOWS IN THE AFTERMATH
June 21 – Mystery Review Crew – book spotlight of SHADOWS IN THE AFTERMATH / guest post / giveaway
June 21 – fundinmental – book series spotlight / guest post / giveaway
June 22 – Literary Flits – book review of SHADOWS IN THE AFTERMATH / giveaway
June 22- Amy's Booket List – book review of SHADOWS IN THE AFTERMATH / giveaway
June 23 – Locks, Hooks and Books – book review of FINDING RUBY DRAKER / giveaway
June 23 – My Fictional Oasis – book review of SHADOWS IN THE AFTERMATH / giveaway
June 24 – Locks, Hooks and Books – book review of SHADOWS IN THE AFTERMATH / giveaway
June 24 – Cover Lover Book Review – book review of SHADOWS IN THE AFTERMATH / giveaway
June 27 – Gina Rae Mitchell – book review of SHADOWS IN THE AFTERMATH / author interview / giveaway
June 28 –The Page Ladies – book review of SHADOWS IN THE AFTERMATH
June 28 – She Just Loves Books – book review of SHADOWS IN THE AFTERMATH / giveaway
June 29 – @booking.with.janelle – book review of SHADOWS IN THE AFTERMATH
June 30 – StoreyBook Reviews – book review of FINDING RUBY DRAKER / giveaway
June 30 – The Momma Spot – book review of SHADOWS IN THE AFTERMATH / giveaway
July 1 – Bigreadersite – book review of SHADOWS IN THE AFTERMATH / giveaway
July 1 – Books for Books – Book Series Spotlight