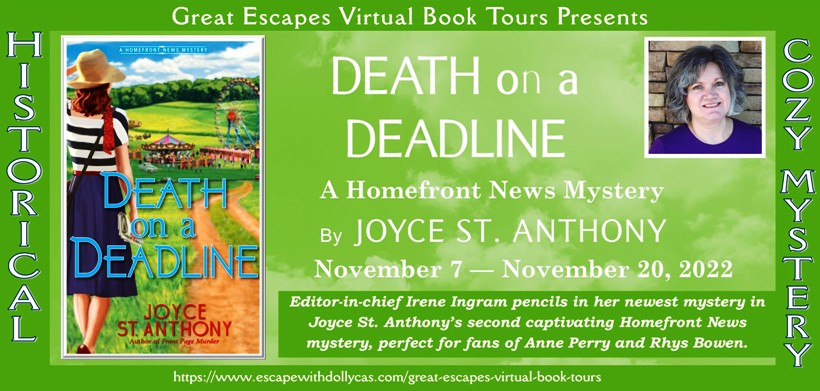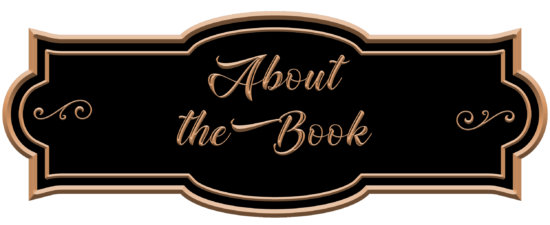 A Homefront News Mystery: Book 2
Publication Date: November 8, 2022
Editor-in-chief Irene Ingram pencils in her newest mystery in Joyce St. Anthony's second captivating Homefront News mystery, perfect for fans of Anne Perry and Rhys Bowen.
As World War II rages in Europe and the Pacific, the small town of Progress is doing its part for the soldiers in the field with a war bond drive at the annual county fair. Town gossip Ava Dempsey rumors that Clark Gable will be among the participating stars. Instead of Gable, the headliner is Freddie Harrison, a B-movie star. When Freddie turns up dead in the dunk tank, Irene Ingram, editor-in-chief of The Progress Herald, starts chasing the real headline.
There are plenty of suspects and little evidence. Ava's sister Angel, who was married to the dead actor, is the most obvious. The couple had argued about his affair with the young starlet Belinda Fox, and Angel was the last person to see Freddie alive.
Irene discovers there's more than one person who might have wanted Freddie dead. As Irene draws on her well-honed reporter's instincts to find the killer—nothing is what it seems in Progress, and now her own deadline could be right around the corner.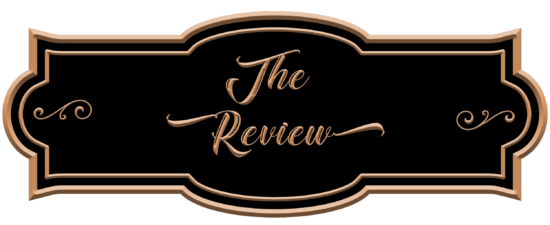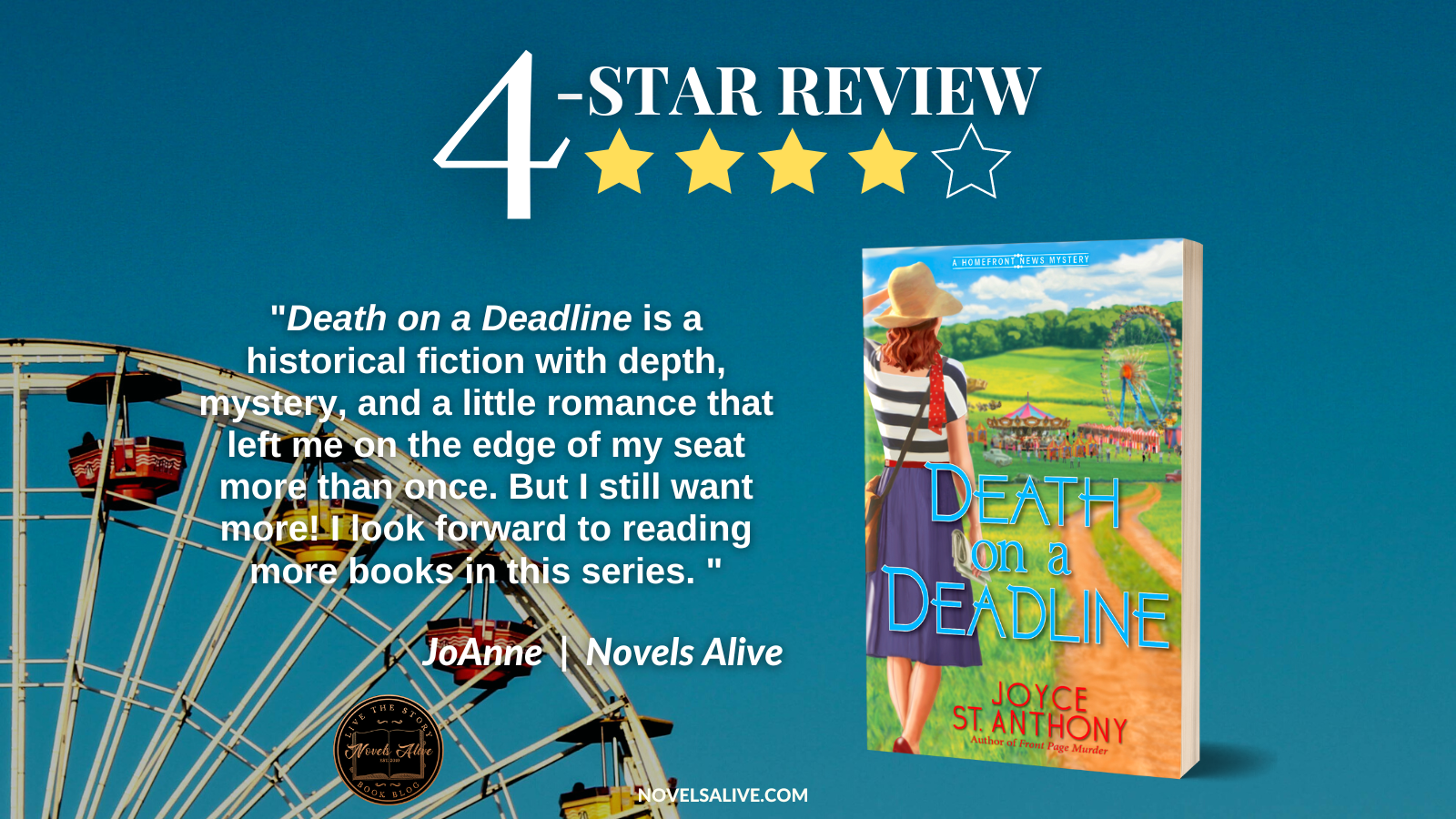 Death on a Deadline is the second book in the Homefront News Mystery series by Joyce St. Anthony, and it held my interest throughout. 
There is so much detail and depth to the story as clues are pieced together to find out whodunnit. There are several crimes and clues to unravel as we are reunited with characters we've met before from the small town in Pennsylvania and those working at the newspaper, the Progress Herald.
Irene is the paper's editor-in-chief, while her dad is off being a war correspondent. She's also a reporter and an amateur sleuth. The story is set in 1942, and I loved how each chapter started with a war headline from her paper. 
Irene's fiancé's dad is the police chief, and she seems to feed him things she finds out—but maybe not how she finds out the information—and he also gives her some information related to the crimes. Irene's fiancé is also part of the war effort. I like how events from the first book are interspersed throughout this one, adding realism and another layer to the story.
Much of the story takes place at the local fair, which takes place annually, and this year they are raising money for war bonds and stamps. There are details of the war sprinkled throughout, some very close to home. 
Several storylines are told that are nicely woven together, and no detail is unimportant. There are twists and turns along with loads of secrets, blackmail, actors, those who aren't as they seem, family and friends, gossip, love interests, small businesses, anger, tears, naivete, darkness, and evil. Ultimately the crimes are solved but not without some scary moments. 
Death on a Deadline is a historical fiction with depth, mystery, and a little romance that left me on the edge of my seat more than once. But I still want more! I look forward to reading more books in this series.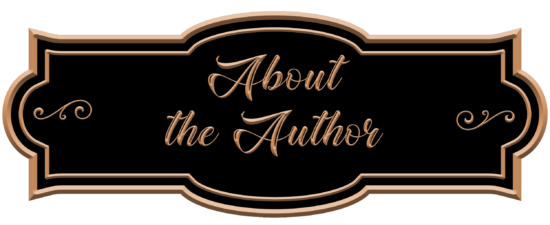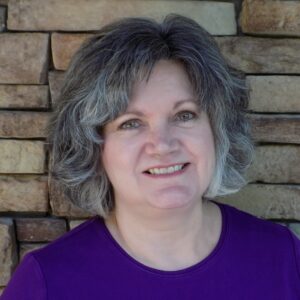 Joyce St. Anthony was a police secretary for ten years and more than once envisioned the demise of certain co-workers, but settled on writing as a way to keep herself out of jail. In addition to the Homefront News Mysteries, she is the author of the Brewing Trouble Mysteries and the upcoming Cider House Mysteries written under her own name, Joyce Tremel. She lives in the beautiful Laurel Highlands of Pennsylvania with her husband.

November 7 – Celticlady's Reviews – SPOTLIGHT
November 8 – StoreyBook Reviews – AUTHOR GUEST POST
November 8 – Christy's Cozy Corners – REVIEW
November 9 – I'm Into Books – SPOTLIGHT
November 10 – Cassidy's Bookshelves – CHARACTER GUEST POST
November 10 – Novels Alive – REVIEW – SPOTLIGHT
November 11 – Literary Gold – SPOTLIGHT
November 11 – Books a Plenty Book Reviews – REVIEW, CHARACTER INTERVIEW
November 12 – MJB Reviewers – SPOTLIGHT
November 12 – Sapphyria's Book Reviews – SPOTLIGHT
November 13 – FUONLYKNEW – SPOTLIGHT
November 14 – Guatemala Paula Loves to Read – CHARACTER GUEST POST
November 14 – Lady Hawkeye – SPOTLIGHT  
November 14 – Reading Is My SuperPower – REVIEW
November 15 – Ascroft, eh? – AUTHOR INTERVIEW
November 15 – Escape With Dollycas Into A Good Book – REVIEW
November 16 – Mystery Thrillers and Romantic Suspense Reviews – SPOTLIGHT
November 17 – Maureen's Musings – SPOTLIGHT
November 18 – View from the Birdhouse – REVIEW
November 18 – Book Club Librarian – REVIEW
November 19 – #BRVL Book Review Virginia Lee Blog – SPOTLIGHT
November 19 – Christa Reads and Writes – REVIEW
November 20 – Brooke Blogs – SPOTLIGHT
November 20 – Satisfaction for Insatiable Readers – AUTHOR GUEST POST