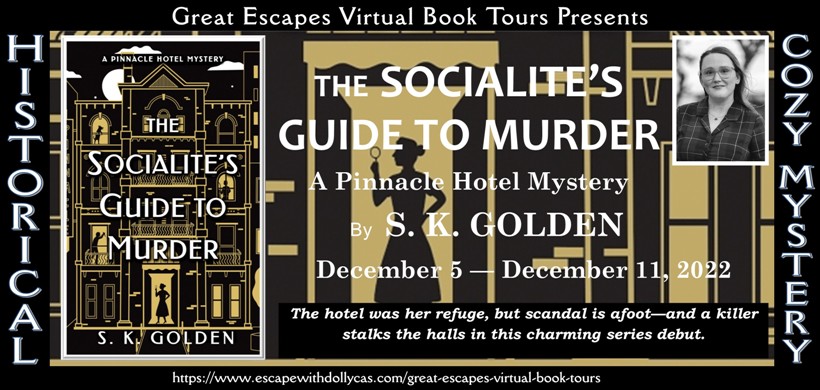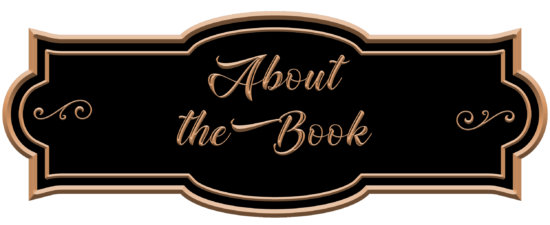 A Pinnacle Hotel Mystery: Book 1
Publication Date: October 11, 2022
The hotel was her refuge, but scandal is afoot—and a killer stalks the halls in this charming series debut perfect for fans of Rhys Bowen and Ashley Weaver.
It's 1958 and Evelyn Elizabeth Grace Murphy has not left the Pinnacle Hotel in fourteen months. She suffers from agoraphobia, and what's more, it's her father's hotel, and everything she needs is there. Evelyn's always been good at finding things, she discovered her mother dead in a Manhattan alleyway fifteen years earlier. Now she's finding trouble inside her sanctuary. At a party for artist Billie Bell, his newest work is stolen, and Evelyn's fake boyfriend (and real best friend), movie star Henry Fox, is accused of the theft. But just as Evelyn sets out to prove Henry's innocence, she finds Billie Bell dead.
The murder weapon links the crime to the hotel's chief of security. But why would he use a knife with his initials on the handle? With her beloved home in disarray, Evelyn joins up with hotel employee (and her secret crush) Mac Cooper to get to the bottom of the case.
As Mac picks locks and Evelyn snoops around the hotel, they discover the walls around them contain more secrets than they previously knew. Now, Evelyn must force herself to leave the hotel to follow the clues—but when she and Mac set off to chase a lead, their car crashes and they barely escape with their lives. Someone snipped Evelyn's brake lines, and now the stakes have become dangerously high.
Evelyn's knack for sleuthing—and her playful imagination—are always hard at work, and she throws an elaborate party at the hotel where every guest is a suspect. But will the killer emerge from the glamorous lineup? If not, Evelyn just might find herself…next in line for murder.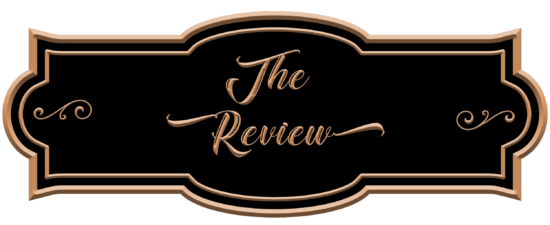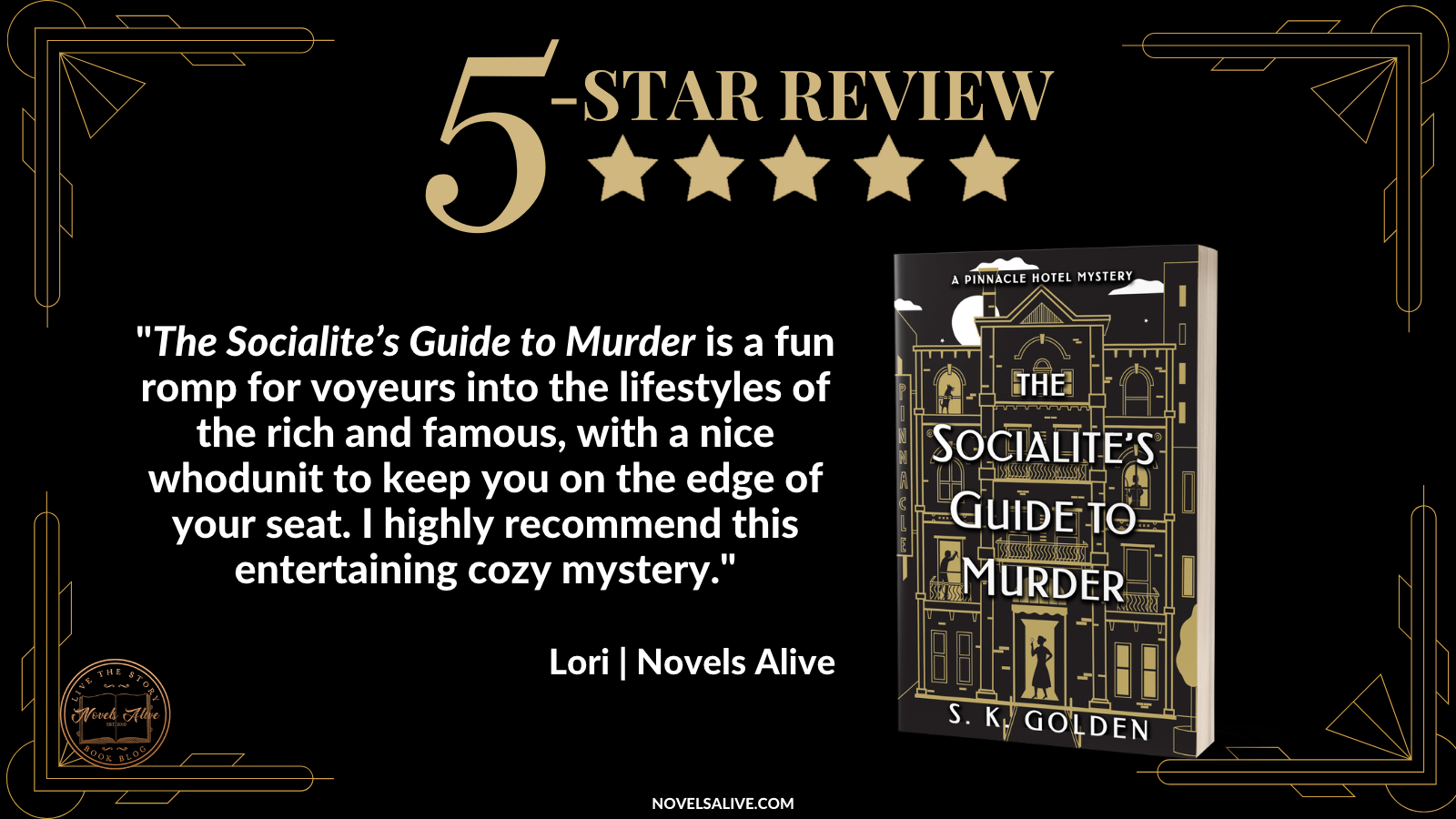 It is as if author S. K. Golden merged Paris Hilton and Legally Blonde together to create protagonist Evelyn Elizabeth Grace Murphy in The Socialite's Guide to Murder, and I loved every second!
Evelyn had a traumatic event in her childhood that created who she is in her adulthood. She doesn't like to feel emotion, nor does she understand her feelings, but she's compassionate with those around her and responds to their emotions. She's got a real depth to hear, and I'd love to have even more of her backstory.
While he was central to the story, Mac has interesting family dynamics I'm dying to learn more about. I'm also curious to know more about his life before working at the Pinnacle. He's just such a fascinating character that I'd love Golden to peel back those layers further so we can find out more about this alluring man.
The secondary characters were well-rounded and added charm and entertainment to the overall plot. 
But the murder mystery is front and center, and Evelyn has a knack for sussing out clues to find the culprit. Pairing up with her secret crush, Mac, will Evelyn finally find the courage to leave her gilded cage and get a taste of what life has in store for her?
The Socialite's Guide to Murder is a fun romp for voyeurs into the lifestyles of the rich and famous, with a nice whodunit to keep you on the edge of your seat. I highly recommend this entertaining cozy mystery.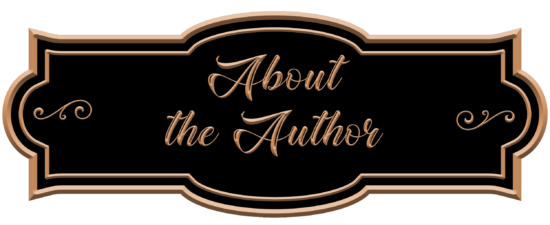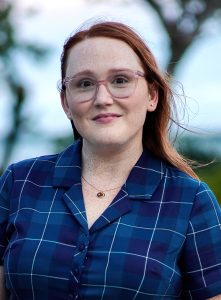 S. K. Golden is the author of the cozy mystery Murder at the Pinnacle Hotel. Born and raised in the Florida Keys, she married a commercial fisherman. The two of them still live on the islands with their five kids (one boy, four girls — including identical twins!), two cats, and a corgi named Goku. She graduated from Saint Leo University with a bachelor's degree in Human Services and Administration and has put it to good use approximately zero times. She's worked as a bank teller, a pharmacy technician, and an executive assistant at her father's church. Sarah is delighted to be doing none of those things now. She is currently working on book two in the Evelyn Murphy series.

December 5 – Reading Reality – REVIEW
December 5 – Brooke Blogs – CHARACTER GUEST POST
December 5 – Christy's Cozy Corners – AUTHOR GUEST POST
December 6 – Cozy Up WIth Kathy – REVIEW, AUTHOR INTERVIEW
December 6 – Maureen's Musings – SPOTLIGHT
December 6 – Bootsie's Book Nook – SPOTLIGHT
December 7 – Ruff Drafts – SPOTLIGHT
December 7 – Literary Gold – AUTHOR INTERVIEW
December 8 – Escape With Dollycas Into A Good Book – AUTHOR GUEST POST
December 8 – Socrates Book Reviews – SPOTLIGHT
December 8 – FUONLYKNEW – SPOTLIGHT
December 8 – Novels Alive – REVIEW – SPOTLIGHT
December 9 – Guatemala Paula Loves to Read – REVIEW
December 9 – I'm Into Books – SPOTLIGHT
December 9 – MJB Reviewers – SPOTLIGHT
December 9 – Book Club Librarian – REVIEW
December 10 – Celticlady's Reviews – SPOTLIGHT
December 10 – #BRVL Book Review Virginia Lee Blog – SPOTLIGHT
December 10 – Elza Reads – REVIEW
December 11 – Lady Hawkeye – SPOTLIGHT
December 11 – Sapphyria's Book Reviews – SPOTLIGHT