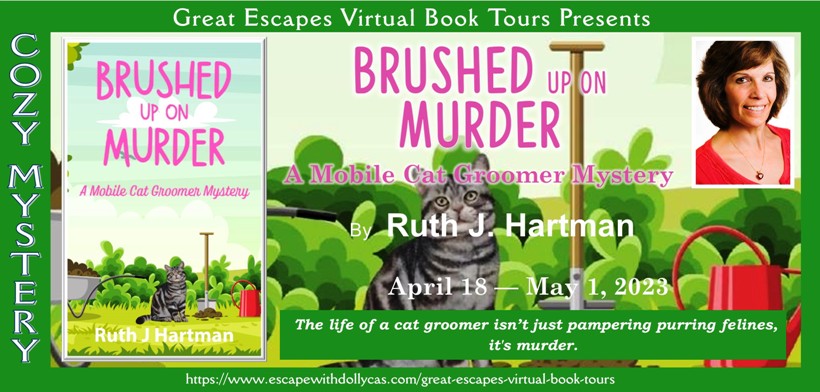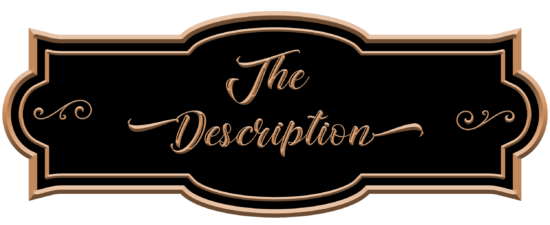 A Mobile Cat Groomer Mystery: Book 1
Publication Date: April 18, 2023
The life of a cat groomer isn't just pampering purring felines, it's murder.
Mobile Cat Groomer Molly Stewart loves her job. Until she finds the dead body of one of her pet parents stabbed with a garden implement in his back yard. When Molly's uncle Russ becomes the prime suspect in the murder and the sheriff won't consider anyone else, Molly claws through obstacles as she prowls for clues.
With help from handsome veterinarian Hank Chenowith and Molly's two cats, Percival and Jasper, will Molly succeed in proving her uncle's innocence before the real murderer pounces on her?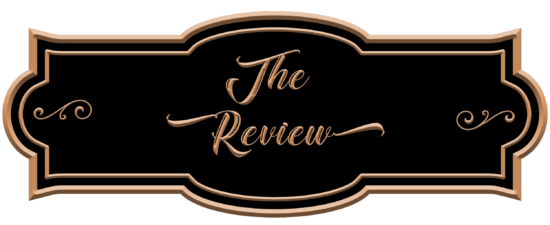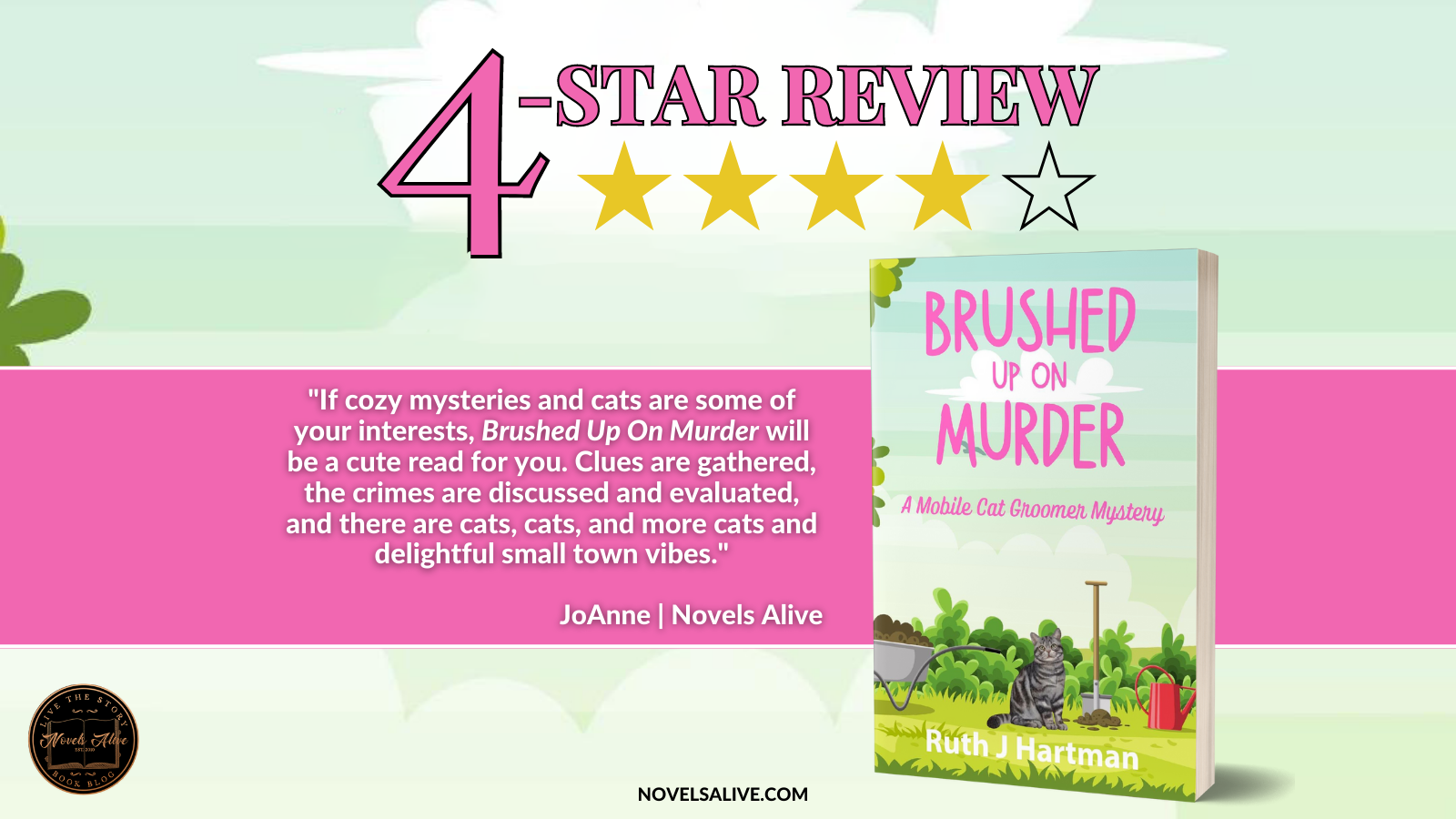 Brushed Up On Murder is the first book in the A Mobile Cat Groomer Mystery series by Ruth J. Hartman, and I look forward to reading more by this new-to-me author. 
Molly's an amateur sleuth who's a cat groomer and seems to gather more clues than the sheriff. She's also intent on solving the murder of one of her customers when her uncle seems to be the only one the sheriff is interested in questioning.
Life in a small town where everyone knows everyone's business or makes things up to let others think they do, keeps things entertaining. There are secrets, gossip, cats galore, and a variety of small town businesses. The story has a good flow and is playful at times, especially with Molly's two cats—one of which belonged to Durbin, her customer that was murdered and his wife didn't want. The cat's antics throughout definitely brought out a chuckle or two.
We get to know the characters a little at a time, and there is a lot to learn. According to Molly, there are several suspects, but she won't be believed until there's a confrontation between her and whodunnit, which was definitely a surprise to me. 
With the murderer arrested, Molly hopes her life will get back on track, and there might be some romance in the air! A satisfying ending to a cozy mystery whodunnit!
If cozy mysteries and cats are some of your interests, Brushed Up On Murder will be a cute read for you. Clues are gathered, the crimes are discussed and evaluated, and there are cats, cats, and more cats and delightful small town vibes.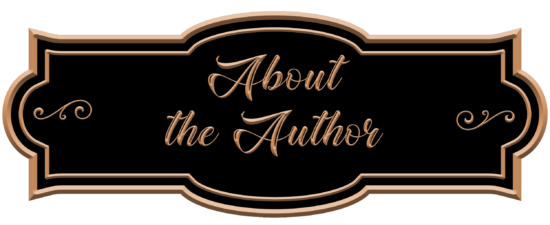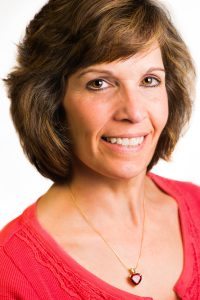 Ruth J. Hartman spends her days herding cats and her nights spinning mysterious tales. She, her husband, and their cats love to spend time curled up in their recliners watching old Cary Grant movies. Well, the cats sit in the people's recliners. Not that the cats couldn't get their own furniture. They just choose to shed on someone else's.
Ruth, a left-handed, cat-herding, farmhouse-dwelling writer uses her sense of humor as she writes tales of lovable, klutzy women who seem to find trouble without even trying.
Ruth's husband and best friend, Garry, reads her manuscripts, rolls his eyes at her weird story ideas, and loves her despite her insistence all of her books have at least one cat in them.

April 18 – Christy's Cozy Corners – SPOTLIGHT WITH EXCERPT
April 18 – Sneaky the Library Cat's Blog – CHARACTER INTERVIEW
April 19 – Literary Gold – AUTHOR INTERVIEW
April 19 – Escape With Dollycas Into A Good Book – REVIEW
April 20 – Sapphyria's Book Reviews – REVIEW
April 20 – Socrates Book Reviews – SPOTLIGHT
April 21 – I'm Into Books – SPOTLIGHT
April 21 – Books a Plenty Book Reviews – REVIEW
April 22 – Celticlady's Reviews – SPOTLIGHT
April 22 – #BRVL Book Review Virginia Lee – SPOTLIGHT
April 23 – Cozy Up With Kathy – REVIEW
April 24 – Mochas, Mysteries and Meows – REVIEW, CHARACTER INTERVIEW
April 24 – Indie Author Book Reviews – SPOTLIGHT
April 25 – Ascroft, eh? – AUTHOR INTERVIEW
April 26 – Reading Is My SuperPower – REVIEW
April 26 – Baroness Book Trove – SPOTLIGHT
April 27 – The Mystery Section – SPOTLIGHT WITH EXCERPT
April 27 – Hearts & Scribbles – SPOTLIGHT
April 28 – Novels Alive – REVIEW
April 28 – FUONLYKNEW – SPOTLIGHT
April 28 – fundinmental – SPOTLIGHT
April 29 – Guatemala Paula Loves to Read – REVIEW
April 30 – Maureen's Musings – SPOTLIGHT
May 1 – Brooke Blogs – SPOTLIGHT