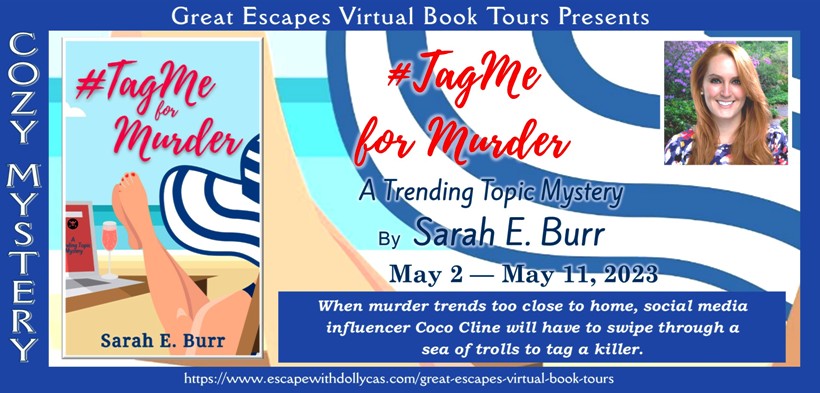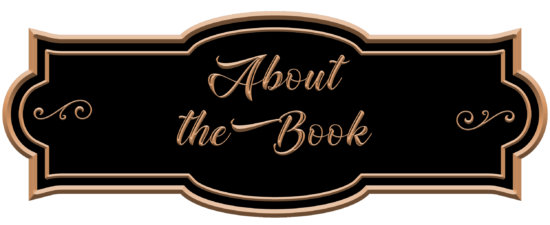 A Trending Topic Mystery: Book 2
Publication Date: April 25, 2023
When murder trends too close to home, social media influencer Coco Cline will have to swipe through a sea of trolls to tag a killer.
After cracking her first case, Cordelia "Coco" Cline's life is finally getting back to normal—or as normal as life can be when you have over three million followers online. With a thriving business, a devoted boyfriend, and her two besties living right up the street, Coco is set to have the most fun summer of her life until Larry and Rosalynn Dunmer move into the condo next door.
Coco and her friends do their best to avoid the confrontational duo, but when a party at a swanky new wine bar brings everyone together, things become less than neighborly faster than a celebrity-themed hashtag goes viral. Larry levels some super shady threats toward Coco and her BFF Jasper, which could have dire consequences for their multimedia empires. Just as Coco begins to wonder if she'll have to spend the rest of the summer looking over her shoulder, she gets a shocking request from police. As part of her PR gig with the Central Shores PD, they need her to come to the beach and keep the public at bay. A body has washed ashore.
Thinking a poor swimmer drowned just before the Salute to Summer festival kicks off, Coco arrives to find Larry Dunmer, dead with a corkscrew sticking out of his neck. What's even more unbelievable is that Jasper quickly shoots to the top of Chief McInnis's suspect list. In full-on panic mode, Coco decides to use her tech-savvy sleuthing skills to clear her best friend's name before his rep is ruined. She soon discovers that Larry made quite a few enemies during his very short stay in town. But who hated him enough to kill him?
Return to the beaches of Central Shores as Coco Cline and her squad assemble to catch a killer before they get canceled…permanently.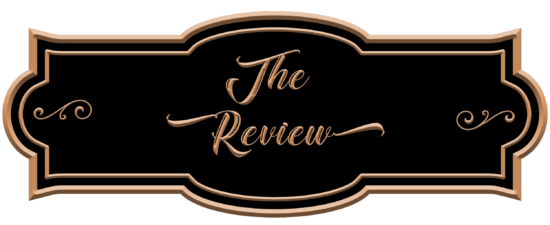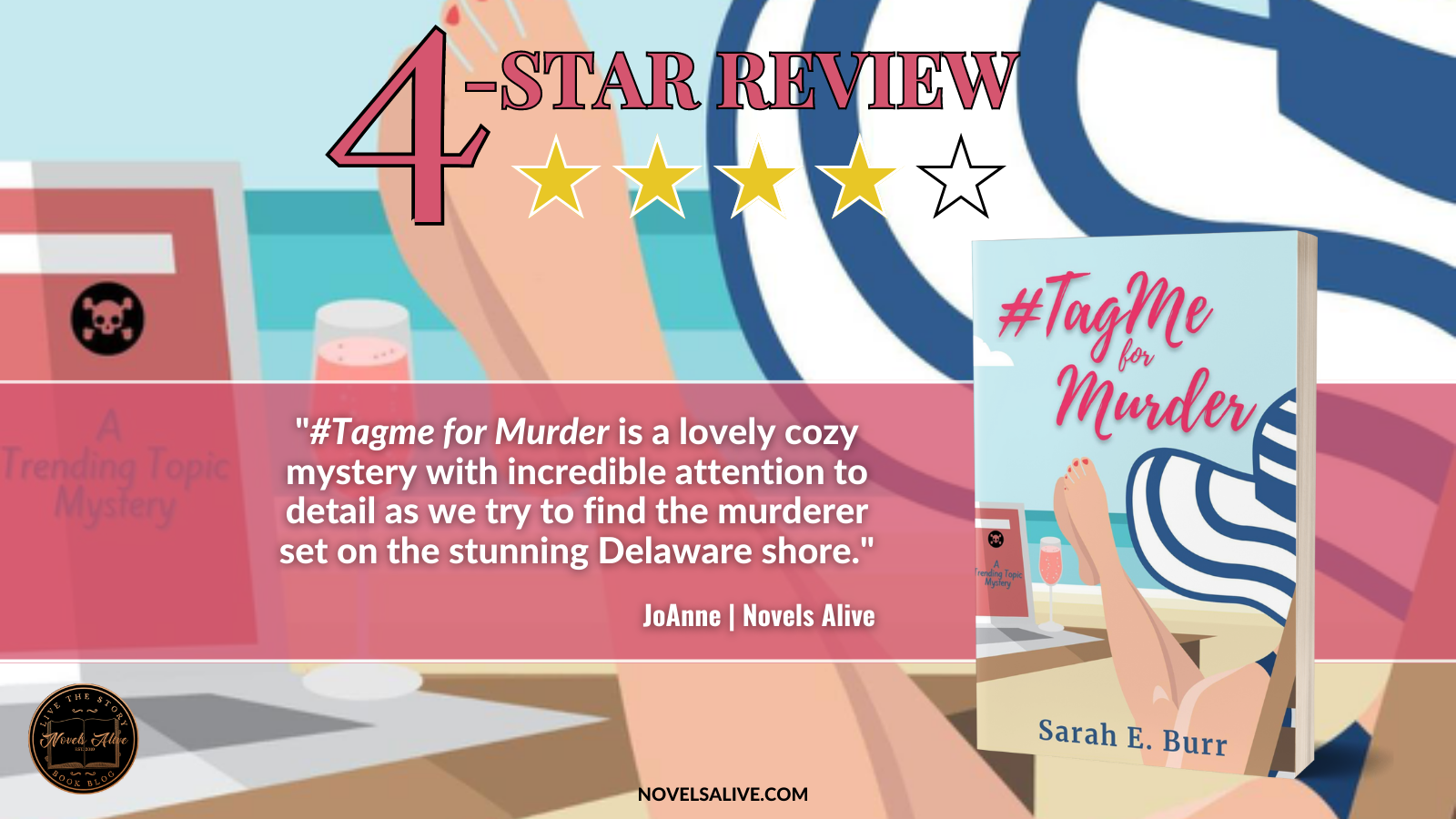 #Tagme for Murder by Sarah E. Burr is a fast-paced, cozy mystery whodunnit that had me turning the pages to see who was the next suspect on amateur detective Coco's list! It's the second book in the Trending Topic Mysteries series, and I'm hoping to read #Followme for Murder to get some of the backstory and learn more about Coco, Hudson, and the rest of her friends and neighbors in their small town. 
Set on the coast of Delaware, there are vivid descriptions that made me feel like I was there.
There was a good flow and several descriptions of the scenery, the businesses, the small town, and more. Clues are ferreted out by Coco, and the police aren't always happy with her involvement. But what they don't know won't hurt them, will it? 
As Coco continues to gather clues, tossing out those unimportant, chasing down potential suspects, and ruling them out when she deems them no longer suspect, we get a front-row seat. Coco is also trying to run all her businesses since she's an influencer on social media and has a blog as well, all of which have to be timely. Social media is also brought into play along with hashtags. So twenty-first century!  
Family, friends, and details on the first murder she solved are woven throughout. There's closure with the reveal of Whodunnit, and it wasn't someone on my radar. I can't wait to meet up with Coco and the others over and over again. Ms. Burr is a new-to-me author, and I hope to read more of her books.
#Tagme for Murder is a lovely cozy mystery with incredible attention to detail as we try to find the murderer set on the stunning Delaware shore.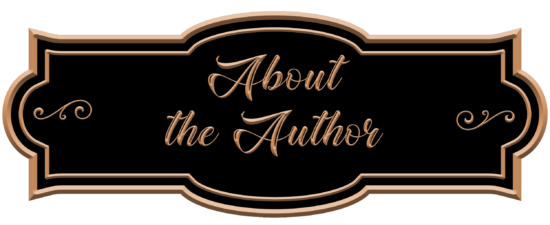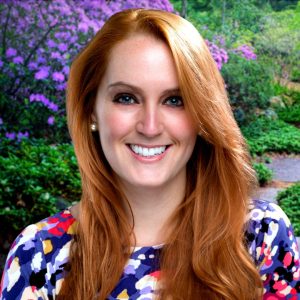 Sarah E. Burr is the award-winning author of the Glenmyre Whim Mysteries, Trending Topic Mysteries, and Court of Mystery series. She currently serves as the social media manager for the New York/Tri-State chapter of Sisters in Crime and is the creative mind behind BookstaBundles, a content creation service for authors. Sarah is the co-host of The Bookish Hour, a live-streamed YouTube series featuring author interviews and book discussions. When she's not spinning up stories, Sarah is singing show tunes, reading everything from mystery to manga, and enjoying walks with her dog, Eevee.

May 2 – I'm Into Books – SPOTLIGHT 
May 2 – Cozy Up With Kathy – CHARACTER GUEST POST
May 2 – Cassidy's Bookshelves – SPOTLIGHT
May 3 – Celticlady's Reviews – SPOTLIGHT
May 3 – My Reading Journeys – REVIEW  
May 4 – Elizabeth McKenna – Author – SPOTLIGHT
May 4 – Baroness Book Trove – SPOTLIGHT
May 4 – Carstairs Considers – REVIEW
May 5 – #BRVL Book Review Virginia Lee – SPOTLIGHT
May 5 – Literary Gold – SPOTLIGHT
May 6 – Jane Reads – CHARACTER INTERVIEW
May 6 – Sapphyria's Book Reviews – SPOTLIGHT
May 7 – Maureen's Musings – SPOTLIGHT
May 8 – Elza Reads – REVIEW
May 8 – FUONLYKNEW – SPOTLIGHT
May 9 – Socrates Book Reviews – SPOTLIGHT
May 9 – Christy's Cozy Corners – AUTHOR GUEST POST
May 10 – Escape With Dollycas Into A Good Book – REVIEW
May 10 – Hearts & Scribbles – SPOTLIGHT
May 11 – Novels Alive – REVIEW
May 11 – Ascroft, eh? – AUTHOR INTERVIEW