Both writer and heroine take the cake for ingenuity and deadly fun as Hannah, a small town baker in the Midwest turns up the heat in the search for her friend's murderer.
Merging good food and great murder mysteries, Joanne Fluke, a New York Times Bestselling author keeps you guessing on the "who done it" while tantalizing your taste buds with at least six fantastic recipes per book.  Growing up in the Midwest herself, gave Joanne invaluable insight into the quirky characters and plots.  Set in the fictional town of Lake Eden, Minnesota, the Hanna Swenson Series gives no rest to the wicked.  There are fourteen fabulous food mysteries available to satisfy the most voracious appetite, and Joanne doesn't end the menu there.  You can find a listing and description of all her books at www.murdershebaked.com.
Here's a taste of three to wet your pallet.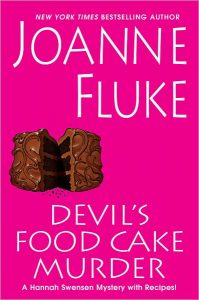 DEVIL'S FOOD CAKE MURDER
These days, everyone in Lake Eden, Minnesota, is buzzing with activity, and Hannah Swensen is no exception. But no matter how busy she may be, Hannah can always find time to help a friend in need – especially when there's a murder to investigate. A new minister is in town to cover for Reverend Bob Knudson, who's honeymooning with Hannah's good friend Claire. But when the replacement is found face down in a plate of devil's food cake with a bullet in his head, Hannah starts asking questions. She soon discovers that the good Reverend wasn't quite the saintly fellow he appeared to be. It will take some more digging to find the culprit, but Hannah is sure of one thing: even the most half-baked murder plot can be oh so deadly…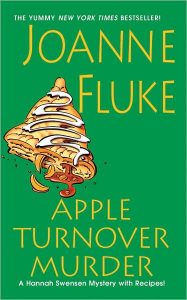 APPLE TURNOVER MURDER
Early summer brings plenty of work for baker Hannah Swensen, even before Mayor Bascomb's wife drops by The Cookie Jar to place an order for her charity event…For eleven-hundred cookies! And Hannah almost flips when her business partner, Lisa, suggests setting up an apple turnover stand. But she places her faith in Lisa and agrees to be a magician's assistant in the fundraiser's talent show. The only snag is the show's host, college professor Bradford Ramsey. Hannah and her sister, Michelle, each had unfortunate romances with Ramsey, and when the cad comes sniffing around between acts, Hannah tells him off. But when the curtain doesn't go up, she discovers Ramsey backstage – dead, with a turnover in his hand. Now Hannah must find a killer who's flakier than puff pastry – and far more dangerous.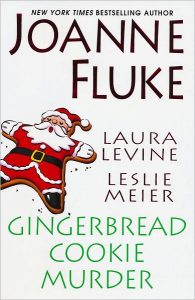 GINGERBREAD COOKIE MURDER
When Hannah Swensen finds her neighbor Ernie Kusak with his head bashed in and sprawled on the floor of his condo next to an upended box of Hannah's Gingerbread Cookies, she discovers a flurry of murder suspects that's as long as her holiday shopping list. "The Dangers Of Gingerbread Cookies" is written by Laura Levine. Jaine Austen has been enlisted to help with her parents' retirement community's play The Gingerbread Cookie That Saved Christmas. Playboy Dr. Preston McCay is playing the role of the gingerbread cookie when he 'accidentally' falls to his death during the final act. Now Jaine must figure out if one of the doctor's jealous lovers was capable of murder. "Gingerbread Cookies And Gunshots" is written by Leslie Meier. When Lucy Stone discovers the body of Rick Juergens, whose five-year-old son Nemo disappeared, she senses foul play. Crumbs from a gingerbread cookie Lucy gave to Nemo are found in the back seat of Rick's car. With the hours quickly ticking till Christmas, Lucy races against the clock to find a killer before he strikes again.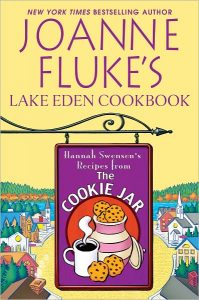 Then be on the lookout for Joanne's LAKE EDEN COOKBOOK that will be released in September 2011 with a tasty launch party to go with it in California, where Joanne currently resides with a menagerie of family and pets.  For details go to http://www.murdershebaked.com/whats_next.htm
Bon Apetit!

DEVIL'S FOOD CAKE MURDER
APPLE TURNOVER MURDER
GINGERBREAD COOKIE MURDER
LAKE EDEN COOKBOOK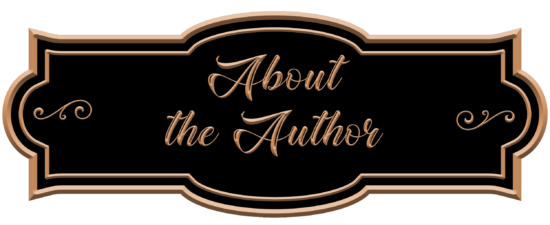 Like Hannah Swensen, Joanne Fluke grew up in a small town in rural Minnesota where her neighbors were friendly, the winters were fierce, and the biggest scandal was the spotting of unidentified male undergarments on a young widow's clothesline. She insists that there really are 10,000 lakes and the mosquito is NOT the state bird.
While pursuing her writing career, Joanne has worked as: a public school teacher, a psychologist, a musician, a private detective's assistant, a corporate, legal, and pharmaceutical secretary, a short order cook, a florist's assistant, a caterer and party planner, a computer consultant on a now-defunct operating system, a production assistant on a TV quiz show, half of a screenwriting team with her husband, and a mother, wife, and homemaker.
She now lives in Southern California with her husband, her kids, his kids, their three dogs, one elderly tabby, and several noisy rats in the attic.