One of the very first books to really nurture my love for historical romance was SKYE O'MALLEY, so it is with awe and deep appreciation for the many beautiful stories she has written that Novels Alive and Be My Bard welcome the incomparable…Bertrice Small!
Back to school time. In your high school yearbook would your "Mostly likely to…" title have read, "…become a Bestselling Author," or something completely different and what might it have been instead?
No, I wanted to be an actress back then although I was writing long stories even then.
Trick or Treat? When you've hit a mental brick wall while writing a story, do you have a special "trick" for getting back on track, or have you found that simply giving yourself the "treat" of time away will help break the spell?
Lordy, don't hate me, but I've never had a problem. I just sit down and type. I am very fortunate.
You are attending a Halloween costume ball as your favorite literary character and suddenly find yourself falling through a wormhole into their universe. How much time would you want to spend there before you start looking for an escape route home or would you want to stay indefinitely?
While I have read and read and read my whole life, and enjoyed most of what I've read, I don't honestly have a favorite character so this isn't a question I can really answer. But if I had a favorite, she would probably live somewhere between the 10th and 17th centuries. A short visit would be nice, but I wouldn't want to remain long. I am a true creature of my own time.
Speaking of going back in time…Authors sometimes go back into their backlist and re-release a revised edition, or in the case of novellas, a new expanded edition for a fresh reading by their audience. Is there a story from your collection of work that you would like to or already have plans to release again with revisions?
No.
When it comes time to laying out the big spread for Thanksgiving, are you most likely to be the one to give Martha Stewart a run for her money in the kitchen or the one they only trust (culinary speaking) to bring over some packaged rolls?
I'm the one who does all the cooking, and it's very traditional according to my own family. I make great stuffing. There is turkey, sweet potato casserole, mashed white potatoes, French Cut green beans, Mashed turnip, creamed onions, cranberry relish, both apple and pumpkin pies. And of course apple cider for the kids.
Many authors include a list of acknowledgments or "Thank you" messages in the beginning of their books. Is there one person that you always try to remember to mention and why?
My late husband, George, who never questioned the fact that we role reversed at a time when such a thing was unusual, and even considered very odd. We moved from the city to the country with our then 3 year old. I became the one who earned the living. He, while designing and building beautiful clocks which he then sold, also took responsibility for Tom. Our son is now 41, and his dad was one of his best friends until George died 2 years ago. I have always been very proud that I fostered that relationship between father and son.
Whether it's shopping for gifts to put under the Christmas tree or other holiday gift giving, are you one of those people who starts stockpiling in JULY or will you be scrambling at the last minute to complete your list?
I actually shop all year though not deliberately. If I see something I know someone on my list will like, I usually purchase it and stick it aside. I'm just practical that way.
There is just something special about love stories set around the holidays. Do you have a favorite holiday romance that you would recommend or one of your own that will be gracing the shelves this year?
No. Holidays have been celebrated in books I've read, but nothing that stands out to me.
When it comes to making "New Year's Resolutions," do you tend to make ones that will be easy to keep or are you still working on ones you have made in the past and are determined to accomplish this year?
I don't make resolutions. I used to when I was younger, but then I realized that we usually conveniently forget what we resolved to do. LOL!
Thank you so much for taking the time to be with us today and for sharing some holiday secrets.
To close out this session, is there is a story that you are working on now or one recently released that you would like to share something about?
I'm currently working on the last book in my Silk Merchant's Daughters series. Each sister has had her adventures, and this is the youngest of them who after a bad first marriage flees to England to take refuge with her older, married sister, and get herself involved in the court of King Henry VII. She is the young queen's favorite lady. The book is titled: SERENA. Your readers can keep up with me at my website which is located at: www.BertriceSmall.net
Thank you so much for inviting me to participate.
Look for the first two books in Bertrice Small's fabulous Silk Merchant's Daughter series, wherever you buy books!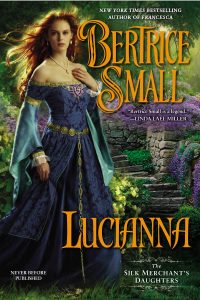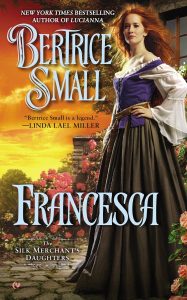 LUCIANNA




FRANCESCA





Born in Manhattan, Bertrice Small has lived on eastern Long Island for 37 years, and she loves it! She is a Sagittarian with an Aries son. Her greatest passions are her family; Sylvester and Delilah, the family cats; her garden; her work, and just life in general.
She is the author of 54 novels, with one in production and another almost finished. They will be published in May and October of 2013. 42 of these novels are Historical Romance, 6 are Fantasy Romance, and 6 are Erotic Contemporary. She has also written 4 erotic novellas. Her novels include THE KADIN (pronounced Kah-deen), and the beloved series "The O'Malley Saga" and "Skye's Legacy". A New York Times bestselling author, she has also appeared on other bestseller lists including Publishers Weekly, USA Today, and the L.A. Times. She is the recipient of numerous awards including Career Achievement for Historical Romance; Best Historical Romance; Outstanding Historical Romance Series; Career Achievement for Historical Fantasy from RT Book Reviews; a Golden Leaf from the New Jersey Romance Writers chapter of Romance Writers of America; an Author of the Year (2006) and Big Apple Award from the New York City Romance Writers chapter of RWA, and several Reviewers Choice awards from RT Book Reviews. She has a "Silver Pen" from Affair De Coeur, and an Honorable Mention from The West Coast Review of Books. In 2004 Bertrice Small was awarded a Lifetime Achievement Award by RT Book Reviews magazine for her contributions to the Historical Romance genre. And in 2008 she was named by RT Book Reviews along with her friends Jennifer Blake, Roberta Gellis and Janelle Taylor, a Pioneer of Romance.
Bertrice Small is a member of The Authors Guild, Romance Writers of America, and PASIC.