Since my latest book, AGAINST THE TIDE, is set in Valdez, Alaska, one of the most beautiful places on the planet, I thought it might be fun to talk about my favorite places.
Personally, I hate hot weather. This year, while other people are flying off to the Caribbean, my hubby and I will be traveling through the Baltic, spending time in Sweden and Norway, nice cool weather there.
Among my personal favorite places, I love the ski slopes of Aspen and the old historic town. Or the top of the hill at Mammoth Mountain in California. Yummy days of cold and sunshine and crystal clear blue skies.
I don't like heat but I do love the sun. We usually travel in the spring. A favorite sunny day happened to me in Rome a few years back when we stood in the bright rays next to the beautiful Trevi Fountain. And of course you can't beat walking in the sun on the Left Bank in Paris.
Closer to home, Montana has some places I love to visit. Yellowstone and Glacier parks, Big Fork on the Flathead Lake. Today I'm working in my office, looking at the lush green pastures outside my windows toward the snow-capped mountains in the distance. Big sky country is a major winner when the sun is shining and the clear blue sky seems to go on forever.
Alaska is another of my most favorite places. A day on waters of Prince William Sound can be spectacular. In AGAINST THE TIDE, Rafe Brodie is the captain of a charter fishing boat fleet in tiny Valdez. It's a majestic, but harsh and remote. Fascinated by the new owner of the Pelican Café, Olivia Chandler, Rafe begins to wonder why such a beautiful young woman would want to hide herself away in such a place.
He's determined to solve the mystery, but when his first mate, young Scotty Ferris, is murdered, Rafe has a far more important mystery to solve.
Scott was Liv's friend, too, and she is equally determined to find his killer. As the clues unfold, Rafe and Liv are drawn into a web of secrets and lies and that lead both of them into danger.
AGAINST THE TIDE, set in one of my favorite places, turned out to be one of my all-time favorite books. I hope you'll watch for it and that you enjoy. And if you haven't read AGAINST THE SKY and AGAINST THE WILD, I hope you'll watch for them, too.
Warmest wishes and happy reading, Kat
ABOUT THE BOOK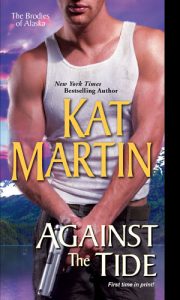 Secrets—and safety—melt under a midnight sun…
Liv Chandler is running for her life, and the cops haven't been able to do a thing to help. But there's one man who makes her feel safe, no matter what…rugged charter boat captain Rafe Brodie.
To Rafe, Liv is a beautiful mystery, one he can't ignore. He means to unearth her secrets, and in the process, if luck is on his side, maybe the spark between them will ignite.
But Liv's past is more dangerous than Rafe could guess, and when his first mate turns up dead, she fears that she's next. That there's something else coming she can't see. That even Rafe and the remote village of Valdez, Alaska can't protect her forever…
ABOUT THE AUTHOR
New York Times bestselling author Kat Martin is a graduate of the University of California at Santa Barbara where she majored in Anthropology and also studied History. She is married to L.J. Martin, author of western, non-fiction, and suspense novels.
Kat has written more than sixty-five novels. Sixteen million copies of her books are in print and she has been published in twenty foreign countries, including Japan, France, Germany, Argentina, Greece, China, Russia, and Spain.
Born in Bakersfield, California, Kat currently resides in Missoula, Montana, on a small ranch in the beautiful Sapphire mountains.
Her last eleven books have hit the prestigious New York Times bestseller list. Both AGAINST THE WILD and AGAINST THE SKY, her latest release, took top ten spots. AGAINST THE TIDE the 3rd book in the Brodies of Alaska series will hit shelves in a couple weeks!
Visit Kat's website at www.katmartin.com
Or look for her on Facebook at KatmartinAuthor.
Comment for your chance to win an autographed copy of AGAINST THE WILD!