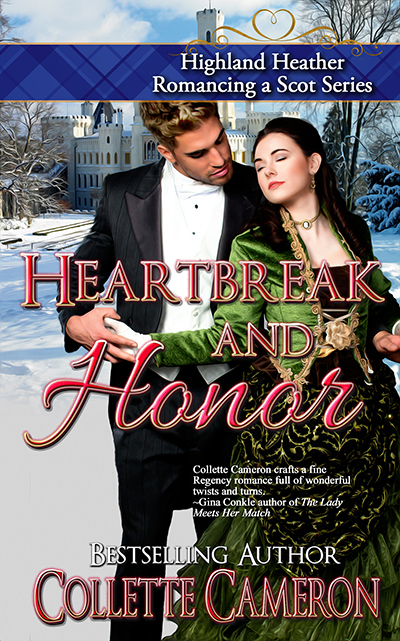 Heartbreak and Honor
Highland Heather Romancing a Scot Series, Book 3
By Collette Cameron
Abducted by a band of renegade Scots, Highland gypsy Tasara Faas blackens her rescuer's eye when the charming duke attempts to steal a kiss. Afterward, Tasara learns she's the long-lost heiress Alexandra Atterberry and is expected to take her place among the elite society she's always disdained.
Lucan, the Duke of Harcourt, promised his gravely ill mother he'd procure a wife by Christmastide, but intrigued by the feisty lass he saved in Scotland, he finds the haut ton ladies lacking. Spying Alexa at a London ball, he impulsively decides to make the knife-wielding gypsy his bride despite her aversion to him and her determination to return to the Highlands.
The adversary responsible for Alexa's disappearance as a toddler still covets her fortune and joins forces with Harcourt's arch nemesis. Amidst a series of suspicious misfortunes, Lucan endeavors to win Alexa's love and expose the conspirators but only succeeds in reaffirming Alexa's belief that she is inadequate to become his duchess.
Buy Link
Collette is giving away  (2) two $25.00 gift cards, a print copy of Triumph and Treasure (Highland Heather Romancing a Scot Series, Book 1), Five eBooks of Virtue and Valor (Highland Heather Romancing a Scot Series, Book 2), and a Christmas package!
a Rafflecopter giveaway
[quote]
Ball Scene Excerpt
A tall, ash-blond man attired in black, except for his pristine cravat, ambled through the French windows accompanied by two laughing gentlemen.
The Duke of Harcourt's languid gaze swept the room, passed by her and her family, then careened back to rivet on her as his eyes widened in disbelief. No sign remained of his injured eye.
A slow, wolfish smile curved his full mouth. No doubt existed that he'd recognized her.
Look away, Alexa.
Her dratted eyes wouldn't obey. She couldn't blink as he strode in her direction. What must he think, seeing her here, elegantly attired, and in the company of her well-heeled aunt and uncle?
She permitted a welcoming smile and what she hoped qualified as a flirtatious flutter of her fan, which, from his astonished expression, confounded him.
Her smile slipped. Bother. Perhaps she'd told him to go to the devil or bugger himself with her inept flapping.
His striking companions exchanged amused glances before hieing after the duke. Probably didn't want to miss the sport about to take place.
Heads turned and conversations tapered when people noticed the duke's intent. She'd bet her new fortune le beau monde favored him, and that he'd set his attention on her—an unknown—marked her for their regard.
Stop staring." Katrina nudged her. "People are taking notice."
Alexa still gaped. She'd thought him attractive before, but dressed formally with a predatory glint in his eye . . . Her body reacted most peculiarly—hot, shivery, and excited at once.
Alexa!" Katrina toed Alexa's slipper then poked her in the side, using her fan to make her point.
Alexa perched, riveted on the edge of her seat, like a leery bird ready to take flight. Except, where could she escape to? She had the oddest urge to scamper to the curtains and hide behind their protective lengths. With him.
[/quote]
Bestselling, award-winning Historical Romance Author, Collette Cameron, pens Scottish and Regency Romances featuring rogues, rapscallions, rakes, and the intrepid damsels who reform them. Mother to three and self-proclaimed Cadbury chocoholic, she's crazy about dachshunds, cobalt blue, and makes her home in Oregon with her husband and five mini-dachshunds. You'll always find animals, quirky—sometimes naughty—humor, and a dash of inspiration in her novels.Her award-winning Castle Brides Series, Highland Heather Romancing a Scot Series, and Conundrums of the Misses Culpeppers Series, as well as her other books, are all available on Amazon and other major retailers.
SOCIAL MEDIA:
Website Blog Twitter Facebook Regency Rose Newsletter
You can connect with her on LinkedIn, Pinterest, and Google+ too.
Just head to her website for the links.
Thank you so much for hosting me today!