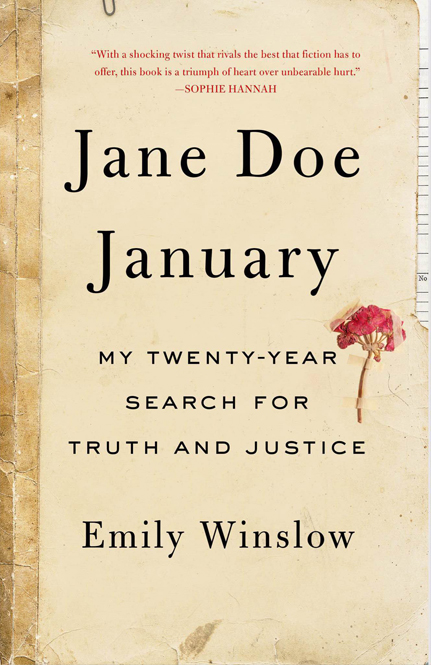 It is truly my honor to have Emily Winslow, author of JANE DOE JANUARY: MY TWENTY-YEAR SEARCH FOR TRUTH AND JUSTICE, the riveting and courageous story of Emily's quest for justice from her terrifying and violent rape as a college student in Pittsburgh.
I found this book to be heartbreaking, inspiring, frustrating, terrifying, honest and every other emotion you could imagine. I highly recommend this book to anyone who has ever been a victim of crime and for those who want to understand how violent crimes affect the victims.
[quote]In the vein of Alice Sebold's Lucky, comes a compelling, real-life crime mystery and gripping memoir of the cold case prosecution of a serial rapist, told by one of his victims.
On the morning of September 12, 2013, a fugitive task force arrested Arthur Fryar at his apartment in Brooklyn. His DNA, entered in the FBI's criminal database after a drug conviction, had been matched to evidence from a rape in Pennsylvania years earlier. Over the next year, Fryar and his lawyer fought his extradition and prosecution for the rape—and another like it—which occurred in 1992. The victims—one from January of that year, the other from November—were kept anonymous in the media. This is the story of Jane Doe January.
Emily Winslow was a young drama student at Carnegie Mellon University's elite conservatory in Pittsburgh when a man brutally attacked and raped her in January 1992. While the police's search for her rapist proved futile, Emily reclaimed her life. Over the course of the next two decades, she fell in love, married, had two children, and began writing mystery novels set in her new hometown of Cambridge, England. Then, in fall 2013, she received shocking news—the police had found her rapist.
This is her intimate memoir—the story of a woman's traumatic past catching up with her, in a country far from home, surrounded by people who have no idea what she's endured. Caught between past and present, and between two very different cultures, the inquisitive and restless crime novelist searches for clarity. Beginning her own investigation, she delves into Fryar's family and past, reconnects with the detectives of her case, and works with prosecutors in the months leading to trial.
As she recounts her long-term quest for closure, Winslow offers a heartbreakingly honest look at a vicious crime—and offers invaluable insights into the mind and heart of a victim.[/quote]
So without further adieu, I give you Emily Winslow.
1.  How did you have the courage to tell your story to such a mass audience?
I started writing about it first for me, to clarify my understanding and my feelings as the prosecution was unfolding. Its second use was as a tool for communicating with the people around me. A lot of times it was easier for me to send people something to read that we could then talk about later, instead of telling them face to face and forcing them to react right in front of me. Because writing is my job, it seemed natural as the writing's third use to publish it. I must admit that that has been harder. People bring a lot of their own strong opinions and assumptions to this topic, and it feels strange to see my personal story filtered through so many others' points of view.
2.  While reading, I thought how lucky you were to have so much support from friends and family. Would you say that was one of the most important elements in healing from such a traumatic event?
I think the elements of secret-keeping (the shame that motivates keeping the secret, the false front that protects the secret, the wondering what could happen if people knew…) are all separate traumas on top of the original trauma. I didn't have to deal with those at all, which didn't make the rape itself less of an agony to deal with, but did mean that I was dealing with only the rape itself, an easier burden than many survivors deal with.
3.  It was amazing to me that you weren't angrier and bitter about your experience. What advice can you give others who have experienced rape and/or sexual assault?
Other people were indignant and outraged for me. Having that taken care of was freeing for me. I was, of course, sometimes angry myself, but I didn't feel that I had to be angry, to prove that what had happened was serious and terrible. Other people already treated the crime as self-evidently serious and terrible. That was a wonderful gift that they gave me.
Obviously, "be surrounded by good people" isn't something you can "advise" people to do. But for me it helped to be open about who might be good at listening and supporting. It wasn't always the people I expected.
4.  Given the Stanford rape case, what are your thoughts about the Justice System when it comes to rape cases?
The sentence in the Stanford case is disheartening, but the public response has been wonderful. People are talking freely about a formerly taboo subject, and the support for the victim is almost overwhelming. I'm very encouraged.
5.  Though I was fully engaged in your book, JANE DOE JANUARY, it was not an easy read. How were you able to sell your publisher on your heart-wrenching story?
It has actually been surprising to me who finds the book "painful but important" and who finds it actually "comforting." A lot of people tell me that they're "enjoying" it and then apologize! But I know what they mean. Stories have their own momentum that can be a pleasure apart from how challenging or upsetting their subjects are. And I think there is a lot of good alongside the difficult in my book. There was one bad person whose actions started it off, then many, many good people.
6.  Have you had many women thanking you for your story? For being honest and stark about what happens to the victims of rape – both on a personal level and through the justice system?
I've been contacted by victims sharing their similar stories, not just of similar crimes but of similar cold-case prosecutions. I've been contacted by men who don't explain or share much, but just say, in a couple of sentences, a form of "thank you." I've been contacted by people who teach law and who work in forensics. It's been very encouraging. I do my best to answer everyone.
7.  Tell us something about your latest release, and a little bit about the project you are working on now.
This memoir is out now from HarperCollins, and they've also just reissued my three-book detective fiction series set in Cambridge, England: The Whole World, The Start of Everything, and The Red House. Right now I'm working on my fourth novel in that series.
A huge THANK YOU, Emily for joining us today and I would encourage everyone to go out right now and buy this brilliant book!
About Emily Winslow
Emily Winslow is an American living in Cambridge, England. She trained as an actor at Carnegie Mellon University's prestigious drama conservatory and earned a master's degree in museum studies from Seton Hall University. For six years she wrote for Games magazine, creating increasingly elaborate and lavishly illustrated logic puzzles. She lives with her husband and two sons.