My new series is coming September 20th, 2018.  I'm calling it my "Jilted Brides" trilogy.  For the past few years, I've been writing linked series, where I have a linking theme that runs through all of the novels, and the common thread resolves at the end of the final book.  It's a fun way for me to keep readers excited and guessing as to how it will all conclude. I've always been fascinated by tales of brides who are left at the altar, and I decided to use the situation as the linking thread through the three books.  In this series, my three heroines have all been jilted, and the terrible event pitches their lives into new and totally unexpected directions.  And of course, these new "directions" lead them right into the arms of the heroes. I'm releasing the three books together on the same day, so readers can scoop them up and read the whole story without having to wait for the next installment.  The books will be available as print books and e-books. Mark your calendars!  Coming September 20th!  I'm counting down the days!
GIVEAWAY!
JILTED BY A CAD – Book 1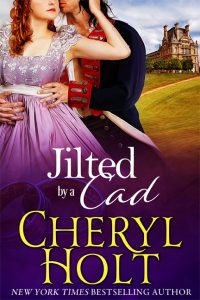 Josephine Bates only ever wanted to marry and have a home of her own. At age eighteen, when a handsome suitor swept her off her feet, she believed all her dreams were about to come true. But he was actually a cad who stole her dowry and jilted her at the altar. Since then, she's been wary of men and their motives. She's accepted the notion that she'll never escape her dreary, quiet existence, and she'll most likely live out her days as a spinster… Peyton Prescott is a ship's captain in the Royal Navy. He's a man of action and adventure, and his years have been filled with danger and excitement. But his brother has died, so he's inherited a title and earldom he never sought or wanted. He's afraid his new position will force him to abandon the thrilling life he loves, and he's loafing in England, feeling landlocked and desperate to return to the sea. He'd give anything for a diversion, and when pretty, lonely Josephine crosses his path, he's fascinated and can't resist… But Peyton isn't looking for a bride, and Josephine could never be interested in a handsome, dashing scoundrel. Yet as friendship blossoms and passion flares, can love be far behind?
BUY LINKS
JILTED BY A SCOUNDREL – Book 2
CHERYL HOLT continues to delight readers with the thrilling, dramatic second novel in her Jilted Brides trilogy… Winifred Watson grew up as the only daughter of a decorated war hero. When he died suddenly, she was shocked to learn that he was bankrupt and she lost everything to pay his final debts. She'd hoped to wed her fiancé—a steady, handsome man who would have guided her through the tumult of her father's death. But when her penury was revealed, her fickle betrothed jilted her at the altar. His treacherous conduct pitched her into a downward spiral that she can't seem to halt… John Dunn escaped his dreary home by joining the army when he was sixteen. He loved his years as a soldier and planned to dedicate the remainder of his life to King and country. But he was swept into a scandal and drummed out of the service. He's returned to his family's isolated, dreary castle on the Cornwall coast, but it's the one spot on the globe he vowed to never visit again. He's bitter, raging, and eager for a diversion from his pathetic situation… When Winifred arrives, demanding shelter and assistance, John isn't inclined to provide any help. But she's pretty, intriguing, and in desperate need of a knight in shining armor. How can he resist?
BUY LINKS
JILTED BY A CAD – Book 1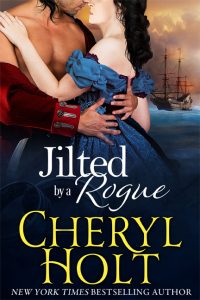 Amelia Boyle has always viewed herself as an extremely modest and moral woman. But after suffering a string of personal catastrophes, she went a bit wild and made several reckless decisions. Her spurt of excess culminated in her becoming engaged to a man she barely knew. When he promptly jilted her at the altar, the cruel act yanked her to her senses. She's been forced to admit she has frivolous tendencies, and she vows to never let them flare again. James Hastings loves his life in the army, and he doesn't plan to ever retire. He's a confirmed bachelor who spends his days around active, tough men who are proud to serve King and country. He's not interested in marriage or settling down, and he has no time for women and no patience for flirtation. But when Amelia stumbles into his dull, boring world, she turns it upside down, and it gradually dawns on him that he might not be able to live without her. Amelia has sworn off romance though and has other plans that don't include binding herself to a handsome, dashing soldier. Can James convince her that he might be precisely who and what she needs to be happy?
BUY LINKS
EXCERPT FROM JILTED BY A CAD

ABOUT THE AUTHOR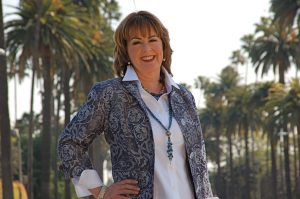 Cheryl Holt is a New York Times, USA Today, and Amazon "Top 100" bestselling author of fifty novels. She's also a lawyer and mom, and at age 40, with two babies at home, she started a new career as a commercial fiction writer. She'd hoped to be a suspense novelist, but couldn't sell any of her manuscripts, so she ended up taking a detour into romance, where she was stunned to discover that she has an incredible knack for writing some of the world's greatest love stories. She is considered to be one of the masters of the romance genre, and her emotional, dramatic, and riveting stories of passion and illicit love have captivated fans around the world. She has won or been nominated for many national awards. For many years, she was hailed as "The Queen of Erotic Romance", and she's also revered as "The International Queen of Villains." She is particularly proud to have been named "Best Storyteller of the Year" by the trade magazine Romantic Times BOOK Reviews. Cheryl lives and writes in Hollywood, California.