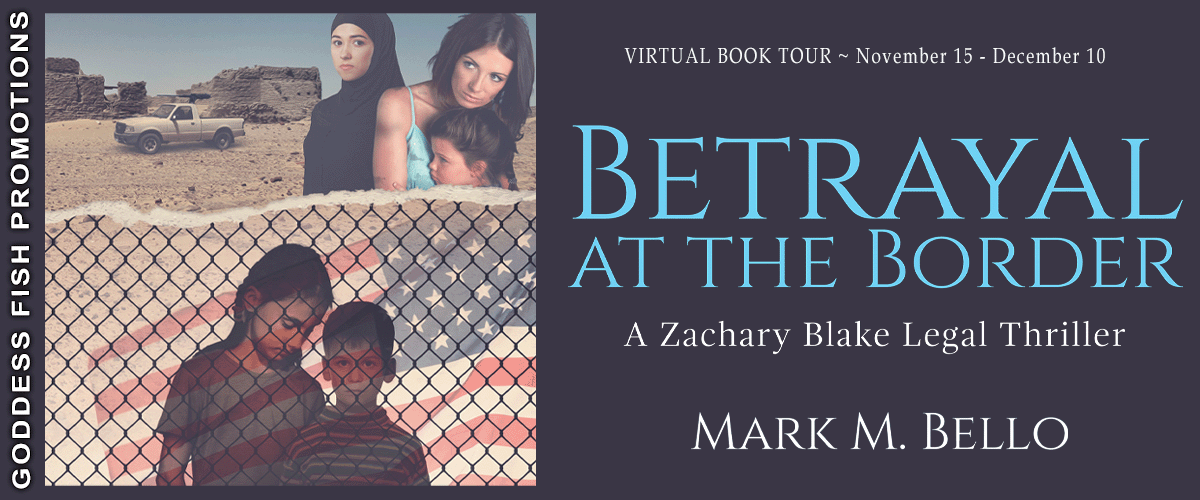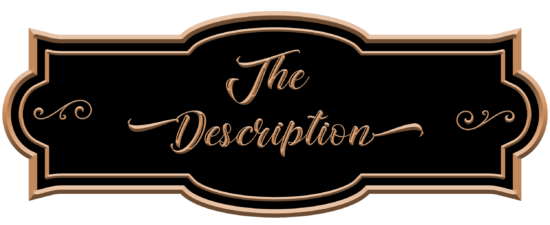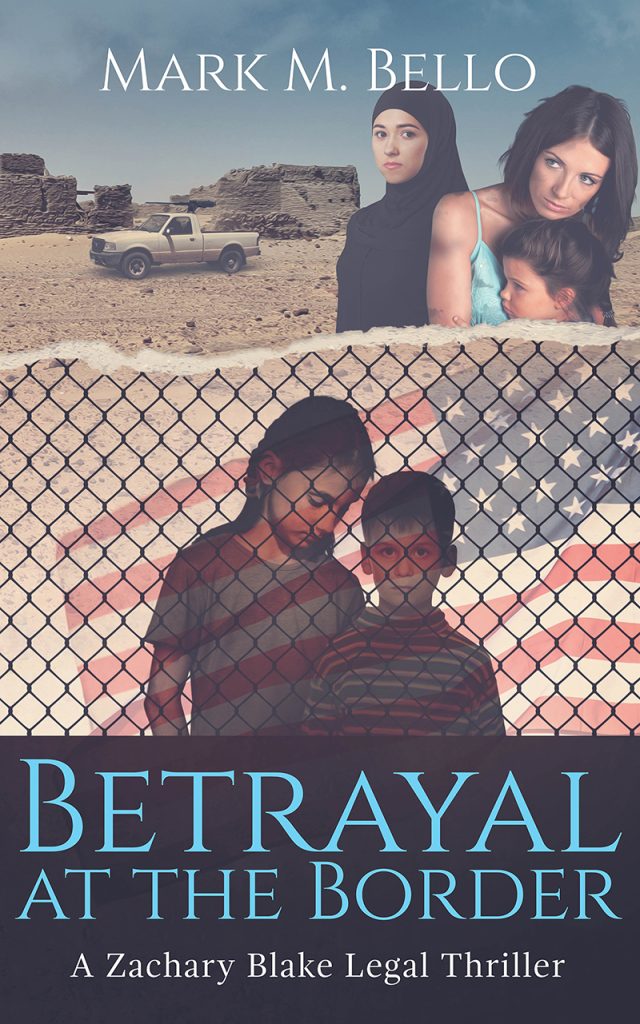 In Betrayal at the Border, attorney Zachary Blake returns to tackle two cases that strike at the heart of our nation's contentious immigration debate.
In Riverview, Michigan, undocumented immigrants Miguel and Mary Carmen Gonzalez are determined to realize the American dream. They find jobs at a local filler plant, have children, and lead an all-American life, that is until ICE raids their plant . . .
Canan and Karim Izady are naturalized citizens of the United States. They have immigrated legally from Kurdistan and have an American born daughter, Hana. Unable to persuade her mother to follow the young family to America, Canan and Hana travel to an ISIS hotbed so the child may meet her grandmother for the first time. With the war over, what could possibly go wrong?
Two unique immigrant families, two uniquely dangerous consequences of America's dysfunctional immigration system. Enter Zachary Blake, superstar lawyer.
But, for the first time in a long time, Blake is out of his element—immigration law calls for the expertise of his specialist/partner, Marshall Mann. Together, two extraordinary lawyers take on a terrorist network and a broken immigration system. And master investigator Micah Love returns, racing against the clock to prevent tragic circumstances. In our politically charged, anti-immigrant international climate, will a Hail Mary be their only move?
Award-winning legal thriller author, Mark M. Bello, pits our nation's broken immigration system against important human and social justice rights issues, spinning a tale that shines a bright light on the everyday fears of immigrants all over these United States. Can Blake, Mann, and Love prevent a Betrayal at the Border?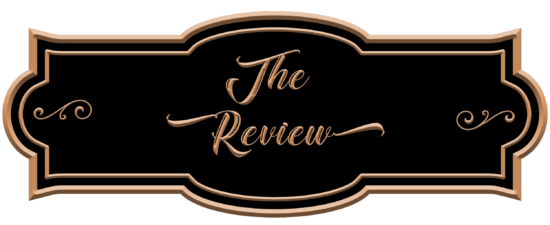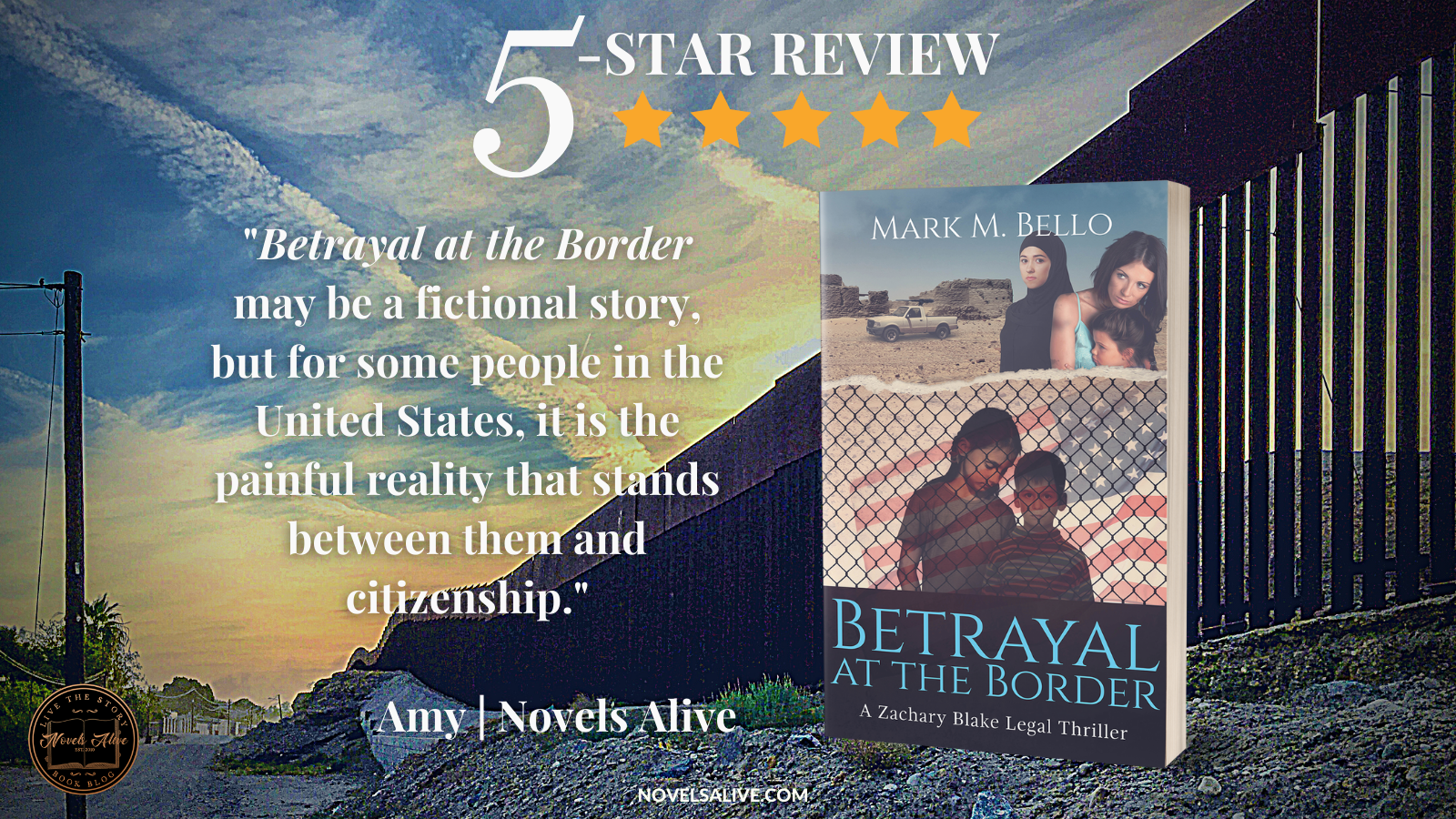 Using two scenarios that could be practically ripped from today's headlines, author Mark M. Bello shines a light on immigration in the Land of the Free. Betrayal at the Border is the seventh installment in the Zachary Blake legal series and packs a serious punch.
The legal thriller unfolds with a dual storyline. Mary Carmen and Miguel Gonzalez immigrated to the U.S. from Venezuela, but their visas expired, making them undocumented. Their young children, Emma and Emilio, are both American citizens. It's a secret the family has kept until ICE raids the factory where the parents work.
Meanwhile, Canan and Karim Izady are naturalized citizens originally from Kurdistan and citizens of Syria. Canan wants their baby girl, Hana, to meet extended family members now that reports indicate travel in that area is safe. Canan and Hana travel abroad with the agreement that one of Karim's friends would join them.
Blake and his legal partner, Marshall Mann, wage war on two different fronts. They must race against the clock when the Izadys are taken hostage, dealing with a terrorist bent on wreaking havoc. Within the U.S., the legal team is battling a broken immigration system that threatens to separate parents from children.
While this was my first introduction to the Law Offices of Zachary Blake, it certainly won't be my last encounter. The characters are vivid and passionate about the legal system. The humor woven into their conversations further enhances the story's appeal. Using two families to highlight current issues was a smart move on behalf of the author.
I was also impressed with the level of legal detail within the story. Rather than coming across as dry, the technical information gave me additional insight and demonstrated the author's knowledge of the topics at hand.
Betrayal at the Border may be a fictional story, but for some people in the United States, it is the painful reality that stands between them and citizenship.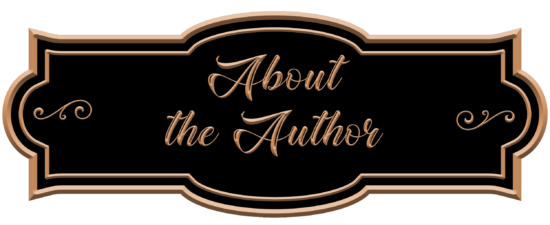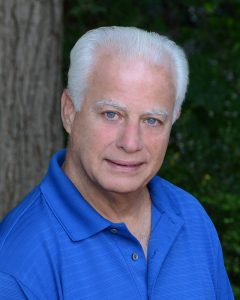 As an attorney and civil justice advocate, author Mark M. Bello draws upon over 40 years of courtroom experience in his Zachary Blake Legal Thriller Series.
A Michigan native, Mark received his B.A. in English Literature from Oakland University and his law degree from Thomas M. Cooley Law School. After working extremely high-profile legal cases, Mark wanted to give the public a front-row glimpse of what victims face when standing up for justice.
Combining his legal experience and passion for justice with a creative writing style, Mark not only brings high-quality legal services to his clients but captivating novels to his readers.
When Mark's not writing legal and political novels, he writes and posts about fairness and justice in the civil justice system on his website, Legal Examiner and NotFakeNews. In his spare time, Mark enjoys traveling and spending time with his family. Mark and his wife, Tobye, have four children and 8 grandchildren.
For more information about Mark, please click here.
Mark loves hearing from his readers! Drop him a line on the Contact page or follow him on Facebook, Twitter, Goodreads, or Bookbub.

November 15: Viviana MacKade
November 16: The Avid Reader
November 17: Our Town Book Reviews
November 18: Rogue's Angels
November 19: Hope, Dreams, Life…Love
November 22: The Faerie Review
November 23: Author C.A.Milson
November 24: Jazzy Book Reviews
November 26: Harlie's Books
November 26: Literary Gold
November 29: The Obsessed Reader
November 30: Novels Alive
December 1: Long and Short Reviews
December 2: Novels Alive – review only
December 3: Fabulous and Brunette
December 6: Sandra's Book Club
December 7: Straight From the Library
December 8: Don't Judge, Read
December 8: Westveil Publishing
December 9: Gina Rae Mitchell
December 10: All the Ups and Downs