Not long ago some authors who'd previously written for Harlequin Silhouette regained their rights. Eileen Dreyer or Kathleen Korbel under which pen name A PRINCE OF A GUY was written, is re-issuing some of them. She kept them the same because technological leaps would have changed the story beyond recognition.
For a chance to win a digital copy of A PRINCE OF A GUY, do you prefer a story to be updated or would you rather it be left alone? Share your opinion and you're entered!  Good Luck y'all…
ABOUT THE BOOK
When New Yorker Casey Phillips visits the tiny country of Moritania, she simply wants to see where her ancestors came from. Instead, she's mistaken for a princess.
The real princess has been kidnapped, and Crown Prince Eric von Lieberhaven insists Casey—a dead ringer for the missing royal—step into the princess's shoes until she can be freed.
EXCERPT
The Royal Palace of Moritania, the Alps, 1987
Eric handed her up the steps before him as a silent groom appeared from somewhere and took the Bronco away. Casey half expected him to sweep the cobblestones behind them. When they reached the door, it magically opened, another liveried servant bowing and smiling as he passed them on.
"Rolph," Eric said, easing Casey along when she slowed, "is Her Majesty the queen available for visitors?"
"I shall check for you, Your Highness. Refreshments?"
He stole a look at Casey, who was rubbernecking the paintings on the walls with undisguised astonishment. After a moment he nodded. "Yes, I believe they will be needed. In the Great Hall, if you please."
Rolph dispatched a discreetly questioning look, but bowed and moved away. Casey was still trying to take in the extent of the entryway.
Train stations were smaller. The walls extended up some thirty feet, decorated with what looked suspiciously like old masters and terminating in a high, vaulted ceiling that some brave painter had gotten his hands on. It was all light and froth, cherubs and swirling gold banners swimming around a vault of milky white. The floors were of gleaming dark wood covered in what had to be priceless Oriental rugs. The effect was one of immense space, the inside of the building mirroring the image given by the outside. Quiet, understated grace and wealth.
No need for ostentation here. It only made her want to see more.
"Like your decorator," she finally managed, casting a sidelong glance over to where Eric was enjoying her reaction.
"Moritania might not be big—" he bowed a little in acknowledgment, "—but it is a country rife with good taste. I'd like to show you something, if you don't mind."
"The only thing you could show me to beat this would be the Sistine chapel."
Walking to the right side of the hall, Eric opened a great oak door. Casey walked past him into an even more impressive room. It was long, with six matched sets of crystal chandeliers and floor-to ceiling windows that reflected in the mirrors along the opposite wall.
"Been to Versailles, had they?" she breathed, coming to a stop.
Eric wouldn't let her. Instead, he took her by the elbow and gently propelled her down the parquet flooring. "I'm sure you don't know," he was saying, "but my brother just died recently."
Casey immediately turned to him. "Oh, I'm sorry. I didn't."
He nodded with a sad little smile. "He was much older than I, and his heart was bad. The upshot of it is that next week his daughter, my niece, will become the new queen of Moritania. She is his only child, and his wife is also dead."
Casey had no idea where the conversation was leading. He seemed so reluctant to tell her that she knew it was something important to him. She couldn't think of anything more to do than nod.
Then he stopped walking. Turning to her, he took hold of both of her arms, his eyes trying to communicate something of import. They had softened. Casey felt even more confused.
"What?"
"The portrait here at the end of the Great Hall has just gone up. It is a painting of the next queen of Moritania, Her Royal Highness the Crown Princess Cassandra."
He turned Casey to face the painting. Casey's jaw dropped. Looking back at her from the canvas was a young woman with delicate features, a gently molded face with deep, wide-set hazel eyes and a small, straight nose. A small mouth curved just at the ends as if she was amusing herself immensely with a private joke. Diamonds and rubies glittered at her throat, and a mane of tawny hair swept back, thick and styled sleekly away from tiny ears where teardrop diamonds hung.
Casey turned to Eric and then back to the picture and then back to Eric again, unable to speak. Then she turned once again to the portrait and finally admitted what he'd been trying to prepare her for. She was staring at a portrait of herself.
"And here I thought losing the car was going to be the high point of my day."
As Casey upends royal tradition, Eric finds himself hoping the cheeky American never returns home. But can a secretary from Brooklyn really find happiness with a prince?
BUY LINKS
ABOUT THE AUTHOR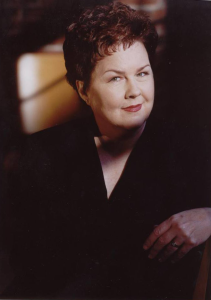 New York Times Bestselling, award-winning author Eileen Dreyer has published 38 novels and 10 short stories under her name and that of her evil twin, Kathleen Korbel in contemporary romance, paranormal romance, historical romance, romantic suspense, mystery and medical forensic suspense. A proud member of RWA's Hall of FAME, she also has numerous awards from RT BookLovers and an Anthony nomination for mystery. Eileen spent 16 years as a trauma nurse and is educated in trauma, forensics and death investigation. She is now focusing on what she calls historic romantic adventure in her Drakes Rakes series, the latest of which, TWICE TEMPTED, is out now. A native of St. Louis, she still lives there with her family. She has animals but refuses to subject them to the limelight.
Website: eileendreyer.com            Facebook            Twitter: @eileendreyer