I'm writing this post while listening to the Hamilton soundtrack for the second time today. As an avowed history nerd, it's fun to see American history take over pop culture in this way. I'm hoping this trickles over to romance publishing—and if my Twitter timeline is anything to go by, a lot of romance writers are huge Hamilton fans—and we get more American-set historicals. I love a Regency romance, or a Scottish romance, or a Medieval romance as much as the next girl, but it's so fun to see American history represented in historical romance.
Some authors are already on it. Donna Thorland has written a series set during the American Revolution, and Beverly Jenkins is the queen of the well-researched American-set historical. The old guard of romance writers, including writers like Kathleen Woodiwiss, wrote sprawling books set in time periods like the Civil War. And, of course, we've got plenty of Westerns—I've really enjoyed Linda Lael Miller's historical Westerns.
But American-set romances are still comparatively rare in a genre dominated by dukes and highlanders and cowboys. This puzzles me, because American history is so fascinating. And it's full of a diverse cast of characters, plenty of whom had their own epic love stories.
So I'm doing my part. TEN DAYS IN AUGUST is set in New York in 1896, at a time in American history in which political corruption ruled the day and the wealthy elite continued to get richer. (Sound familiar?) I've lived in New York City for almost fifteen years, so it was natural for me to set a story here. I tried to include a lot of history in the story that readers may not have been aware of. The novel is set during a real heatwave that devastated a good deal of the country. My hero Hank is a police detective working for police commissioner Theodore Roosevelt. (Yup, that Theodore Roosevelt.) Hank runs all over the city—everywhere from fancy Fifth Avenue ballrooms down to the worst poverty in the Lower East Side tenements—in pursuit of justice. I found all this history compelling, and I hope my readers do, too. At its center, TEN DAYS IN AUGUST is a romance—two people find each other in unlikely circumstances and fall in love despite a number of obstacles between them. I wanted it to have a rich setting, some humor, and a lot of heart.
But now I need to replay the Hamilton soundtrack.
BUY LINKS
From the Lower East Side to uptown Manhattan, a curious detective searches for clues on the sidewalks of New York—and finds a secret world of forbidden love that's too hot to handle…
New York City, 1896. As the temperatures rise, so does the crime rate. At the peak of this sizzling heat wave, police inspector Hank Brandt is called to investigate the scandalous murder of a male prostitute. His colleagues think he should drop the case, but Hank's interest is piqued, especially when he meets the intriguing key witness: a beautiful female impersonator named Nicholas Sharp.
As a nightclub performer living on the fringes of society, Nicky is reluctant to place his trust in a cop—even one as handsome as Hank. With Police Commissioner Theodore Roosevelt cracking down on vice in the city, Nicky's afraid that getting involved could end his career. But when he realizes his life is in danger—and Hank is his strongest ally—the two men hit the streets together to solve the crime. From the tawdry tenements of the Lower East Side to the moneyed mansions of Fifth Avenue, Nicky and Hank are determined to uncover the truth. But when things start heating up between them, it's not just their lives on the line. It's their love…
ABOUT THE AUTHOR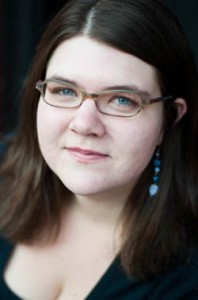 Kate McMurray is an award-winning author romance author and an unabashed romance fan. When she's not writing, she works as a nonfiction editor, dabbles in various crafts, and is maybe a tiny bit obsessed with base­ball. She is currently president of the New York City chapter of Romance Writers of America. She lives in Brooklyn, NY.