New York Times Bestselling Barry Eisler'snewest political thriller,INSIDE OUT, rips open the ugly underbelly of powerhouse politics and exposes the hidden truth behind men willing to sacrifice everything to keep their zealous policies.   Fast paced, action-packed suspense whips you along a storyline that will turn you inside out and leave you questioning not only what you think you know about politics…but also everything you hear in today's major headlines.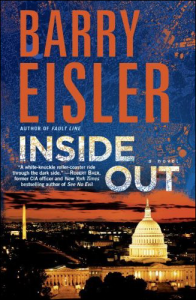 In INSIDE OUT, Eisler's Ben Treven, a lethal black ops soldier who "finds, fixes, and finishes" high value targets, is marooned in a Manila jail after a bar fight fatality.  His former commander hunts him down, Colonel Scott Horton, who explains the price of Ben's release; find and eliminate Daniel Larison, a rogue operator from Ben's unit who has stolen ninety-two torture tapes from the CIA and is using them to blackmail the US government. But other players are after the tapes, too, and to find Larison, Ben will have to survive CIA hit teams, Blackwater mercenaries, and the long reach of the White House. He'll also have to find a way to handle Paula Lanier, a smart, sexy FBI agent who has her own reasons for wanting the tapes and is determined to get them before Ben does. With the stakes this high, everyone has an angle—everyone but Ben, who will have to find the right alliance if he wants to stay alive.
The praise and support for INSIDE OUT is overwhelming.  Don't miss it!
"INSIDE OUT is more than just an addictive, non-stop thriller. It is a microscope turned on the official policies of torture, extraordinary rendition, and the systematic ghosting of detainees. Through the dialogue of his engaging characters, Eisler insightfully conveys the incredible damage these policies caused our nation and the danger they pose to democracy and freedom."  —Matthew Alexander, author of HOW TO BREAK A TERRORIST: THE U.S. INTERROGATORS WHO USED BRAINS, NOT BRUTALITY, TO TAKE DOWN THE DEADLIEST MAN IN IRAQ

"A white knuckle roller-coaster ride through the dark side, a truth so horrifying it can only be told in fiction. Eisler is a rarity, the ex-spook who turns himself into a great thriller writer." —Robert Baer, author of SEE NO EVIL: THE TRUE STORY OF A GROUND SOLDIER IN THE CIA'S WAR ON TERRORISM
Dynamic Ben Treven first hit the page for Eisler fans in FAULT LINE, where blood proves to be thicker than water and nobody or nothing is what they appear to be.  Ben's estranged brother becomes embroiled in a fight for his life over technology that everyone is willing to kill for.  Ben is forced to face the ghosts of his past as he fights to save his brother and becomes entangled in a love triangle that could cost him everything—even his life.
FAULT LINE is "A full-throttle thriller that is both emotionally and politically charged, the story centers on a conspiracy that has spun out of the shadows and into the streets of America, a conspiracy that can be stopped only by three people—three people with different worldviews, different grievances, different motives. To survive the forces arrayed against them, they'll first have to survive each other.
But the golden thrill ride doesn't stop there.  There are six books in Eisler's critically acclaimed, bestselling, John Rain Series.
"Enthusiastic publishers around the world have become enthralled by John Rain, a strikingly fresh new thriller hero and a character destined to be one of the most talked-about of the season. Born of an American mother and a Japanese father, Rain is a businessman based in Tokyo, living a life of meticulously planned anonymity. Trained by the U.S. Special Forces and a veteran of Vietnam, he is a cool, self-contained loner—and he has built a steady business over the past twenty-five years specializing in death by "natural causes."
He is also a man struggling with his own divided nature: Japanese/American; soldier/assassin; samurai/ronin.
John Rain will take you on a physical and psychological journey through the dark world of International espionage that will leave you gasping for air and searching for real truth.  The books in order are: RAIN FALL, HARD RAIN, RAIN STORM, KILLING RAIN, THE LAST ASSASSIN, andREQUIEM FOR AN ASSASSIN.
Word of advice…put Barry Eisler on your "must read" list.  The combination of his literary and storytelling talents is pure gold and a treat not to be missed.  Also, rumor has it that Ben Treven and John Rain just might meet head on and you'll want to know both men intimately before that promising event.