Futuristic technology collides with edge of your seat suspense in the novel SPEED OF LIGHT by Lee Baker.  Coming in May 2011, this action-packed, intelligent novel is intricately layered with mind expanding concepts that will take your imagination to new levels.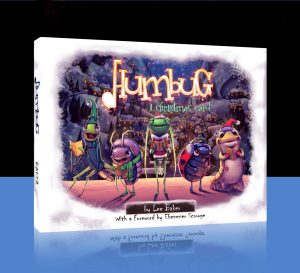 Lee comes from a unique storytelling background.  He is the President of Sandman Studios, a visual effects and animation company, has a degree in English and has taught both writing and digital video editing classes at the university level.  Lee penned two illustrated books. The first, HUMBUG: A CHRISTMAS CAROL came out September 1, 2010 and sold out before Christmas:
[quote]Winterton is a frozen town with frozen hearts and frozen people. A magical humbug that attracts the magical reindeer of Santa is brought to the town of Winterton by a little orphan girl. The warmth of the little girl and the magical music of the humbug bring Santa, the reindeer and Christmas back to Winterton[/quote]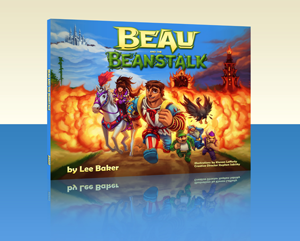 And Lee's latest, due to be released soon, BEAU AND THE BEANSTALK.
BEAU AND THE BEANSTALK is a reverse of the fairy tale told from the point of view of an adolescent giant who is ridiculed in a magical kingdom in the clouds and climbs down a beanstalk to meet Jack, a hack-magician with a love of fire tricks and a passion for performing in the circus.[/quote]
And now Lee has written his debut novel SPEED OF LIGHT which comes with the endorsement of Mr. Larry King! (Yes, THE Larry King.) Here is what Mr. King has to say about SPEED OF LIGHT:
"SPEED OF LIGHT is a terrific read that takes you on a fast-paced, thrilling experience and journey with twists and turns that surprise and entertain!  It's a book you won't want to put down. From the opening page to the heart pounding conclusion, Lee proves himself a master story teller."
In SPEED OF LIGHT, Pierce Black has the life of his dreams. He is happily married, loves his job and has been selected to be the first to pilot a speed of light plane. He will make history and become an icon like John Glenn and Neil Armstrong. His life changes drastically three weeks before the flight when his wife is killed in a tragic car accident.
During the flight, Pierce is transformed into light and his mind expands. He is then smashed back into his body and falls into a coma. When he wakes, time is not relevant to his mind—he steps in and out of visions of the past and learns his wife's death was not an accident and her murderers are after him.
As Pierce and the beautiful attorney, Vanessa Trace, sort through the bizarre attacks on Pierce and his vivid visions of the past, they cannot substantiate any evidence to his claims.  In a frantic race to stay alive, Pierce and Vanessa find themselves matching wits with a conspiracy with seemingly endless resources and a police department convinced Pierce is a murderer, while at the same time they question whether or not Pierce himself is crazy.
But wait, the story doesn't end here.  Can we mention the movie?  SPEED OF LIGHT Film Producer is Stephen Sobisky who is the CEO of Sandman Studios and has worked on many projects including Shrek, Antz, Race to Witch Mountain, George of the Jungle, Scooby Doo 2, Armageddon, Stuart Little 2, Evolution, Mission: Impossible II, You've Got Mail, Godzilla, Flubber, Starship Troopers, Titanic, The Peacemaker, Air Force One, A Simple Wish, Batman & Robin, The Fifth Element, Dante's Peak, Mission: Impossible, Executive Decision, Broken Arrow, Apollo 13, Batman Forever, True Lies and many others. Take a sneak peek at some of the concept art for the film!
Don't be left in the dark, pre-order SPEED OF LIGHT by Lee Baker and you won't be sorry.

SPEED OF LIGHT

HUMBUG: A CHRISTMAS CAROL