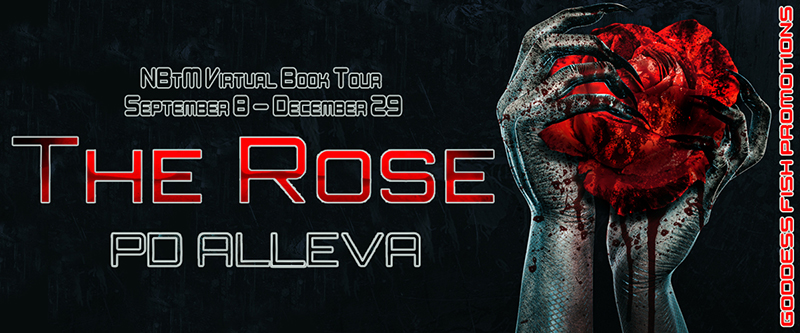 We're pleased as punch to have sci-fi author P.D. Alleva with us today.
Any weird things you do when you're alone?
Sing really loud and really bad. I love to sing, unfortunately, there hasn't been a person on this or any other planet that loves to hear me sing, so I do this on my own (most of the time at least). Yes, I'm that strange dude driving down the road and singing at the top of my lungs, probably rocking it out to Led Zeppelin or Pearl Jam. Also, I'm that annoying neighbor pelting out song tunes to the gathering of cats on the front lawn. At least the cats enjoy it.
What is your favorite quote and why?
"When examining the causes of life, we must first have recourse to death." ~ Mary Shelley's Frankenstein. Also my favorite novel, I've read the book three times and I'm more than sure I'll get to it again sometime soon.
When I was eighteen I had a t-shirt airbrushed with this quote and a really great depiction of Frankenstein's monster (If memory serves me well I used Randy Quaid's version of the monster, which, IMO, is still the best movie version of Frankenstein ever made).
Why do I love this quote? Well, because it's dark and surreal and so, so true. When we are faced with death – or fear – we see life in a new light.
Who is your favorite author and why?
This is a difficult question with a long answer. I'm forty-five years old and have been reading all my life. So, between Tolkien, King, Poe, Bradbury, Hemingway, Clive Barker, Lovecraft, and the list goes on and on, how can anyone pick just one. What I can say is that Hemingway was my favorite author when I was in my early twenties. Nowadays, I choose not to put any one person up on a pedestal.
So, with all that being said, I don't have a favorite author but I do have authors I respect more than others. Authors such as Blake Crouch, JD Barker, John Connolly, VE Schwab, and Alma Katsu (I love her slow burn novels), continue to put out exemplary fiction time and time again.
What, in your opinion, are the most important elements of good writing?
Realistic and true dialogue that flows like wine to a point of eerie satisfaction and the ability to grammatically structure the story by developing a poignant flow that captures the readers' attention and turns those pages. Character depth and the lore that exists within the story that sparks the intrigue and wonder inside the reader's head. And if those don't work, at least write a damn good fight scene.
According to Hemingway, "Prose is architecture, not interior design." This is where great editing comes in handy. Systematically developing the story with appropriate use of language and sentence structure that manifests in a smooth flow of the story. The reader's eyes roaming across the words, sentences, paragraphs, and chapters, always with a hint of what's coming or a unique surprise that blows the mind. This process is architecture. The creative process being emotional guffaws slapped onto the page that elicits the emotion within the story.
Where did you get the idea for this book?
Multiple sources. The Rose Vol. 1 is an accumulation of three novel ideas I had running through my head over the last decade. One of those ideas was a straight sci-fi space opera, this is where the idea for The Blades came from that are featured in The Rose. The Blades are an ancient alien martial arts weapon likened to Tonfas in karate, except instead of being made from wood The Blades are made from steel, alien steel to be exact. They're like having a sword attached to your arm.
The second novel was a book tilted Celestial Silence. The story chronicles the exploits of the main character who falls asleep in heaven and wakes up in hell and has to manifest himself in different lives throughout history in order to stop the end of the world from happening. Celestial Silence included alien lore as a backstory for the back and forth of the main character. I'm a fan of the show Ancient Aliens and indulge in alien lore and theories of otherworldly beings even came up with a few of my own which were included in this novel. I brought these theories into The Rose, which is the first in a seven-book interconnected series. So, you'll see bits and parts from Celestial Silence across the seven books.
The third story was about an MMA fighter turned doomsday prepper after losing his family to a terrorist attack. The story was set to chronicle his exploits and descent into madness as the world around him spirals into peril and upheaval. Main character's name is Robyn Winter, a character that is included in The Rose and someone we will see as the series progresses ultimately leading to his own series, Winter Vol. 1 and 2.
With all that being said, we will see the series play out over three differently titled series: The Rose Vol 1 and 2, The Indigo Trials Trilogy, and Winter Vol. 1 and 2.
Thank you for joining us today!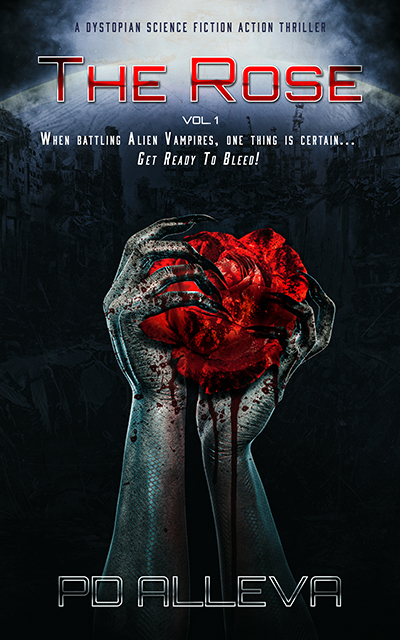 A masterful, dystopian science fiction thriller of underground genetic experiments, telepathic evil greys, mysterious rebellion, conspiracy, martial arts, and Alien Vampires.
Sandy Cox believed WW3 was over. But for those Alien Vampires, War Has Just Begun.
Forty-eight hours after a World War III treaty is signed Sandy Cox awakens in an underground compound unable to move. Tied to machines she screams for help but no one answers. At least NO ONE HUMAN.
And they've taken her unborn child.
Enter Phil, a rebel freedom fighter who has had more than his share of Alien Vampires. Armed with THE BLADES, a sacred alien martial art, he enters the compound on a mission to find Sandy. But as he battles his way through the compound, Phil discovers Sandy has her own agenda. Finding her stolen child is all that matters.
But the vampires have their own plan and Sandy's baby is at the heart of their diabolical plot. Joined by a crew of rogue soldiers, they must navigate the underground compound, battling genetically mutated humans, aliens and monsters.
When battling Alien Vampires, one thing is certain…Get Ready To Bleed!
Fans of The Hunger Games, George RR Martin, VE Schwab, Star Wars and Ancient Aliens will be fascinated by this high-powered, intelligent, edge of your seat dystopian sci-fi action thriller.




One randomly chosen winner via Rafflecopter will win a $50 Amazon or Barnes & Noble gift card.

PD Alleva is an alternative fiction author. His novels cross genres, blending mystery, conspiracy, psychology, and action with horror and dystopian science fiction. Alternative fiction is PD's attempt at describing what readers uncover in any one of his books, a new discovery towards mainstream storytelling. He's been writing since childhood, creating and developing stories with brash and impactful concepts that he would describe are metaphors for the shifting energies that exist in the universe. PD exists inside of his own universe, working diligently on The Rose Vol. II and exceptional horror novels. Be prepared for Golem, PD's upcoming horror thriller.