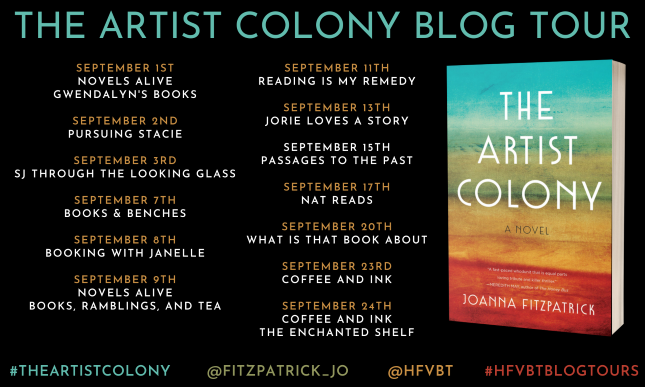 As a writer, I forget that my characters are not real. I grieve their losses and I champion their successes, but I don't know where they come from. They just show up on the page. What I do know is how insistent they are to get my attention.
When I look back at the genesis of my most recent novel, The Artist Colony, my narrator, Sarah, was, of course, the first to arrive on the blank page. She had to be there to tell her story. But where did Rosie McCann, Sheriff Judd, and Sirena Silver come from? And my characters are not all human. One of my favorite's in this novel is Albert, a Jack Russell terrier.
That's the unsolvable mystery in the art of writing. Characters show up out of the blue and I have to stop and say, "Wait a minute. Who invited you into my scene?" They just shrug and get on with the work at hand.
I deeply care about my flawed and unreliable characters. It's heartbreaking for me when the plot demands that I get rid of them, or when I have to take the moral high ground when they do something wrong and I punish them.
I've also found that my characters don't always stay on the written page. There are times when they interject themselves into my Other life. You know, the one you live in when you're not writing. Like when I'm having dinner with friends, my characters will break into the conversation with their own opinions, or when I'm sleeping a character will come out with a provocative line that I must write down before I forget.
When The Artist Colony was approaching its final edit, I sympathized with my characters' fears of being red-penciled out of existence before the story ended. I told them not to worry. Though I'm in control of their survival, I wouldn't have a story without them.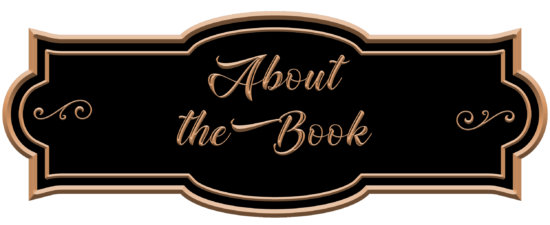 Publication Date: September 6, 2021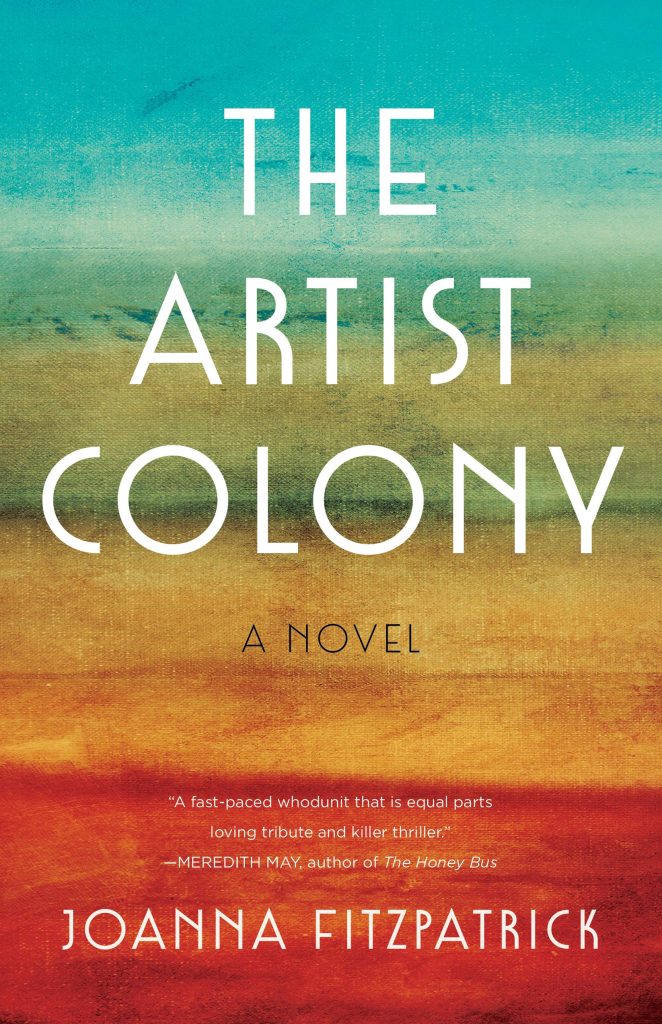 Paris, July, 1924…
Sarah, a young Modernist painter, receives a cable from California. Her estranged older sister, Ada Belle, has died under suspicious circumstances. When she arrives two weeks later at San Francisco's Union Station, Sarah is confronted by a newspaper headline: "Inquest Verdict: Artist Commits Suicide."
Sarah remembers the last haunting words Ada Belle said to her: "Ars longa, vita brevis: Art is long, life is short." But Ada Belle's work is selling, and her upcoming exhibition of portraitures would bring her even wider recognition. Why would she kill herself? Sarah's quest to find the truth of what happened to Ada Belle leads her to join the bucolic artist colony to look for clues. As she delves into her sister's underworld, tensions surface. The darker things get, the closer she comes to terrible danger. How far will a killer go before he kills again?

". . . delivers an escape to gorgeous Carmel and an engaging mystery." — Kirkus Reviews
"The Artist Colony is bold, creative, and unexpected – all the things nice ladies weren't supposed to be in the 1920's when they escaped to Carmel-By-The-Sea to make art without criticism. Joanna FitzPatrick, a descendant of one of those feisty female pioneers, has honored her family legacy and entertained her fans yet again with a fast-paced whodunnit that is equal parts loving tribute and killer thriller." — Meredith May, author of The Honey Bus and Loving Edie
"The Artist Colony" is a sumptuous ride through the Carmel-by-the-Sea, circa 1920, as Sarah Cunningham, newly arrived from Paris, attempts to uncover the truth about her sister's mysterious death. Atmospheric and delicious, FitzPatrick delivers a thrilling page-turner woven with artistic flourish. This exquisite novel does not disappoint! Highly recommended!" — Michelle Cox, author of the Henrietta and Inspector Howard series
"It's 1924 and a young woman journeys to Carmel, California, to learn more about her sister's sudden death. She soon learns that the bohemian arts colony is anything but idyllic, as she's confronted by flagrant racism and intimations of murder. Fitzpatrick has written a vivid historical novel with an absorbing mystery at the center of it, and I was riveted." — Elizabeth McKenzie, author of The Portable Veblen
"The dramatic landscapes of Carmel, beautifully depicted by FitzPatrick, are central to the plot, whose blow-by-blow story keeps us gripped to the final revelation of Ada's murderer . . . a must-read novel for anyone who loves historical fiction, art, detective stories, and the West Coast." — Maggie Humm, author of Talland House
". . . readers who enjoy an exciting narrative with unexpected twists will find this a diverting and illuminating read." — Historical Novels Review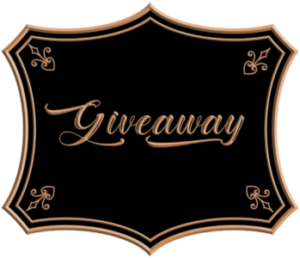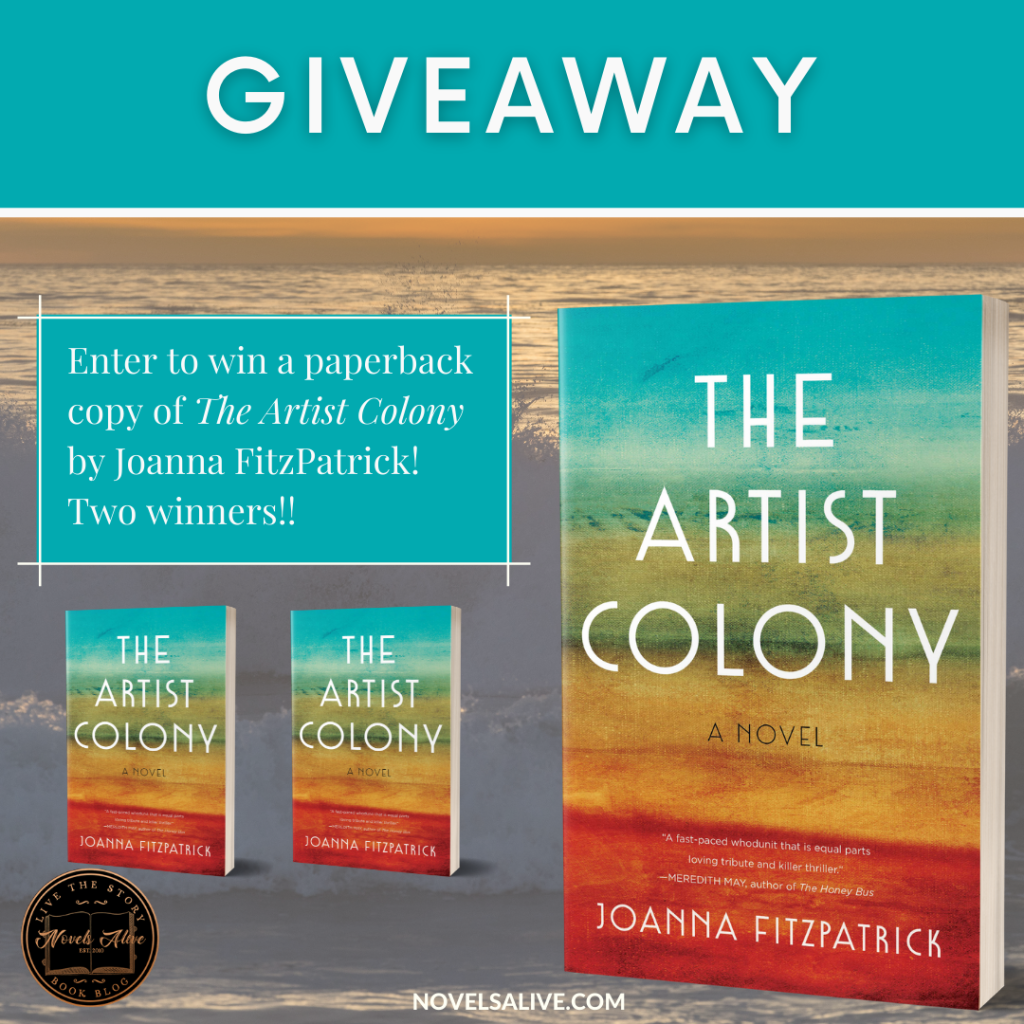 Enter to win a paperback copy of The Artist Colony by Joanna FitzPatrick! We have 2 copies up for grabs!
The giveaway is open to US addresses only and ends on September 24th. You must be 18 or older to enter.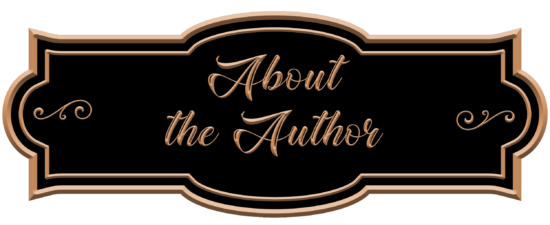 Joanna FitzPatrick was born and raised in Hollywood. She started her writing habit by applying her orange fountain pen and a wild imagination to screenplays, which led her early on to produce the film White Lilacs and Pink Champagne. At Sarah Lawrence College, she wrote her MFA thesis Sha La La: Live for Today about her life as a rock 'n' roll star's wife. Her more recent work includes two novels, Katherine Mansfield and The Drummer's Widow. The Artist Colony is her third book. Presently, FitzPatrick divides her time between a mountaintop cottage in Northern California and a small hameau in Southern France where she begins all her book projects.

Wednesday, September 1
Guest Post at Novels Alive
Review at Gwendalyn's Books
Thursday, September 2
Review at Pursuing Stacie
Friday, September 3
Review at SJ Through the Looking Glass
Tuesday, September 7
Interview at Books & Benches
Wednesday, September 8
Review at Booking With Janelle
Thursday, September 9
Review at Novels Alive
Interview at Books, Ramblings, and Tea
Saturday, September 11
Review at Reading is My Remedy
Monday, September 13
Review at Jorie Loves A Story
Wednesday, September 15
Review at Passages to the Past
Friday, September 17
Review at Nat Reads
Monday, September 20
Feature at What Is That Book About
Thursday, September 23
Review at Coffee and Ink
Friday, September 24
Guest Post at Coffee and Ink
Review at The Enchanted Shelf