E.J. Tims is a successful businessman with a wonderful story-telling talent that has this book already contracted to be a movie.  This father of nine, and grandfather to twenty-nine knows how to entertain and inspire both children and adults. THE BIG RED BIKE, a Gold Medal Book of the Year winner in the category of Most Inspirational for the Youth is a true story that shares poignant memories from a treasured time in E.J.'s youth.
An ordinary summer brings about an extraordinary change in a young boy's life, as he spots the Big Red Bike in the window of the local bike shop. This transforms his life that summer through his determination to earn the money and purchase the bike through his many different jobs.
Mr. Paterson, the bike shop owner, soon learns that Jay, a 9 year-old boy from an underprivileged family is determined to have the bike and will do about anything it takes to earn it. After he brings in a down payment, they sit down and sign a contract for the purchase. Jay is working from 5:30 in the morning until 7:00 each night to fulfill his dreams while trying as well to be a kid!
He is about to embark on a bitter, sweet journey through the summer bound by the friendships of his three buddies and a shop owner that will forever change his life. As they experience the sweet, and funny, sad and true heartfelt times.
"E.J. Tims gives us a beautiful rendering of life lessons. A read for all ages." From Hannah.
As the summer draws to an end his best friend Larry is killed in an accident which forces them to face the reality of life.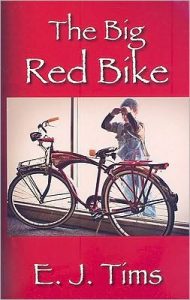 You will laugh and cry through the many life lessons learned with his friends during the summer of 1955.
E.J Tims has been writing short stories for many years, but not until his wife pushed him to finish this book did he realize that he had always wanted to tell this story about Larry. He has written for local newspapers and covered local sports.
Hear what readers of all ages have to say about THE BIG RED BIKE:
"I cried tears of sadness and joy. But in each is a lesson of girding up, learning and coping that even the mindsets of adults can learn from and integrate. I plan to have as many of my family members read it as possible. This should not be too hard as it is truly a book that hooks one in." From Amanda.

"A great story, very inspirational, kept me reading all night. What everyone should want to teach their children. A must read." From Andee.

"The adventure and all the accompanying uncertainty and triumph will make you shed a tear or two but ultimately you will be happy to have become acquainted with young Jay and his band of brothers. The story felt so personal but the themes were universal and the book is perfect for a wide range of readers and tastes."  From D. Rl

"Reading THE BIG RED BIKE was like walking through my childhood. It bought back memory after memory and reminded me of similar lessons I learned in my own young life. I couldn't put it down. I didn't stop until I had finished the whole book!"  From LaVelle

"E.J. Tims gives us a beautiful rendering of life lessons. A read for all ages." From Hannah.
Don't miss this story and the inspiration of a special time in a young man's life.  You can go to www.mybigredbike.com for more details.