When I decided to write a mystery series, I needed to make a lot of decisions starting with where I wanted it to take place. I decided on Mendocino, California, a picturesque location with towering redwood trees, the blue Pacific Ocean, and an abundance of lush vegetation. I planned on using the names of places you could visit and local items you could purchase. After attending a conference where several panels talked about some of the issues that can arise with using a real place, I decided to create Redwood Cove.
Then there were the characters. I made Kelly, my protagonist, searching for her niche in life.  She arrives to manage Redwood Cove Bed and Breakfast after the manager, Bob Phillips, has a fatal fall from a seaside cliff. I wanted some of Bob's friends to cry murder…and they did, loud and clear. The crime-solving group of senior citizens, the Silver Sentinels, was born.
I love animals. I have two dogs and after reading an article about a standard poodle being successfully trained to sniff out cancer, I felt it would be fun to have dogs with special abilities in my books. Fred, a basset hound in MURDER AT REDWOOD COVE, was trained to detect cancer. He failed his final test and was given to a Tommy, a young boy, as a pet. MURDER AT THE MANSION has Jack and Jill, two beagles that find bedbugs, termites, and dry rot. Princess, a retired hearing assistance dog and feisty Chihuahua wearing a jeweled collar, appears in the third book.
I decided it would be fun to put in some food elements. With that in mind I started attending the many festivals in the Mendocino area. Research can be quite enjoyable! I used real events to get ideas for my fictitious festivals. For my series I created A Taste of Chocolate and Wine, the Whale Frolic, and Wine and Flowers based on what I saw.
MURDER AT THE MANSION required further research of a different sort. While Kelly's inn is being renovated, she is assigned to inventory historical objects from the late 1800s. I learned about apostle spoons, knitting sheaths, and snuff boxes. What I discovered about how the servants at that time went about caring for the needs of the wealthy homeowners plays a part in the mystery.
Weave all these elements together, throw in a few murders, add plots with a few twists and turns, and you have the Kelly Jackson mystery series.
ABOUT THE BOOK
As whale-watchers gather in the Pacific Northwest, a B&B manager gets a glimpse of a killer in this mystery novel by the USA Today bestselling author.
It's whale-watching season in the California town of Redwood Cove, and Kelly Jackson is preparing for the tourist rush at Redwood Heights—a Victorian-style estate owned by her boss. With a string of recent jewelry thefts in the area, she's also busy keeping tabs on the many dust-covered artifacts displayed throughout the property. But when Kelly finds a visitor's dead body on the grounds, the police start keeping tabs on her—as a murder suspect.
Clearing her own name will be a whale of a chore, even with the help of the Silver Sentinels, a group of local retirees who are always ready for an investigation. Now Kelly's on the hunt for clues hidden behind the mansion's glamorous façade. But if she doesn't find the killer soon, she may wind up history herself.
BUY LINKS
Rafflecopter Giveaway – ebook copy of Murder at the Mansion
BOOK #1 – 

MURDER AT REDWOOD COVE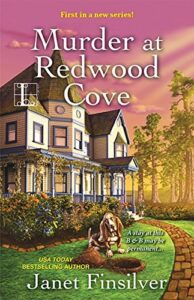 Kelly Jackson returns to California to manage Redwood Cove Bed and Breakfast. While the inn is being renovated, she is assigned the task of inventorying a historic collection of objects from the 1800s housed at nearby Redwood Heights and to assist at the mansion during the Whale Frolic Festival. She's also asked to learn what she can about the disappearance of some jewelry from visitors' rooms.
Shortly after she arrives, Kelly finds a guest stabbed in one of the rooms, the door and windows locked from the inside. Then Gertrude "Gertie" Plumber, a member of the Silver Sentinels, a crime-solving group of senior citizens, is attacked. The police question Gertie's son, Stevie, who is working at the mansion with his bed-bug and termite-sniffing team of beagles, Jack and Jill, about the jewelry thefts as well as the murder. Kelly and the Silver Sentinels must work together to solve the crimes before another life is lost and Stevie is put in prison.
BUY LINKS
ABOUT THE AUTHOR
Janet Finsilver is the USA Today best-selling author of the Kelly Jackson mystery series. She worked in education for many years as a teacher, a program administrator, and a workshop presenter. Janet majored in English and earned a Master's Degree in Education. She loves animals and has two dogs—Kylie and Ellie. Janet has ridden western style since she was a child and was a member of the National Ski Patrol. One of the highlights of her life was touching whales in the San Ignacio Lagoon. Murder at Redwood Cove, her debut mystery, was released on October 13, 2015. Her second book, Murder at the Mansion, is scheduled to be available on June 7, 2016.