Jade Lee's Bridal Favor Series breathes fire into Regency Romance and sets the ton on a scandalous ear.  This series isn't all rosy-eyed ladies and rakehell lords, but gets to the heart of love despite the tight strictures and firm social divides that define the lives and souls of those in high society.  It would also seem that even back then just the right dress from the right shop can either make or break the success of a woman's wedding and A Lady's Favor Dress Shop is all the rage among the aristocratic ladies.
To get your first sexy taste of Jade's Regency World, delve into ENGAGED IN WICKEDNESS, an e-novella where a little illicit play on Lady Gwendolyn's part sparks Sir Edward Murray's passions and lands them both in a fiery bed of secrets that will undo them both.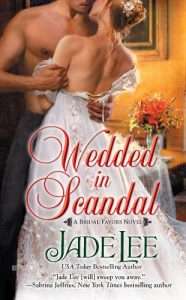 In the second story of the series, WEDDED IN SCANDAL, a full length novel from Berkley Sensations, we learn the story behind A Lady's Favor Dress Shop as well as meet the powerhouse woman who made it all happen, Lady Helaine.  Her passion is fashion both the making of it and the wearing of it.  So when desperation knocked on her door, she scandalously began to live a double life as Mrs. Mortimer, a successful merchant.  But once a web of deceit is spun, it somehow takes on a life of its own.  Lady Helaine posing as Mrs. Mortimer becomes the secret mistress of Robert Percy, the Viscount Redhill, and a man she cannot resist.  Now she is caught between two scandals, her past and her present, and if the truth were to come out, she'd lose not only everything she has fought to gain, but her heart as well.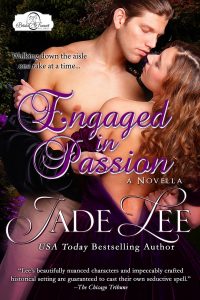 The third story comes to us as the novella, ENGAGED IN PASSION, where the stakes and pressure are unforgivingly high for heiress, Francine Richards.  Her family has bestowed her with a huge dowry and expects one thing in return—she must marry an aristocrat of the first order.  Her problems begin when she falls in love with Mr. Anthony Pierce, a bookkeeper in her father's hat shop.  Desperation drives her to put forth a plan to make her dreams come true, but her scheming goes awry and may cost her everything, including her heart.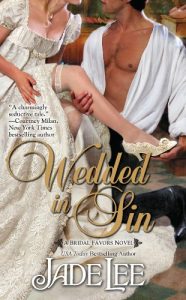 Story number four, a full length novel from Berkley WEDDED IN SIN brings a new element into the series, as Samuel Morrison's penchant for puzzles drives him to unravel the mystery behind Penny Shoemaker's tragic past.  As Penny helps Samuel investigate the murder of her parents and her stolen inheritance, she makes the mistake of falling in love with her knight in shining armor.  Will a man searching to make his mark and carve out his niche in the world settle for a woman who works for a living?  While honing his detective skills on Penny's case. Samuel soon develops another passion that drives him even harder than puzzles—a passion for Penny.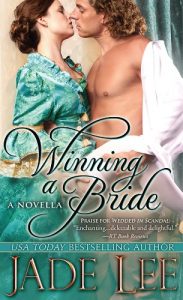 Up next is e-novella, WINNING A BRIDE.  Steward William Benton, falls in love with Josephine Lawton, the owner's daughter.   How will she ever believe he wants her for herself especially since she's living on the land he used to own. How far will he go to regain his family's property? And how much will she risk to see the one man her father forbids? It's a convoluted tangle that leaves them hungry for each other's passion, but not quite sure who to trust.  Can the passion they share bridge the chasm of doubt between them?
Fresh, fast paced, and amusing…
It's a convoluted tangle that leaves them hungry for each other's passion, but not quite sure who to trust.  Can the passion they share bridge the chasm of doubt between them?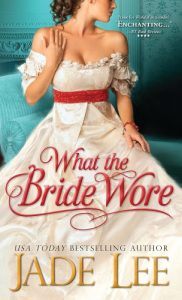 Then out this month and not to be missed is the sixth story of this sizzling series and the hottest one yet, WHAT THE BRIDE WORE.  Grant Benton, Earl of Crowle has reached the financial pinnacle he has fought years to attain and now sets his sights on seducing Lady Irene Knopp.  But the recent widow has too much sense and sensibility to ever fall for the devilish Earl, or does she?  Can he woo her into his arms and just how much will it cost him to prove he's a better man than his and his family's reputation would have everyone believe?
Fresh, fast paced, and amusing, Jade Lee brilliantly navigates through the treacherous waters of love and scandal in an era that continues to fascinate historical readers.  These books will not disappoint so indulge your fantasies and your senses in the Bridal Favor Series today.
But you don't have to rely on just my word.  The reviews from Publisher's Weekly to Fresh Fiction rave.  Check them out and then favor yourself with the Bridal Favor Series.
BUY LINKS
WEDDED IN SCANDAL
ENGAGED IN PASSION
WEDDED IN SIN
WINNING A BRIDE
WHAT THE BRIDE WORE