FOR YOUR EYES ONLY
BRIEFING MEMO
SUBJECT: Top Five Playlist for Nikki Navarre's Foreign Affairs Series
WARNING: This message will self-destruct.
Nikki Navarre is a globetrotting ex-diplomat and author of the Foreign Affairs series—sexy spy romance set in Russia and other exotic international locales. State secrets have never been this sexy! While writing The Russian Obsession, the standalone Book Three in the series, she divided her time between illicit adventures and rocking out to her series playlist.
Nikki's Top Five Playlist:
"Extreme Ways" by Moby. Better known as the Jason Bourne theme song. Readers have called Nikki's heroine, amnesiac viral engineer and nomad Christabel Orlova, a female Jason Bourne.
"Die Another Day" by Madonna. Mood music for Nikki's hero—daredevil ex-Russian fighter pilot and smuggler Max Vasylko. Play this soundtrack when Max pulls off a certain stunt piloting his IL-72 heavy through a shower of surface-to-air missiles.
"Physical" by Nine Inch Nails. Moscow nightclub Provocation rocks to this heavy hit when Christa and Max arrive incognito for a rendezvous with one of the world's most immoral men.
"Smooth Criminal" by Michael Jackson. Theme for refined and lethal ex-KGB hit man Nikolai "The Maestro" Markov, who functions as both villain and hero of The Russian Temptation, Foreign Affairs Book Two.
"Sharp-Dressed Man" by ZZ Top. Meet the original Foreign Affairs hero from The Russian Seduction, super-hot disgraced Russian submarine captain Victor Kostenko, who really knows how to rock that uniform.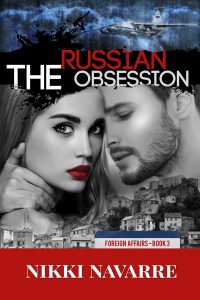 RECOMMENDATION:
Launch immediate undercover investigation of The Russian Obsession, read cover to cover, and report back to Washington for action. Global release scheduled Feb. 21, 2017.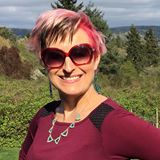 AGENT COORDINATES: