Christmas is a time for memories, and sharing those memories with the people we love. Growing up, I remember the St. Nick stockings hanging on the china cabinet and how exciting it was to see them stuffed full of goodies in the morning. I love ornaments, and still have a TON of ornaments on my tree to this day. Included in my collection are lots of little elves, snowmen, and angels from my family's tree when I was a kid. Of course, now my tree is filled with ornaments that my kids (now grown) either made me, or ones I got for them each year. Here is an ornament from my childhood that I adore.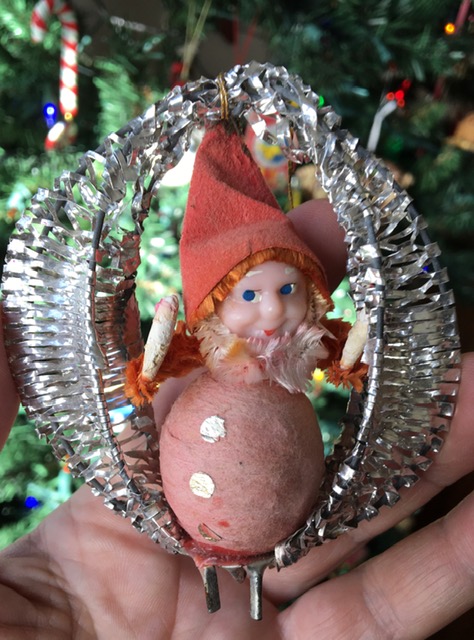 Did any of you have those wreaths made of toffee and peppermints as a kid? Maybe it was just something my neighbor whipped up, I'm not sure, but it was so exciting. There was a pair of scissors hanging from a ribbon attached to the wreath to use to cut the candy off as we ate it. As you can probably guess, the wreath quickly disappeared.
Then there was the singing of Christmas carols around the piano with the cousins. That was always a highlight of the season. And of course on Christmas Eve, there was the traditional visit to Grandma and Grandpa's house where there was always a table of yummy Slovak goodies, including those homemade kolacky that to this day I cannot duplicate and only Grandma could make.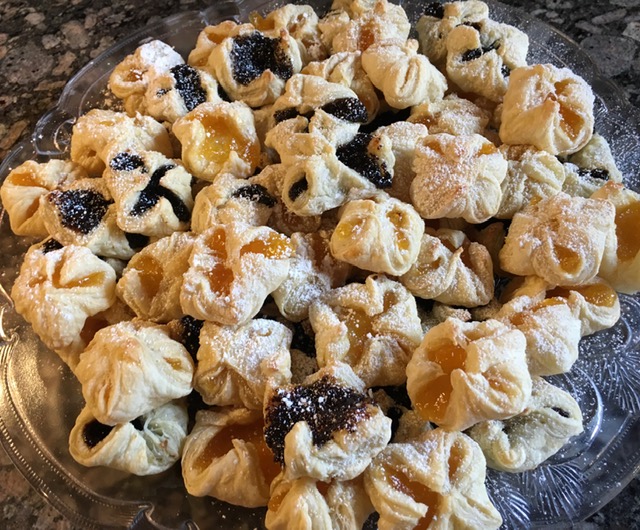 My grandmother would roll the dough, and roll it, and roll it, all night long. (And I don't mean the cream cheese variety either.) Well, I came up with an easier way to do it, after trying her way only once since it was so much work. I just use puff pastry, fill it with prune or apricot filling, and pinch the ends. Here is a photo of my attempt, which wasn't all that bad once I cheated and used the puff pastry. Still, it isn't as flaky as the ones Grandma.
That was one grandmother—the one who never saved anything. On the other side of the family, I had a grandmother who never threw anything away. While going through some of my late grandmother's things, I came across a plethora of beautiful vintage cards. I couldn't bring myself to toss the cards, and so I saved them to decorate for every occasion.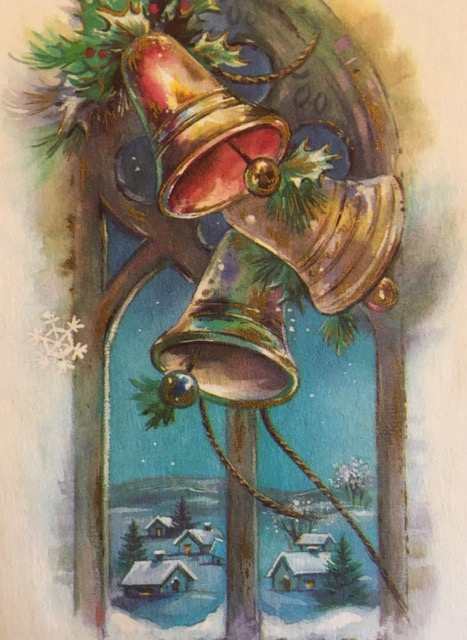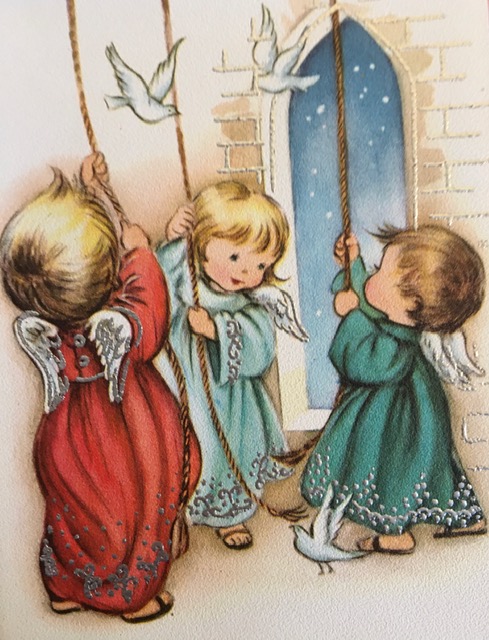 My grandparents were romantic I guess you can say. They always gave each other cards for every single occasion. (I know because I now own a bunch of them.)
Sending cards is something that they didn't do back in the medieval times (the time period that most of my book are written in.) And although cards were said to have originated back in ancient China and Egypt and even surfaced in the early 15th Century, it wasn't all that common. The first Christmas card appeared in London back in 1843. Through the years it was a meaningful experience to send cards, but now with the Internet, it seems the old tradition has nearly died.
I decided to share some of the vintage Christmas cards with my family, friends, and fans on social media this year, and it is creating quite a buzz. It seems it is stirring up good memories for everyone.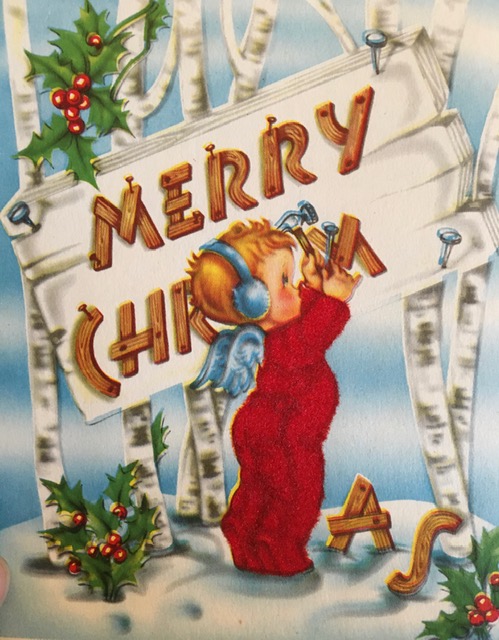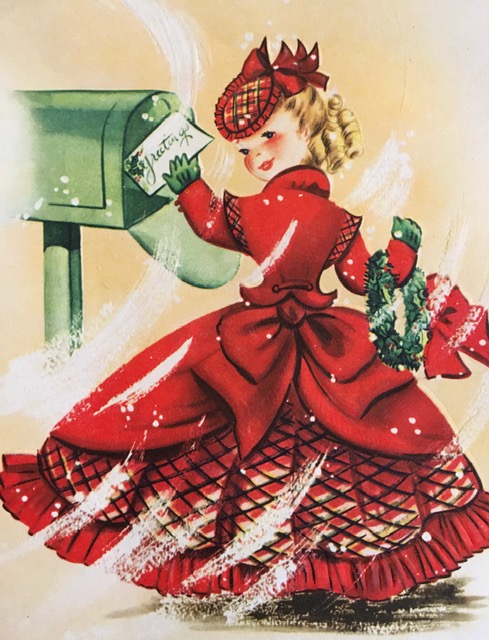 I even ran across some birthday cards that had a medieval theme that I just love, so I want to show you those as well.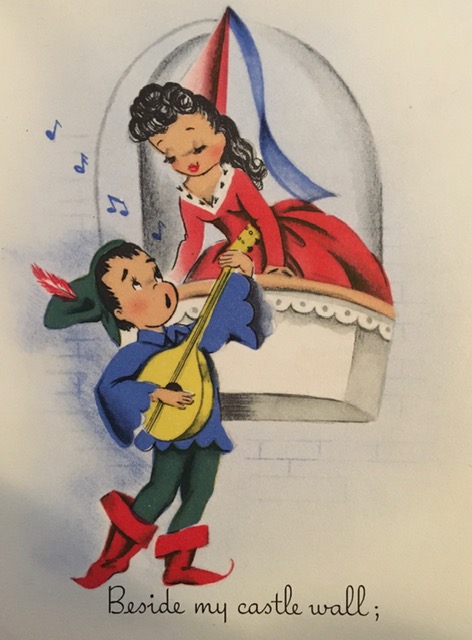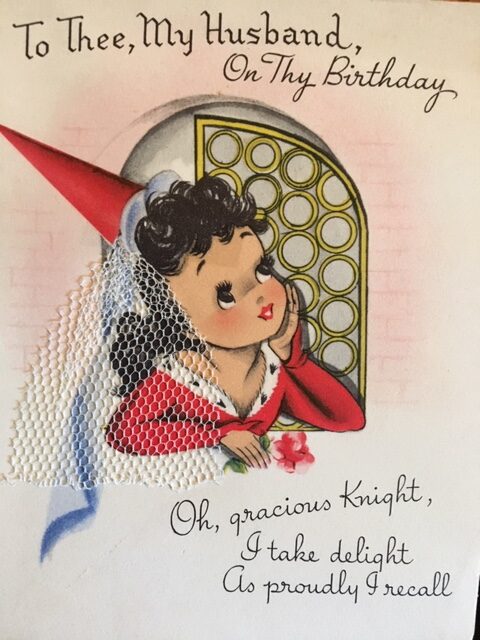 For those of you who are not familiar with my writing, I am a bestselling, award winning romance author of 92 books (and counting) that include medieval, paranormal, contemporary, western, and even young adult too.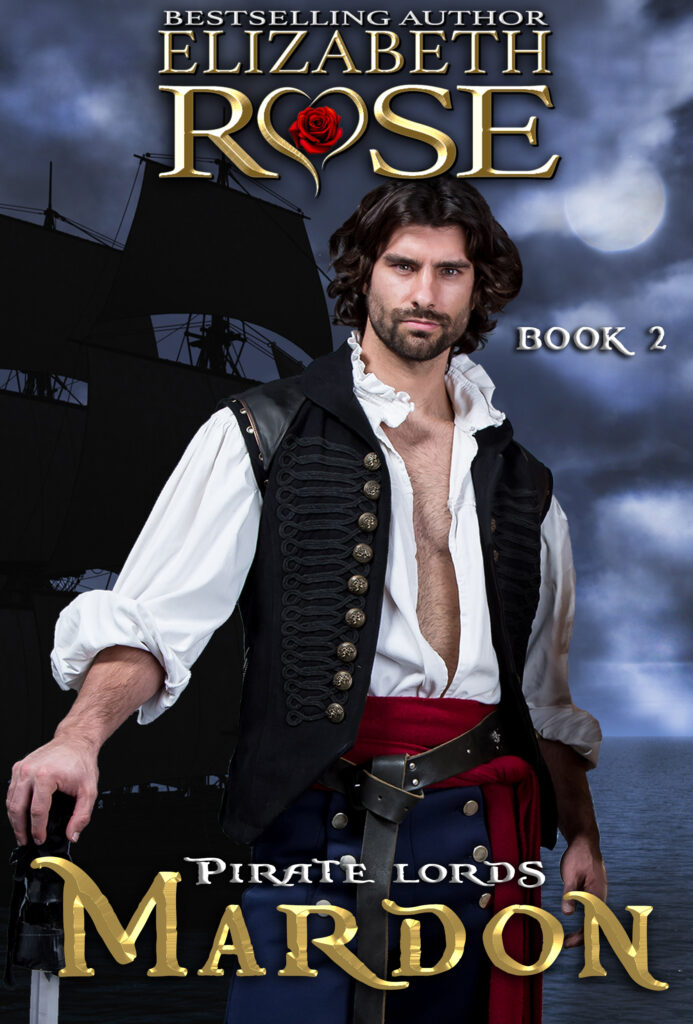 My latest book just released. It is Book 2 of my Pirate Lords Series, called Mardon.  This series will be a trilogy, and it is a lot of fun to write. Mostly, it is so enjoyable because I decided to include the grandmother of the three pirates. (I'll bet you've never read a book like that before. There are a lot of funny scenes.) Their grandmother, Nairnie is nothing like my grandmothers that I told you about. She is on their ship, and I'll tell you – she can put the fear of God in anyone, even her pirate grandsons. (Ok, I admit my Slovak grandmother could be a little scary at times too.) Old Nairnie doesn't like the fact that the boys have turned to piracy. She is going to do all she can to make them change their ways.
Mardon Fisher continues on with the search for buried treasure left by their late father while Lady Emmaline de la Croix is on a mission to clear her sullied reputation. Disguised as a nun, Emmaline needs to get on board the pirate ship and steal back the naked painting of her that has been seen by every man in France. The only problem is, when Mardon stole the painting from her late husband's ship to begin with, he kissed her before he left, and she hasn't been able to forget it. Now, all she can think of is the passionate kiss she shared with a pirate – that is, a man that no lady should ever want to be near.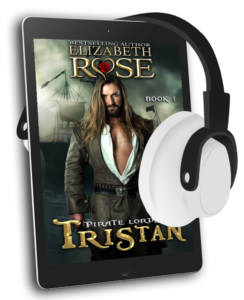 I have an audiobook of Tristan, Book 1 of my Pirate Lords Series to give away to someone, as well as the ENTIRE Holiday Knights Series in audio to award to someone else. After all, since this is the holiday season, I figured audiobooks about Christmas, Valentine's Day and May Day were perfect.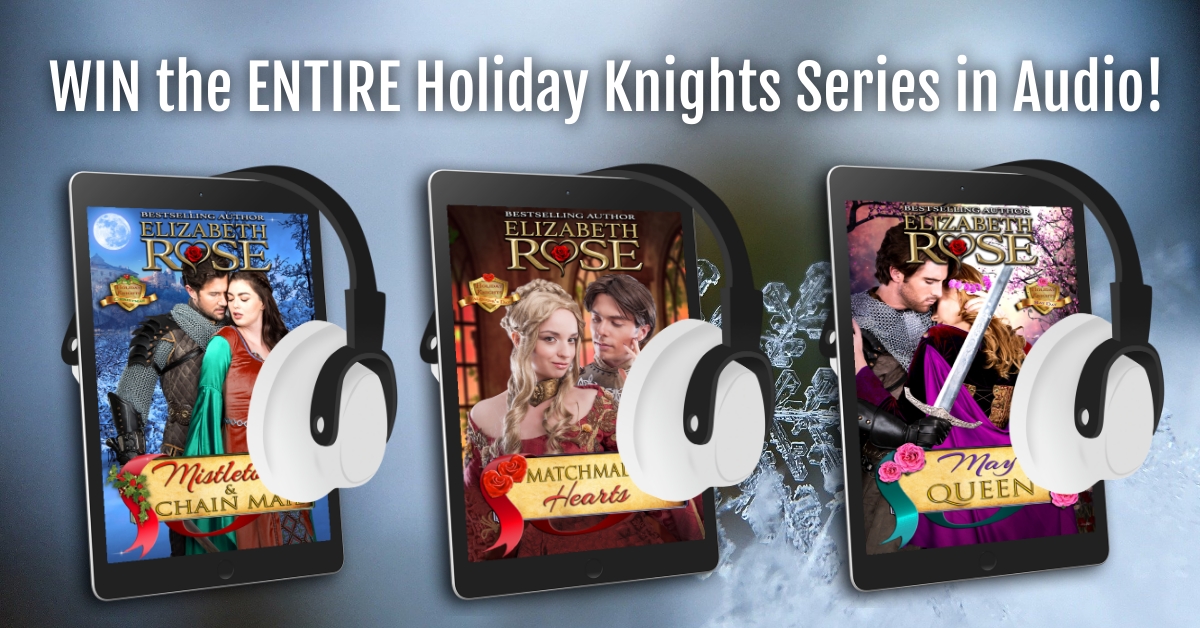 Please stay safe, healthy and happy, and be sure to reach out to those you love to let them know they have not been forgotten in these trying times.
Merry Christmas, everyone!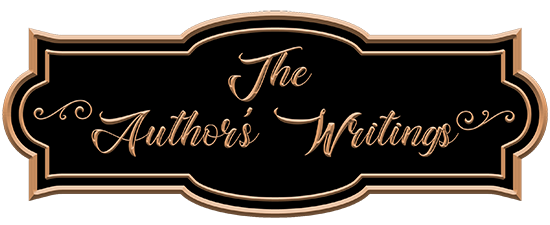 Greed and vengeance are powerful tools, but not as strong as a forbidden kiss that neither of them can seem to forget.
With his crazy old grandmother on board The Falcon, Mardon sets sail with his crew. They are following a clue that will hopefully lead them to where Mardon's late father buried treasure. When they dock at Great Yarmouth, it isn't treasure they find. Instead, a mysterious nun in a tavern helps them decipher the code that points them to the Canterbury Cathedral. A nun in a tavern isn't an everyday occurrence. Odder still, is the fact that Mardon can't shake the feeling he knows her, or that he is attracted to her.
Lady Emmaline de la Croix's reputation has been ruined by her late French husband. She thought the naked painting he commissioned of her would remain private, but now every man in France has seen it. To make matters worse, the painting was stolen by pirates that boarded their ship and killed her husband. Emmaline was kissed by a handsome pirate that day, just before she tried to kill him. It was a kiss so passionate, that she's never been able to forget it.
As a widow, Emmaline goes back to England and is put in a nunnery by her family. She'd rather die than to live without knowing true love for a man. She escapes, with her goal being to hunt down the pirate ship and steal back the naked painting. Hopefully, she can clear her sullied name and marry another nobleman and start over. But once she's reunited with the pirate named Mardon, she can't stop thinking about the kiss they shared, even if she is in disguise as a nun.
One searches for treasure while the other seeks redemption. Sparks of passion are ignited between a lady and a pirate, but they both know they can't stay together. What started as a simple kiss now promises, or threatens, to change their lives forever.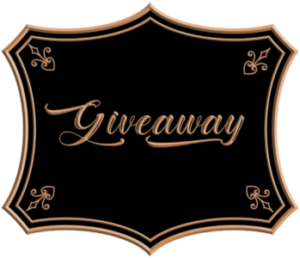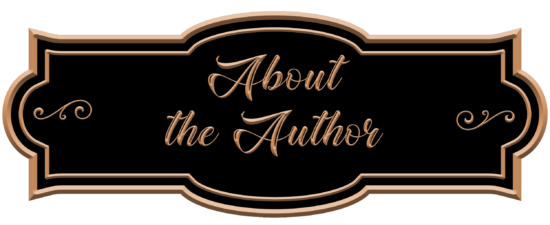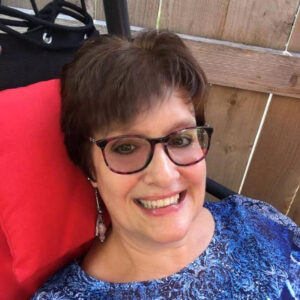 Elizabeth Rose is the bestselling, award-winning author of 92 books and counting! She writes medieval, paranormal, small town contemporary, western romance, and even some young adult.
She started her writing career close to 25 years ago. She is an artist by trade and creates all her own bookcovers.  In the summertime you can find her nestled away in her "writing hammock" in her secret garden where she draws inspiration from nature.