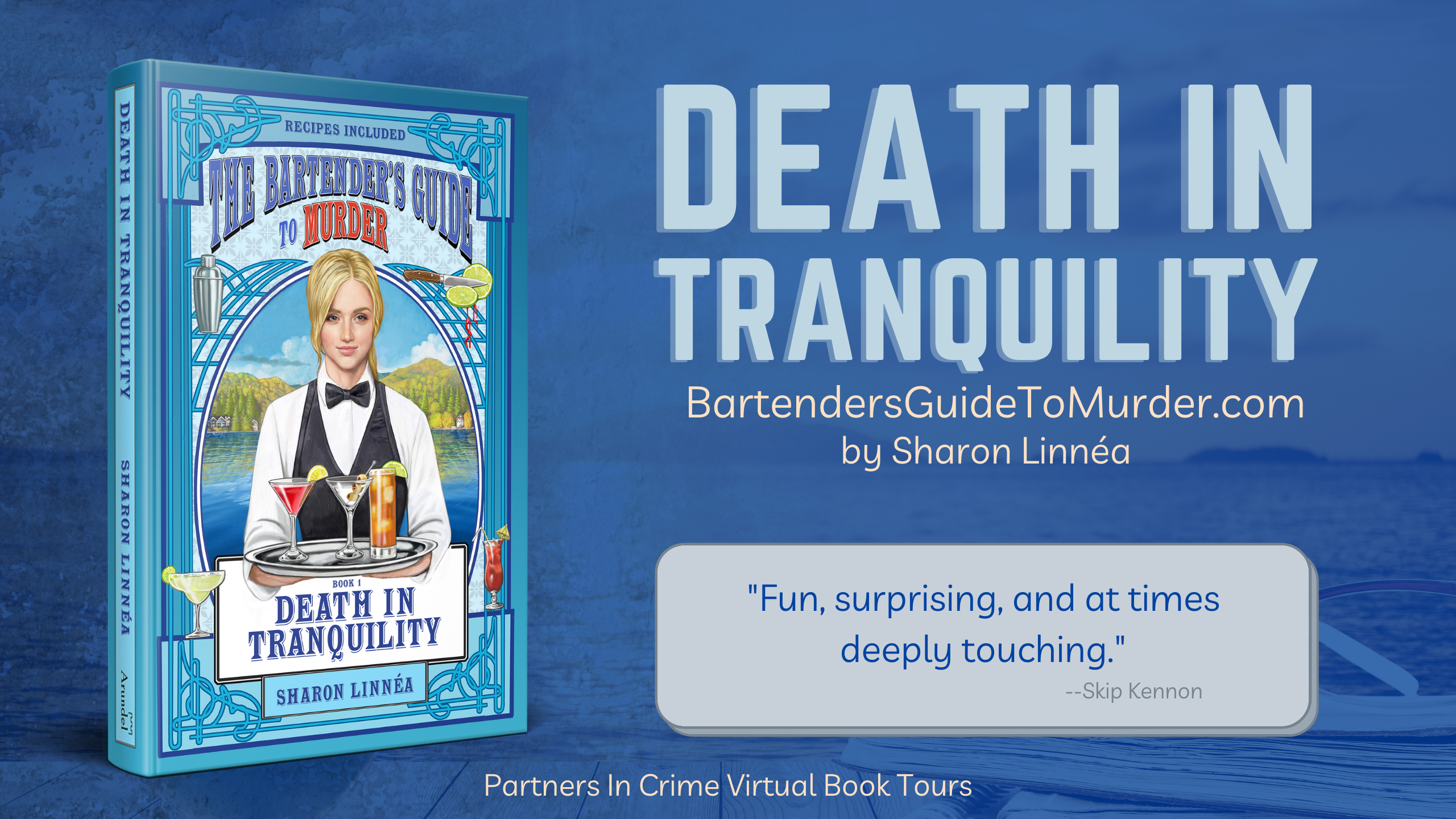 Choosing the next book you want to read is, in many ways, like choosing the people you're in the mood to hang out with. In fact, the protagonist you choose will, for a time, become your best friend. This person will invite you into her or his life, share daily activities her other friends probably don't know about, let you in on their favorite breakfast, how they really feel about their house and community, and what drives them crazy about their spouse/parent/children/co-workers. You'll find out what makes them laugh (if they do) and, likely, about their deep childhood traumas. Things you usually need to be friends with someone for years to discover.
Not only that, you'll be invited to enter his or her world. Do you want to spend time in a dark world of secrets, where you don't know who to trust, with stakes so high they'll cause you sleepless nights? Do you enjoy outsmarting dangerous, unhinged folks (who can't actually hurt you because they're fictional)? Do you find it exciting or infuriating to discover the person you've been trusting to interpret the plot's circumstances is unreliable? Or do you think, Not fair! Some readers find this a good way to relieve the stress of these times.
Others prefer cozy-type worlds, where the townsfolk are quirky and unique and very few of them are murderous—and even those who are, are fairly well-behaved and kill their victims when no one is looking. This is also an appropriate response to our current world situation.
More and more, I'm noticing a genre in between entertaining cozies and dread-powered mysteries, where the crimes protagonists seek to solve are a bit more…realistic? They swear if they step on a rake or find a dead body, but not in a constant stream. The bad guys aren't just angry about second place in the pie-baking contest, they have some serious issues that need addressing, which will probably play out in a fairly dangerous confrontation with our hero.
And yet…to me the telling ingredient of genre is the tone of the book. So very many movies, television series and books now are very, very dark, portraying a world that, if not dystopian, is one where, even if the hero succeeds, they will be marked for good and undoubtedly have some form of PTSD.
The books I enjoy, and therefore the ones I write, are somewhere in between. They introduce a world laced with optimism, where friendships can thrive, where characters help each other and even grow from book to book. By solving the mystery, they restore their slice of the world to harmony, at least until the next adventure. Maybe that's a defining word. I like books where the protagonists have adventures, in which they have agency and draw on internal strengths to right wrongs, not journeys into the darkness where their world remains darker, even if that day's demon (using the word allegorically) is dislodged.
One reader described Death in Tranquility, the first book in the Bartender's Guide to Murder series, as "squeaky clean with the exception of a couple of swear words." That concerned me only because I was afraid folks might be expecting a series of light-hearted cozies. Even in that first book, some fairly deep issues are brought up and discussed. By book 2 (Death by Gravity), our heroine is dealing with characters damaged by abuse and sexual assault. Just because they don't swear a lot doesn't mean the books have breezy plots. It is true that Avalon Nash, the bartender protagonist, has an optimistic outlook on life—even though she has some issues to work through, herself. She uses humor as a defense, sees life's absurdity, and is enjoys irony, but she will always give of herself to walk a dog or listen to how you can see ghosts or burst into a house where a murderer is holding a captive. She even ends up listening to the characters whose world outlooks she disagrees with.
In any case, Avalon Nash is someone I'd like to consider to be a best friend. She's funny and educated and interested and curious. If you prick her, she does bleed. She's a bartender but is very respectful of people who don't drink. Her own actions and the actions of her friends affect her. She's wounded when people she cares about are hurt or endure hard times. She is a master at deep listening, which makes her both a great bartender and a great sleuth. But on the deepest level, she thinks of life as an adventure. She also makes great cocktails—and includes the recipes in the books. My deepest hope, really, is that readers agree with one who said, "Some books you bounce off of and just can't get into. Other books, usually those from favorite authors, capture you from the first page, sort of like putting on a pair of comfortable slippers after a long day. For me, this book was the latter; I think I was hooked by the middle of the first page."
Whichever tone of book a reader prefers, I bet that's the author's finest hope.
For fun, here's a recipe of Avalon's that she shares in the books: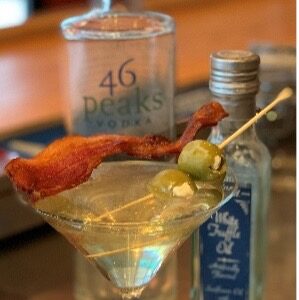 Truffled Bleu Cheese Dirty Martini
Ingredients
2 1/2

oz

Lake Placid Spirits 46 Peaks Vodka

Dash of olive juice

Dash of truffle oil

Ice

Martini glass

Crispy bacon

Blue cheese stuffed olives
Instructions
In cocktail shaker combine vodka, olive juice, truffle oil and ice.

Shake all ingredients together. 

Strain over martini glass.

Garnish with crispy bacon and blue cheese stuffed olives.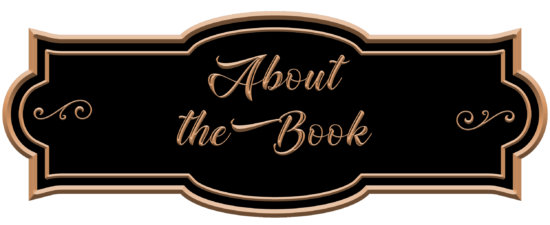 Bartender's Guide to Murder: Book 1
September 29th, 2020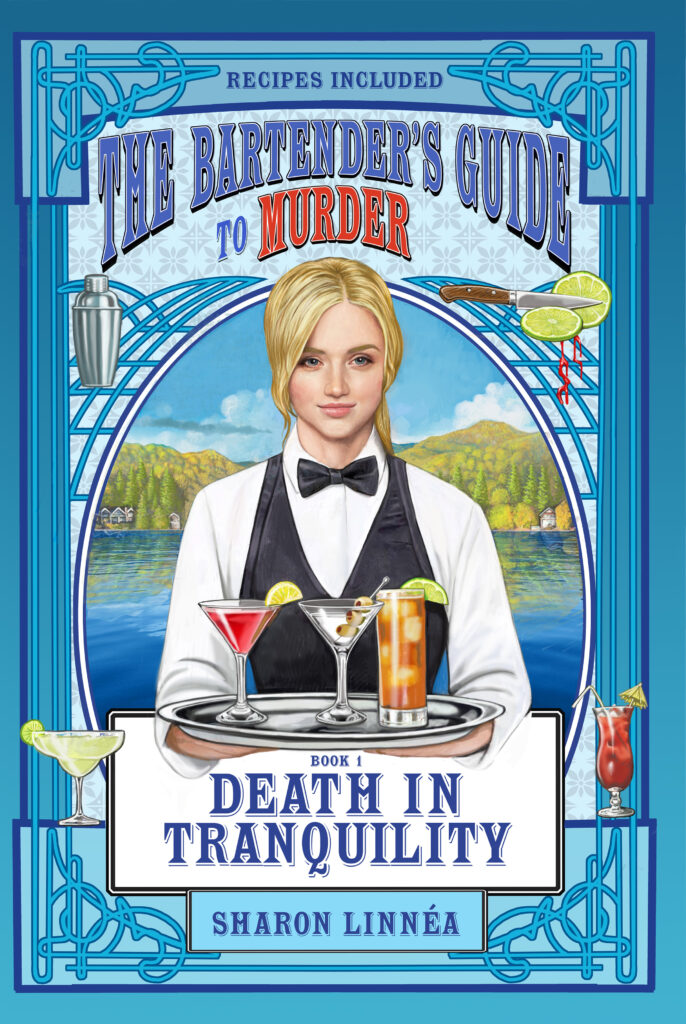 No one talks to the cops. Everyone talks to the bartender. And Avalon Nash is one hell of a bartender.
Avalon is on the run from her life in Los Angeles. Having a drink while waiting to change trains in the former Olympic town of Tranquility, New York, she discovers the freshly murdered bartender at MacTavish's. A bartender herself, she's offered the position with the warning he wasn't the first MacTavish's bartender to meet a violent end.
Avalon's superpower is collecting people's stories, and she's soon embroiled in the lives of artists, politicians, ghost hunters, and descendants of Old Hollywood.
Can Avalon outrun the ghosts of her past, catch the ghosts of Tranquility's past and outsmart a murderer?
The first book in the Bartender's Guide to Murder series offers chills, laughs, and 30 of the best drink recipes ever imbibed.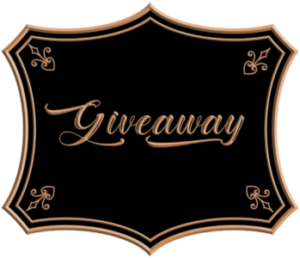 This is a Rafflecopter giveaway hosted by Partners in Crime Virtual Book Tours for Sharon Linnéa. There will be SIX (6) winners: ONE winner will receive one (1) Amazon.com Gift Card and FIVE (5) winners will each receive one (1) copy of Death In Tranquility by Sharon Linnéa (These five (5) winners will have their choice of eBook or Print edition, however, print editions will only be shipped to U.S. addresses). The giveaway begins on February 1, 2021, and runs through March 2, 2021. Void where prohibited.
a Rafflecopter giveaway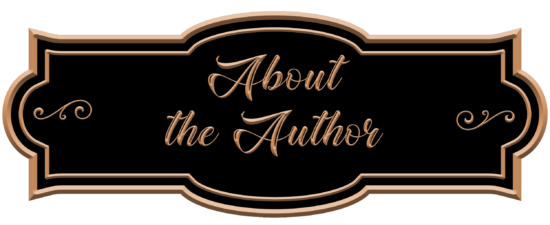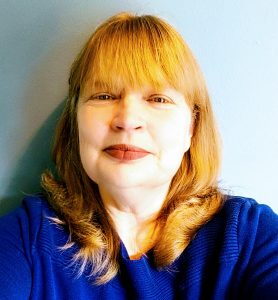 Sharon Linnéa wrote the bestselling Eden Series (Chasing Eden, Beyond Eden, Treasure of Eden and Plagues of Eden) with B.K. Sherer, as well as the standalone These Violent Delights, a movie murder series. She enjoyed working with Axel Avian on Colt Shore: Domino 29, a middle-grade spy thriller. She is also the author of Princess Ka'iulani: Hope of a Nation, Heart of a People about the last crown princess of Hawaii which won the prestigious Carter Woodson Award, and Raoul Wallenberg: the Man Who Stopped Death. She was a staff writer for five national magazines, a book editor at three publishers, and a celebrity ghost. She lives outside New York City with her family. In Orange County, she teaches The Book Inside You workshops with Thomas Mattingly.