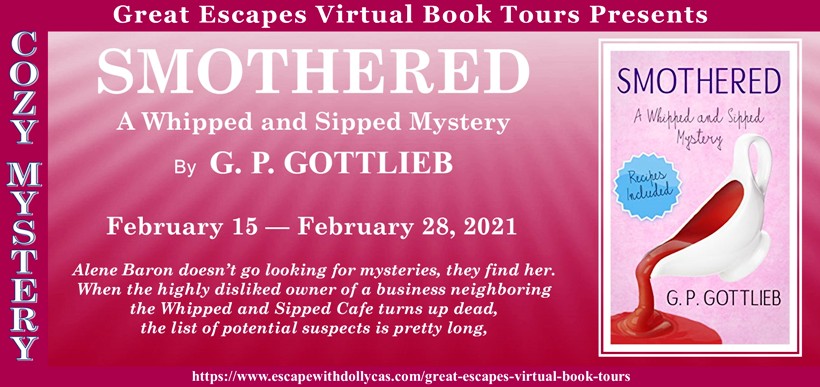 In 2019, Battered: A Whipped and Sipped Mystery, my debut novel, was released into the world. It's a cozy, culinary mystery, the kind without graphic violence, sex, or anything that would keep a reader up at night. It's set in an imaginary Chicago café, the warm, friendly kind that plays a great 70's song list and always smells like freshly-baked apple-cinnamon rolls. I based the setting on the cafes where I used to meet my writing group before the pandemic. Each week we would discuss our writing plans and accomplishments while consuming vast quantities of coffee, tea, and pastries.
In a culinary mystery, a murder occurs, the sleuth tries to figure out who did it, and everyone else is constantly eating. Also, there are recipes for some of the food being consumed. I loved reading mysteries whose sleuths, like Donna Leon's Inspector Bruno or Andrea Camilleri's Inspector Montalbano enjoyed three course lunches while immersed in solving crimes, but I was always disappointed when there were no recipes. For my book, I planned to perfect the recipes I'd invented over a lifetime of puttering in the kitchen.
I wrote lists of meals I remembered preparing, checked my old recipe cards, and started writing out instructions for things I'd been cooking and baking for years. When I wasn't at my computer fine-tuning the story and improving the book's pacing, I began inventing recipes that my husband, friends, and our building's employees would later taste and critique.
After I finally received a book contract, I realized that only a few friends had ever made any of my recipes, and I'd often received phone calls from them after they'd started, asking things like, "Does your chocolate cake have any chocolate in it?" What did I know about writing a recipe? My mother told me about a great aunt who always left out one ingredient when she shared a recipe, and I started to worry that leaving out ingredients was an inherited trait. I'd made some of those cakes, cookies, and everything else for years. I'd even taken baking classes at the French Pastry School, but that didn't help me write recipes that others could follow.
So, I asked everyone I knew if they wanted to try making one of my recipes and sent them to everyone who agreed. Over the next few weeks and months, I received responses, mostly saying things like, "Made your empanadas last night. Filling is super-yummy! I had a hard time rolling out the dough, so resorted (shamefully) to Mrs. Pillsbury's crescent rolls, but further research suggests that this may NOT have been JUST my lack of skill. You meant the first FIVE ingredients go into the dough (not four), and water should be upped to half a cup. Loved participating in testing!
My response was always something like, "Sorry for the confusing directions and many thanks for trying the vegan empanadas. I'm rewriting the recipe now!
Yup. I'd done something silly or screwed up just about every recipe. Luckily, my beautiful niece Emily is a trained pastry chef who kindly went through the pages and made suggestions, for example, to specify what kind of olive oil, which variety of apple, and how large of an orange to use. Then Eli, a nephew who owns a restaurant, gave me more advice about clarifying the instructions. It turns out that recipes are easier to follow when the ingredients are listed in the order in which you use them. How did I not notice that? It also turns out that "Stir together," doesn't tell people what size of bowl, what tool to use, or how much to stir.
Smothered: A Whipped and Sipped Mystery, the second book in the series is now being released. It contains 22 more recipes and was tested by a whole list of people that I thank in the acknowledgments. Each recipe was tested at least three times, so I'm pretty sure they'll all turn out perfectly! At least, I hope they do. (Let me know!)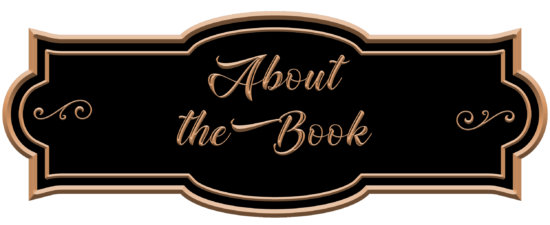 A Whipped and Sipped Mystery: Book 2
Release Date: February 16, 2021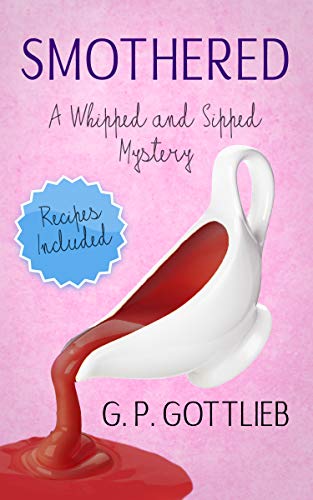 Alene Baron doesn't go looking for mysteries, they find her. When the highly disliked owner of a business neighboring the Whipped and Sipped Cafe turns up dead, the list of potential suspects is pretty long, including all of the members of his quarrelsome family. Missing wills, convenient accidents, and enough red herring to feed the lunch crowd spice up this tantalizing tale. As always, while pondering the evidence, Alene also comes up with creative vegan dishes to serve her customers and share with you.


"Smothered is in a class of its own, both in the mystery genre and beyond." – D. Donovan, senior agent, Midwest Book Review
"Culinary mystery collectors will want this book on their shelves." — Kingdom Book Reviews
"5 Stars! Smothered is a cozy mystery that has a sweet and humorous tone with a grounded story, family drama, and a realistic protagonist that must balance her role as a mother with her role as a sleuth." — Liz Konkel, Reader's Favorite Book Reviews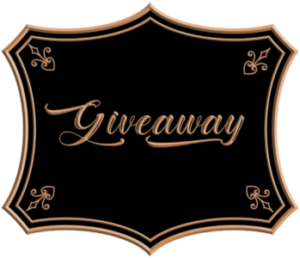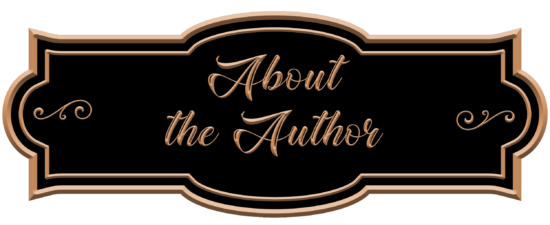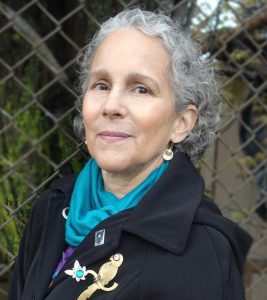 G.P. Gottlieb has worked as a musician, a teacher, and an administrator, but she's happiest when writing recipe-laced murder mysteries. Battered: A Whipped and Sipped Mystery and Smothered: A Whipped and Sipped Mystery take place in the spring and summer of 2019 and a third book in the series will center on a murder that occurs during the city of Chicago's lockdown in May 2020. G.P. Gottlieb has always experimented in the kitchen and created her delicious vegan cookies and cakes in direct opposition to what she learned in courses at Chicago's French Pastry School. She is host for New Books in Literature, a podcast channel on the New Books Network, the mother of three grown children, and lives with her husband in a Chicago high-rise that is strikingly similar to the building portrayed in the Whipped and Sipped Mystery series.

February 15 – StoreyBook Reviews – REVIEW
February 15 – I'm All About Books – SPOTLIGHT
February 16 – A Blue Million Books – AUTHOR INTERVIEW
February 16 – ebook addicts – SPOTLIGHT
February 17 – Novels Alive – GUEST POST
February 18 – I Read What You Write – SPOTLIGHT, RECIPE
February 19 – #BRVL Book Review Virginia Lee Blog – SPOTLIGHT
February 20 – Celticlady's Reviews – SPOTLIGHT
February 20 – Books a Plenty Book Reviews – REVIEW
February 21 – Maureen's Musings – SPOTLIGHT
February 21 – Literary Gold – REVIEW
February 22 – Socrates Book Reviews – SPOTLIGHT
February 23 – Mysteries with Character – AUTHOR INTERVIEW
February 24 – Baroness' Book Trove – SPOTLIGHT
February 25 – MJB Reviewers – SPOTLIGHT
February 26 – Ascroft, eh? – AUTHOR INTERVIEW
February 26 – Sapphyria's Book Reviews – REVIEW
February 27 – Ruff Drafts – SPOTLIGHT, RECIPE
February 27 – Escape With Dollycas Into A Good Book – SPOTLIGHT
February 28 – Cozy Up With Kathy – AUTHOR INTERVIEW