In the quarantined isolation of 2020 holidays, I think back to the 1980s, the weeks from the middle of November until early January, when I was catering in New York City, based in a small apartment. I booked more than half my year's catering business in the fourth quarter of the year, but despite the pressures, the sweetest days came in early December. Starting back in September, I was freezing dough, chopping chocolates, shopping for attractive little bags and tiny paper cups, organizing for those days right after Thanksgiving (did the rest of the world call it Black Friday? I don't know, my head was in the oven) when I began to bake off a dozen different kinds of cookies, roll at least three kinds of chocolate truffles, cut and cube and place handmade treats onto tiny paper doilies, set into small boxes or bags.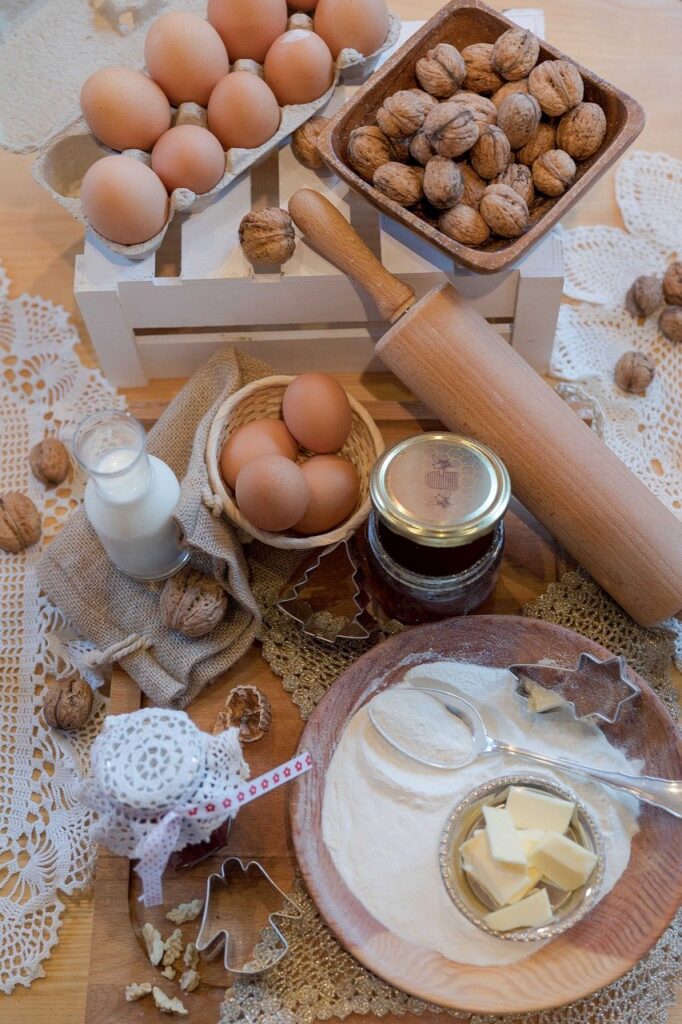 Most years I sent out 75 or more "goodie" bags and made LOTS of extras for all the end of year events. These handmade treats were part of my catering signature. I knew how everyone reached for just one more, even after large, rich meals with plated desserts. These gifts ALWAYS generated at least one call for some last-minute holiday party. I baked at home, with the buttery air wafting into the halls—so I shared cookies with my neighbors as I watched my son pull himself upright on the sides of plastic milk crates, learn about elliptical rolling as he tested his brand new teeth on lemons and sent them falling across the kitchen floor.
"Goodie Bag Delivery" was the happiest of our work routines; it was a family day. Thom, who would freelance chef for me in the coming weeks, lent his mom Mary Rose, with her nimble fingers. When my son napped, his "RaRa" stepped over to help with some kitchen tasks. Max scheduled my delivery day before he started his holiday gigs, when he dressed as some exotic creature to wander through the lighted paths of the New York Botanical Garden or padded himself into a Santa costume, cheerfully "ho-ho-ho-ing" for endless lines of tiny believers. Bobby loved to take the downtown deliveries that allowed him to be home in time to care for Jim, make their supper and cuddle for a wintery evening, planning their own holiday party. Michael helped, as long as he was well enough, and was scheduled to chef on a dinner shift. Lilia took a day off from her fulltime work representing artists. She would not miss the hours of handling treats, teasing the guys, making sure I had a cup of tea in hand—especially that year I was juggling a nursing baby and broken ankle, just before RaRa (aka Radhica Ramsamy) joined my household.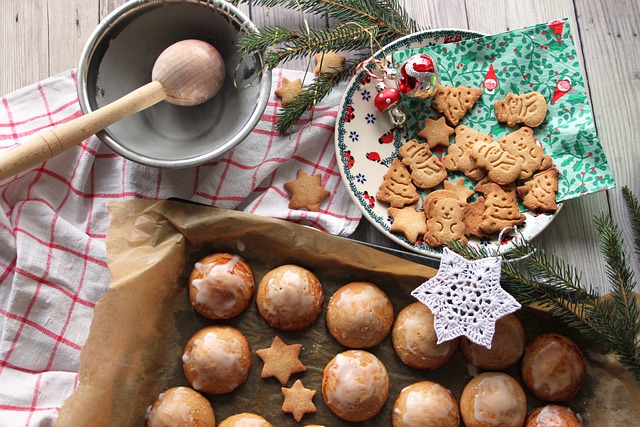 All hands packed the sweets on my dining table, lined up the filled bags, and planned delivery paths. We grabbed cold cuts for half a sandwich as we took time to make eye contact, gauge one another's wellbeing and balance as we spoke about holiday gigs, friends' parties, scheduling for the last weeks of the year. On delivery days we could read the economic forecast, based on the luxuries requested for the pending parties. We took time to discuss the plays starting into rehearsals for next year, which theatre companies were casting. We spoke about those who were ill and who could be hired to staff parties. Everyone pointed out the dragon fruit, fresh cherries, lychees—seen in Chinatown and the Taleggio, St. Andre, Basil-Mascarpone loaves—new discoveries among the imported cheeses at Fairway Market, suggesting interesting elements I might work into the menus and buffets to be prepared in the next weeks.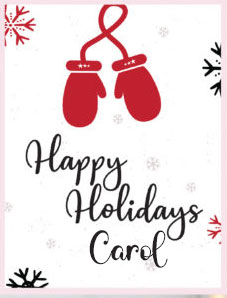 I scrawled "Happy Holidays—Carol" in red or green ink on my business card, attached with a curled, festive ribbon, and I sent this staff off across the City, to their favorite of my best clients and a few treasured friends. I got to stay home, watch Sesame Street, and wait for the thank-you calls from surprised folks I had not seen in months. It was the most delightful "corporate gift" my clients ever received, and friends still recall their handmade, personal deliveries.
We grabbed these days of deliverance before we bent together into the pressures of the coming 18-hour days: parties stacked up day after day—some days were doubles one on top of another, an onslaught of work, when we leaned heavily on one another. And we could lean heavily, because we knew how to work together: for more than 15 years, whenever I booked an event, this was my core crew. We catered cocktails, wedding celebrations, showroom and theatre openings, memorials.
Somehow during those madcap years working in a burgeoning food scene, in the 1980s – 90s, I wrote a cookbook: I Knew You Were Coming So I Baked a Cake.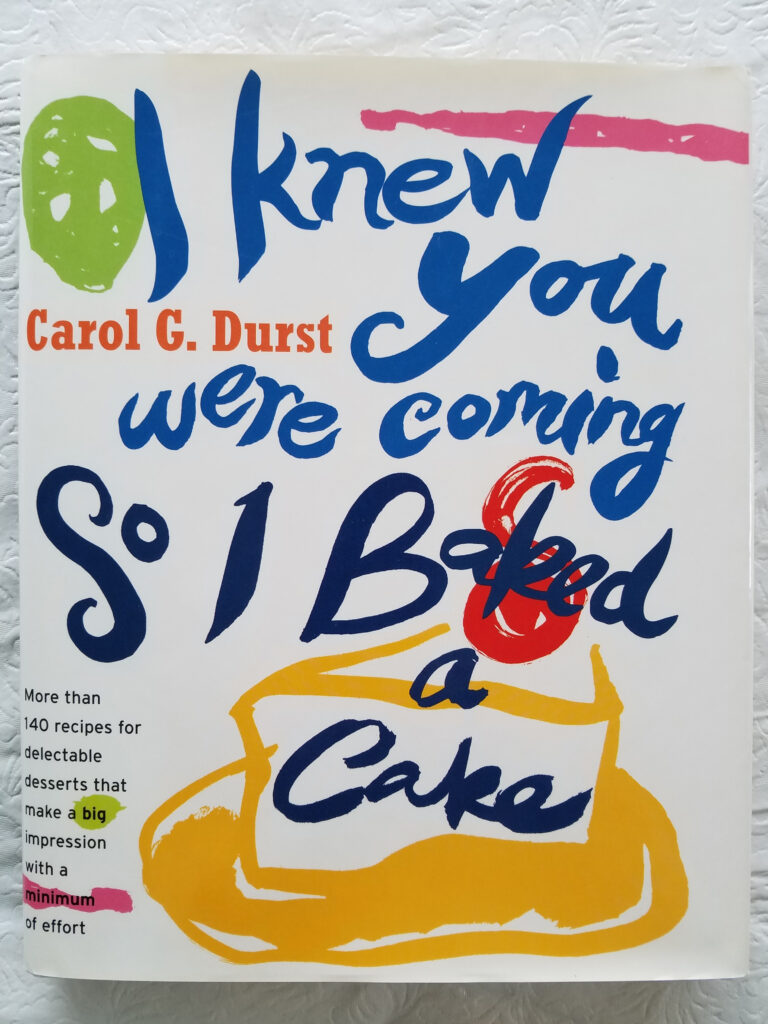 This year, just as COVID took hold of us, I completed a memoir: Vignettes & Vinaigrettes: A Memoir of Catering Before Food Was Hot.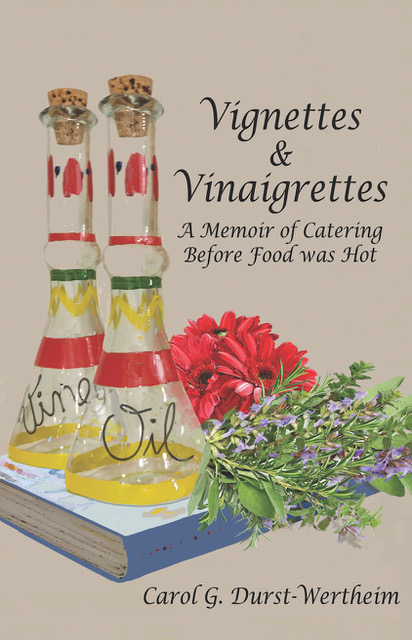 Those days sending out the "goodie bags" were the sweetest treats of my catering years: the connection of personal and professional, people who enjoyed one another, food work, and those treats! There can be a sweet intimacy working with food—more than the commensal pleasure, there is a deep trust imbedded when consuming food prepared by others. It is best when any food is shared with love, kindness, the "handprint on the clay" of artisan handwork, described by Walter Benjamin: food prepared by real people.
So many years later, we are still a family of friends, eager to share sweet tastes, sweet times. Let's hope we all can share such days again in 2021!
Here are a few of my favorite recipes: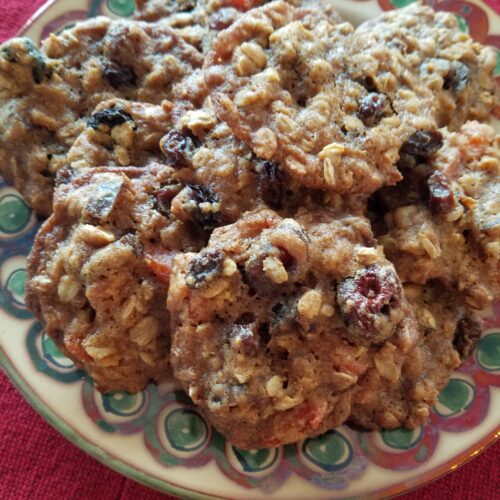 Granny's Oatmeal Cookies
This is a recipe I brought home from a college roommate's mother, Mrs. Staubitz of Buffalo, New York. I gave it to my mother, who subsequently made them for her grandchildren for many years, so they became known as Granny's Oatmeal Cookies. Make them your own with your favorite fruits and/or nuts.
Ingredients
1

cup

flour

1

cup

rolled oats

¾

tsp

baking soda

1

tsp

cinnamon

1

tsp

salt

1/4

lb

unsalted butter

1 stick

1

cup

sugar

1

tbsp

dark molasses

1

large

egg

1

tsp

vanilla extract

1 to 1-1/2

cups

diced dry fruit and/or nuts: currants, dates, apricots, cherries, cranberries, figs, golden raisins, black raisings, pears, peaches, walnuts,      almonds or pecans
Instructions
Measure dry ingredients and stir together (flour, BS, cinnamon, salt)

In electric mixer blend butter and sugar. Add molasses, egg, vanilla.

Slowly blend in dry ingredients, then add the dried fruit and/or nuts.

Drop by heaping tablespoons onto cookie sheets and bake 10-12 minutes. (Chewier if baked less time!)
Notes
NOTE: If you want to assemble the batter to bake off later on, (or make a double batch) you can wrap well and freeze it rolled into cylinders. This holds up very well for several weeks, and baked off when you plan to use them, they are always "fresh"!
Oatmeal Lace Cookies
A family recipe, gift from my lifelong friend, Katharine Hagstrum
Ingredients
COMBINE:
½

cup

flour

¼

tsp

baking powder

½

cup

sugar

½

cup

quick cooking oats
ADD:
2

tbsp

heavy cream

2

tbsp

light corn syrup

1/3

cup

melted butter

1

tbsp

vanilla
Instructions
Blend well, drop onto a greased baking sheet 4" apart using ¼ tsp measuring spoon

Bake for 6-8 minutes until light brown

Alternate 3 minutes apart for trays

Allow to cool 30 seconds and remove with spatula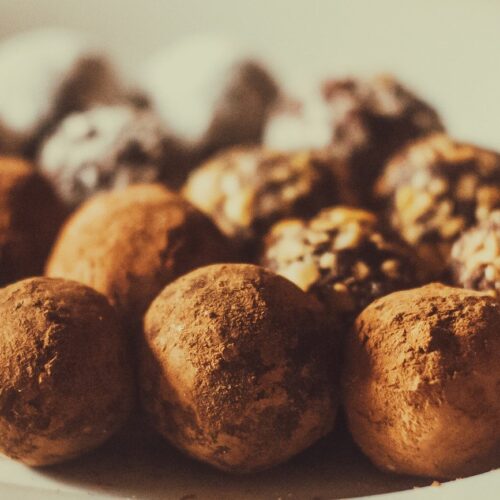 Chocolate Truffles
Adapted from The Joy of Chocolate, by Judith Olney. This recipe increases very easily and holds well frozen.
Ingredients
1-2/3

cups

heavy cream

7

tbsp

butter

1

lb

semisweet chocolate

2

tbsp

Grand Marnier, Cointreau, Cognac, other brandy or liqueur cocoa powder, chopped nuts, toasted coconut, cinnamon… to roll 
Instructions
Heat cream and butter together until just coming to a boil

Off the heat, add chocolate (chopped, ¼" pieces) and stir until smooth and completely combined.

Cover with plastic wrap ON THE SURFACE

Scoop into 1" truffle balls, roll in cocoa, cocoa/cinnamon, nuts, and/or coconut
White Chocolate Truffles
Courtesy of Bob Betke, friend and colleague of so many years
Ingredients
6

oz

White Chocolate, chopped into 1/2" pieces

2

tbsp

heavy cream

5

tbsp

butter

1

tsp

Kirsch, Framboise, or other liqueur
Instructions
Melt chocolate, cream and butter together over double boiler, stir until smooth

Add liqueur, continue to stir off the heat

Scoop balls and roll in toasted coconut or chopped nuts
Gingerbread Hermits
From The Cookie Lover's Cookie Book, by Richard Sax. This recipe came from Ruth Cousineau.
Ingredients
1

cup

unsalted butter

2 sticks

2½

cups

light brown sugar

slightly more than 1 pound

4

eggs

1/3

cup

molasses

4

cup

flour

1 ½

tsp

baking powder

1 ½

tsp

baking soda

1 ½

tsp

cinnamon

1

tsp

ground ginger

1

tsp

nutmeg

¼

tsp

cloves

¼

tsp

salt

3

tbsp

crystallized ginger, chopped

1

cup

raisins

1

cup

walnuts or pecans
Instructions
Beat butter in mixer, add the brown sugar and cream until light (3 minutes) add 3 eggs(!!! – hold one for egg wash) and the molasses

Combine flour and dry ingredients. Add to butter and beat just until blended. Add crystallized ginger, raisins, nuts

With your fingers, form dough into 6 logs, two per baking sheet. Logs will be about 1 inch high and 1 ½ wide, leaving about 3 inches between the logs. 

Beat the 4th egg and brush on top of the logs

Bake 10-14 minutes, while still soft remove, cool and slice across the logs. Keep in covered container, refrigerator or freezer.
Candied Orange Peel & Dried Cranberry Biscotti
Adapted from Ultimate Biscotti, by Trish Lobenfeld, wonderful cooking friend
Ingredients
3

large

eggs

2/3

cup

sugar

1

tbsp

orange liqueur (Cointreau or Gran Marnier)

1

tsp

vanilla extract

1

tsp

salt

½

cup

minced candied orange peel

¾

cup

dried cranberries

¾

cup

shelled pistachios

1 ¾

cups

flour (plus a bit more for easy handling)

¾

cup

cornmeal

1

tsp

baking powder
Instructions
In a small bowl, using a fork, beat one egg with 1 TBLS of cold water until frothy, set aside with a pastry brush 

Preheat oven to 350 degrees

Line a 13 x 18 baking sheet with parchment or baking paper

In a standing mixer, beat the other two eggs, sugar, liqueur, vanilla extract and salt until thickened – about 30 seconds on high speed

Add in the orange peel, cranberries and pistachios.

Add the flour, cornmeal and baking powder on slow speed, scraping down sides of the bowl, until the batter is moist, beat another 10 seconds – DONE!

Empty dough onto a lightly floured surface and with floured hands, shape into two logs, each one approximately 9 inches long, 2 inches across, press down to ½ inch thickness, brush with egg wash.

Bake 25 minutes, until just firm to the touch

Using a serrated knife, cut diagonally across the logs into ½ inch slices, lay flat on the baking sheet

Bake again for 12 minutes, turn over for the last 10 minutes, until dry and light golden in color

These store in an airtight container up to six weeks. (If they last that long!)
Pecan Shortbread
Sometimes a classic is so simple that when you taste it, you know it's PERFECT. 
Nick Malgieri developed this cookie at the New York Restaurant School in 1981 when we worked together. The students ran a restaurant and served petits-fours at the end of meals. I personally polished off way too many of them, and even came to work early to gobble one or two left from the previous day while I had my first cup of coffee. They are melt-in-your-mouth terrific. With his permission, I share the recipe here and in my cookbook. Thanks, Nick.
Ingredients
1 ¼

lbs

unsalted butter 

¾

cup

sugar

½

tbsp

salt

1

tbsp

vanilla extract

3 ½

cups

flour

4

cups

chopped pecans

1 ½ lbs.

confectioner's sugar
Instructions
Process:
Cream butter, sugar and salt in electric mixer

Add 1 tbsp water and the vanilla

Add the flour slowly and when fully incorporated mix in the pecans by hand

Wrap in plastic, as 2"x10" logs and chill or freeze
To Bake:
Preheat oven to 325 degrees

Slice the cold dough into ¼" disks OR roll into 1-inch balls and set on baking sheets

Bake 10 minutes (disks) - 15 minutes (balls) and check to see the underside is golden – DONE!

Roll in confectioners sugar to serve.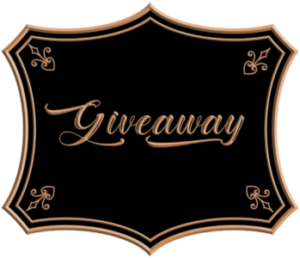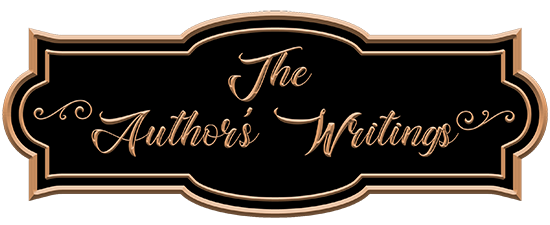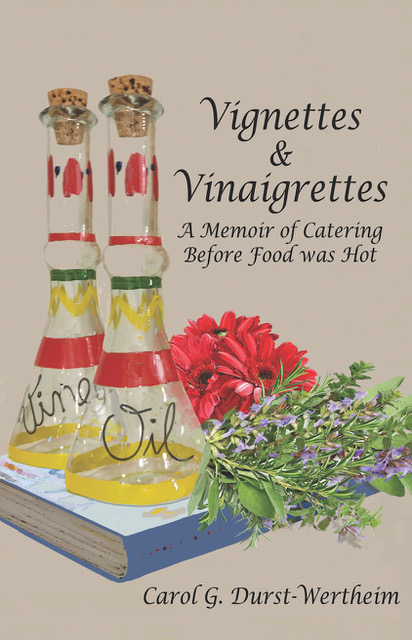 Vignettes & Vinaigrettes reflects the author's experience catering during the second wave of the Women's Movement. As women juggled professional and family lives, a food revolution took commercial cooking in totally new directions and opened a wide range of entrepreneurial opportunities. Though many talented women, from diverse backgrounds, were drawn to these new professional options, little has been written about their work. Like vinaigrettes, balancing dishes without masking ingredients, here are personal vignettes that allow the reader to stand at Carol Durst-Wertheim's elbow as she looked up from her pots and pans, her cutting board, and the back stairwell. Here are stories that reveal a woman, wife, and mother, her crew and catering clients, in the time just before working with food became "hot."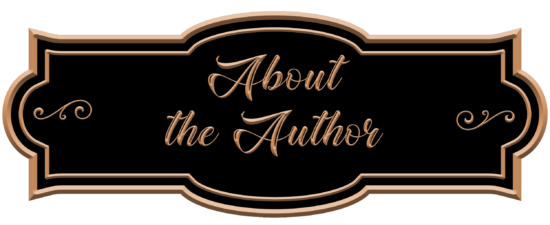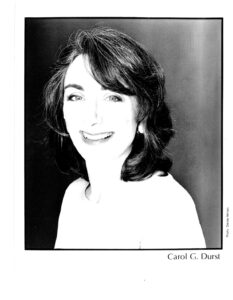 Carol has published a memoir, Vignettes & Vinaigrettes: A Memoir of Catering Before Food Was Hot and a cookbook, I Knew You Were Coming So I Baked a Cake. Her other writing appears in encyclopedia and essay collections (Storied Dishes, Lost Orchard) and she completed an Oral History for the New York Women's Culinary Alliance.
She was the first Director of the New York Restaurant School, a program of the New School for Social Research, and owned and operated New American Catering Corporation. Carol has taught culinary arts, food studies, hospitality management and culinary tourism at several New York metropolitan universities. She researched women's food industry work for her dissertation and has led community-based film series and book discussions on food themes.
Before entering the food industry, Carol was the Coordinator of the New York State Department of Labor Displaced Homemakers Program where she wrote a CETA grant matching Federal, State and New York City funding of ten state-wide employment support centers, a Research Assistant at Catalyst, a non-profit organization advancing women's careers, and a college career counselor.
A member of the Board of Directors, Federated Conservationists of Westchester County, for the past three years, she is President for 2020-21. Previously, Carol served on the Board of Women Chefs and Restaurateurs, an industry association, and the Board of Infinite Family, on-line mentoring for South African teens.
In addition to her doctorate, from The Union Institute and University, Carol holds a Master's Degree in Adult Education/Career Counseling from Teachers College, Columbia University, a Bachelor's Degree from Kirkland/Hamilton College, numerous industry certifications in food safety, food and beverage service, and online teaching certifications.