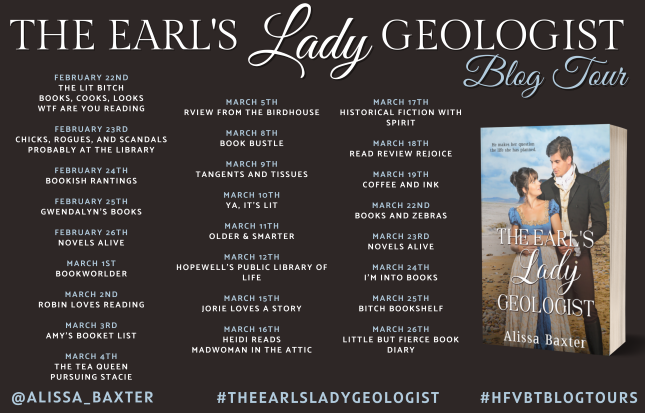 The Earl's Lady Geologist features a lady geologist, Cassandra Linfield, who lives in Lyme Regis during the Regency period. I was intrigued a few years ago when I stumbled across an article about palaeontologist Mary Anning, and determined to find out more about her as well as other Regency women who devoted themselves to this early scientific field.
Britain's emerging industrialisation at the end of the 18th century led to an era of canal digging and major quarrying operations. These activities revealed sedimentary strata and fossils, which led to a closer examination of the bedrock geology of the country, and geology thus emerged as a scientific discipline.
Collecting fossils and mineral specimens became a popular pursuit amongst the landed gentry. It was a topic discussed at dinner parties and other social functions, and women were allowed to participate within informal, nonprofessional venues as palaeontology fit into the role of women as "caretakers of life".
Various scientific societies were formed at the time, such as the Geological Society of London (13 November 1807) which women were not allowed to join. However, the wives of prominent geologists often worked with their husbands, and they were referred to as "wife-assistants".
The most prominent of these women were Mary Buckland (1797-1857), wife of Reverend William Buckland; Mary Ann Mantell (1795-1869), wife of Dr Gideon Mantell; Charlotte Murchison (1789-1869), wife of Sir Roderick Murchison; and Mary Elizabeth Lyell (1808-1873), wife of Sir Charles Lyell.
They accompanied their husbands on trips and assisted in the collection of specimens. Mary Buckland, Charlotte Murchison, and Mary Lyell made important observations, sketches, and illustrations, and assisted in the preparation and writing of papers.
Other 19th century British women worked independently. Etheldred Benett of Wilshire (1776-1845) and Barbara Hastings (1810-1858) and the Philpot sisters (Margaret, __?-1845; Mary, 1773-1838; Elizabeth, 1780-1857) made important contributions to the understanding of the palaeontology and stratigraphy of southern England.
Etheldred Benett was a financially independent spinster and collected fossils over a 34-year period. She wrote several manuscripts which are now in the collections of the Geological Society of London.  Benett maintained a scientific collaboration and correspondence with some of the leading men of science of the day, including William Buckland and Gideon Mantell.
In about 1805, the Philpot sisters settled at Morley Cottage, 1 Silver Street, Lyme Regis, and soon afterwards they began collecting fossils. The Philpot sisters, most noticeably Elizabeth, amassed an important collection of fossils from the Lower Lias of southern England. The Philpot Collection of approximately 400 specimens is now housed in the Oxford University Museum.
Despite her low social station, Mary Anning (1799 –1847) has become the most celebrated of the 19th century British women who worked in the field of geology and palaeontology. Mary searched for fossils in the area's Blue Lias cliffs, particularly during the winter months when landslides exposed new fossils that had to be collected quickly before they were lost to the sea.
Mary Anning and Elizabeth Philpot feature in The Earl's Lady Geologist as my heroine, Cassy's, fossil-collecting friends. It was a delight to include these early pioneers of palaeontology in my story.
Sources:
Davis, Larry E. (2009) "Mary Anning of Lyme Regis: 19th Century Pioneer in British Palaeontology,"
Headwaters: Vol. 26, 96-126.
Available at: https://digitalcommons.csbsju.edu/headwaters/vol26/iss1/14
https://en.wikipedia.org/wiki/Mary_Anning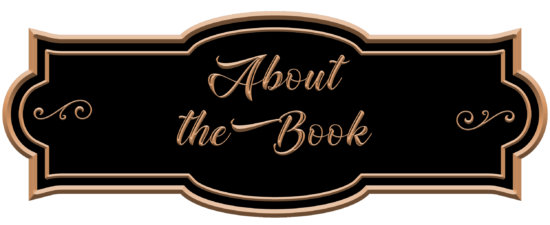 Series: Linfield Ladies Series: Book One
Publication Date: February 28, 2021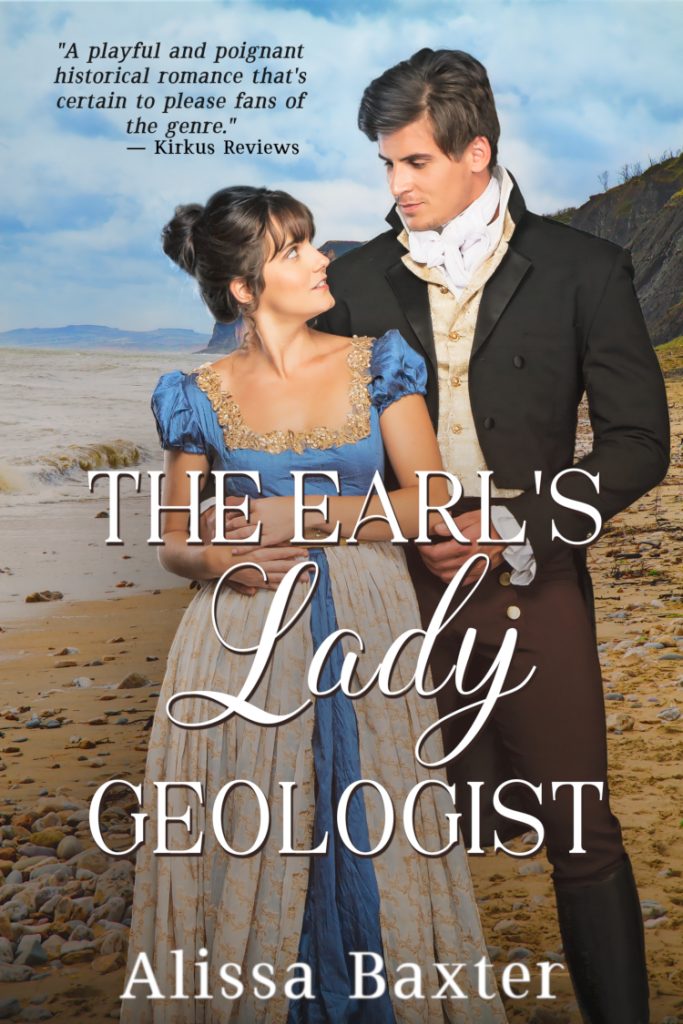 Cassandra Linfield is a lady fossil collector who declares she will never marry as no man will ever take her studies seriously. When circumstances force her to travel to Town for the Season, Cassy infiltrates the hallowed portals of the Geological Society from which she has been banned. She is horrified when she comes face to face with her nemesis, the infuriating Earl of Rothbury.
Lord Rothbury is a gentleman-geologist with a turbulent romantic past. After a youthful disappointment, he vows never to fall in love again, and makes the decision, instead, to seek out a convenient wife when he returns to England from his geological travels abroad.
Brought together by their close family ties, Cassy and Rothbury collaborate on a geological paper and discover a powerful attraction. Marriage, however, is the one subject they cannot agree upon. But when Cassy's life is threatened, the two realise that love matters more than their objections.

"A gentle Regency romance, full of sweetness and intelligence. Alissa Baxter's writing is period perfect." -Mimi Matthews, USA Today bestselling author of The Matrimonial Advertisement
"The Earl's Lady Geologist by Alissa Baxter deftly weaves together the charm of a traditional Regency romance, fascinating information on scientific society of the time, with a quiet subtext about the challenges faced by women interested in pursuing science. This first book in a new series is wonderfully satisfying on many levels!" — Mary Jo Putney, New York Times, Wall Street Journal, and USA Today bestselling author
"While immersing the reader in the mores and life of the Regency era, Alissa Baxter manages to write strong, independent heroines whom modern-day women will cheer and root for. Plus the addition of little details that wrap around the plot and the characters make reading her books all the more special because you never know when you might land on a little Easter egg morsel in the beautiful and engaging prose. Historicals with heart and engaging characters that read real—that's what you get in Ms. Baxter's books." — Zee Monodee, USA Today bestselling author
"A truly traditional Regency romance, with lots of witty banter, very reminiscent of Georgette Heyer. Recommended for anyone who likes a completely clean traditional Regency, with strongly authentic writing, historical accuracy and a satisfying romance. Baxter's writing is excellent, and her dialogue, manners and settings are true to the era. A spirited heroine, a brooding hero, lots of sparkling banter and an authentic Regency setting—with added fossils! Great fun. From Lyme Regis to the drawing rooms of London, Alissa Baxter takes the reader back to the time of Jane Austen." — Mary Kingswood, author of traditional Regency romances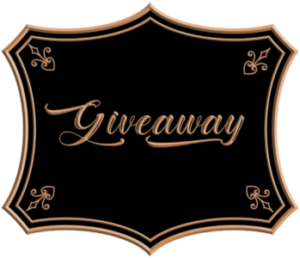 Enter to win a $50 Amazon Gift Card!
The giveaway is open to the US only and ends on March 26th. You must be 18 or older to enter.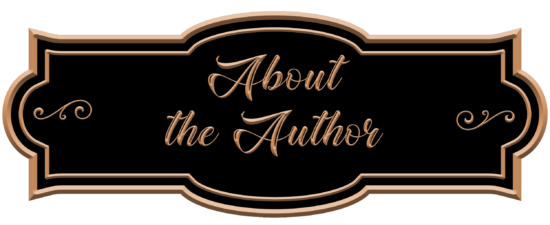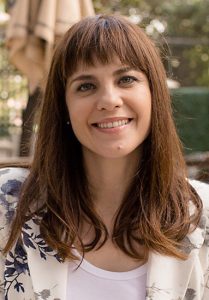 Alissa Baxter was born in a small town in South Africa, and grew up with her nose in a book on a poultry and cattle farm. At the age of eleven she discovered her mother's collection of Georgette Heyer novels. The first Heyer novel she ever read was Sylvester and she was hooked on Georgette Heyer after that. She read and reread her novels, and fell totally in love with the Regency period and Heyer's grey-eyed heroes! After school and university, where she majored in Political Science and French, she published her first Regency novel, The Dashing Debutante.
Alissa travelled overseas and worked as a flight attendant in Dubai before she moved to England, where she did an odd assortment of jobs while researching her second novel, Lord Fenmore's Wager, which she wrote when she moved back to South Africa. Alissa's third Regency novel, A Marchioness Below Stairs, is the sequel to Lord Fenmore's Wager.
Alissa has lived in Durban and Cape Town but she eventually settled in Johannesburg where she lives with her husband and two sons. Alissa is also the author of two chick-lit novels, Send and Receive and The Blog Affair, which have been re-released as The Truth About Series: The Truth about Clicking Send and Receive and The Truth About Cats and Bees.

Monday, February 22
Feature at The Lit Bitch
Review at Books, Cooks, Looks
Review at WTF Are You Reading?
Tuesday, February 23
Review at Probably at the Library
Review at Chicks, Rogues, and Scandals
Wednesday, February 24
Review at Bookish Rantings
Thursday, February 25
Review at Gwendalyn's Books
Friday, February 26
Guest Post at Novels Alive
Monday, March 1
Review & Excerpt at Bookworlder
Tuesday, March 2
Review at Robin Loves Reading
Wednesday, March 3
Review at Amy's Booket List
Thursday, March 4
Excerpt at The Tea Queen
Friday, March 5
Review at View from the Birdhouse
Monday, March 8
Review at Book Bustle
Tuesday, March 9
Review at Tangents and Tissues
Wednesday, March 10
Review at YA, It's Lit
Thursday, March 11
Review at Older & Smarter
Friday, March 12
Interview at Books & Benches
Excerpt at Hopewell's Public Library of Life
Monday, March 15
Review at Jorie Loves A Story
Wednesday, March 17
Review at Historical Fiction with Spirit
Friday, March 19
Guest Post at Coffee and Ink
Monday, March 22
Review at Books and Zebras
Tuesday, March 23
Review at Novels Alive
Thursday, March 25
Review at Bitch Bookshelf
Friday, March 26
Review at Little But Fierce Book Diary