We are thrilled to have author, Daniella Bernett, author of the popular Emmeline Kirby & Gregory Longdon Mysteries with us today to answer our Thriller Thursdays With… Questions. So, without further ado, I give you, Daniella Bernett.
What drives your story forward in your books the most, the characters, or the plot?
Character is the engine that drives my narrative. Creating a character is a magical process. For a character to be believable, the reader must be given intimate insight into his or her thoughts and emotions, likes and dislikes. The reader has to understand the motives behind why a character reacts a certain way. Of course, for a character to be fully formed, the author must imbue her or him with both admirable qualities and flaws. After all, in real life nobody is perfect. So too must it be on the written page. Once readers make an emotional connection, you have them hooked because it means they want to know the story behind the character. When the author is satisfied with the character sketch, then the real fun begins: unfurling the imagination to spin the tale.
If you were a character in one of your books, which would you be? The hero/heroine, mentor, villain, love interest, etc.
Most definitely, I would be the heroine. Why? I'd like to be on the side of good. And yet, I'd like to be in the thick of things, using my instincts and talents to help solve the crime. I couldn't live with myself if I were a villain. They do such distasteful things.
If you had the power to make any of your books into a film, which would it be and why?
Many readers have told me that my books should be made into films. I'm so gratified to hear it. Perhaps one day it will come true. Meanwhile, When Blood Runs Cold, Book 5, is my favorite book. Everything just seemed to come together when I was writing it. It's a melding of mystery and thriller, which would appeal to audiences. The story deals with a Russian defector, spies, poisonings and a flawless 12-carat blue diamond called the Blue Angel that men are willing to kill to possess. If that weren't enough, someone from Gregory's past seeks revenge.
Do people you know end up as characters in your book? Be honest…
Ah, I see you're trying to be sneaky. I'm sorry to disappoint you, but an author must keep her secrets. Otherwise, the books would lose a bit of their cachet. But I will remind you of an old adage: Never get an author mad because you'll end up the victim in her next book. I'll leave you to mull over that thought.
Do you surprise yourself at your ability to write the vilest villains with such believability? Which book is your most vile villain featured?
Writers are natural observers. We're constantly watching the people around us and making mental notes about how they interact with one another. The world is filled with a plethora of personalities: generous; kind; spiteful; and evil. I take elements of the traits and behaviors I've come across, and I mold and blend them together to bring to life precisely the villain I require to perform the wicked deeds my mind has envisioned in the tale.
I would have to say Alastair Swanbeck, a ruthless British entrepreneur who had dealings with Putin and the Russian underworld, was the vilest villain. He's cold, cruel and calculating. Swanbeck is not a man to double cross, which Gregory learned to his chagrin when he dared to interfere in matters that should have been left alone. Swanbeck's sinister agenda of revenge in When Blood Runs Cold has Gregory cornered—with Emmeline as an unexpected bonus.
Which of your characters did you or will you enjoy killing off the most?
I derived no end of glee in killing off Max Sanborn in A Checkered Past. He was the chairman of Sanborn Enterprises, the company that owns The Clarion newspaper where Emmeline works. Max was a thoroughly nasty, arrogant and unscrupulous man. He was anti-Semitic, a misogynist and thought nothing about acquiring looted Nazi paintings, which was a focus of the book.
Another character I relished dispatching to the other world was Veronica Cabot, who appeared in From Beyond The Grave. Veronica, Ronnie to those close to her, was one of those women who oozed sex appeal and arrogance. She was the type of woman men drooled over, while their wives despised on sight. Ronnie was a woman from Gregory's past. She was like a tsunami that swept in and left no end of destruction in her wake just for the thrill of it. To suggest that Emmeline and Ronnie clashed is a woeful understatement. Emmeline wanted to scratch her eyes out. For a start. So, you see why Ronnie simply had to die.
Is there a particular genre of fiction that you have always wanted to write, but haven't yet tackled?
I've always been interested in history because it's important to know the past to understand how things evolved to the way they are today. As a result, I enjoy historical fiction. Perhaps one day when the muse fails to provide inspiration for another perilous escapade for Emmeline and Gregory, I'll turn my hand to historical fiction.
How much research went into your last book?
A bit of research went into the book. It is what gave me the idea for the Poseidon scheme. However, I'm afraid Emmeline, Gregory and Philip Acheson of the Foreign Office, who is a MI5 agent, made me sign the Official Secrets Act. Therefore, my lips are sealed. I can't tell you because it's crucial to the plot. It would be unfair to ask an author to ruin the story for the dear reader.
What's one of the most important things you'd like your readers to know about you? What defines you most as an author?
My thoughts tend to meander toward the devious. Conjuring up trouble is a tantalizing exercise. While readers always want happily-ever-after, I find it quite boring. It's a dead end from an author's perspective because the story has petered out. On the other hand, revenge and betrayal are motives I can greedily sink my teeth into because they always circle back to the question: What if? Those are two of the most potent words in an author's arsenal because the possibilities are infinite.
I enjoy weaving a nuanced and multilayered plot to give the story a certain richness. I like to get the adrenaline rushing through readers' veins by taking them to the edge of a cliff, leaving them breathless for a few suspended seconds, and then at the last moment veering off in a different direction. Ultimately, the protagonists must provide an answer for why the crime was committed. To do otherwise would be unfair to the dear reader. But as for the secret to my literary life of crime, I find it devilishly good fun to dangle a little surprise—a soupçon of suspicion—on the last page to leave readers clamoring to know what happens next. It also sets me on the path of the plot for my new book.
Tell us one thing about you that may surprise your readers.
I am utterly useless when it comes to technology and anything mechanical. Don't ever ask me a question having to do with a computer. If my laptop starts giving me a problem, my first reaction is to throw it out the window. Another secret I will share (more of a warning) is that I'm impatient and have a short temper.
Tell us a little bit about the project you are working on now.
Viper's Nest of Lies, Book 7, will be published in fall 2021. I'm currently working on Book 8. There's no rest for the wicked. Emmeline and Gregory are always dragging me off on another adventure.
Tell us something about your latest release.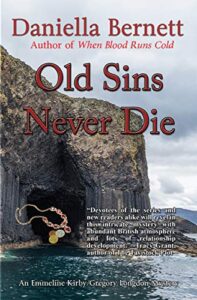 I've laced Old Sins Never Die with layers of lies and betrayal. After all, whose interest isn't piqued by a whisper of scandal and intrigue?
While on a sightseeing trip on Lake Windermere in England's enchanting Lake District, Emmeline and Gregory overhear a man attempting to hire an international assassin. They rush back to London to warn the authorities. But there's one tiny problem. It's rather difficult to prevent a killing, if the target is unknown. Meanwhile, London is a simmering cauldron of danger. As Emmeline pursues a story about shipping magnate Noel Rallis, who is on trial for murder, she discovers that he is blackmailing Lord Desmond Starrett. Desperate to keep his dark past buried, Starrett reluctantly partners with Rallis in a sinister scheme called Poseidon. Prima ballerina Anastasia Tarasova, Rallis's spurned lover, dangles promises of an exclusive glimpse into a world of treason and greed. However, she's silenced before she can utter a word. The hunt for the truth draws Emmeline and Gregory up to Scotland, where they learn that the truth has lethal consequences.

Thank you for joining us today, Daniella!

Daniella Bernett is a member of the Mystery Writers of America NY Chapter and the International Thriller Writers. She graduated summa cum laude with a B.S. in Journalism from St. John's University. Lead Me Into Danger, Deadly Legacy, From Beyond The Grave, A Checkered Past and When Blood Runs Cold are the other books in the Emmeline Kirby-Gregory Longdon mystery series. She also is the author of two poetry collections, Timeless Allure and Silken Reflections. In her professional life, she is the research manager for a nationally prominent engineering, architectural and construction management firm. Daniella is currently working on Emmeline and Gregory's next adventure.