It is an enchanting day for those who celebrate Christmas, full of tradition, hope, and optimism. The sense of anticipation on the day before Christmas is like planning a vacation, which can sometimes be more fun than being on vacation. Perhaps this year, we need the magic of Christmas more than ever.
Today, I'd like to tell you about a remarkable place. It is a small town in the wilderness known as the Adirondack Mountains of New York State. It is the capital of Christmas, the home of Santa Claus, and the setting for my Adirondack Spirit Series of historical novels.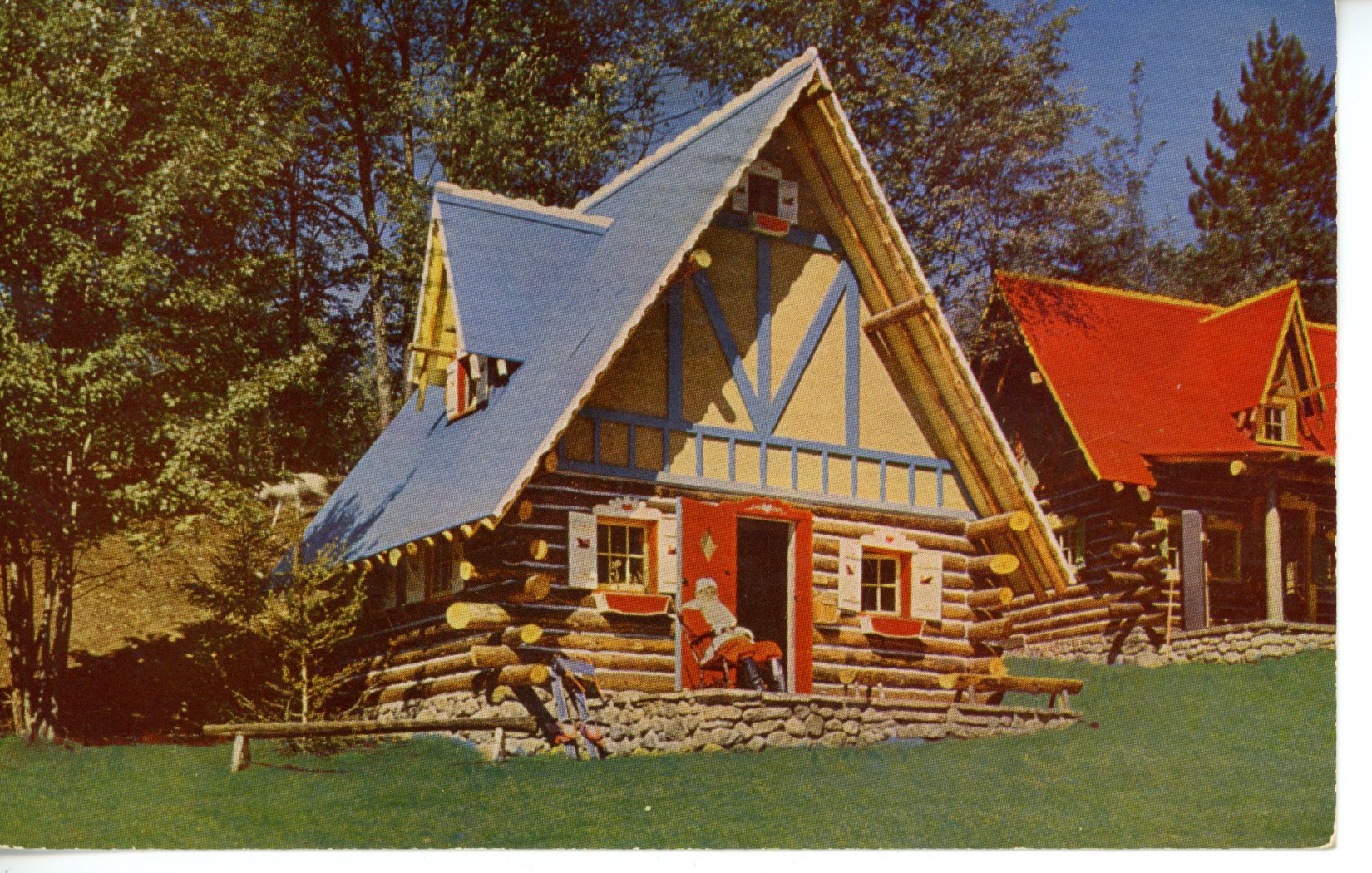 I'm talking about the small town of Wilmington, New York. It's special to me because it's my mother's hometown, and my grandfather's business was located in Wilmington during the 1960s and early 1970s. I wrote about that in my first book, In the Shadow of a Giant. Though Wilmington is home to barely more than a thousand residents, you might, nevertheless, know about this little town.
It is the home of Whiteface, the Olympic Mountain and it hosted the alpine events for the 1980 Winter Olympics. Whiteface is the only mountain in the Adirondacks that you can climb in the comfort of your car. The historic Whiteface Mountain Veterans Memorial Highway was completed in 1935 and is listed on the National Register of Historic Places. President Franklin Delano Roosevelt presided over its dedication 85 years ago. Perhaps we take for granted being able to stand on top of a mountain. Imagine the earliest tourists gazing out across an alpine landscape and marveling at the view beneath their feet. For most, it would have been a once in a lifetime experience.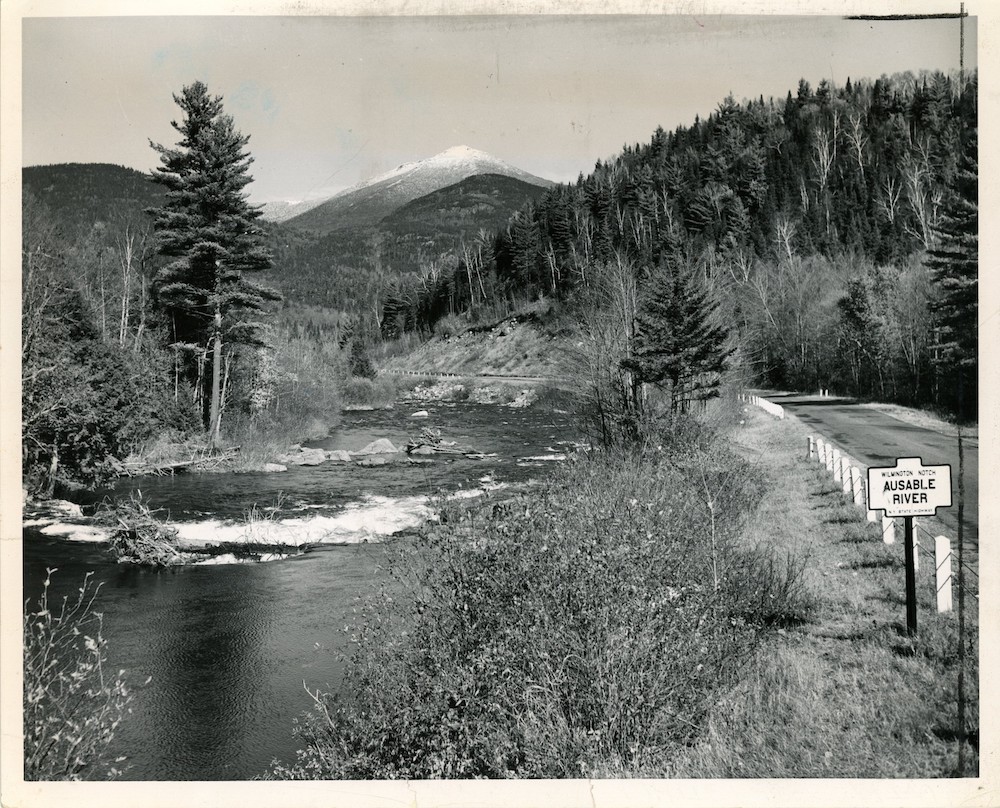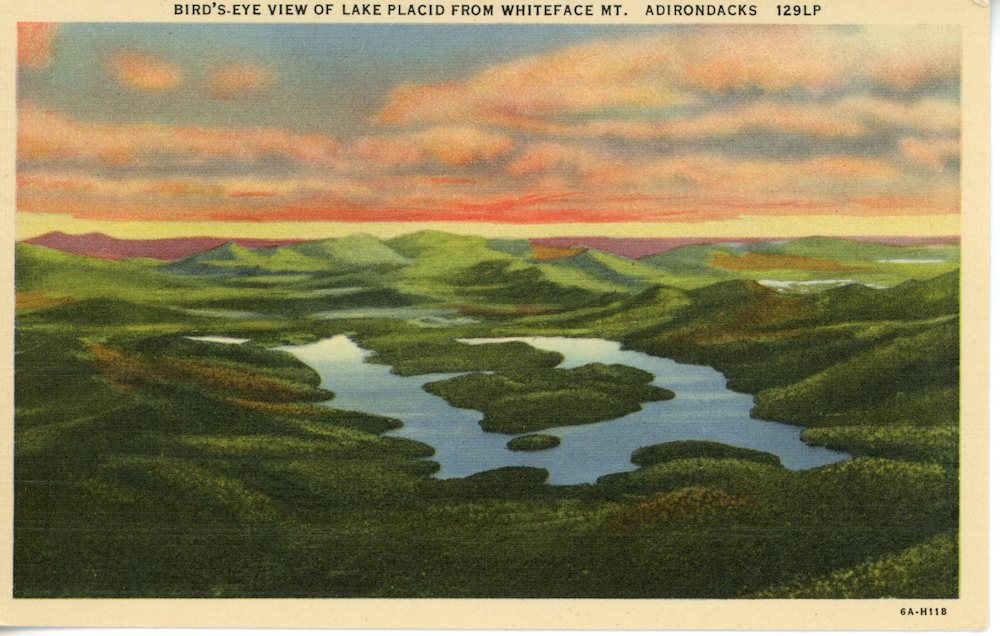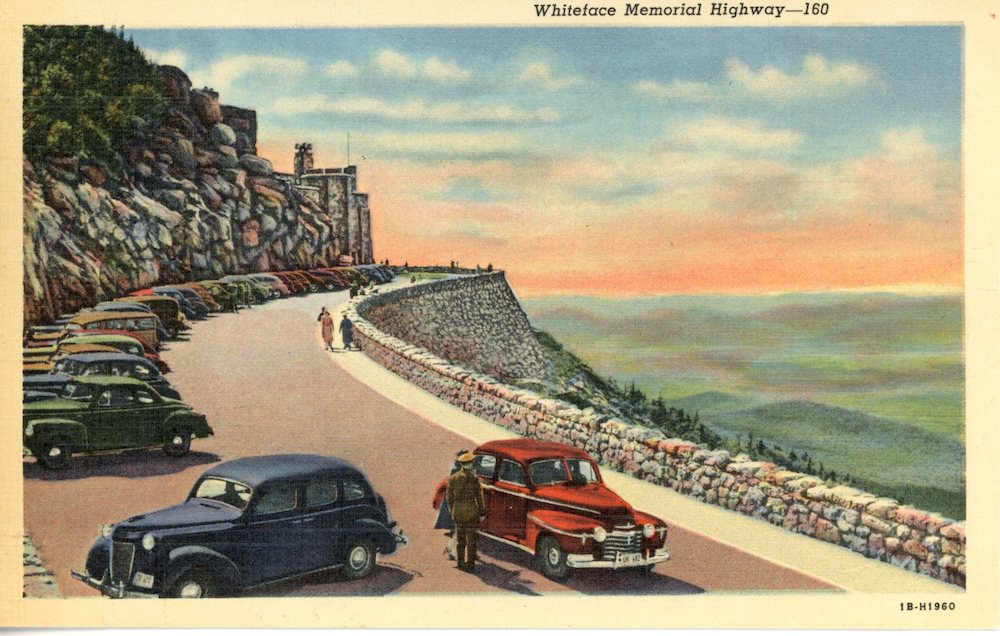 As if Whiteface isn't enough to make a little bitty mountain town special, it is also home to Santa Claus. In 1949, the legendary Santa's Workshop opened its doors. It is situated on the back side of Whiteface Mountain, along the highway to the summit. It was America's first theme park, and it has been the home of Santa ever since. Other fabled characters also called Santa's Workshop home, including Huck Finn, Bo Peep, and Old Mother Hubbard.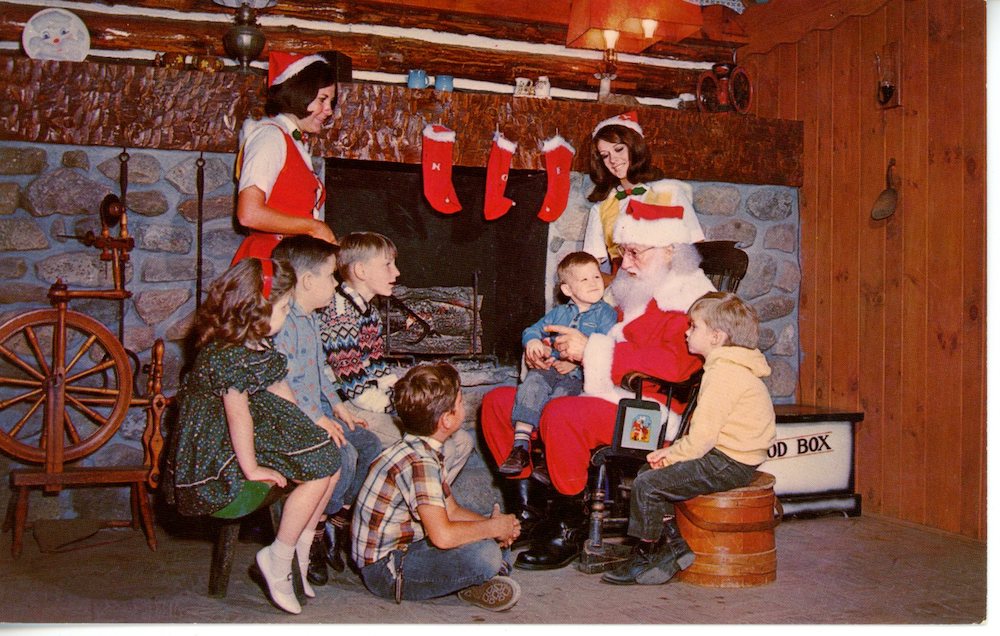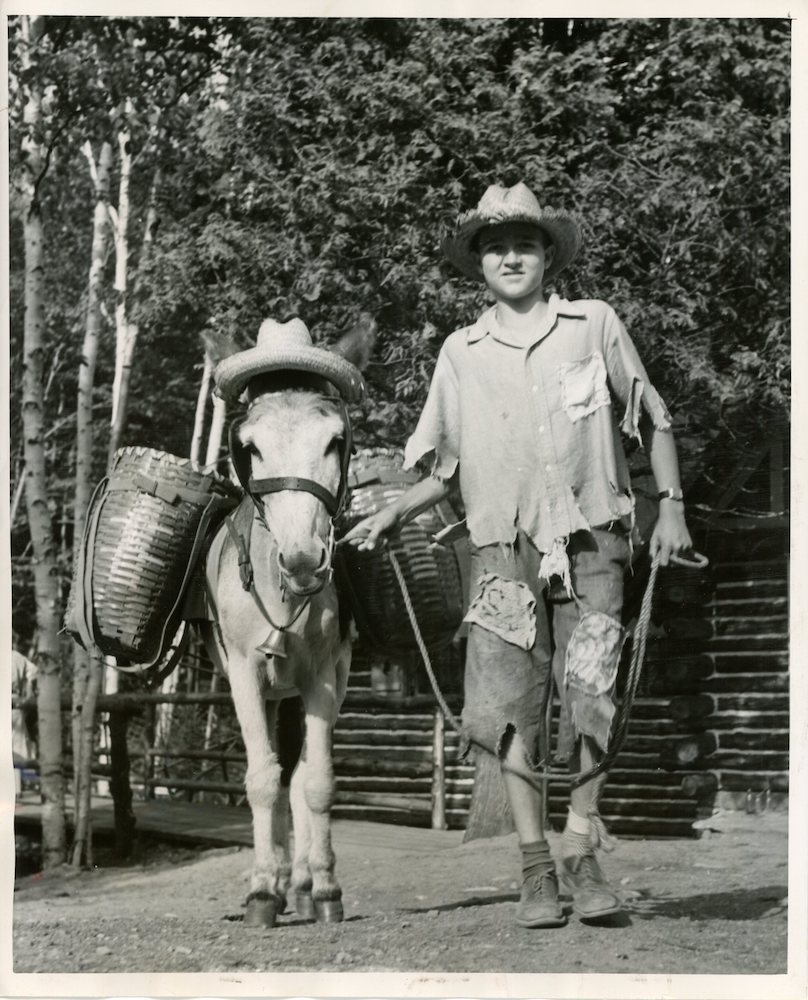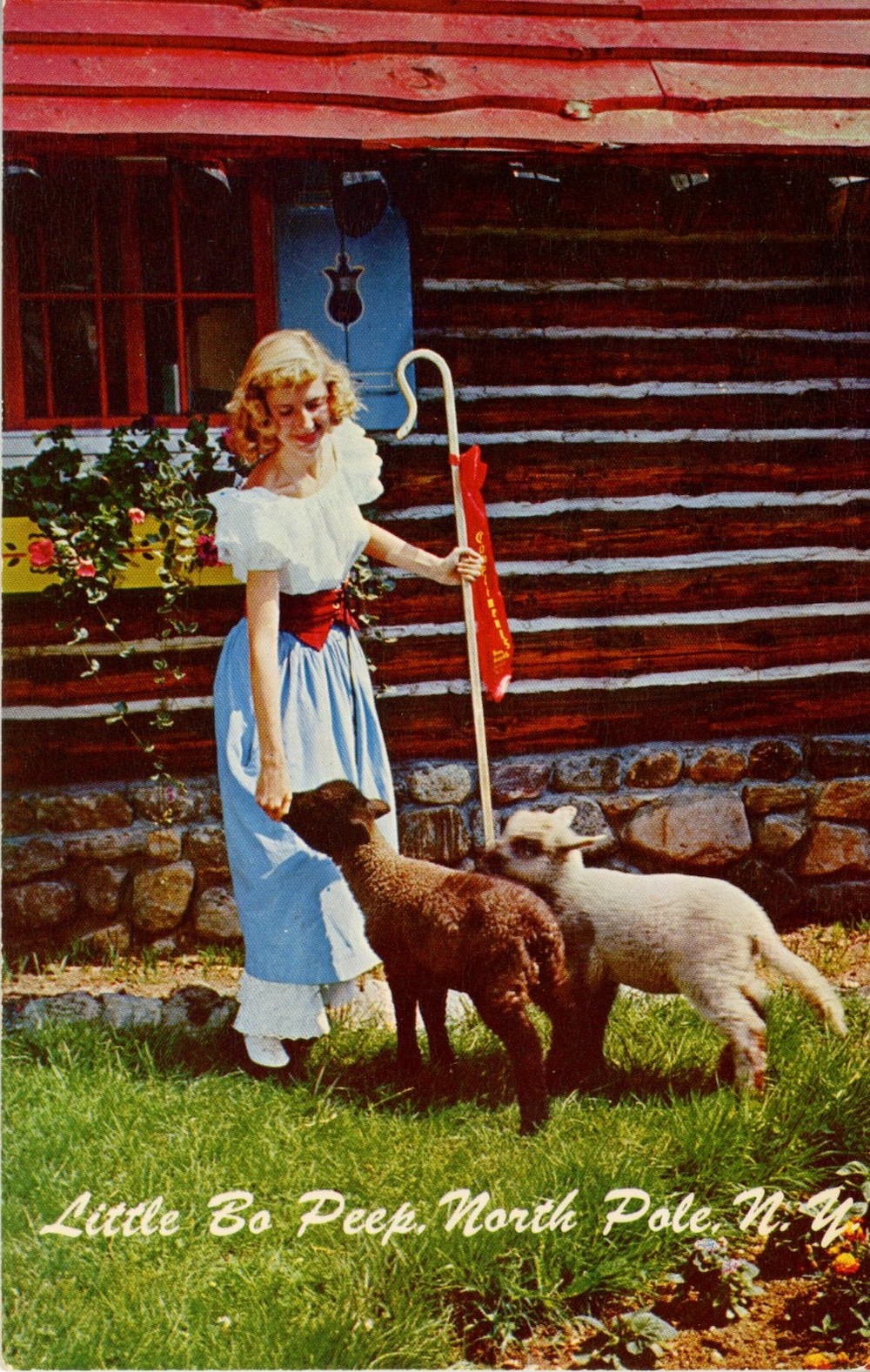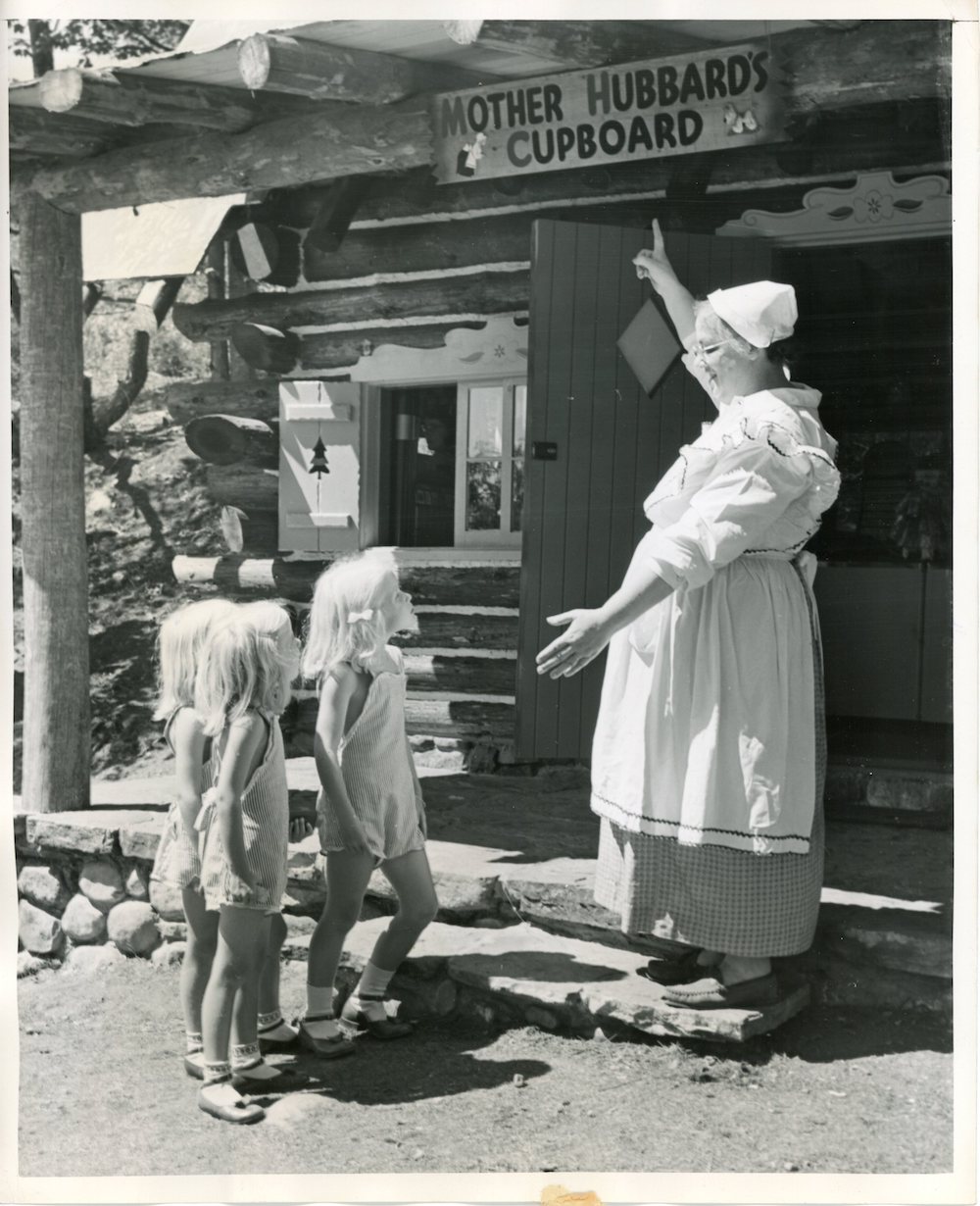 How do I know? I am one of Santa's helpers. An elf. Maybe it's in my DNA. I think of it as a lifelong commitment though I was only paid to do the job for two summers. Elves can be very loyal. In a world where businesses must evolve or die, I think there have to be places like this. It isn't exactly the same as it was back in the 50s, 60s, or 70s. I will not be there to slap a cardboard bumper sticker on your car with wire rods. But the experience of visiting Santa's Workshop has remained very similar throughout the years.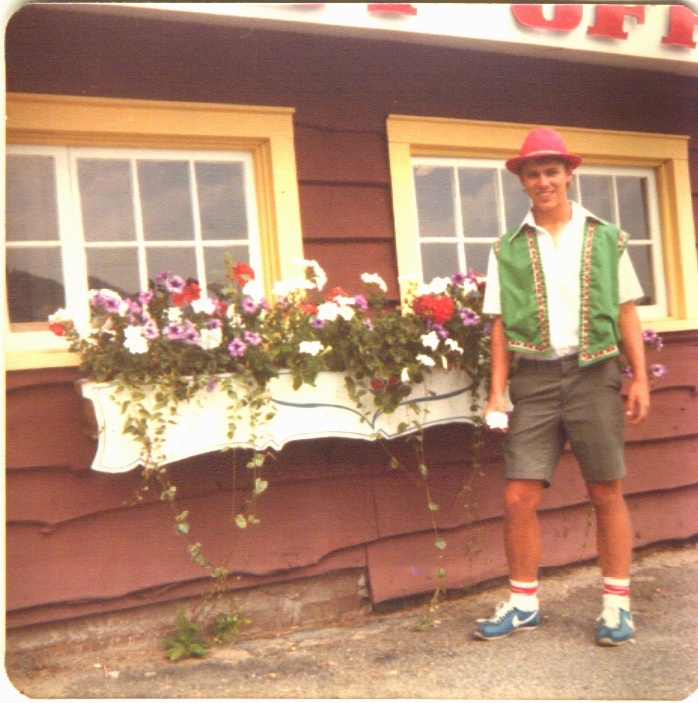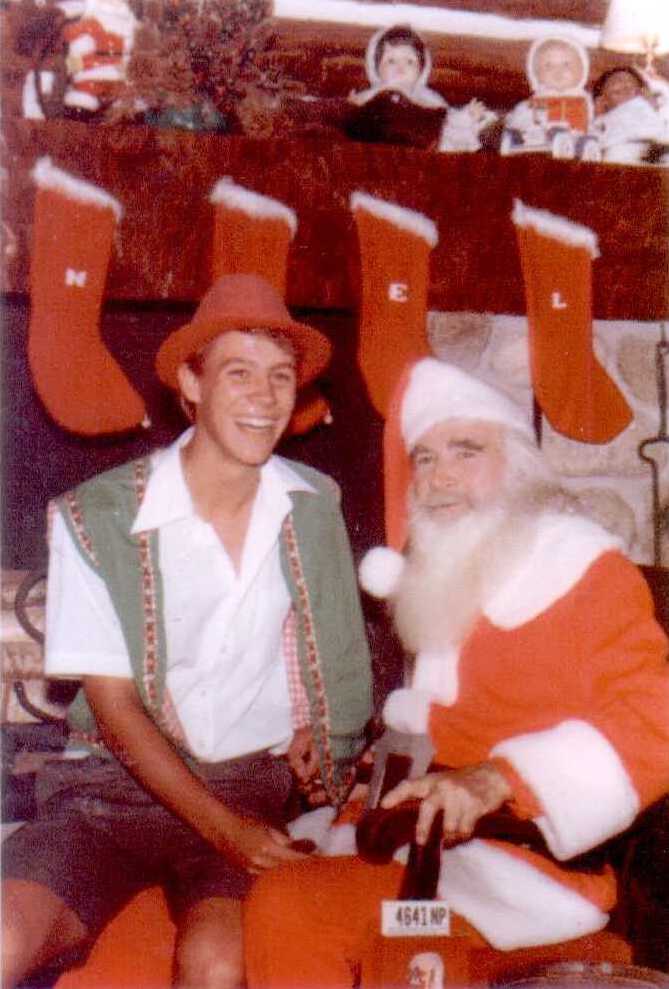 I had the pleasure of working at Santa's Workshop during the summers of 1978 and 1979. A couple of memories from my time as one of Santa's Helpers stand apart from the others. For one thing, I can remember making $1.95 an hour, learning how to punch a clock, and being proud to have a paying job. Santa's Workshop may have been past its prime by 1978, but there was still enough business to fill the parking lot on a lovely summer's day. Back in those days, parking lots needed parking lot attendants. A crew of three of us elves helped motorists fit their big, gas-guzzling cars between the lines in their assigned parking spaces. The parking lot on the mountainside made for good exercise, and I still attribute the fact that I have muscular shins to those two summers. Nevermind the mountains I've climbed since.
Despite the fact that I liked to talk too much to the other elves, I managed to work my way up to head parking lot elf by my second summer, which meant that I got to decide who went to lunch at what time and when to send the other parking lot elves on break. I'd like to think that I wasn't a bossy elf, like Hermie's boss on Rudolph the Red-Nosed Reindeer. Thankfully, all of that power didn't go to my head.
Back in those days, there was a petting zoo as part of the attraction. I remember the animals would often escape, and sometimes they would find their way to the parking lot. I fondly recall a gray-bearded pygmy goat that was a frequent escapee. I wish I had taken his picture. One time, while carrying the billygoat through the village, I decided to take him on a train ride, and I jumped aboard the Candy Cane Express with the little guy. I wonder if any of the visitors to the park that day remember riding the train with a goat. I wish that the petting zoo was still a part of Santa's Workshop, but I would imagine that safety concerns probably were the reason for discontinuing it.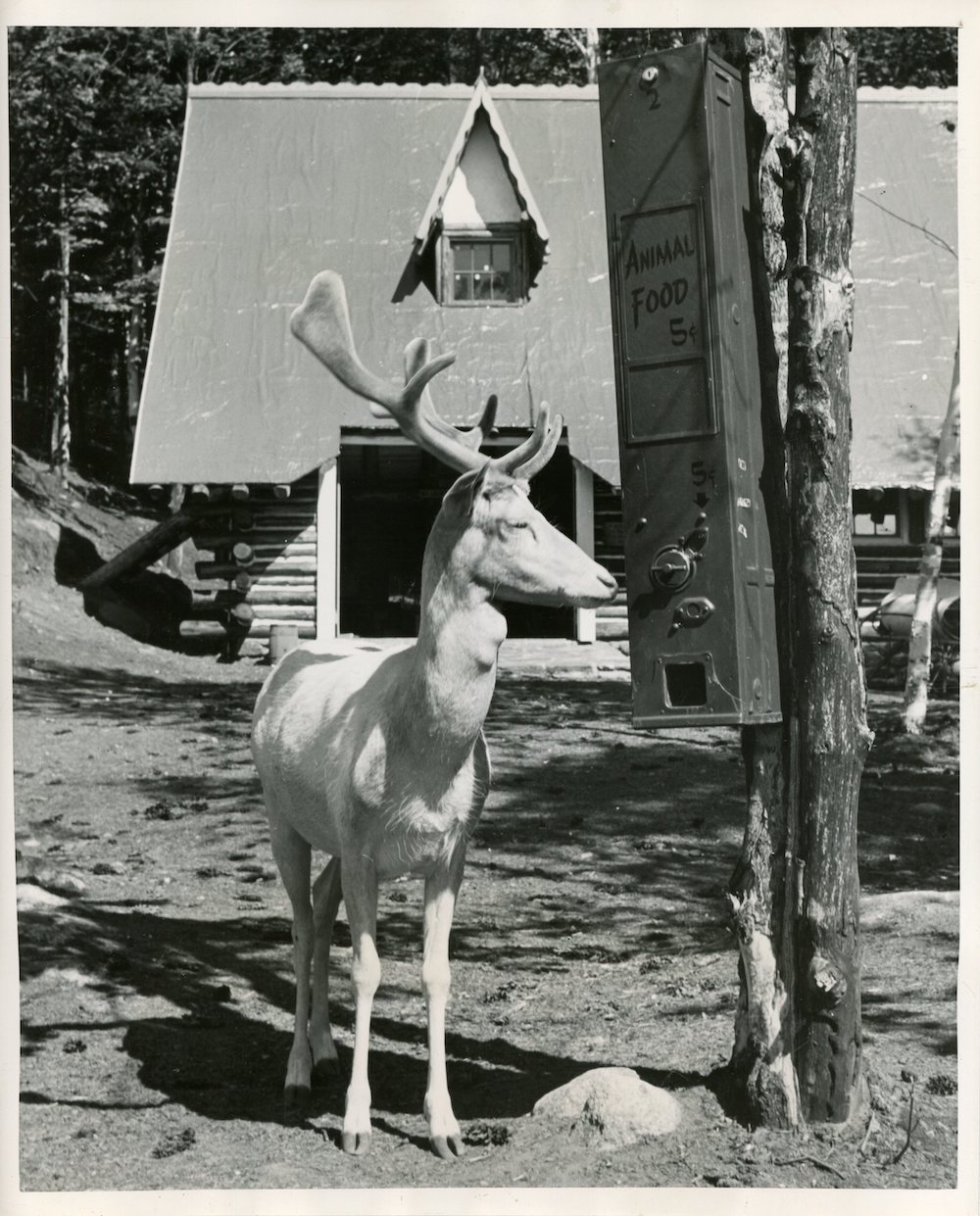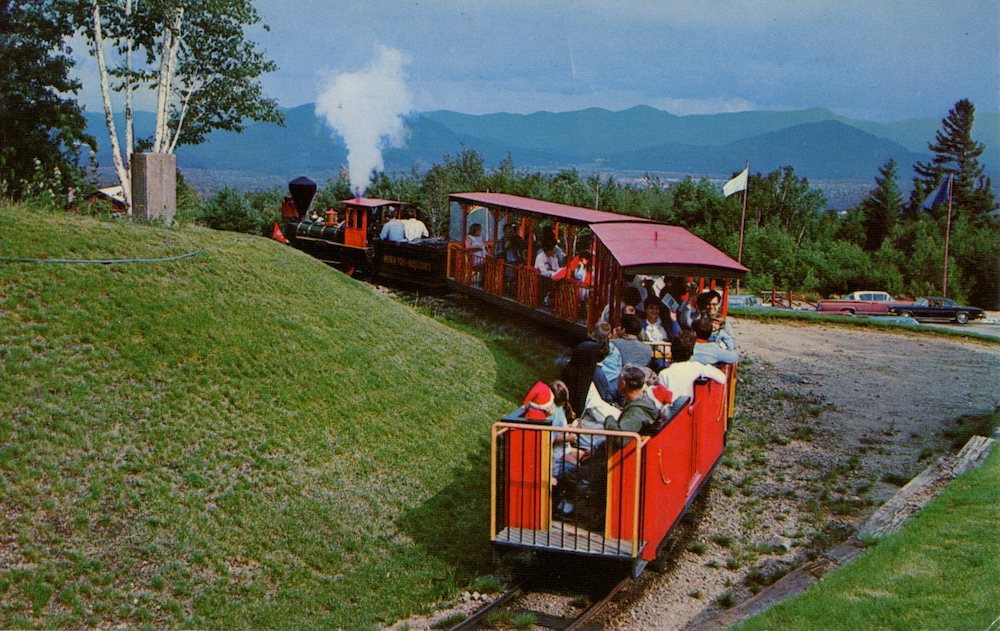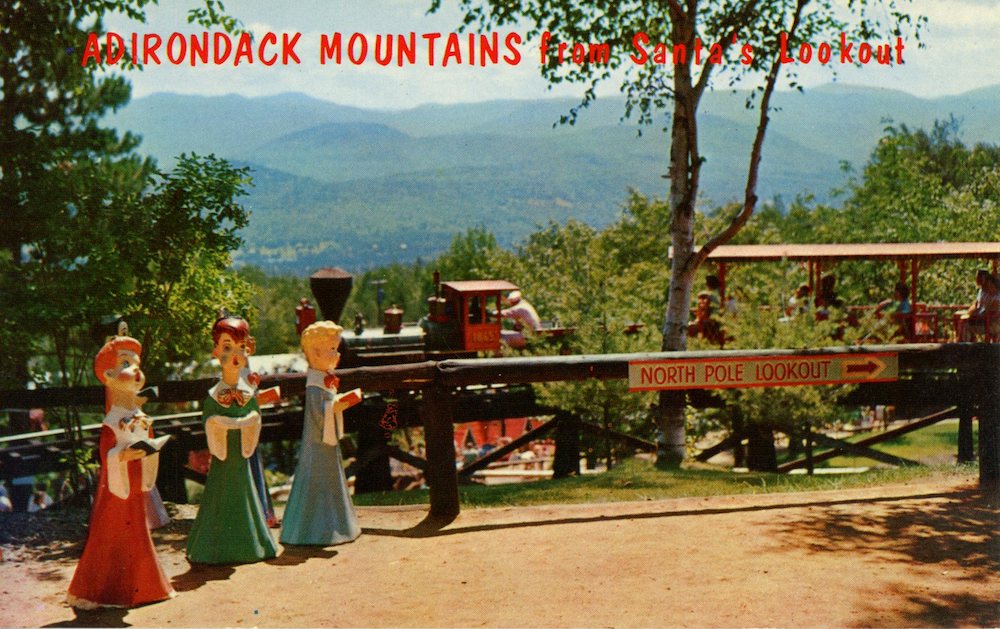 I remember another day in the park. We guided a van into a parking space, and the children tumbled forth and ran to the entrance with a woman who appeared to be their grandmother. After a while, the van began to shake, rocking back and forth with a life of its own. You might recall the song Chevy Van―it was the 1970s. The story of that song was different, but I remember laughing with the other parking lot attendants at the rocking van. We may have been elves, but we were also teenaged boys. Perhaps a future visitor of Santa's Workshop was conceived that day.
I'm a sucker for vintage, nostalgic, Americana, especially when it is combined with Christmas. Instead of filling the house with antique knickknacks, I collect postcards and historic press photographs.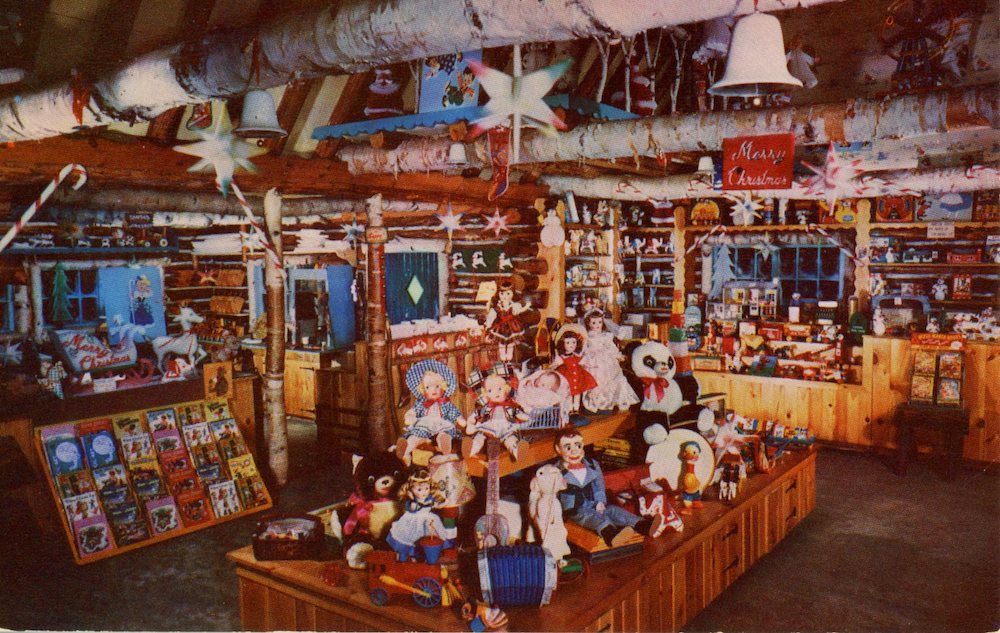 Even the few improvements made at Santa's Workshop through the years seem to fit in with the look and feel created by the founders. I'd rather go to Santa's Workshop than Disneyland or Six Flags. You won't find a crowded mob or a screaming roller coaster, but you will be transported back in time. You'll find a barn full of reindeer, a talking Christmas tree, and you can meet the real Santa Claus, not one of his deputies.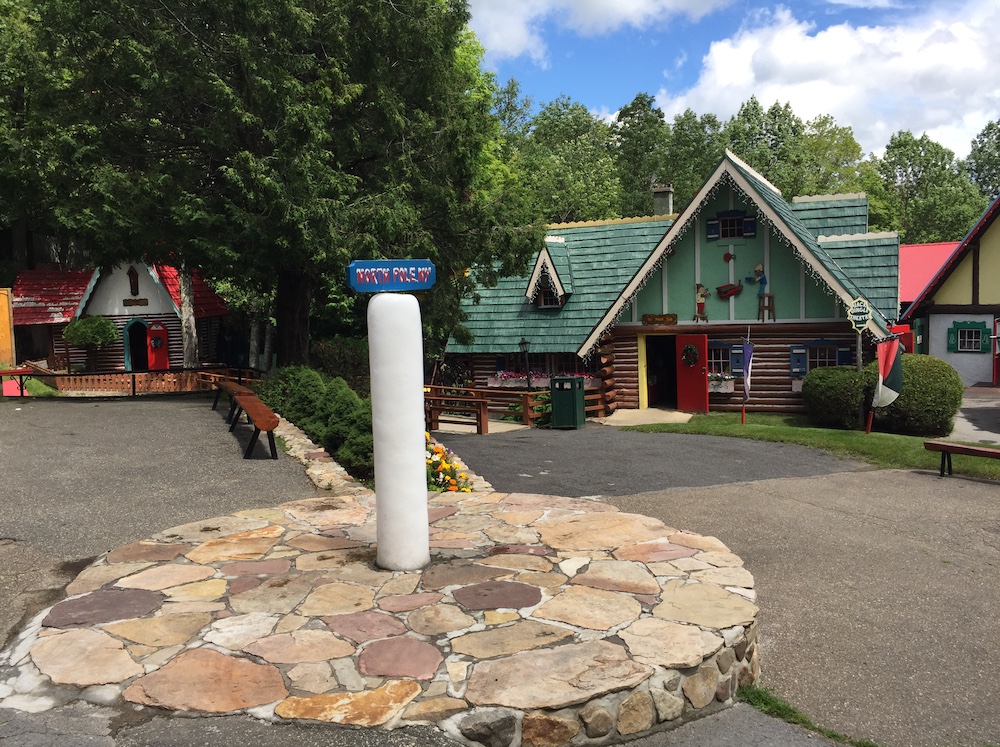 It isn't safe to travel this year, so we'll have to let Santa come to us―tonight. In the meantime, I recommend watching the excellent, award-winning documentary film from 2018 called North Pole, NY. In this video, you can hear my favorite Christmas song. I don't know what it was called, but the line, "Where you gonna look for Santa…" is seared into my brain. The 1950 record is very rare, but it was played continuously throughout Santa's Workshop, and I love hearing it within the documentary.  https://www.northpolenyfilm.com/buy-the-film
Wilmington, New York, is also the home of Adirondack Chocolates. It has been on my Christmas shopping list since the early 1980s when it was called the Candy Man. I'm pleased to offer this Giveaway―a one-pound box of truffles. The lucky winner should receive them just in time to destroy diet-oriented New Year's resolutions. I'm sure that Santa himself must be a customer of Adirondack Chocolates, and these decadent treats must help him keep his figure Christmas ready. If you don't win this Giveaway, perhaps you can treat yourself.  https://www.adirondackchocolates.com/
I'd also like to tell you about a stunning place called Copperas Pond. It can be found on the road between Wilmington and the neighboring town of Lake Placid, New York. This road is known as the Wilmington Notch, and it follows the mighty, trout-filled AuSable River. A moderate hike from a roadside parking area leads to this pristine locale. The characters in my books often find themselves at Copperas Pond. It is spectacular in any season, though my favorite is summer.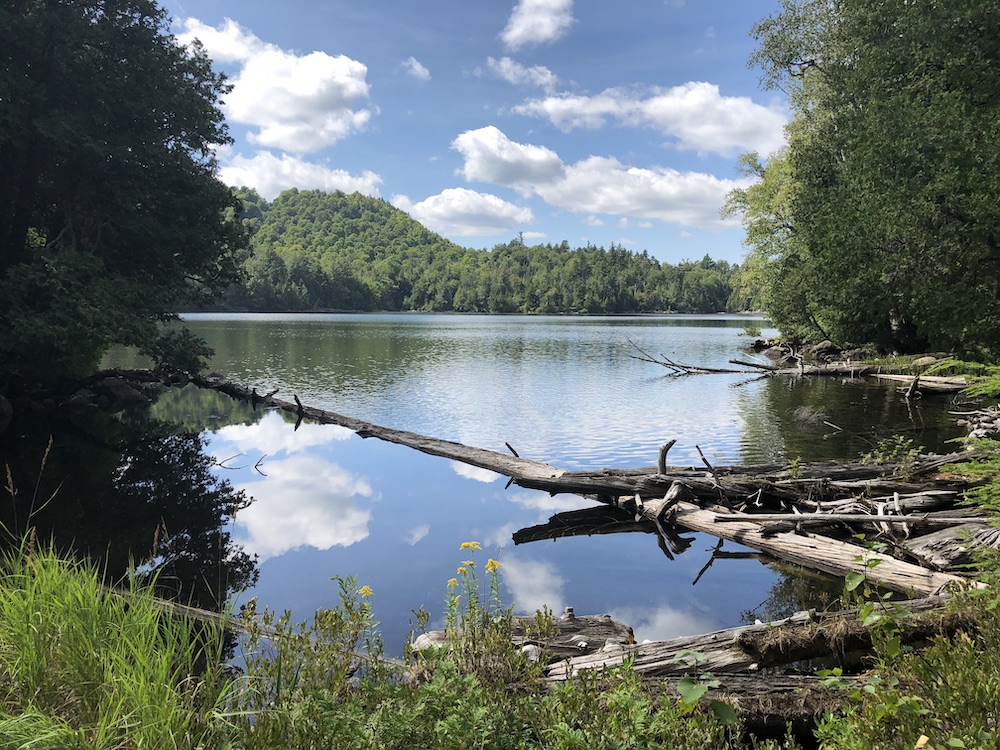 The characters in my Adirondack Spirit Series are known to wander great distances, but they always seem to be drawn to this section of the Adirondacks, as am I.
A prequel to the series, The Curse of Conchobar, is available as a FREE ebook and can be downloaded from BookFunnel at https://dl.bookfunnel.com/iwczowhp8q. It is a final draft of a manuscript, and it will be published soon.
I like to write fiction that is grounded in history and soars with the spirits. The Adirondack Spirit Series is a multi-generational family saga. Are supernatural tendencies hereditary? If you guessed yes, maybe you are descended from old souls too.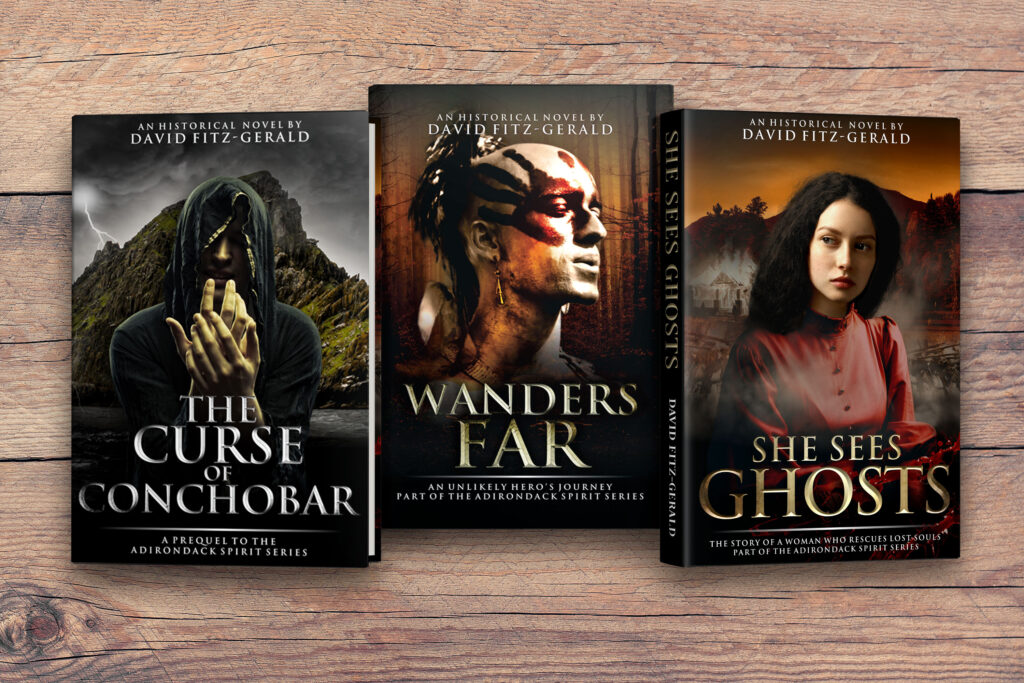 My plan is to follow the descendants of Conchobar, Wanders Far, and Mehitable from She Sees Ghosts into the modern era. I know I won't be able to resist the temptation of setting characters at Santa's Workshop in the 1950s. Until then, I have a lot of writing to do.
The next stop is in the 1830s. I've finished writing a book called Waking Up Lost. The protagonist has a big problem. He goes to sleep in one place and ends up somewhere else. You might think he is sleepwalking until he materializes in places that would be impossible to walk to in the dark of a single night. I anticipate publishing Waking Up Lost in early 2021.
Thank you to Novels Alive for inviting me to share this guest post with you and for letting me visit with you on Christmas Eve. It's an extra-special honor to be featured at Novels Alive, two days in a row.
May you find your Christmas stocking full of great books. I'm wishing for fiction, not just socks and underwear.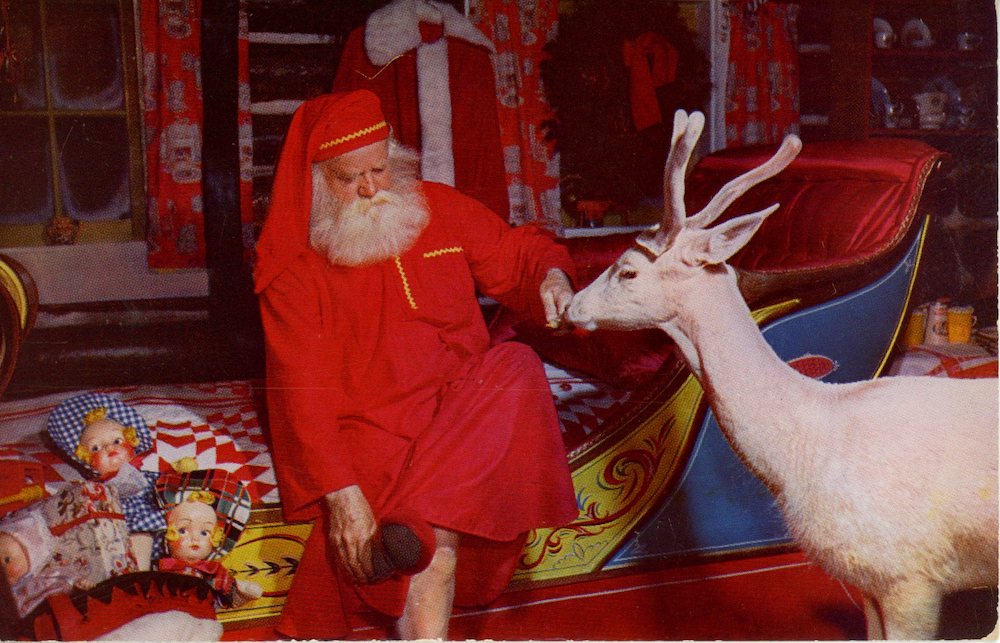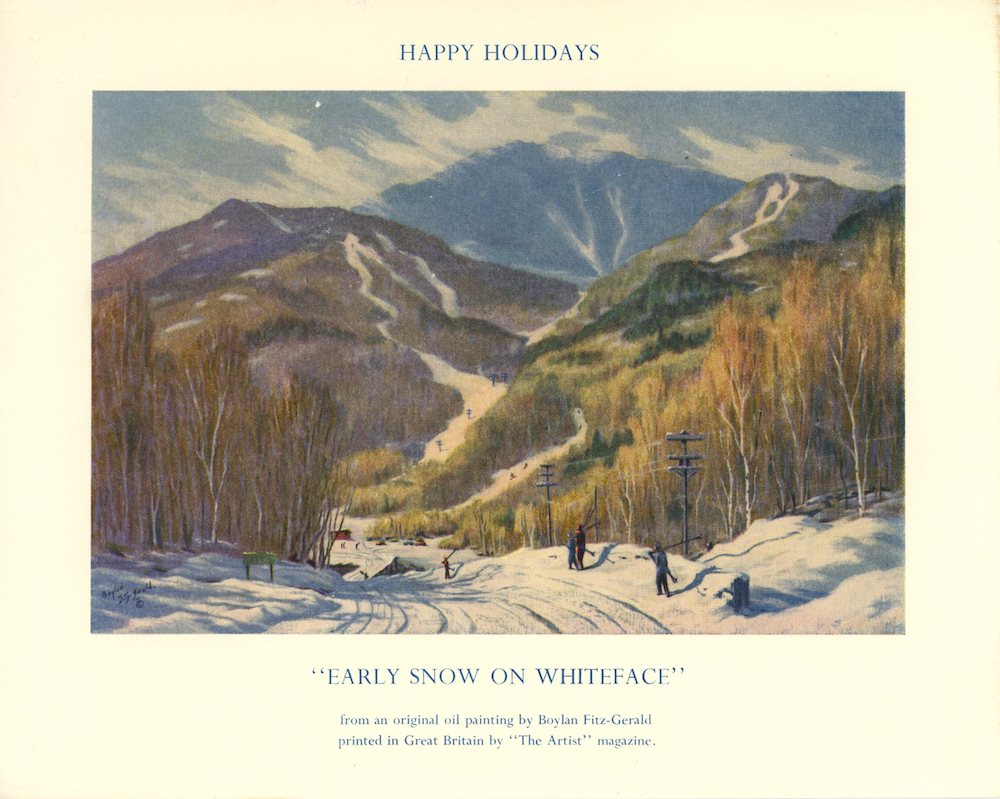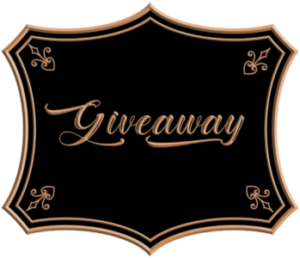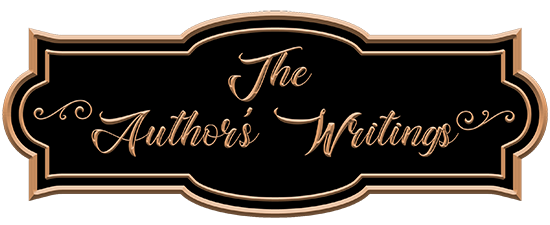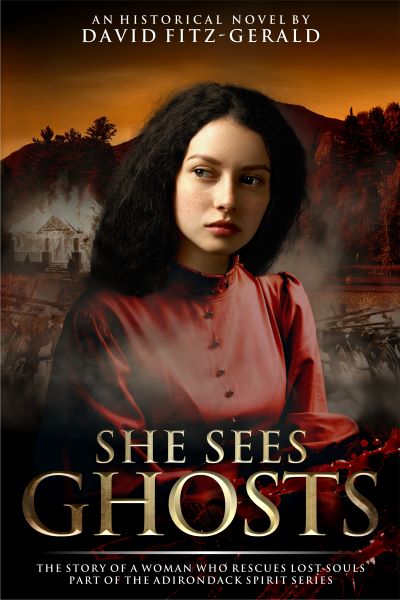 A blazing fire killed her family and devoured her home. A vengeful demon haunted her. Ghosts of the Revolutionary War needed help that only she could provide. A young woman languished, desperate to survive, and teetered on the edge of sanity.
Mehitable grew up in a freshly tamed town, carved from the primeval forest. Family, friends, and working at the mercantile filled her days and warmed her heart. For Mehitable, life was simple and safe, until tragedy struck. When her family perished in their burning home, she retreated into a world of her own making.
As a young girl, she had seen glimmers, glimpses, and flickers of the spirit world. She closed her eyes. She turned her back. She ignored the apparitions that she never spoke of, desperately hoping they would leave her in peace. She was mistaken.
Grief-stricken, Mehitable withdrew from the human world. Ghosts were everywhere. They became bolder. She could no longer turn her back on the spirit world. Her friends feared for her survival. Nobody understood her. She would have to find her own way.
Fans of TV's Ghost Whisperer and Long Island Medium will especially love She Sees Ghosts. This historical novel features memorable characters and delivers bone-tingling, spine chilling goosebumps. It stands on its own and it is the next installment in the Adirondack Spirit Series by the award-winning author of Wanders Far-An Unlikely Hero's Journey. David Fitz-Gerald delivers a historical novel with a bittersweet ending that you won't see coming.
Would she save the spirits' souls, or would they save her? Only time would tell.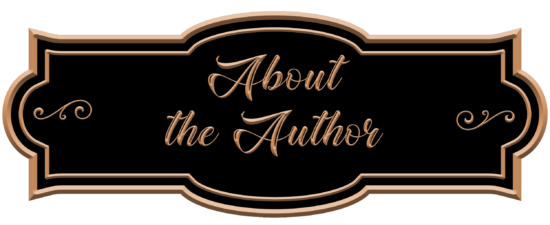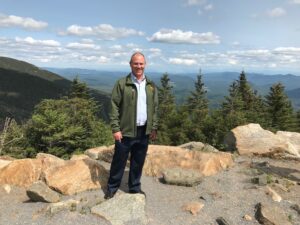 David Fitz-Gerald writes fiction that is grounded in history and soars with the spirits. After a chaotic day as a business person, Dave enjoys getting lost in the settings he imagines and spending time with the characters he creates. Writing historical fiction is like making paintings of the past. He loves to weave fact and fiction together, stirring in action, adventure, romance, and a heavy dose of the supernatural with the hope of transporting the reader to another time and place. He is an Adirondack 46-er, which means that he has hiked all of the highest peaks in New York State, so it should not be surprising when Dave attempts to glorify hikers as swashbuckling superheroes in his writing. She Sees Ghosts-A Story of a Woman Who Rescues Lost Souls is the next installment in the Adirondack Spirit Series.